Updated:
April 30, 2015, 07:32 AM EST
McShay: Final 2015 NFL Mock Draft
Winston-Mariota go 1-2 in projection of all 32 first-round picks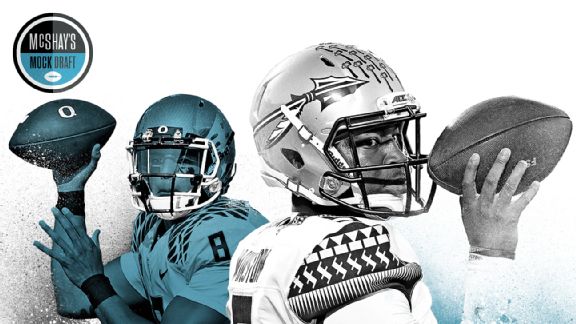 ESPN IllustrationWill Jameis Winston and Marcus Mariota go 1-2 in the 2015 NFL draft?
The 2015 NFL draft is finally here. I've done five mock drafts up until this point, going as far back as December, and here you have my final projection of all 32 first-round picks.
I'm sticking with my choice at the No. 1 spot, but there are several shake-ups from previous editions.
Here is my final NFL mock draft for 2015:
1
Jameis Winston
Tampa Bay Buccaneers (9-7)
Analysis: I've had Winston here for most of the draft process, and it'll be surprising if he isn't the first pick Thursday night. His off-field history is a concern, but his talent makes him worth the risk here. He's one of the best quarterbacks I've evaluated in the past 10 years.
Video highlights