Updated:
December 24, 2014, 02:19 PM EST
Updated 2015 Big Board
Leonard Floyd's return to UGA shifts things, though No. 1 stays the same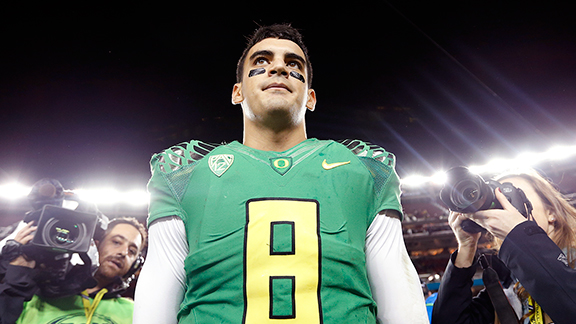 Jed Jacobsohn for ESPNMarcus Mariota has been the No. 1 NFL prospect for several months now.
Last week, Leonard Floyd, a redshirt sophomore out of Georgia and at the time the No. 17 player on my Big Board, announced his intentions to go back to school. I like the move for the still-raw Floyd, as he could add some size and work on his rush skills and should be a more dominant player next season for the Dawgs and more ready to enter the draft. That said, Floyd's absence on the Board means I've shuffled a few things around. I figured I'd release one before the big bowl games get rolling, and soon after that it'll be mock draft season.
As always, I've kept scouting reports consistent week to week and have made changes regarding recent performances only, unless my evaluation has shifted. That said, let's continue with the ongoing draft process.
An asterisk denotes a junior for the 2014 season; two asterisks denote a redshirt sophomore.
1
2014-15 STATS
YDS 3783
TD 38
INT 2
Analysis: The playoffs are all that's left for the current best bet to go No. 1 overall. What's great about Mariota this year is how, despite his 600-plus rushing yards, you simply can't call him a "running QB." He's been so efficient as a passer -- and with a pass-first mentality -- that even if you judged him on his passing exploits alone you'd have a really, really good prospect. He continues to show improved accuracy and anticipation, and his ability to get through his progressions more quickly is obvious. Of course, elite athleticism is a huge part of his game, but his ability to throw on the run or simply take off and pick up chunks of yardage is a major plus. Mariota is no lock to be a star. But he's an outstanding prospect.
2
Analysis: A fantastic year for one of CFB's great run-defenders. Williams is second on the Trojans in tackles. He just has exceptional awareness and always finds the ball. Quick for his size, he can move all over and won't get pushed around when he's inside. At his size (6-foot-5, 290 pounds), he's a special athlete who could line up as a defensive end and drive a tackle back or line up on the outside shoulder of a guard and create problems with power and quickness. He's the kind of disruptive, versatile lineman who can succeed in any system.