Updated:
March 30, 2015, 07:18 AM EST
Perriman debuts in Top 32 ranks
UCF receiver joins updated list of best 32 prospects for 2015 NFL draft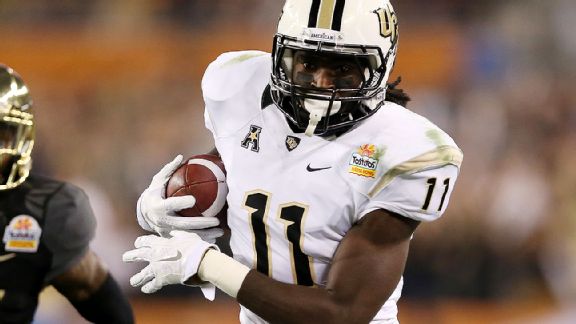 Christian Petersen/Getty ImagesBreshad Perriman is one of the top big-play receivers in the 2015 draft class.
Wide receiver is one of the strongest position groups in the 2015 draft class, and a sixth receiver makes our top 32 rankings this week: UCF's Breshad Perriman.
To be clear, I'm not moving up Perriman simply based off of his pro-day workout last week, which included 40-yard dash times of 4.24 and 4.27 -- faster than any prospect produced at this year's NFL combine -- although those times certainly verify the speed and explosiveness he has shown on the field. I also completed his tape evaluation, and he appeared to improve upon his biggest weakness -- his inconsistent ball skills -- as the season went on. He still needs to get better in this area, but he is a serious threat as a big-play receiver due to his size-speed combo and the ability to come down with difficult catches.
Here is our latest ranking of the top 32 prospects for the 2015 NFL draft.
(Note: Scouting reports will stay the same version to version except when changes are necessary.)
1
2014-15 STATS
YDS 3559
TD 24
INT 17
Analysis: Winston has very good arm strength and excels from the pocket, showing the ability to anticipate throws, make NFL-style reads and deliver the ball accurately. Simply put, he is a very natural passer with the potential to develop into a very good NFL quarterback. He also appears to be a very good on-field leader. The risk with Winston has to do with his well-documented off-field behavioral issues, and teams that consider drafting him will have to be comfortable with him from a character and psychological standpoint before making him the face of the franchise.
Video highlights