Five players whose draft stock is on the rise
[+] Enlarge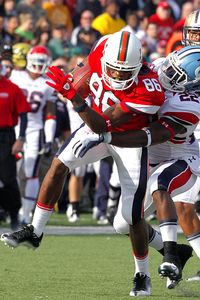 Sean Gardner/Getty ImagesMiami WR Leonard Hankerson saw his stock soar after a great week of practices and a 101-yard game.
1. WR Leonard Hankerson, Miami
Hankerson capped off a strong week of practice by hauling in five catches for 101 yards and one score during Saturday's game. His route running skills are vastly improved and his big, strong hands consistently stood out. He has shown the ability to make all the catches (in traffic, over his head, pluck on the run, adjusting to ball away from frame, etc.). There's a drop-off after A.J. Green and Julio Jones in this year's wide receiver class and Hankerson is making a strong push for second-round consideration.
To continue reading this article you must be an Insider
Insider
Top 5 players at 2011 Senior Bowl
1. OLB Von Miller, Texas A&M
(No. 7 overall)
It didn't take long for Miller to establish himself as the top prospect at this year's Senior Bowl. He is a sideline-to-sideline run defender and a menace on passing downs. Miller has great natural athleticism and quickness in coverage, and his diagnostic skills will only improve in that area with more reps. Plus, he was clearly the most dynamic pass rusher in Mobile this week.
2. OT Nate Solder, Colorado
(No. 11 overall)
Solder still can improve his technique and overall consistency but he proved to be the most dominant offensive lineman in Mobile. He has outstanding natural mobility for a 6-foot-8 left tackle prospect.
3. OT Gabe Carimi, Wisconsin
(No. 17 overall)
Carimi was not crazy about playing anywhere but left tackle during practices this week, but he needs to warm on the idea of playing right tackle because that's where he projects in the NFL. He wound up sitting out of the game because of a mild ankle injury, but Carimi is a big, physical offensive tackle with excellent awareness and technique.
4. DE Ryan Kerrigan, Purdue
(No. 18 overall)
Kerrigan lacks ideal athleticism and would struggle to play OLB in most 3-4 schemes. But he shows the instincts, strength-for-size and relentlessness to quickly develop into a quality starter at defensive end in a four-man front. Projects as a mid to late first-round prospect and is NFL ready today.
5. DE Cameron Jordan, Cal
(No. 22 overall)
Jordan displayed versatility as a college five-technique who is capable of playing left end in a 4-3 scheme. Needs to add more pass-rush moves and will never have the burst of an elite edge rusher, but he has good size, great hands and a non-stop motor.
Five who failed to improve their stock
1. RB Noel Devine, WVU
We've seen undersized RBs like Dexter McCluster and Darren Sproles come in and really shine at the Senior Bowl. It makes sense because so much of practice time is spent on 1-on-1 drills and backs catching the ball out of the backfield, so versatile, quicker guys like this tend to stand out. Devine didn't have a terrible week and flashed his quickness and explosiveness, but overall he failed to make a huge impression. At 5-7, 160 pounds, he struggles between the tackles and will never be an every-down back because he goes down too easily. He really struggled to stay healthy, which is a major concern for him at the next level, and he also tends to get a little lost in the passing game. The game kind of underscored that as though he did score a touchdown, he averaged just 1.1 yards a carry and had just one catch for 12 yards.
2. WR Ronald Johnson, USC
Johnson doesn't have a first- or second-round grade, so it's not like he came in here and hurt his draft stock this week. But where Miami's Leonard Hankerson, San Diego State's Vincent Brown, Boise State's Titus Young and TCU's Jeremy Kerley were able to showcase a lot of their positive qualities, Johnson turned in an underwhelming performance this week. No area of his game stands out and whether it's running routes, running after the catch or even the five returns he had in the Senior Bowl, he just lacks big-play ability. In a wide receiver group that continues to get deeper by the day, Johnson is likely to be a Day 3 pick.
3. DE Jeremy Beal, Oklahoma
The one sack he had in Saturday's game, he jumped offside and the refs somehow missed it. We loved his effort, his toughness and the way he approached every practice and the game. He's strong enough and instinctive enough to contribute in the NFL, but for a player who has been talked about as a potential second-round pick, he didn't fare as well when going up against some of the top offensive tackles compared to what players like Von Miller and Ryan Kerrigan did throughout the week. Beal is not athletic enough to make the move back to OLB, which means he's going to have to find a way to make it happen as an undersized DE in a four-man front. We'd be surprised if he came off the board before Round 3.
4. ILB Greg Jones, Michigan State
Teammates loves him, coaches can't say enough good things about him and his effort and passion for the game are obvious after watching him throughout the week of practices. What is also obvious is that he just does not match up athletically. He really got exposed in 1-on-1 coverage drills and also struggled at times to get off blocks. We weren't overly high on him coming into this week and we won't be shocked if he's still on the board after the first two days of the draft.
5. TE Lance Kendricks, Wisconsin
Kendricks was obviously a very productive player at Wisconsin. He runs good routes and he's capable of making some very difficult catches, as we saw throughout practices this week. But his lack of top-end speed and size were really evident. It's tough to spend a top-100 pick on an H-back who is likely to max out as a No. 2 in the NFL and doesn't provide explosive speed to stretch the seem. It's not a good tight end class, so it will be interesting to see where H-back types like Kendricks and Arkansas' D.J. Williams come off the board.
Others failing to improve draft stock:
• OT Derek Sherrod, Mississippi State
• S Joseph Lefeged, Rutgers
• WR Courtny Smith, South Alabama
• Arkansas OT Demarcus Love
More Senior Bowl content
•
Senior Bowl spotlight: Taylor and Brown
•
Day 4 practice buzz
•
McShay: Under the radar

•
Day 3 practice blog
•
Day 3 practice buzz
•
McShay: Day 3 stock report

•
McShay talks Senior Bowl with Van Pelt

•
Day 2 practice blog
•
Senior Bowl spotlight: Matthews and Devine
•
Day 2 practice buzz
•
McShay: QB breakdowns

•
McShay: Stock up/stock down

•
Day 1 practice blog
•
Day 1 practice buzz
•
Senior Bowl spotlight: Herzlich and Murray
•
Top five lists from the weigh-in
•
McShay: Best of Day 1

•
Senior Bowl preview
•
What to watch