Unusual early intrigue among QBs
By Todd McShay
Scouts Inc.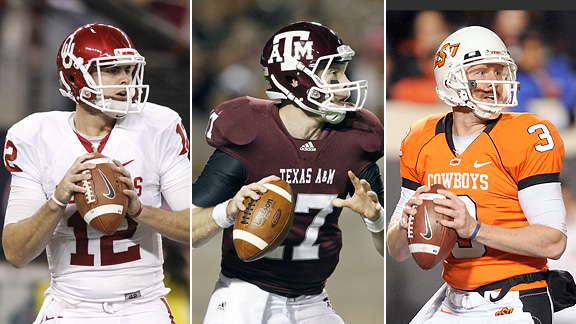 Getty Images, US PresswireLandry Jones, Ryan Tannehill and Brandon Weeden are among the QBs making waves.
There is more buzz regarding the 2012 quarterback class than we normally see at this early point in the process, and there are two main reasons for that.
To continue reading this article you must be an Insider
Insider
Steve Muench's Stock Report
Up: Louisiana-Lafayette TE Ladarius Green
Green hasn't gotten much attention playing in the Sun Belt Conference, and the level of competition he's faced is a concern. His 227-pound frame is another issue. Still, don't be surprised to see him move into the third-round conversation as the evaluation process progresses. At 6-foot-6, Green has plenty of room to add bulk to his frame and develop into an effective in-line blocker. Toughness isn't a concern, either. He doesn't shy away from contact and flashes the ability to knock defenders off-balance with a powerful punch. His greatest strength, though, is his ability to contribute as a receiver. He's a big target who can separate from man coverage and settle into pockets against zone looks. Green is also versatile enough to flex out or line up at H-back, making him an even tougher matchup.
Down: Michigan State DT Jerel Worthy*
At 6-3 and 305 pounds, Worthy has the quick first step, upper-body strength and active hands to become a quality starter as a one-gap penetrator in a four-man front, However, he doesn't always get the most out of his natural ability and as a result projects as a second-round pick. It starts with his conditioning. Worthy tends to wear down late in games and over the course of long drives. Gap discipline is also a concern, because he is caught upfield far too often. Finally, defensive tackles who jump offside in critical situations like he did on a third-and-1 in the third quarter of the Big Ten title game drive coaches nuts. His premature celebration on that play didn't help matters, either. It will be interesting to see whether he decides to return for his senior season and improve his stock or declares for the draft.
Kevin Weidl's Stock Report
Up: Iowa State CB Leonard Johnson
I was impressed with Johnson during preseason film study, and he's put together some good tape over the course of the season. Johnson plays bigger than his listed size (5-10, 193), showing the coverage and tackling ability to become a good nickel corner in the NFL. His performance against first-round wideout Justin Blackmon earlier this season was a good one. Johnson did not back down from the bigger Blackmon, and while he was beaten on some jump balls, the same can be said of many other corners who matched up with Blackmon. Overall, Johnson's size limitations will hurt him, but he's played well enough to get himself into the Day 2 mix.
Down: Clemson DT Brandon Thompson
I got a live look at Thompson during the ACC championship game, and his sloppy build and questionable body language raise some concerns. There's no questioning his brute strength and ability to anchor against the run, but he's a one-dimensional run-stopper who won't offer much on third down. There are also questions about his motor and overall passion for the game, all of which could combine to drop him out of the first round before all is said and done.
Scouts Inc. Observations
Muench: The two best two tight ends in the NFL right now are in just the second year of their careers. New England drafted Rob Gronkowski in the second round in 2010, while New Orleans took Jimmy Graham in the third. Their size and versatility jump out and at 265 and 259 pounds, respectively. Graham and Gronkowski can hold up as in-line blockers, so they don't ever have to come off the field. In addition, both stand 6-foot-6 and are capable of coming down with jump balls in the red zone. Despite their big frames, they are athletic and quick enough to line up at receiver or H-back as well, which allows their offenses to create favorable matchups for them. The one 2012 prospect who jumps out when compared to Gronkowski and Graham is Stanford's Coby Fleener (Scouts Inc. Grade: 86), who at 6-6 and 252 pounds has a similar skill set. There's also a lot to like about Clemson TE Dwayne Allen* (87), but he's close to two inches shorter than the other three players mentioned.
Weidl: I've come away disappointed after taking a look at the overall 2012 defensive tackle class. The last two drafts have given us defensive linemen like Ndamukong Suh, Gerald McCoy, Marcell Dareus, Muhammad Wilkerson and Phil Taylor, but there is no such elite player atop this year's board. Prospects such as Penn State's Devon Still, Mississippi State's Fletcher Cox and Clemson's Brandon Thompson have seen their stock artificially inflated into the first-round discussion because of the overall weakness of the class. None of the three mentioned would have carried first-round grades in either of the past two drafts, and teams looking for help along the defensive front could come up empty in the early rounds.