The NFL trade deadline is over with only one trade made on Tuesday, but teams have been wheeling and dealing since August. Several 2020 draft picks got moved, and good players got traded. A sampling:
Leonard Williams to the Giants. Michael Bennett to the Cowboys. Mohamed Sanu to the Patriots. Emmanuel Sanders to the 49ers. Jalen Ramsey to the Rams.
We tracked every deal since training camp below -- latest deals and news at the top -- with analysis and highlights from our team of NFL reporters.
More reaction:
Winners and losers | Barnwell's grades

Recapping deadline day
Washington Redskins offensive lineman Trent Williams has ended his season-long holdout and reported to the team, a source told ESPN's Adam Schefter.
At the root of the star left tackle's absence was his displeasure with the organization's medical staff, multiple sources have told ESPN's John Keim.
Williams, 31, had a growth removed from his head in the offseason, and those close to him have said he was upset with how many years it took for the team to address the situation. But one Redskins source said the team made appointments for him over the years that he did not keep.
---
Despite intense speculation, the Jets stayed pat at the trading deadline. Jamal Adams, Robby Anderson and Le'Veon Bell remain on the team. You can bet GM Joe Douglas will re-visit the Adams and Bell situations in the offseason. (Anderson is a free agent.) Douglas will flip the roster. Count on it. This no-action at the deadline merely prolongs the inevitable.
Add one more team to the mix from today: Ravens were actively going after Jets' safety Jamal Adams, per source. But Ravens and Jets could not reach an agreement.

— Adam Schefter (@AdamSchefter) October 29, 2019
The Cowboys made a legitimate offer to the New York Jets for safety Jamal Adams, but the asking price was too much for Dallas' liking and they would not budge. As much as Adams would have helped immediately and into the future, the Cowboys did not want to give up the draft collateral that New York was seeking.
---

Mr. @mortreport: "The Browns are standing pat. They're not doing anything."

— Field Yates (@FieldYates) October 29, 2019
Chris Harris staying in Denver. https://t.co/D52qpUlbyn

— Adam Schefter (@AdamSchefter) October 29, 2019
---

Another text from league source on whether #Cowboys are acquiring #Jets S Jamal Adams with 10 minutes to go: "Nothing happening (still)."

— ig: josinaanderson (@JosinaAnderson) October 29, 2019
My understanding is that valiant efforts were made last night to convey Jamal Adams' interest in playing for the Dallas Cowboys. Will leave it at that.

— ig: josinaanderson (@JosinaAnderson) October 29, 2019
---
If the Redskins want to move corner Josh Norman, it'll be difficult. One source said there hasn't yet been interest in Norman. His contract clearly isn't helping fuel any interest. He has a base salary of $12 million next season, the final year of his five-year contract signed in 2016.
---
Just checked with Denver sources. They have no plans of trading Von Miller. https://t.co/oOMG4dLO0x

— Dianna (@diannaESPN) October 29, 2019
---
Barring a last-hour change, the Jets don't plan to trade RB Le'Veon Bell before today's 4 pm deadline, per source. Jets received calls, but not enough interest to make a deal.

— Adam Schefter (@AdamSchefter) October 29, 2019
---
The Eagles have called the Denver Broncos about Chris Harris Jr. per sources. At this time, I was told their asking price is too high. Still more time on the clock.... #Eagles

— Dianna (@diannaESPN) October 29, 2019
I'm told at least 6 teams have called inquiring about #Broncos CB Chris Harris, per source.

— ig: josinaanderson (@JosinaAnderson) October 29, 2019
Text from #Broncos CB Chris Harris as trade deadline nears to me just now: "Still waiting. Quiet right now."

— ig: josinaanderson (@JosinaAnderson) October 29, 2019
---

The Cowboys are among the teams the New York Jets have reached out to regarding safety Jamal Adams, according to multiple sources. The Cowboys have had discussions about their second mammoth trade in two years, with Amari Cooper from the Oakland Raiders the first. Adams, who went to high school in Carrollton, Texas, would be another boost to the defense with the other trade acquisitions Robert Quinn and Michael Bennett, but would come at a much steeper price.
Ryan Clark on NFL LIVE on Jamal Adams and the idea of playing for the Cowboys: "I know he wants to play there. I know he wants to go home. This is from speaking to him."

— Field Yates (@FieldYates) October 29, 2019
---

The Miami Dolphins have acquired cornerback Aqib Talib and a fifth-round pick from the Los Angeles Rams for a conditional pick, a source told ESPN's Adam Schefter.
Talib was placed on injured reserve earlier this month with fractured ribs but is expected to be ready to return by Week 15, the earliest he will be eligible to play, per league rules.
Dolphins GM Chris Grier said Sunday they would be willing to be buyers for teams that want to offload contracts, and that's what Miami's trade for Aqib Talib in exchange for a fifth-round pick per Adam Schefter is — buying a pick. Talib is in the final year of his deal with about $4.2M left, and Rams free that money from their books. Miami has plenty of cap space.Talib is on IR, and won't be eligible to return until Week 15. Miami is set to have 14 picks in 2020 draft with 3 1st rounders.
---
Colts GM Chris Ballard has never been shy when it comes to pulling off roster transactions. With that said, he's also a big believer in stockpiling draft picks to help continue their roster building. That's why at this point, making a trade doesn't appear to be likely, especially with so many of the Colts young players getting playing time so far this season. There was a time during Sunday's victory over Denver that the Colts (5-2) had five rookie defensive players on the field.
---

Although they signed Frank Gore this offseason and drafted Devin Singletary, the Bills have been linked to Chargers RB Melvin Gordon... One of the NFL's premier dual-threat running backs at his best, Gordon is an unrestricted free agent after the 2019 season, so any trade would almost certainly come with an assurance that he'd sign a long-term deal. Buffalo currently has roughly $24.6M of cap space available
---

People close to Patrick Peterson believe the Cardinals star cornerback won't be traded today. "That ship has sailed," I was told.
---

The winless Cincinnati Bengals are making a change at quarterback, benching longtime starter Andy Dalton with rookie Ryan Finley expected to start, sources confirmed to ESPN.
Dalton has thrown for 2,252 yards with nine touchdown passes and eight interceptions as the Bengals have started the season 0-8 for new head coach Zac Taylor. Cincinnati drafted Finley out of NC State in the fourth round (104th overall) of the 2019 draft.
---

The Browns undoubtedly are going to be active up to the deadline, with the objective of adding help at offensive tackle. Trent Williams remains the dream scenario, although the final asking price likely will be too high. As for who might be on the way out, Cleveland could be inclined to listen to anyone interested in either cornerback T.J. Carrie or wide receiver Rashard Higgins, proven commodities who are both currently buried on the depth chart.
---
The Redskins haven't altered their stance on trading tackle Trent Williams: In order to move him, a team will have to meet their price. And, entering today, that price was a first-rounder - or somehow a package that gave them a playmaker to help the development of quarterback Dwayne Haskins. Cleveland reportedly remains interested in Williams, but it'll be hard to get a deal done if the Browns don't surrender a first-rounder. The Redskins have been content to gauge his market in the offseason.
---
With the Broncos having made their trade headlines last week when they moved wide receiver Emmanuel Sanders to the San Francisco 49ers, they aren't expected to move any more deals unless the interest picks up league wide. Asked Monday if he expected any trades beyond the Sanders' deal, coach Vic Fangio said: "I don't think so. I haven't heard that there is anything imminent or being discussed." Cornerback Chris Harris Jr. and defensive end Derek Wolfe would draw the most interest.
---
The Jets are hearing from teams that are interested in trading for RB Le'Veon Bell, but they're not actively shopping him, I'm told. I'd be surprised if they move him because it would cripple the offense, which is already in bad shape. Bell has only $1M left in 2019 salary and $13.5M in guaranteed money for 2020, so he could be attractive to contending teams. If he's not traded today, he definitely will be a player to watch in the offseason.
Three hours to the deadline, and I think pretty much everything is on the table for the #Jets - except Darnold and Q. Williams. No one else is untouchable, including Jamal Adams.

— Rich Cimini (@RichCimini) October 29, 2019
The hot name right now is Jamal Adams. It wouldn't shock me if he gets dealt. #Jets

— Rich Cimini (@RichCimini) October 29, 2019
---
A splash trade is always possible for the Saints since they're in win-now mode; they're always aggressive with trades/free agency; and they could really use another pass catcher. And they are doing their due diligence like most teams before the deadline. But they would still need to find the right player at the right price. And they're a bit low on cap space (just $2 million) and draft picks (no 2nd-rounder or 7th-rounder in 2020).
---

Despite several teams looking for cornerback help, Falcons CB Desmond Trufant is not expected to be dealt as of now, per source.

— Jeremy Fowler (@JFowlerESPN) October 29, 2019
---
Thoughts on a potential Robby Anderson trade by the Jets: Don't do it unless it's an offer they can't refuse — i.e. a second rounder. Here's why: It would stunt Sam Darnold's development. The Darnold-Anderson numbers aren't good (13-for-29, 1 TD, but this is a case where you put the data aside and trust your eyes. Without a deep threat, Darnold would have to play on a 20-yard field — and that would be bad. Worse than it is now.
---

Schefter: Why would the Bengals not trade Green?
Adam Schefter makes a case for why the Bengals should trade A.J. Green before the deadline instead of letting him walk in free agency.
---

Is the trade for defensive end Michael Bennett the only deal the Cowboys will make before today's deadline? "We're always looking," owner and general manager Jerry Jones said on 105.3 The Fan in Dallas. "That's plenty of time and let's say we have consideration in the mill. I mean we're giving it a thought. This is when you do it. This is the deadline everybody needs to push back against and to that end anything is possible."
---
With the Patriots tight to the salary cap, Bill Belichick acknowledged on his Tuesday conference call that "it would definitely affect us" in terms of making a trade before Tuesday's 4 p.m. ET deadline. Belichick also noted that the team needs to leave a cushion on the cap to project transactions for the remainder of the season, with injuries in mind. So while it's always possible for the Patriots to swing a deal, the odds seem longer at this point.
---
Continue to hear the Redskins want a 1 for Trent Williams and the Browns aren't willing to give up that much. Think CLE more in the range of multiple mid-rounders. Will see if deadline changes things.

— Jeremy Fowler (@JFowlerESPN) October 29, 2019
---
One of the myriad reasons for the Green Bay Packers' successful -- if not surprising -- start has been the communication between first-year coach Matt LaFleur and second-year general manager Brian Gutekunst. Gutekunst doesn't have hiring and firing power over the head coach -- both report to team president Mark Murphy -- and it's possible that structure has helped the early stages of their working relationship.
"We talk on a daily basis," LaFleur said recently. "And we're always looking for ways to improve our football team."
Perhaps Gutekunst won't think of LaFleur as being a pest if the coach sticks his head into the GM's office more often than usual before Tuesday's deadline.
---


Date: Oct. 28
The Philadelphia Eagles traded an undisclosed 2021 draft pick to the Cleveland Browns for Genard Avery, a 24-year-old outside linebacker/defensive end.
The Eagles' addition of Avery provides Philadelphia some depth along the defensive front. Coordinator Jim Schwartz will look to use him as a pass-rusher and see if he can provide some relief snaps for Brandon Graham and Derek Barnett. He had 4.5 sacks in 18 games while with the Browns.
---

Date: Oct. 28
Don't look for any movement from the #Bengals on any of their "key guys" by the trade deadline Tuesday, at this time. I'm told Cincinnati would still like to evaluate their roster when they get healthier after their bye this week.

— ig: josinaanderson (@JosinaAnderson) October 28, 2019
---

Date: Oct. 28
Out of playoff contention, the New York Jets started to address their future, trading defensive lineman Leonard Williams to the New York Giants for draft picks.
The Jets will receive a third-round pick in 2020 and a fifth-rounder in 2021. The fifth-round pick in 2021 will become a fourth-round pick if Williams signs an extension with the Giants before the start of the 2021 league year. The Jets are paying $4 million of Williams' $6 million salary this year.
Leonard Williams' addition in a trade with the Jets adds to Dave Gettleman's heavy investment in the defensive line. He's now responsible for Williams (draft picks + likely new contract), Dexter Lawrence (first round) and B.J. Hill (third round). Now they have to play up to expectations.
---


Date: Oct. 28
With their top two running backs injured, the Arizona Cardinals have reached agreement in principle to acquire Miami Dolphins running back Kenyan Drake for a conditional 2020 draft pick.
Cardinals coach Kliff Kingsbury said Sunday that there's "definitely concern" that running back Chase Edmonds might not play Thursday night against the San Francisco 49ers after leaving Sunday's loss to the New Orleans Saints with a hamstring injury.
---
Date: Oct. 27
The Detroit Lions have received trade inquiries about star cornerback Darius Slay, league sources told ESPN on Saturday.
Slay has drawn interest from cornerback-needy teams as Tuesday's 4 p.m. ET trade deadline approaches, though sources told ESPN that it would take a lot to pry the two-time Pro Bowler away from the Lions.
Asked Matt Patricia this: Do you anticipate Darius [Slay] being here after the trade deadline? "We always anticipate everybody being here, you know. We got to just go and work hard and do everything we got can to get better. Absolutely. I mean, I'm hope I'm here."
---
Date: Oct. 27
Despite completing three separate trades in one day earlier this month, the Los Angeles Rams might not be done dealing before Tuesday's trade deadline.
The Rams still could be open to moving on from veteran players in the final year of their contracts as part of an effort to free up more money for a player like Jalen Ramsey, league sources told ESPN.
One prime candidate to be dealt could be veteran cornerback Aqib Talib, who already turned down the chance to be traded last week, according to sources.
---

Date: Oct. 27
Two teams that could be busy as Tuesday's trade deadline approaches are the Cleveland Browns and New York Jets, sources told ESPN.
The Browns have been calling around the league, seeking help at offensive tackle, according to league sources. The Browns benched starting left tackle Greg Robinson for Sunday's game against the New England Patriots, with Justin McCray likely replacing Robinson -- for now.
Some sources believe Robinson's benching is a prelude to another move Cleveland could make before the deadline that would be an attempt to upgrade at left tackle.
---

Date: Oct. 27
The Miami Dolphins have spoken to teams in the past week about a trade for Kenyan Drake, and there's a strong possibility that the running back will be dealt before Tuesday's trade deadline, league sources told ESPN.
Multiple teams have called, including the Tennessee Titans and Detroit Lions, and the Dolphins are looking for a midround draft pick, according to sources.
---


Date: Oct. 27
49ers have gotten inquiries on backup QB C.J. Beathard, a name that bears some watching at the trade deadline.

Despite Falcons TE Austin Hooper being in the last year of his contract and team being pressed against cap, Atlanta will not trade its young TE by Tuesday's deadline.

— Adam Schefter (@AdamSchefter) October 27, 2019
---

Date: Oct. 26
A few trade deadline notes:
*Some around league expect Leonard Williams to be next big name to drop. Oakland among teams looking for pass rush help.
*Chiefs, Eagles have shown interest in Patrick Peterson, but Cards haven't been willing to move.

— Jeremy Fowler (@JFowlerESPN) October 26, 2019
---
Date: Oct. 25
There have been 17 trades since the season began Sept. 5, and the consensus opinion in front offices across the league is that there are plenty more to come ahead of Tuesday's deadline.
How did this happen? The NFL trade deadline used to be a perennial dud -- nothing like its MLB, NBA or NHL counterparts for activity. General managers used to hoard draft picks and believe the juice of a midseason acquisition wouldn't be worth the squeeze, so difficult is it to school players in new offensive and defensive schemes on the fly.
---

Date: Oct. 24
The Dallas Cowboys have acquired veteran defensive end Michael Bennett from the New England Patriots, sources told ESPN's Adam Schefter.
The Patriots will receive a seventh-round pick that could eventually improve to a sixth-round pick in 2021, sources told ESPN.
---
Date: Oct. 24
New York Jets general manager Joe Douglas, who hasn't talked to the media since late August, will make a statement by Tuesday -- whether he actually opens his mouth or not.
Tuesday is the NFL trade deadline, and the Jets will be one of the teams to watch. Yes, they are working the phones. Their playoff hopes are shot at 1-5, so it behooves Douglas to start building for 2020. He can do that by trading defensive lineman Leonard Williams for future draft capital.
Will the first-year GM make the Jets a seller like the Atlanta Falcons and Denver Broncos, fellow also-rans, or will he give coach Adam Gase a chance to squeeze something out of the current roster?
---

Date: Oct. 24
There might be some more tough business decisions upcoming for general manager Thomas Dimitroff and coach Dan Quinn before the Oct. 29 trade deadline, even if neither guy is a part of the team beyond this season.
The Atlanta Falcons already have put 2015 first-round draft pick Vic Beasley Jr. on the trade block -- as Beasley acknowledged himself -- although there hasn't been any movement on that front with Beasley owed the prorated portion of his $12.81 million salary for 2019. The fact Beasley is being dangled, and that Mohamed Sanu already was moved, says the Falcons have turned toward building for the future amid what looks like a lost season.
---

Date: Oct. 22
The Detroit Lions have traded starting safety Quandre Diggs and a 2021 seventh-round pick to the Seattle Seahawks for a 2020 fifth-round pick on Tuesday.
Diggs has been a starter for the Lions since 2017 at both the slot cornerback and safety positions and over the past two seasons had become one of Detroit's most reliable defenders in the secondary along with Pro Bowl cornerback Darius Slay.
Quandre Diggs won't help the Seahawks' pass-rush or their depth at tight end, but he does give their secondary a young, versatile piece who can safety or nickelback. The easy assumption is that Seattle made this trade with Tedric Thompson's inconsistent play in mind. It might have as much or more to do with Jamar Taylor, Lano Hill or Bradley McDougald. Hill is out with an elbow injury. McDougald is dealing with back spasms and is playing on a contract with a $5.33 million cap charge in 2020.
---

Date: Oct. 22
The Denver Broncos are trading wide receiver Emmanuel Sanders to the San Francisco 49ers.
San Francisco is sending third- and fourth-round picks in the 2020 draft to Denver, which is also including a 2020 fifth-round pick with Sanders in the deal. Sanders, 32, has 30 catches for 367 yards and two touchdowns in seven games this season, his sixth with the Broncos (2-5).
---

Date: Oct. 22
The New England Patriots have acquired veteran wide receiver Mohamed Sanu from the Atlanta Falcons in exchange for a second-round draft pick.
Sanu gives the Patriots an inside target, especially on third down, that will help take pressure off top target Julian Edelman. The 6-foot-2, 210-pound Sanu is in his eighth season and has 33 receptions for 313 yards and one touchdown this season.
Wingo: Sanu trade is another reason Patriots will play in Super Bowl
Trey Wingo says Mohamed Sanu being traded to the Patriots adds to the reasons New England will be playing in the Super Bowl.
---

Date: Oct. 22
The Buffalo Bills have been one of the NFL's biggest surprises halfway through the 2019 season. They have the league's seventh-best rushing attack (135.8 yards per game), but rank 21st or worse in passing yards per game, completion percentage, yards per attempt and passer rating through six games.
To alleviate the pressure on the running game, trading for another receiver before the deadline could make sense.
---

Date: Oct. 21
The Oakland Raiders are trading cornerback Gareon Conley to the Houston Texans for a third-round pick.
Conley, who was Oakland's first-round pick (24th overall) in 2017, has one interception this season in six starts. He has four interceptions, 18 passes defensed and 67 tackles in 23 career games.
Clark: Texans needed Conley after Joseph's injury
Ryan Clark explains that the Texans needed a player such as Gareon Conley with Johnathan Joseph injured.
---

Date: Oct. 20
Falcons pass-rusher Vic Beasley Jr. is on the trade block, a source told ESPN on Sunday.
The 2015 first-round draft pick from Clemson has not been the same player since leading the league with 15.5 sacks in 2016. His production has steadily declined, and he entered Sunday's game against the Rams with just 1.5 sacks.
---
Date: Oct. 20
As losses pile up in Denver, the Broncos are likely to be open to listening to offers for wide receiver Emmanuel Sanders, sources told ESPN.
There are enough teams expected to be in the wide receiver market in the days leading up to the Oct. 29 trade deadline -- including the Panthers, Patriots, Eagles, 49ers and others -- and Sanders could be on the block.
---
Date: Oct. 16
With the Oct. 29 trade deadline looming, we asked our 32 NFL Nation reporters to choose potential trade targets for every team. That means veterans who can't get on the field, players who have overstayed their welcomes and guys who just need a change of scenery.
---
Date: Oct. 15
After trading cornerback Marcus Peters to the Baltimore Ravens, the Los Angeles Rams made another blockbuster move Tuesday, trading for embattled Jacksonville Jaguars cornerback Jalen Ramsey, according to ESPN's Adam Schefter.
According to Schefter, the Rams are sending a first-round pick in both 2020 and 2021, and a fourth-round pick in 2021. Ramsey, the fifth overall pick in 2016, requested a trade in mid-September because of growing frustrations with the organization.
Ramsey: Jaguars' front office portrayed me as a 'bum'
Jalen Ramsey explains how part of his frustration with the Jaguars was being portrayed "as a bum" because he missed voluntary workouts.
---

Date: Oct. 15
The Los Angeles Rams traded cornerback Marcus Peters to the Baltimore Ravens for linebacker Kenny Young and a 2020 fifth-round draft pick. Peters is in the fifth and final season of his rookie contract. The Rams acquired the former first-rounder from the Kansas City Chiefs before the 2018 season. In 22 regular-season games in L.A., Peters has intercepted five passes, returning two for touchdowns. He made the Pro Bowl in 2015 and '16 with the Chiefs.
By trading for Marcus Peters, Ravens address a secondary hit with injuries. Cornerback Jimmy Smith (knee) has missed the past five games, and nickelback Tavon Young (neck) is out for the season. Marcus Canady and Anthony Averett have struggled as starting cornerbacks. Quarterbacks have targeted them because they're throwing away from Marlon Humphrey, who has been playing at a Pro Bowl level.
---

Date: Oct. 15
The Rams sent a 2021 draft pick to Cleveland in exchange for Austin Corbett, who was selected in the second round of the 2018 draft from Nevada. Corbett has appeared in 14 games for the Browns, and provides depth to the O-line after Joe Noteboom suffered a torn MCL/ACL in Week 6.
---


Date: Oct. 7
The Buffalo Bills are trading wide receiver Zay Jones to the Oakland Raiders for a 2021 fifth-round pick, sources told ESPN's Chris Mortensen.
Jones, in his third season with the Bills, has seven receptions for 69 yards in 2019 but wasn't targeted in Sunday's victory against the Titans.
Jon Gruden, on Zay Jones: "I like him. He was a very productive guy in college. Played in the slot, played split end and flanker. Tough guy, smart. I just think he has a lot of natural skills that are really well worth looking into. With all our injuries, I really credit [General Manager] Mike Mayock and his staff for the two trades that we made. Trevor Davis has really played big dividends for us. We expect more of the same from Zay."
---


Date: Sept. 30
The Atlanta Falcons, in need of safety help, traded linebacker Duke Riley and a 2020 sixth-round draft pick to the Philadelphia Eagles for safety Johnathan Cyprien and a 2020 seventh-round draft pick.
Cyprien, 29, has started 70 games in six seasons, including four years as a starting strong safety in Jacksonville, where the Jaguars run a scheme similar to the Falcons'. The 6-foot-1, 211-pound Cyprien is known more as an in-the-box safety but has been a liability in coverage.
---


Date: Sept. 24
The Seahawks are finalizing a trade to send tight end Nick Vannett to the Steelers, a league source told ESPN's Adam Schefter. Complete details of the deal weren't immediately known.
Steelers starting tight end Vance McDonald injured his shoulder early in Sunday's loss in San Francisco. His status for Week 4 on Monday night against the Bengals hasn't been announced by the team.
---


Date: Sept. 18
Trevor Davis had a big game against the Oakland Raiders in the preseason, and now he has joined them. The Green Bay Packers traded Davis to the Raiders. In a bit of trivia, if Davis is active on Sunday, he'll play against the Vikings two consecutive weeks (in Week 2 as a Packer and in Week 3 as a Raider).
---


Date: Sept. 16
The Steelers have acquired defensive back Minkah Fitzpatrick from the Dolphins in exchange for a 2020 first-round pick. The Dolphins also are getting the Steelers' 2020 fifth-round pick and a sixth-rounder in 2021. In turn, Pittsburgh will receive Miami's 2020 fourth-round pick and a seventh-round pick in 2021.
---

Date: Sept. 16
Cornerback Jalen Ramsey's agent, David Mulugheta, told ESPN's Adam Schefter and Chris Mortensen on Monday that he asked the Jaguars to trade his client. League sources also told ESPN that the Jaguars have had talks with teams and are asking for at least one first-round pick but would like more than that in return for the two-time Pro Bowl cornerback.
---


Date: Sept. 10
One day after coach Adam Gase's public criticism of the team, the Jets traded for wide receiver Demaryius Thomas and changed kickers for the third time since training camp -- a mini-shake-up that sends a message to the locker room. The Jets acquired Thomas from the Patriots for a 2021 sixth-round pick, sources told ESPN's Adam Schefter. That the bitter rivals made a trade was stunning. It was a first for Patriots coach Bill Belichick, who previously had executed a trade with every team except the Jets.
Quincy Enunwa's season-ending neck injury, the second of his career, sheds light on the Demaryius Thomas trade. Adam Gase never disclosed the injury, perhaps to keep from losing leverage in the receiver market. This is a blow to the Jets, who relied on Enunwa's yards-after-catch ability in their passing attack. Their offense loses an element of toughness. Thomas knows Gase's system, which is a plus, but how much does he have left? Bill Belichick doesn't give away good players.
---


Date: Sept. 9
After losing starter Nick Foles to a broken clavicle, the Jaguars traded a fifth-round pick in 2020 to Pittsburgh for quarterback Joshua Dobbs. Dobbs will back up Gardner Minshew, the Jaguars' sixth-round pick who replaced Foles.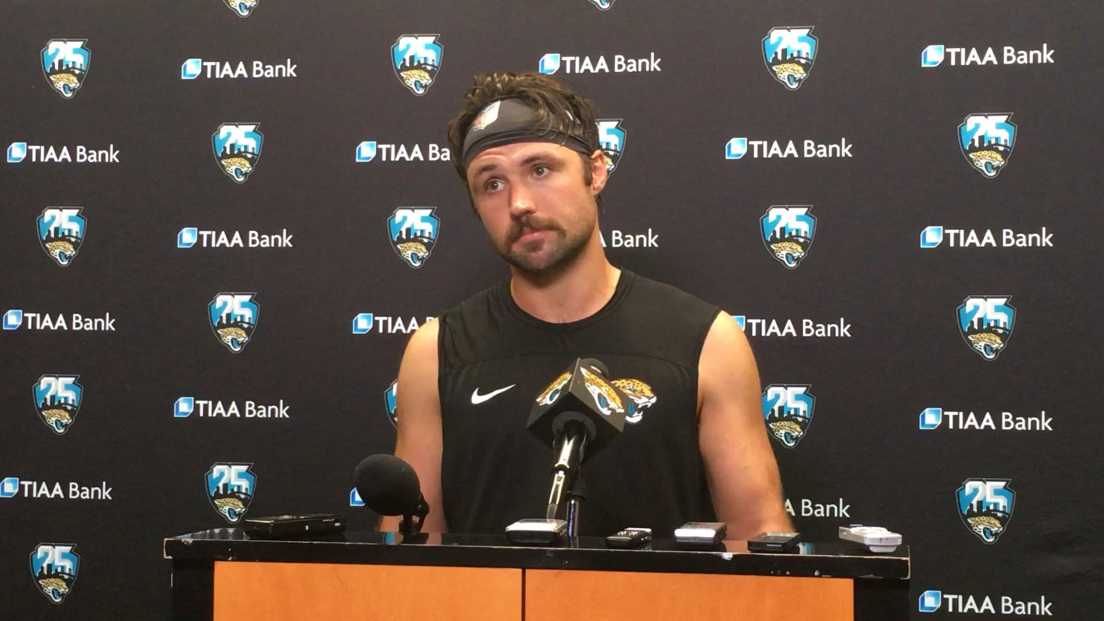 Jaguars QB Gardner Minshew, who scored a 42 on the Wonderlic, says he doesn't consider himself in the same league as new backup Josh Dobbs, who graduated from Tennessee with a degree in aerospace engineering. So where does he belong?
---


Date: Sept. 2
The Packers found some inside linebacker help. Three days before the season opener, they acquired former Giants starter B.J. Goodson in a trade.
---


Date: Sept. 2
The Dolphins continued their veteran purge, trading Kiko Alonso to the Saints for linebacker Vince Biegel.
---


Date: Sept. 1
In exchange for Jadeveon Clowney, the Texans are receiving a 2020 third-round pick and linebackers Barkevious Mingo and Jacob Martin. Houston paid Clowney a $7 million signing bonus, while Seattle is paying the remaining $8 million of his salary.
The Jadeveon Clowney trade looks like a steal for the Seahawks considering what they're giving up for a 26-year-old Pro Bowl pass-rusher -- even if he ends up being just a one-year rental for $16 million. If so, the Seahawks could get a high compensatory pick to help make up for the 2020 third-rounder they're sending to Houston along with Barkevious Mingo (who may have otherwise been cut) and Jacob Martin (a promising young pass-rusher but a rotational piece). There's some risk for the Seahawks that this could be a thud like the Sheldon Richardson trade from 2017, but it's a worthwhile one given the state of their defensive line. A week ago, it was hard to imagine Seattle having a credible pass-rush, at least early in the season with Ziggy Ansah's availability uncertain and Jarran Reed suspended for six games. But with word that Ansah is on track to play Week 1 and Clowney now joining him in front of what may be the league's best linebacker trio, Seattle has the makings of a dominant front seven, especially once Reed returns.
---


Date: Sept. 1
The Texans finalized a trade with the Dolphins for left tackle Laremy Tunsil and wide receiver Kenny Stills, the team announced. The Texans are sending first-round draft picks in 2020 and '21, a second-round pick in '21, offensive tackle Julie'n Davenport and cornerback Johnson Bademosi to Miami. Houston also will receive a fourth-round pick in 2020 and a sixth-round pick in '21 from Miami to complete the deal.
---


Date: Aug. 31
Center-guard Evan Boehm was traded by the Colts to the Dolphins for a conditional 2020 draft pick. Boehm, a fourth-year pro, has 13 career NFL starts.
---


Date: Aug. 31
In a move that happened minutes before the cut-down deadline, the Packers traded offensive lineman Justin McCray to the Browns. Earlier in the day, the Packers had told McCray that he would be released. Now, he'll be reunited with former Packers offensive line coach James Campen in Cleveland.
---


Date: Aug. 31
The Titans traded third-year wideout Taywan Taylor to the Browns for a 2020 draft pick. Taylor, a 2017 third-round pick by the Titans, had 37 receptions for 466 yards and one touchdown last season. Tennessee faces Cleveland in the season opener.
---


Date: Aug. 31
The Jets traded cornerback Parry Nickerson to the Seahawks for a conditional seventh-round pick in 2021.
---


Date: Aug. 31
The Buccaneers acquired offensive tackle Jerald Hawkins and a draft pick from the Steelers for a sixth-round pick in the 2021 draft. The Bucs announced the draft choice they will receive from the Steelers is a seventh-round selection in 2021.
---

Date: Aug. 31
The Vikings sent a seventh-round pick in 2021 to Kansas City in exchange for undrafted free-agent cornerback Mark Fields.
---

Date: Aug. 31
The Texans acquired running back Carlos Hyde from the Chiefs in a trade for guard Martinas Rankin. The Texans were in need of help at running back after starter Lamar Miller suffered a torn ACL in the third preseason game. Houston also traded for running back Duke Johnson Jr. earlier in the month.
---



Date: Aug. 30
The Patriots traded cornerback Duke Dawson to the Broncos, who will get Dawson and the Patriots' seventh-round pick in 2020. In return, the Patriots will get Denver's sixth-round pick in 2020. In another deal, the Patriots acquired center Russell Bodine from the Bills for a 2020 sixth-round pick, the Bills announced.
---


Date: Aug. 30
The Dolphins traded a 2020 seventh-round pick to the Vikings for guard Danny Isidora, who figures to provide depth initially at guard and could push for playing time.
---


Date: Aug. 30
The Lions acquired quarterback David Blough and a seventh-round pick in 2022 from the Browns in exchange for Detroit's seventh-round pick in 2022.
---


Date: Aug. 29
The Packers sent outside linebacker Reggie Gilbert to the Titans in exchange for a conditional 2020 draft pick.
---


Date: Aug. 29
Addressing their most glaring need, the Jets acquired third-year cornerback Nate Hairston from the Colts for a 2020 sixth-round pick. The draft pick headed to the Colts is the second of the Jets' sixth-round picks in 2020.
---


Date: Aug. 29
The Browns made a trade to bolster the interior of their offensive line, acquiring guard Wyatt Teller from the Bills. Buffalo acquired two picks from the Browns -- fifth- and sixth-round selections in the 2020 draft for Wyatt and a 2021 seventh-round draft pick.
---


Date: Aug. 29
New England acquired offensive lineman Jermaine Eluemunor from Baltimore for an undisclosed draft pick, the Ravens announced, and offensive tackle Korey Cunningham from Arizona for a sixth-round pick in 2020, the Cardinals announced.
---


Date: Aug. 22
The Cardinals acquired defensive lineman Bruce Hector in a trade that sent safety Rudy Ford to the Eagles. Hector, 24, adds depth for the Cardinals.
---


Date: Aug. 13
The Patriots acquired third-year tight end Eric Saubert from the Falcons for a conditional seventh-round draft choice.
---

Date: Aug. 12
The Ravens traded kicker Kaare Vedvik to the Vikings for an undisclosed draft pick. Baltimore will receive a 2020 fifth-round draft pick from Minnesota.
---


Date: Aug. 10
The Bills traded defensive end Eli Harold to the Eagles for offensive tackle Ryan Bates, one day after a pair of offensive linemen suffered injuries in the Bills' preseason opener against the Colts.
---


Date: Aug. 9
Duke Johnson Jr. asked to be traded and the Browns obliged, picking up a conditional fourth-round pick in the 2020 draft that could rise to a third-rounder.
---

Date: Aug. 6
Addressing their offensive-line deficiencies, the Jets acquired guard Alex Lewis from the Ravens for a 2020 conditional seventh-round pick. Lewis had announced that he was being released by the Ravens, but they found a taker before placing him on waivers.