What's wrong with the Houston Texans?
Halfway through the season, it certainly looked as if the long-suffering NFL fans of Houston were finally going to get their shot at a Super Bowl. The Texans went into their bye week 6-1. They had a bad loss to Green Bay, but they also had four wins by at least 20 points.
To say that the Texans haven't been the same team since is a bit of an understatement. Houston went 6-3 over its final nine games, but two of those were overtime victories over the 2-14 Jaguars and the 4-12 Lions. Before the bye week, the Texans outscored opponents 216-128. After the bye week, they were outscored 203-200.
The differences are even clearer when we use Football Outsiders' advanced stats (explained here). Before their bye week, the Texans ranked ninth on offense and second on defense. After their bye week, they ranked 20th on offense and eighth on defense. A graph of the Texans' single-game DVOA ratings from week to week really drives the point home. Except for the Packers loss and Ravens win, which stand out, it's basically a direct line downward from the start of the season to the end, with two of their worst three games coming in the final two weeks.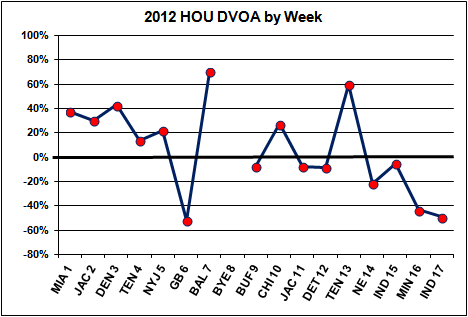 What's gone wrong for Houston? Looking closer at the numbers can help us see where its weaknesses lie and what needs to be fixed so it can deliver a Super Bowl to those fans who have waited through "Luv Ya Blue" and the run 'n' shoot.