Roddy White
WR | (6'1", 207, 4.45) | UAB

Scouts Grade: Insider Only
Selected by: Atlanta Falcons
Round: 1
Pick (Overall): 27(27)
Insiders can access ESPN.com's complete draft coverage, plus exclusive player grades, rankings, alerts
and expert analysis from Scouts Inc. Already an Insider? Sign in above or click here.

Become an Insider

| Take the Tour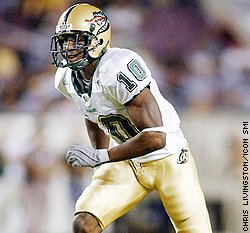 Strengths:
Insider Only

Weaknesses:
Insider Only



Overall: White appeared in nine games and started three of them during his freshman season in 2001. He has been a fulltime starter since his sophomore season in 2002 and his draft stock is soaring after averaging 20.6 yards per catch as a senior in 2004. White doesn't have elite height, he needs to refine his route running skills and he isn't as consistent as he needs to be as a blocker. However, he has excellent speed and has developed into an explosive vertical threat in the passing game. He suffered a minor hamstring injury early during the Senior Bowl week but it should have no long-term affect and White proved early in the week that his speed and vertical playmaking skills are legitimate. In many ways, White reminds us of Broncos' WR Ashley Lelie. White will need time to polish his skills and adjust to the NFL coming from ...

For complete overview, strengths and weaknesses, login above or become an Insider.
* Player biographies are provided by Scouts Inc.