Category archive:

Team Handball
February, 8, 2011
02/08/11
4:07
PM ET
Tuning up for April's prestigious marathons in London and Boston, a critical mass of top U.S. distance runners have entered the New York City Half-Marathon on March 20.
The New York Road Runners club, which organizes the race, announced Tuesday a field that includes four past Olympians. Meb Keflezighi, Ryan Hall and Abdi Abdirahman will be among the starters on the men's side and Kara Goucher, 32, of Portland, Ore., will continue her post-maternity comeback.
Hall, 28, of Big Bear Lake, Calif., is the only U.S. man to run a half-marathon in under an hour. He finished 10th in the marathon at the 2008 Beijing Olympics. Keflezighi, 35, of Mammoth Lakes, Calif., was the 2009 New York City Marathon champion and won the silver medal at the 2004 Athens Olympics. Abdirahman, 34, of Tucson, Ariz., is a three-time Olympian.
Roughly 9,000 runners are expected to compete. The course is laid out entirely in Manhattan, starting in Central Park, taking Seventh Avenue through Times Square, cutting over to the West Side Highway via 42nd Street and heading south to Battery Park.
February, 3, 2011
02/03/11
5:19
PM ET
Ian Thorpe's return to the pool is potentially the best news for swimming since my health club banned Speedos for men over the age of 40.
[+] Enlarge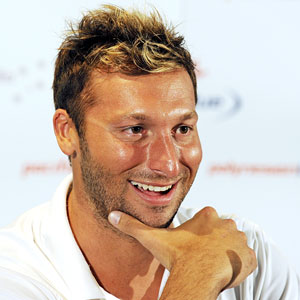 Greg Wood/AFP/Getty ImagesIan Thorpe said he will concentrate on the 100- and 200-meter freestyles and keep an eye on the relay events for the 2012 London Olympics.
Granted, Michael Phelps' eight gold medals in the 2008 Olympics was perhaps the most astounding, thrilling and inspiring athletic feat that did not include your fantasy team. But what is the man going to do for an encore? Win another eight? Even if he does, so what? Been there, done that. No matter what Phelps does, it won't compare to his performance in Beijing.
But Thorpe could stir things up. The only thing America loves more than a champion breaking a cherished record is a past champion on a comeback quest. It's the guiding principle for Rocky III, IV, V and VI.
As jazzed as America was about Phelps in 2008, Thorpe was bigger in Australia in the 2000 Sydney Games. As captivating as Phelps' performance was for Americans, it was still only swimming, a sport we follow for a week during Olympic summers before returning our attention to baseball's pennant races and our fantasy football drafts. Swimming, however, is a national pastime in Australia.
I was at the pool in Sydney and had the pleasure of listening to the SRO crowd sing along to Australia's unofficial national anthem, "Man Down Under." It sounds nuts, but the moment raised goose bumps on my arms so large, I was pulled aside for random drug testing.
Thorpe won three gold medals at those Olympics to become as big an Australian idol as Russell Crowe and Mel Gibson combined. He won two more gold medals in Athens. And now, he's back -- or at least he hopes to be back in 2012. He'll be 30 years old by then -- that's almost old enough to be Jamie Moyer's brother or Dara Torres' son -- and may concentrate his efforts on the relay events.
I hope he makes it. Nothing against Phelps, but the more drama we can cram in the pool the better.
January, 25, 2011
01/25/11
2:20
PM ET
At this time last year, Evan Lysacek and Lindsey Vonn had accomplished everything in their respective sports except medal at the Olympics. In the eyes of the American masses, that meant they were still somewhat off the radar -- unfair, perhaps, but true. Tuesday's announcement that they had been named the U.S. Olympic Committee's sportsman and sportswoman of the year rewards perseverance and poise under pressure. As a bonus, they've both remained down-to-earth while their celebrity has soared.
Lysacek entered the crucible of Vancouver as the reigning Grand Prix and world champion in figure skating and won Olympic gold -- the first time a male skater had completed the worlds-Olympic double since Scott Hamilton did it in 1984.
His performance was strong enough athletically and artistically to overcome the absence of a quadruple jump, and by extension, to beat Russian jumper extraordinaire Evgeni Plushenko. Lysacek's natural class subsequently came in handy in riding above the ensuing mini-tempest and Plushenko's petulant comments. Perhaps most touchingly, Lysacek sincerely seemed as happy or more so for his longtime coach Frank Carroll, who'd come close to gold with former pupils Linda Fratianne and Michelle Kwan, as he was for himself.
Vonn was already a poster girl for sustained excellence when she arrived in Canada as the two-time World Cup overall champion. She also arrived gimpy, and famously wrapped her bruised shin in quark cheese to heal it. Her gold medal in the downhill and bronze in the super-G event were affirmations of her talent rather than revelations, but given the slippery slope of expectations she was navigating, spectacular nonetheless.
Vonn evinced no signs of an Olympic hangover the following month when she clinched her third straight World Cup title and became the most decorated American skier ever on the global circuit, male or female. She already has six World Cup race victories to her credit this season. The so-called technical events of slalom and giant slalom remain Vonn's Achilles heel, but characteristically, she's attacking those disciplines this season, unwilling to concede anything.
At a recent U.S. Ski team camp in Vail, Colo., Vonn mingled with fans and tirelessly signed autographs until darkness fell. It's clear she appreciates her success, but it hasn't changed her hat size.
Lysacek told reporters on a conference call that he finally allowed himself to tag along with his family of "avid skiers'' this summer after years of avoiding the pastime for fear of injury, and has skied black diamond trails in Idaho and Japan. No word yet on whether Vonn is working on a triple Lutz.
January, 23, 2011
01/23/11
6:55
PM ET
Garmin-Cervelo's firing of competition director Matt White on Sunday evening (Australian time) was profoundly awkward in several ways.
Garmin rider Cameron Meyer had just clinched the overall win in the Tour Down Under, with the support of a White-directed squad stocked with young Aussies loyal to him.
White had been rumored to have one foot out the door to join a new Australian national pro team project called GreenEdge, and recently was appointed to a development job with the country's cycling federation. And title sponsor Garmin had made an unusual investment in White, adding his rapid-fire, Sydney-accented voice to the audio options on its GPS devices.
But Garmin manager Jonathan Vaughters, who flew to Adelaide to pink-slip White in person, said he and the Slipstream Sports board of directors (which includes himself, team owner Doug Ellis and team president Matt Johnson) had no choice.
Vaughters said he recently learned White violated team policy by referring former Garmin rider Trent Lowe to an outside doctor. Left unstated in the press release, but readily admitted by Vaughters, was that this wasn't just any doctor. Former U.S. Postal Service physician Dr. Luis Garcia del Moral has been linked to several doping controversies and most recently was implicated by Floyd Landis as having been an integral part of organized doping at Postal. Del Moral has denied the allegations.
White's statement responding to his termination was free of rancor. Garmin and Cervelo corporate chiefs chimed in with supportive responses.
But as usual with cycling, chunks of the backstory are ugly and near impossible to confirm.
Vaughters said he learned of the White-Lowe-del Moral interaction in early January, when Lowe, fuming over a withheld paycheck, forwarded an April 2009 e-mail White sent him with del Moral's contact details and threatened to expose it if he didn't get paid.
Lowe, an amiable, slightly built former mountain biker from Australia, was part of Garmin's first Tour de France squad in 2008, but has raced poorly and sparingly over the past two seasons as he struggled with chronic fatigue syndrome, among other ailments. He had signed with the new Australian Pegasus team for this season only to see that organization collapse financially, and is currently job hunting.
Forget the contract dispute between Vaughters and Lowe, which supposedly turned on the relatively minor sin of being photographed with the Pegasus team's Scott brand bike while he was still under contract with Garmin. Forget whether Lowe actually visited del Moral -- which still hasn't been firmly established, as Lowe hasn't commented publicly -- and if he did, whether he underwent simple blood tests or something more sinister.
The important questions are whether Vaughters could have been completely unaware one of his riders had been sent to del Moral, whether he took action as soon as he knew and whether it was an isolated incident.
"I can understand why people would be skeptical," Vaughters said, and he should. Where cycling and doping are concerned, smoke equals fire most of the time, and people who follow the sport are justifiably fed up with being duped.
Vaughters said White's e-mail records on the team's internal server were reviewed to determine whether there had been any other mentions of del Moral. He said there is no indication any other Garmin riders had contact with the Spanish doctor. Until and unless that's disproven, White's action and Lowe's reaction add up to a case of poor judgment.
Garmin has been lauded in some quarters and scoffed at in others for aggressively promoting its anti-doping philosophy. This is an embarrassing blow to that image, but as things stand today, not a lethal one.
January, 21, 2011
01/21/11
5:41
PM ET
We were reminded yet again of the "green theme" surrounding the 2012 London Olympics.
The Olympic Delivery Authority released pictures Friday of the team handball venue, which is set to be completed by this spring. So, where does the "green" come in? Well, according to the ODA, the venue is wrapped in 3,000 square meters of copper with a high-recycled content.
More from the ODA:
The venue was built with sustainability at the heart of its design process. Rooftop sun pipes provide greater illumination than similar-sized conventional lights, achieving annual energy savings of up to 40 percent, while water usage is saved by the same amount through a rain harvesting system that feeds into toilets and other non-potable systems.
The venue will also host the fencing portion of the modern pentathlon. Here are a few pictures from the site: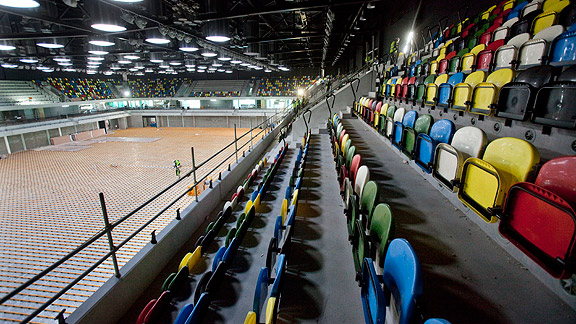 Getty Images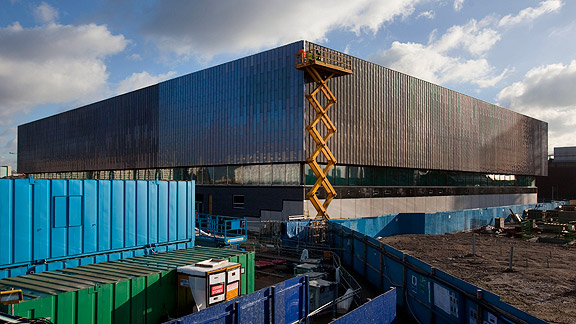 Getty Images
January, 20, 2011
01/20/11
4:47
PM ET
It's become a cliche to laud athletes-turned-new-mothers for losing the baby weight, regaining their competitive momentum and successfully plunging back into their sports. But Olympic distance runner Kara Goucher had a little more to contend with in her return to racing this month.
Goucher finished Sunday's Rock 'n' Roll Arizona Half-Marathon in 74 minutes -- a slower pace than she had intended, but impressive when you consider what happened in the week leading up to the race, as her 4-month-old son, Colt, underwent emergency surgery for a staph infection in a lymph node.
Mother and baby are both doing fine, as they say, after their respective physical ordeals, but Goucher's training went out the window as she kept watch at the hospital. She called it the most stressful week of her life.
"About six miles into the race, the adrenaline was like gone from my body," she told reporters on a Wednesday conference call to discuss her next stop -- the New York City Half-Marathon on March 20. "It just felt like, 'Oh, my gosh, I'm so exhausted and I still have seven miles to run in this race.' At that point, I kind of thought about him and I thought, 'You know, it took me two hours and 25 minutes to push Colt out; I can certainly manage this for half that time.' I just thought, 'Take advantage of this opportunity and get through it.'"
Goucher, 32, trains in Portland, Ore., with coach Alberto Salazar. She gave birth to her son in September, part of a runners' mini-baby boom, and began running a week after Colt was born.
"My mom was visiting, and I said I was going to go out for a walk, but I put on my running clothes because I knew in the back of my head I was going to try to go run," she said. "But the first couple of weeks I was just so tired. Colt didn't know what day or night was at that point. I didn't know anything about babies at that point, so I was just totally overwhelmed. So the first couple of weeks that I was running were just surviving, kind of."
It would be another two months before she settled into a routine of morning and afternoon runs with lifting in between. She nursed until earlier this month.
Goucher will race just one full marathon -- Boston in April -- before she attempts to qualify for the U.S. Olympic team at the marathon trials a year from now. Meanwhile, she'll race on the track and hopes to compete in the 10,000-meter event (one of her two Olympic events, along with the 5,000) at this summer's world championships.
"Honestly, I think it will be a benefit," she said of her maternity leave.
"On a personal note, I was sort of able to reconnect with why I started running in the first place, because I did travel around to a lot of races and stuff. I think that time off, even though I was pregnant and I ran through it, it gave me sort of a rest, and I think in a year from now I'll be, by far, in the greatest shape I've been in my life."
New York was the site of Goucher's marathon debut in 2008, when she finished third there.
January, 20, 2011
01/20/11
4:45
PM ET
[+] Enlarge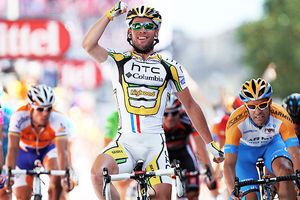 Bryn Lennon/Getty ImagesMark Cavendish's HTC-High Road is one of four American-based teams to make the 2011 Tour field.
Used to be we had to wait until much later in the year to find out which cycling teams were getting invited to the Big Spin in July, but ASO, the sports conglomerate that owns the Tour de France, got it out of the way today. Eighteen teams received slots owing to the elite status conferred on them by the UCI, cycling's international governing body. Four lower-tier Pro Continental teams drew wild cards.
French cycling has been in decline for a quarter-century, but it's still startling to see just one home team in the first 18 -- a percentage remedied by the organizers, who gave all of the wild cards to French squads. Four American teams will start to equal last year's record.
There are always odd teams out for various reasons, and this year's Most Disgruntled Award goes to Spain's new Geox-TMC team. Geox's exclusion is due to the fact that the UCI denied the team elite status due to doping episodes during a previous management incarnation sponsored by Saunier-Duval. It also leaves 2008 Tour champion Carlos Sastre out in the cold.
With the beleaguered Lance Armstrong saying he'll watch from the sidelines and triple Tour winner Alberto Contador facing suspension for his positive clenbuterol test (a decision is due within the next week), there may be no former Tour winner in the 2011 field.
The lineup list by country:
Belgium
Omega Pharma-Lotto
QuickStep Cycling
Denmark
Saxo Bank
France
AG2R La Mondiale
Cofidis (wild card)
Francaise des Jeux (wild card)
Saur-Sojasun (wild card)
Team Europcar (wild card)
Great Britain
Sky Pro Cycling
Italy
Lampre-ISD
Liquigas-Cannondale
Kazakhstan
Astana
Luxembourg
Team Leopard-Trek
Netherlands
Rabobank
Vacansoleil-DCM
Russia
Katusha
Spain
Euskaltel-Euskadi
Movistar
United States
BMC Racing Team
HTC-High Road
Garmin-Cervelo
RadioShack
January, 18, 2011
01/18/11
5:13
PM ET
If the season after the Winter Olympics is supposed to be low-key for figure skaters, someone forgot to send the memo to Meryl Davis and Charlie White.
The Canton, Mich.-based ice dancers have had a tumultuous stretch since winning the Olympic silver medal in Vancouver, British Columbia, as just about everything about their routine in recent years shifted in some way. But despite many adjustments -- and the heady notion that they're in an ideal position to become the first American ice dance world champions in March -- Davis and White sound notably composed and ready for the U.S. national championships at the end of January.
[+] Enlarge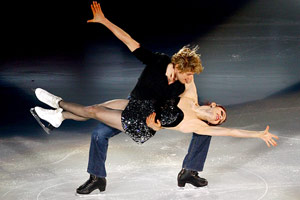 Feng Li/Getty ImagesMeryl Davis and Charlie White tinkered with their program all the way through the Grand Prix season and won at Skate America and the NHK Trophy before taking gold at the Grand Prix final.
Their usually methodical preparation was delayed about six weeks by a stint in the Stars on Ice tour, followed by a much-needed physical and mental break. In the meantime, the International Skating Union made a long-awaited format change in the discipline, eliminating the oft-maligned compulsory dance event and making ice dance a two-part competition. The new "short dance" gives skaters some freedom but also incorporates a required sequence (this year, it's the Golden Waltz), while the free dance remains a creative showcase.
Neither skaters nor spectators will mourn the change, but it left even top teams like Davis and White a little at sea about what judges would expect of the short dance. They initially developed a program set to music from the movie "Amelie'' that was "very intricate and out of the box,'' according to Davis. After conferring with U.S. officials, they decided they needed something more classic and had choreography structured to selections from "La Boheme" and "La Traviata.'' They continued to tinker with the program all the way through the Grand Prix season and, despite some speed bumps, won at Skate America and the NHK Trophy before taking gold at the Grand Prix final.
The big-number, athletic "Phantom of the Opera" free dance that was such an important part of their success last season was a hard act to follow, so Davis and White decided to go an entirely different direction. Their new free dance theme, an Argentine tango, forces them to create their own story rather than elaborating on the familiar plot of a Broadway show.
"Charlie and I had gotten used to programs that were more character-driven and dramatic and theatrical,'' Davis said. "We wanted to expand our horizons. This program focuses on the connection between us -- it's a more sensual feeling, something we really hadn't experimented with before.''
In another departure from recent years, Davis and White trained this fall without their friends and familiar rink-mates Tessa Virtue and Scott Moir of Canada, who also happen to be the reigning Olympic and world champions.
Virtue underwent leg surgery this past fall for compartment syndrome, a muscular condition that causes chronic pain. The Canadians, who are coached by the same tandem -- Igor Shpilband and Marina Zoueva -- that guides Davis and White, recently began training in earnest. They withdrew from their country's national championships this week but expect to return for next month's Four Continents event and plan to defend their title at worlds.
White said he and Davis are proceeding under the assumption that Virtue and Moir will be in top form. "They're such spectacular competitors,'' White said. "It doesn't take much training time for them to be on top of their game. … In the judges' eyes, they're still the team to be beaten, and that's the approach we're going to take.''
One of the few things that has remained the same for Davis, 24, and White, 23, is their dogged part-time pursuit of undergraduate degrees at the University of Michigan. They take a course or two each term year-round and have amassed enough credits to be considered juniors.
January, 17, 2011
01/17/11
2:11
PM ET
When last year's cycling season opened, we were eagerly looking toward Lance Armstrong's final Tour de France, wondering how his rivalry with Alberto Contador would work out. As the 2011 season begins, we're still wondering a bit about exactly how the 2010 season worked out.
For one thing, we still don't know who is the official winner of last year's Tour because Contador tested positive for very low levels of clenbuterol. The positive test wasn't revealed until weeks after the Tour. Contador claimed it was the result of eating tainted meat (hasn't that happened to all of us?), and we still don't know whether he will keep his title or receive a two-year ban. Meanwhile, Armstrong had a terrible Tour de France, and just how rough a year it was off the bike depends on the continuing federal doping investigation. (I loved the Cycle Sport magazine line about Armstrong retiring to spend more time with his lawyers.)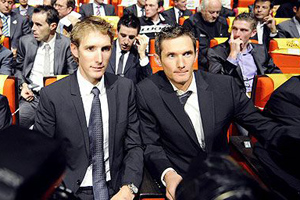 Lionel Bonaventure/AFP/Getty ImagesBrothers Andy and Frank Schleck will ride for the new Luxembourg-based Leopard-Trek team in 2011.
This week's season-opening Tour Down Under in Australia is Armstrong's final scheduled international race, and May's Tour of California is his last planned professional road race. With Armstrong's career ending and Contador's up in the air, this will be the year to focus attention on other riders, specifically the ones 25 years old and under.
"It will be a clash of the youngsters, that's for sure," Versus announcer Phil Liggett said of this season. "We'll see the arrival of Andy Schleck."
Schleck, 25, won the best young rider jersey at the Tour in 2008, 2009 and 2010, and depending on the Contador case he could find himself with the 2010 yellow jersey. Schleck finished second to Contador for the second consecutive Tour last year. He lost the jersey after his chain slipped off during an attack on Stage 15. That won him a lot of sympathy and fans, though Liggett fails to see what the fuss is about.
"It's a bike race; we're getting silly about this," Liggett said from Australia. "Talking to a lot of the riders, they feel the same way. It was pilot error. He dropped the chain. It fell off. It's his fault. Contador didn't know what was happening at the time. If you look back at it, Schleck lost the Tour in the prologue when he lost 42 seconds to Contador."
Since then, Andy Schleck and older brother, Frank, have formed the Luxembourg-based Leopard-Trek team with some of the sport's biggest names (including Fabian Cancellara and Jens Voigt). The team's performance will be one of 2011's biggest stories.
Neither Schleck is at the Tour Down Under this week, but HTC-Highroad's Mark Cavendish is. The top sprinter in the world, Cavendish, 25, has won 15 Tour stages and won the 2009 Milan San Remo. He'll be challenged in the sprints in Australia by former HTC teammate Andre Greipel (now with Omega Pharma-Lotto) and Garmin-Cervelo's Tyler Farrar, 26, from Washington State.
Other young riders to watch include a familiar name -- 20-year-old Taylor Phinney, the kid with the great DNA who will be riding for BMC. He is the son of former pro Davis Phinney and gold medal-winning cyclist/speedskater Connie Carpenter.
"He'll be a superstar, as well," Liggett said. "He'll be better than his dad. There's a lot of great young talent all over the world."
That isn't surprising. Armstrong may be leaving, but he helped build cycling's popularity in America, with the rest of the world (especially Australia) keeping pace with its own stars.
"It's amazing the popularity of the sport now," Liggett said. "Everyone wants to ride a bike. Maybe as you get older, you believe you'll die if you don't stay fit, so we're getting on bikes."
January, 14, 2011
01/14/11
3:18
PM ET
WENGEN, Switzerland -- Ivica Kostelic won a World Cup super-combined event Friday to extend his lead in the overall standings with a third victory in 12 days. Bode Miller was the top American in sixth place.
Kostelic dominated the afternoon slalom run, after placing sixth in the downhill, for a combined two-leg time of 2 minutes 40.44 seconds. Carlo Janka of Switzerland was second, 0.58 seconds back. Aksel Lund Svindal of Norway was third.
American Ted Ligety used the second-best slalom run to place ninth.
With 100 race points for victory, Kostelic holds a 109-point advantage on Svindal in the standings.
Kostelic's 14th World Cup win came after victories in a parallel slalom event this month at Munich and a slalom at Adelboden, Switzerland.
"I'm just riding on this wave that I caught in Munich and going from race to race," said Kostelic, who excels on the Wengen slalom slope. "These last two weeks have been the most successful of my career."
Miller, who edged Kostelic for the Olympic super-combined gold medal last February, was 1.68 back. The American got his best result of the season in a traditional World Cup race.
Ligety had the second-fastest slalom run in snowy conditions he described as "horrendous" after days of rain and warm weather.
"The course is just bottomless slush," said Ligety, who finished 23rd in the downhill. Ligety stayed fifth in the overall standings.
The wet, spring-like snow perfectly suited Kostelic, who prides himself on training into May when other racers take offseason breaks.
"I ski quite well on the soft snow," said Kostelic, who was fifth after the downhill.
Nearing the halfway mark of the season, Kostelic is well poised to claim his first overall World Cup title. His sister Janica was a three-time women's overall champion, in 2001, '03 and '06.
Janka is the defending overall champion and equaled his best result this season.
"Ivica was too strong. I'm really happy with my day, in downhill and the slalom," said the 24-year-old Swiss, who will defend his title in the classic Lauberhorn downhill on Saturday.
Daniel Albrecht started a speed race for the first time since his horrific crash in downhill training two years ago at Kitzbuehel, Austria. He injured his brain and lungs and was kept in a medically induced coma for three weeks.
Albrecht, who has competed in three giant slaloms this season, ran two-thirds of the shortened Lauberhorn course before missing a gate in the downhill.
"I told myself yesterday, 'Do the race, but do it easily and take it as a training run," said the 27-year-old Swiss, who was 2007 world champion in super-combined. "The feeling is not so bad."
About 19,000 fans lined the course for the first of the three-race Lauberhorn weekend, which includes a slalom on Sunday.