January, 11, 2011
01/11/11
2:49
PM ET
Three-time U.S. figure skating national champion and world bronze medalist Johnny Weir posed for the cover of his new autobiography "Welcome to My World" with one stiletto-clad foot appearing to hold up a huge disco ball. Yet despite that unconventional image, the book follows the familiar arc of many an athlete's life: a driven child with a loving, supportive family; a conflicted adolescent who grows into an accomplished performer; an imperfect adult who stumbles at inopportune times and tries to savor his experience no matter where he finishes. By turns thoughtful, snarky, giddy and caustic, the book also serves as the vehicle for Weir to confirm that he is gay -- a subject he had long refused to address because he considered it private and unrelated to his athletic career.
Weir, who is not skating competitively this season, sat down with ESPN.com's Bonnie D. Ford on Monday to talk about his book and his future in the sport. The following are excerpts from that conversation.
Ford: Discussing your sexual orientation publicly was something you resisted for a long time. You chose to deal with it candidly in this book. Now, the first talking point in stories about the book is, "He's come out.''
[+] Enlarge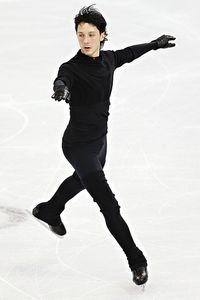 Matthew Stockman/Getty Images"It's of very little importance to me that I was born gay. ... So of course it's a bit disappointing that that's the first and sometimes the only thing people will focus on," says Johnny Weir.
Weir: It's of very little importance to me that I was born gay. It doesn't make me a better athlete, it doesn't make me a stronger person, it doesn't really do anything to enhance my life. It's just something I was born with, the same as green eyes. So of course it's a bit disappointing that that's the first and sometimes the only thing people will focus on. Even if it's just in my head, I live in a generation where it doesn't matter: "Show us who you are individually, what are your strengths, what can you bring to the table?" I'm a two-time Olympic athlete. I'm an author now, I'm a recording artist, I'm a performer, I'm accepted all over the world. I don't throw it in anyone's face that I'm gay. There were lots of gay websites that had an issue with me quote-unquote coming out and doing it "too late," and people are trying to make it into a big news story when really, it's not news at all. I've always been exactly the same.
Ford: You allude to hypocrisy within the sport, that there are judges and officials who are gay but don't want skaters to be out. Is figure skating abiding by "Don't ask, don't tell?"
Weir: Figure skating's reputation is something that's very important to everyone involved in the sport. It's a very small world of people and you want the best representative to kind of cross over and sell it to the rest of the world. It's a very old, traditional sport. Statistically, I'd say there are about as many gay figure skaters as there are gay football players. The majority are straight. There are just those few exceptions and those are the ones who have gotten picked on and followed over the years. I think it's much easier to sell to the masses, a burly strong male athlete that wants a wife and kids and drives trucks and gets dirty. That's maybe more easily marketable. That's a bit sad but that's what the world has come down to. … I wish that the federation and people from skating would learn from the example I set, because I've never been anything but myself, I've never listened to anybody when they told me, "You need to butch it up, you need to not be so balletic, you need not to work with Russians because they make you too pretty." And while I may not be the Olympic champion for many of those reasons, I couldn't be happier with what I've already done in figure skating and hopefully will continue to do. I've got the respect of so many people.
Ford: It's a subjectively judged sport. You knew that going into it. Did you ever wish you were in a sport where you were just judged on how fast you got from Point A to Point B?
Weir: I never ever wanted to change my sport. … Figure skating was my outlet, it was my breath, it was how I could live and transmit everything I was feeling and everything I had worked for and given up and all these sacrifices I'd made throughout the years. It was how I could make them all worth it. That one command performance when the entire audience is standing, you've got goose bumps in the middle of the ice looking at all these people who appreciate what you've done. Vancouver this year was where I felt that more than ever in my career. The scores were booed, the public was outraged at what scores I got. Whether I moved people to throw punches or cry, I did that through my art and what I do. I would never take that experience away to race against a speedometer. Or play on a team.
Ford: With your affinity for all things Russian and the next Winter Olympics being held in Sochi, is it feasible or realistic to think you could compete there?
Weir: It's absolutely feasible for me to think about competing in Sochi. I started skating so late -- I was 12 -- that even though I'm older than a lot of the competitors, my body is younger. So I have that advantage. Do I think I could qualify for the United States to compete in Sochi? I'm not sure, because I know how our federation works and I know that they'll want to promote the younger skaters and they don't always love somebody coming back and trying to steal one of the spots again. I've been kind of under-the-radar exploring many different options on how I could get myself to Sochi, if I could work that hard again, if my mind could function that way again. You give up every aspect of your life aside from figure skating. If I could have that kind of life and discipline again [and] compete in a third Olympics, and to have it in Russia where in many ways I would have sort of a hero's welcome, it might be worth it.
Ford: You were very honest in the book about the junctures in your career where you let yourself down. Any regrets?
Weir: Absolutely no regrets in my life. … Every time that I've fallen or every time I haven't worked hard enough or I missed an opportunity because I was stupid and young, I'm strong enough now to admit that I don't accept that and I want to be stronger than that. I would never take that back because that's all a part of what made me me. There's a lot in the book about, for lack of a better word, me [expletive] myself over and letting things fall through the cracks because I wasn't mentally prepared to take them on. At 12, I was skating. At 16, I was already a junior world champion. I had no learning curve. A lot of people have the luxury of starting at 2, 3, 4 years old, they go to these little competitions, they learn how to compete in front of people. Within five years of my learning to skate, I was an alternate for the Olympic Games. I learned how to compete and skate in front of the entire world and that's a lot of pressure. When you think about things in those terms, it makes it a little easier to understand why I publicly messed up so many times.
Ford: You said about your rival Evan Lysacek that he became an Olympic champion because "he worked very hard, as I did, and played by the rules, as I did not.''
Weir: While in figure skating it was a mistake for me not to play by the rules, not to play nice with everyone I possibly could and to be very clean and very P.C., while that was a mistake, it's not a regret. I have gained so much by being myself and doing things on my own terms, in my own way.
January, 6, 2011
01/06/11
3:55
PM ET
A recap of Thursday's World Cup action:
Men's slalom: Ligety finishes sixth
ZAGREB, Croatia -- Andre Myhrer of Sweden won a World Cup night slalom race on Thursday for his second career title, four years after capturing his first.
The Olympic bronze medalist, who was fourth after the opening run, finished on the icy Crveni Spust course in a combined time of 1 minute, 52.74 seconds. Ivica Kostelic of Croatia was 0.10 seconds behind to finish second in his home race for the third time in four years.
Myhrer's teammate Mattias Hargin had the fastest second-run time to jump from 30th to third, 0.36 behind the winner. Olympic champion Giuliano Razzoli, who was fastest in the first run, finished 0.40 seconds back in fourth place.
"I knew the other guys were fast so I had to charge all the way down," Myhrer said.
The 27-year-old Swede, who also won a slalom in Beaver Creek, Colo., in December 2006, went to the top of the discipline standings with 189 points, 36 clear of Kostelic.
Michael Walchhofer of Austria, who skips the technical races, remained in the lead of the overall standings with 409 points. Switzerland's Silvan Zurbriggen has 396 and Ted Ligety of the United States has 376.
"I was lacking speed recently," Myhrer said, expressing surprise at winning his second career race in Croatia. "I tried to focus on my skiing more than on the result."
Ligety, who is dominating the giant slaloms this season, finished sixth for his best slalom result since placing fourth in Schladming, Austria, in 2008.
"My slalom is getting better. It's taking me some time to adjust the equipment," said Ligety, who switched ski brands in the offseason. "I wasn't that fast last year but this year I feel I can get fast. It's just a matter of getting everything lined up right."
Women's downhill: Vonn strong in training session
ALTENMARKT-ZAUCHENSEE, Austria -- Anna Fenninger of Austria posted the fastest time in a women's World Cup downhill training session Thursday, beating defending overall champion Lindsey Vonn by 0.10 seconds.
The 21-year-old Fenninger has yet to win a World Cup race but sped down the 3-kilometer Kaelberloch course in 1 minute, 48.60 seconds. Fenninger's teammate Andrea Fischbacher was 0.14 seconds behind in third, and overall leader Maria Riesch of Germany finished 18th.
Another downhill training run was scheduled for Friday, followed by a downhill race and a super-G this weekend.
Ski jumping: Morgenstern wins
BISCHOFSHOFEN, Austria -- World Cup leader Thomas Morgenstern won the Four Hills ski jumping tournament for the first time on Thursday.
The 24-year-old Austrian took second place behind Norway's Tom Hilde in the final event to stay on top of the Four Hills standings ahead of Switzerland's Simon Ammann.
Morgenstern is the third straight Austrian winner of the prestigious competition after Wolfgang Loitzl in 2008-09 and Andreas Kofler last season. No nation has won the tournament for three years in a row since Norway from 1966-69.
January, 4, 2011
01/04/11
7:30
PM ET
Joe Papp, the former cyclist whose online marketing of performance-enhancing substances enmeshed several professional and amateur riders in doping cases, had his own sentencing on federal drug charges delayed a third time.
[+] Enlarge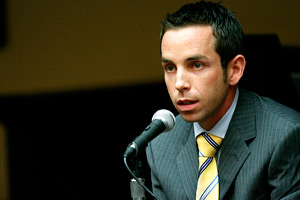 Gabriel Bouys/AFP/Getty ImagesSome may recognize Joe Papp from when he testified at Floyd Landis' 2007 arbitration hearing.
Originally scheduled for June 2010, Papp's sentencing was postponed until last September and then until Jan. 21 in U.S. District Court in Pittsburgh. A new date has been set for May 20, which would be 15 months after Papp pleaded guilty to two counts of conspiracy to sell human growth hormone and erythropoietin. He faces up to 10 years in prison.
The facts of Papp's case and the plea agreement are sealed. He has cooperated with the U.S. Anti-Doping Agency's investigation of several of his former clients, the majority of whom were amateurs. Several riders have been suspended for their illicit purchases and some cases are yet to be resolved.
Papp was unknown to most U.S. cycling fans until he testified about the use of testosterone in the peloton at Floyd Landis' May 2007 arbitration hearing in which Landis unsuccessfully sought to overturn the results of the positive drug test that cost him his 2006 Tour de France title. Several months later, federal agents seized evidence indicating that Papp acted as a middleman for a Chinese supplier of EPO, selling it to more than 180 customers via a website called eposino.com from September 2006 to September 2007.
January, 3, 2011
01/03/11
4:52
PM ET
With so many folks hitting the treadmills and elliptical machines this week, energized by New Year's resolutions, it seems only fitting to start 2011 with a dieting tale of Olympic proportions.
It's been more than 10 years since Rulon Gardner did a surprisingly agile cartwheel to celebrate his stunning victory over Alexander Karelin in the Greco-Roman wrestling championship match at the Sydney Olympics. The former University of Nebraska All-American, who grew up milking cows on a Wyoming dairy farm, handed the Russian his first international defeat in 13 years.
In 2004, Gardner won a bronze medal in Athens and left his shoes in the middle of the mat in the wrestler's traditional farewell. He headed off to a career of motivational speaking and, apparently, reckless eating.
Gardner has survived a lot before and since then -- a childhood bow-and-arrow impaling; motorcycle and plane crashes; a snowmobile accident that led to frostbite and a partial toe amputation; and on a personal front, three divorces.
Now 39, Gardner may have seemed immortal, but his family and friends feared for his health as he ballooned to 474 pounds, 210 pounds over his fighting weight. He told the Salt Lake Tribune that his tipping point came in June as he sat in a hotel room chowing down on his second dinner of the night and watching a report on his induction into the U.S. Wrestling Hall of Fame.
"I said, 'Holy Cow, this is truly embarrassing,'" Gardner, who lives in Logan, Utah, told the newspaper in an interview published over the weekend.
Late last year, Gardner auditioned for and earned a slot on the NBC reality show "The Biggest Loser," where the winner takes home a $250,000 prize. The show's new season begins Tuesday. Gardner is competing in tandem with his longtime friend Justin Pope, a health club owner and former schoolboy rival.
"Ultimately, it's about taking some responsibility and not making excuses like I've made the last six years,'' Gardner told the Salt Lake Tribune.
How many of us can relate to that? Good luck, and lighten up.
December, 20, 2010
12/20/10
2:35
PM ET
Two-time World Cup giant slalom season champion Ted Ligety has been unbeatable so far this season, winning his third straight race in the discipline Sunday in Italy on the vaunted run at Alta Badia.
His margins of victory have been substantial and his confidence is high. Ligety, 26, was a surprise gold medalist at the 2006 Torino Games in the combined event.
Bonnie D. Ford spoke to him Sunday afternoon about his giant slalom streak and his prospects to contend for an overall World Cup podium slot.
Listen to podcast here: Ted Ligety interview with ESPN.com's Bonnie D. Ford

December, 17, 2010
12/17/10
6:10
PM ET
Years of perseverance by the core athletes on the U.S. Nordic Combined team paid off at the 2010 Vancouver Games as they ended their podium drought with a spectacular breakthrough -- three individual medals, including Billy Demong's gold, and a silver in the team event. Demong promptly announced he was committed to another four-year Olympic cycle, while his fellow veterans Todd Lodwick and Johnny Spillane elected to take a season-by-season approach.
It's tough to come up with an encore after last winter's performance. The team doesn't want to vanish from the winter sports map after planting its flag so emphatically, and various circumstances have contributed to a slow start on the World Cup circuit, but head coach Dave Jarrett said the plan going into 2010-11 has always been to gear everything toward the odd-year World Championships next February in Oslo.
Demong, 30, married former skeleton racer Katie Koczynski and remodeled his house from the ground up last summer. With Jarrett's blessing, he deliberately backed off his customary training regime in the offseason, although he did don his cyclist's helmet and logged three stage races including the Tour of Utah.
Somewhat predictably, Demong finished way out of the money in the season's first two World Cups in Finland and Norway and is back home in Park City, Utah, contemplating "a whole new set of rules to live by for this new goal," he said.
"I went over [to Europe] and got hosed ... but a little bit of struggling made me hungry," Demong said. "My mind is starting to put the puzzle back again, training-wise and life-wise, for what I need to do for Sochi [in 2014]."
He'll return to defend his 2009 world championship, but hasn't set his schedule between now and then yet.
Spillane, 30, who collected two individual silver medals in Vancouver, tore up a knee during Demong's wedding weekend jumping off 70-foot-high Pulpit Rock into the deepest part of Lake Placid and has been rehabbing after surgery to repair his ACL. Jarrett didn't begrudge the recreational leap -- "I've jumped off Pulpit Rock too, a lot of people have -- he just landed wrong," the coach said from Ramsau, Austria, site of this weekend's World Cup event. The good news on that front is Spillane has been medically cleared to begin ski jumping again and should be in shape to compete in Europe next month.
Lodwick, 34, will race in Ramsau. Meanwhile, Jarrett has focused his efforts on younger athletes like brothers Bryan and Taylor Fletcher (24 and 20, respectively), twins Brett and Eric Camerota (25) and World Cup rookies Brett Denney (20) and Nick Hendrickson (19). Both Taylor Fletcher and Brett Camerota were on the Olympic roster, and Camerota was part of the silver medal-winning quartet in the team event.
Nordic Combined skiers often mature slowly -- Lodwick is a notable exception on the U.S. team -- but Jarrett, a former national team member himself, said his developing talents have a big advantage now.
"All they've grown up knowing is [the team's] success at the very highest level," Jarrett said.
December, 8, 2010
12/08/10
7:13
PM ET
Jojo Starbuck compiled an accomplished pairs skating career, winning national titles and world championship medals and competing in two Winter Olympics. But she admits she had one daydream that never materialized.
"Richard Dwyer was my childhood idol," Starbuck said from her home in New Jersey. "I always wanted to be a Dwyer girl. They floated around the ice looking like angels in their gowns. They were the epitome of glamour."
[+] Enlarge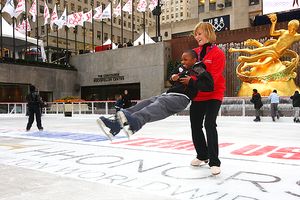 Mike Stobe/Getty ImagesJojo Starbuck, shown in 2009, won national titles and world championship medals and competed in two Winter Olympics as a pairs skater.
Wouldn't you know it, decades after Starbuck swooned over Dwyer -- a former competitive skater known as "Mr. Debonair" during a long career in the Ice Follies and Ice Capades -- she'll get to realize her fantasy. Starbuck, along with former world champion pairs skater Tai Babilonia and Olympic silver medalist Linda Fratianne, will perform alongside Dwyer at a skating gala that will assemble several generations of U.S. figure skating stars Saturday at Boardwalk Hall in Atlantic City, N.J.
The who's-who appearing at The Caesars Tribute: A Salute to the Golden Age of American Figure Skating includes younger celebrities like Olympic champion Evan Lysacek, 2006 silver medalist Sasha Cohen, 2006 world champion Kimmie Meissner and 2002 gold medalist Sarah Hughes. But the cast of performers and honorees also reflects every decade going back to the '50s -- including 1956 Olympic champion Tenley Albright, who later became a surgeon. Peggy Fleming, the 1968 Olympic gold medalist, will be on hand to co-host, and ageless commentator Dick Button will receive an award, as will '92 Olympic champion Kristi Yamaguchi.
"It's a good time of the year to reflect on how much these people have contributed to the sport and how important it is to stay connected," Fleming said.
The season after a Winter Olympics is necessarily a bit of a lull, but this event and the memorial tributes planned in January and February around the 50th anniversary of the plane crash that killed the 1961 world championship team make for two emotional occasions featuring the icons of the sport in this country.
Button, the 81-year-old two-time Olympic champion, still laces up the skates once in a while on his pond in suburban New York but will be in street shoes at the gala. He called the gathering "very rare" and said he appreciates the fact that the past half-century of accomplishment will be celebrated.
Starbuck, who continues to teach skating to children and adults while she raises 15-year-old twin boys, lamented the fact that there aren't as many opportunities these days for skaters to go on to be pure entertainers between competitive seasons or after retirement. She hopes the pendulum swings back when the economy improves.
Fleming is optimistic. "Seeing skating with your own eyes is so different from seeing it on TV or on a computer," she said. "There's an energy and a realness to it, the feeling that you can almost touch these people. I don't think it'll ever go away."
December, 1, 2010
12/01/10
1:32
PM ET
Top U.S. swimmers will gather on the campus of Ohio State University Thursday through Saturday for the Short-Course National Championships, contested in a 25-yard pool as opposed to the Olympic standard of 50 meters. Then it's on to Dubai in mid-December for the Short-Course World Championships, where it's 25 meters from wall to wall. Thirty-seven swimmers have been named to the roster for worlds, including Olympic champions Natalie Coughlin, Ryan Lochte, Aaron Peirsol and Rebecca Soni.
Why mix it up with formats substantially different from the 2011 Long-Course World Championships in China, or London 2012? Quite simply, the swimmers want to race, there are medals in all the familiar colors at stake, and Dubai offers their only chance to test themselves against a full international field between now and next summer. A few, like Lochte, have underwater technique that gives them an advantage with more frequent turns.
"I really need a fast meet in December to show where I am, what I need to work on for the next summer," butterfly and freestyle specialist Dana Vollmer said at last week's Golden Goggle Awards dinner in New York City. "It definitely fits in well and I love racing against the fastest athletes in the world. Therese [Alshammar] from Sweden and I, we're so close to each other ... she's definitely going to be my main competition. Being able to challenge myself that way really helps me to prepare for World Championships next summer."
Eleven-time Olympic medalist Coughlin will be making her first trip to short-course worlds for the same reason.
"For me personally, it's hard to stay motivated to train if I don't have little short-term goals along the way," she said. "Dubai is a great meet for me because it keeps me on point and working toward my goal of, ultimately, Shanghai next year and the Olympics. It keeps me on track and gives me a stepping stone along the way. Honestly, I love traveling, I've never been to Dubai and I probably wouldn't go otherwise, so I'm really looking forward to the meet as a growing experience and a competition experience."
But the swimmers acknowledged this isn't just any trip. Fran Crippen's death Oct. 23 in a 10-kilometer open-water race in Fujairah, another part of the United Arab Emirates, is still fresh, as is the criticism and controversy over the lack of safety precautions there.
The Crippen family, through Fran's sister and former Olympian Maddy Crippen, have made it clear they support the team's participation in the short-course worlds, and no serious consideration was given to a boycott.
"It wasn't a tough decision, but it was a decision we gave a lot of thought to," USA Swimming executive director Chuck Wielgus said. "The dynamics are so dramatically different from an open-water event. This is a different venue and different people are involved in organizing and running it. But we're sensitive to the emotional journey."
Wielgus said the national team will be accompanied by U.S. Olympic Committee chief security officer Larry Buendorf and team psychologist Dr. Jim Bauman. Swimmers will wear Crippen's initials on their dress sweats and T-shirts.
"I definitely don't have any hesitation about going, because I think that it's important to commemorate Fran and his fight at the finish," said Jessica Hardy, the current world-record holder in the 50-meter short-course breaststroke event. "It's terrible. I don't even have words to talk about it. I'm hoping that can change open water at every single competition forever from now on. I'm happy to get to go and compete in Fran's honor. ... Not going isn't going to solve any problems. I think it's the sport of open water that needs to be reconsidered and re-evaluated. It's important to make a statement that we're strong and we obviously care. We're there with a voice. We're not just going to go passively."
Said breaststroke specialist Soni, who holds short-course world records in the 100- and 200-meter events: "Obviously, we're all angry. We all want to fix the issue, but how do you fix that issue? You can't bring him back. He was such a great guy. But I don't necessarily think we should run away and hide from the place that happened. Maybe if we go there, show up and demand a change while we're there, maybe that'll make more of a statement."
Coughlin said she is certain Crippen would want them to race. "It was his dream to be an Olympian, so I think the best way to pay homage to him is to do the sport we love and compete."
November, 22, 2010
11/22/10
5:17
PM ET
Three-time Olympic gold medalist Ryan Lochte sat down with us in New York City hours before the annual Golden Goggle Awards on Monday night. His dominating performance at this past summer's Pan Pacific Championships, where he won four individual and two relay gold medals, made him a slam-dunk nominee for several honors. He wound up winning Male Athlete of the Year for the second straight year and also took home the award for best race (200 IM from Pan Pacs). The following are excerpts from the conversation.
Question from Bonnie D. Ford: You've been to two previous Olympics. Is there anything about the "year before" season -- I know it's a world championships year -- that you're going to try to repeat or avoid in 2011?
Answer from Ryan Lochte: Getting injured. That was definitely a setback. At the same time, I think it helped me. But I really don't need to be out of the water for that long again. I'm trying to stay safe. I always end up getting hurt every year. Dancing was last year. [Editor's note: Lochte tore the meniscus in his left knee break-dancing in October 2009.] The year before that, I fractured my shoulder. Year before that, I fractured my foot skateboarding.
Q: How did you fracture your shoulder?
A: I fell out of a tree. I was playing hide-and-go-seek with my little baby brother.
Q: [Laughs] I know, it's not funny.
A: Actually, it's hilarious, because I'm not supposed to be doing those things. But I've got to be able to do those kinds of things no matter what the consequences are.
Q: Your playful nature requires it?
[+] Enlarge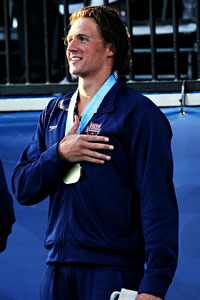 Stephen Dunn/Getty ImagesRyan Lochte says he plans on swimming in six events at next year's world championships in July.
A: Yeah. If I just swam all day, I'd lose it. That's why I do so many other activities. It keeps me sane.
Q: So what's your compromise then, if you want to stay safe?
A: I don't know; I've got to find another kind of hobby. ... I had my [knee] surgery last October, was out of the water for seven months, got back in the water around April, trained until July, went to Pan Pacs in August and now I'm back.
Q: So when you say being injured helped you ...
A: It helped me because I was getting really frustrated with myself because I couldn't work out, I couldn't do any kind of exercise. Once I got back in the pool, I was a more motivated swimmer. I was more dedicated to the sport, changing old habits, getting into things that were a lot better for me. It definitely made me a better swimmer all around.
Q: You must have lost a lot of muscle mass.
A: I lost all my muscle, and one of the things I did change was my diet. I couldn't eat the same stuff or else I'd just get fat and it would be that much harder to work off. I started eating healthy, so that was a plus.
Q: You ate a lot of McDonald's in Beijing.
A: Breakfast, lunch and dinner. I was comfortable with that. I knew what I was getting.
Q: But you're avoiding it now.
A: I'll go maybe like once every two weeks.
Q: You're slated to go to Dubai next month for the Short Course World Championships. Do you have any qualms about going there so soon after Fran Crippen's death? [Editor's note: Crippen died in an open-water race last month in another part of the United Arab Emirates.] I know there's a lot of anger among his friends.
A: It's a tragedy. He was a good friend, and I know their whole family pretty well. What happened to Fran is going to be in all of our hearts. But as far as I'm concerned, it's just another swim meet in a different place.
Q: You've said your intention is to race as many events as possible in London [at the 2012 Olympics]. Are you going to use worlds [in China in July] as a sort of test run for that?
A: In Shanghai, I'm going to swim six events -- two relays and four individual events. The 200 and 400 IM, 200 backstroke, 200 freestyle, the 4x200 freestyle relay, the 4x100 freestyle relay. I feel like I can swim more, but since I did those events at Pan Pacs, I already have a feel for it, for how hard it's going to be. I'm ready for it. I love challenges.
Q: You obviously had experience swimming two medal events very close together in Beijing. I know it's hard physically because you have no time to recover, but is there any advantage to not having any time to think, or get anxious or stressed?
A: For me, no, because I don't get nervous before a race. But I have to train for it in practice. It'll be hard.
November, 16, 2010
11/16/10
4:59
PM ET
[+] Enlarge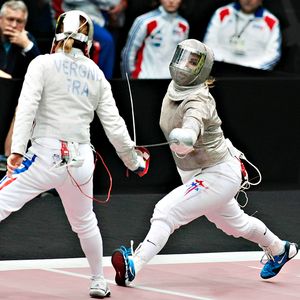 Loic Venance/Getty ImagesMariel Zagunis, right, won her second straight world sabre title last week in Paris.
Women have led the way in a U.S. fencing revival on the Olympic level, winning seven medals in the 2004 and 2008 Summer Games combined as the menu of events for women expanded to include individual and team sabre competitions.
Two-time Olympic sabre champion Mariel Zagunis -- who topped a medals sweep for the U.S. women in Beijing in 2008 -- has continued that momentum, winning her second straight and third career World Championship gold in the discipline in Paris last week. Zagunis, 25, of Beaverton, Ore., was injured during the team event and did not compete in the medal round, where the U.S. women made a bid for bronze but finished fourth.
The more surprising result came from the men's epée team, which captured its first medal at worlds, taking silver after falling to host France in the final.
The U.S. quartet of Ben Bratton and Ben Ungar of New York, N.Y. , Seth Kelsey of Brush Prairie, Wash., and Cody Mattern of Tigard, Ore., seeded 12th in the competition, knocked off top-ranked Hungary on the way to the podium.
"The momentum of the bout, being in the Grand Palais, I've never seen a venue like that in my life. It fueled us and got the best out of everybody," said Bratton, 25. "I didn't want to leave that room. It was so intoxicating."
Gerek Meinhardt, 20, of San Francisco added to the haul with a bronze medal in foil, and several other men and women had top-10 showings.
The men's sabre team won silver in Beijing, but the last U.S. man to win an individual Olympic fencing medal was Peter Westbrook's bronze in sabre in 1984, and podiums have been few and far between in the last century. The men's performance in Paris augurs well for London 2012.