Joe Papp's sentencing pushed to Jan. 21
September, 21, 2010
09/21/10
12:42
PM ET
Former professional cyclist Joe Papp's sentencing on federal charges of trafficking in performance-enhancing drugs has been delayed a second time as the U.S. Anti-Doping Agency continues to sift through a list of the clients who allegedly purchased doping products from him online.
Papp was to be sentenced Friday in U.S. District Court in Pittsburgh, but the hearing has been delayed until Jan. 21, according to a spokeswoman for the U.S. Attorney's Office there. The sentencing had already been postponed from the original date last June. Papp pleaded guilty in February to two counts of conspiracy to sell human growth hormone and the red blood cell booster erythropoietin during a yearlong period starting in September 2006. Those charges are punishable by a maximum of 10 years in prison.
USADA chief Travis Tygart would not comment on any cases pending before that agency. Earlier this month, a cyclist admitted buying EPO from Papp's website and accepted a two-year suspension from USADA. The rider, Jonathan Chodroff of the Jelly Belly team, was an amateur when he committed the offense and midway through this season informed team management he was quitting to continue his education.
[+] Enlarge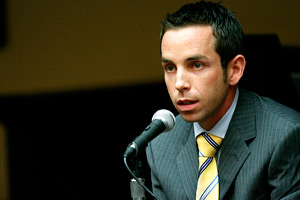 Gabriel Bouys/AFP/Getty ImagesSome may recognize Joe Papp from when he testified at Floyd Landis' 2007 arbitration hearing.
A second rider contested the allegation and was cleared by a three-man arbitration panel last week, according to that rider's lawyer, Howard Jacobs. USADA does not disclose athletes' names when they are not sanctioned and Jacobs also declined to name rider. The agency could still appeal that decision to the Court of Arbitration for Sport in Switzerland.
Court records in Papp's case state that the sentence is being delayed because he and his attorney "need more time to develop and present evidence that would be of value to Papp at the time of his sentencing." Several documents in his public file state that he will seek a reduced sentence. The plea agreement detailing the facts of Papp's federal case is sealed, and Tygart would not comment on any aspect of that proceeding or the extent of Papp's past or future cooperation with USADA.
The 35-year-old Papp was a second-tier pro in the United States and Europe and might have remained unknown to most cycling fans had he not testified against deposed 2006 Tour de France winner Floyd Landis at Landis' 2007 arbitration hearing.
Papp, who tested positive for synthetic testosterone at a 2006 race in Turkey, had no inside knowledge of Landis' career and was called by USADA to describe how riders used micro-doses of testosterone as a recovery agent during long races. Landis' challenge to his own positive test result was unsuccessful, and this year he confessed to having doped throughout his heyday in the peloton.
At Landis' hearing in May 2007, Papp, who was about to be suspended from competition for two years due to his own transgression, testified that he was appearing because "I had a responsibility that extended beyond me ... to my family, to be an ethical parent, to be -- to be a good person, and I also had a responsibility to the sport that I loved."
However, according to court records, Papp continued his clandestine sales of EPO and HGH during and beyond the period he was cooperating with USADA in the Landis case. Four months after Papp testified at that hearing, federal agents raided his mother's home in suburban Pittsburgh and seized evidence, including a customer list for a website, eposino.com, that Papp maintained as a middleman for a Chinese supplier.
The site included information and tips on how to use EPO, and also featured translated excerpts of a 2004 book, "L.A. Confidentiel," by journalists David Walsh and Pierre Ballester that was published in French and contained numerous allegations of doping against Lance Armstrong.
Federal prosecutors said Papp netted $80,000 from sales to 187 customers from September 2006 to September 2007.
Papp subsequently provided evidence in another case. Based in part on Papp's cell phone records and photographs, arbitrators ruled in December 2008 that former Rock Racing rider Kayle Leogrande could be suspended for a doping violation even though he had not tested positive for a banned substance -- a so-called "non-analytical" violation for use of EPO supported by the testimony of two team staff members.
Sources with direct knowledge of Papp's case have told ESPN.com that the majority of Papp's alleged clients are amateur or Masters-level athletes. Not all are cyclists, and not all are U.S. citizens. Some are now retired and none are believed to be prominent members of the pro peloton.
While awaiting sentencing in June, Papp became involved in a domestic altercation with a woman he was dating and according to court records, both were charged with simple assault. Papp's nose was broken as the two flailed at each other in his car on the way back from a shopping trip in the Pittsburgh area, according to the police report. Neither he nor the woman elected to press charges.
Documents in the court file also show that before Papp pleaded guilty to trafficking, he turned over two handguns to a friend and former federal air marshal with the understanding that they would be sold and he would not regain possession of them.