Q&A with swimmer Ryan Lochte
November, 22, 2010
11/22/10
5:17
PM ET
Three-time Olympic gold medalist Ryan Lochte sat down with us in New York City hours before the annual Golden Goggle Awards on Monday night. His dominating performance at this past summer's Pan Pacific Championships, where he won four individual and two relay gold medals, made him a slam-dunk nominee for several honors. He wound up winning Male Athlete of the Year for the second straight year and also took home the award for best race (200 IM from Pan Pacs). The following are excerpts from the conversation.
Question from Bonnie D. Ford: You've been to two previous Olympics. Is there anything about the "year before" season -- I know it's a world championships year -- that you're going to try to repeat or avoid in 2011?
Answer from Ryan Lochte: Getting injured. That was definitely a setback. At the same time, I think it helped me. But I really don't need to be out of the water for that long again. I'm trying to stay safe. I always end up getting hurt every year. Dancing was last year. [Editor's note: Lochte tore the meniscus in his left knee break-dancing in October 2009.] The year before that, I fractured my shoulder. Year before that, I fractured my foot skateboarding.
Q: How did you fracture your shoulder?
A: I fell out of a tree. I was playing hide-and-go-seek with my little baby brother.
Q: [Laughs] I know, it's not funny.
A: Actually, it's hilarious, because I'm not supposed to be doing those things. But I've got to be able to do those kinds of things no matter what the consequences are.
Q: Your playful nature requires it?
[+] Enlarge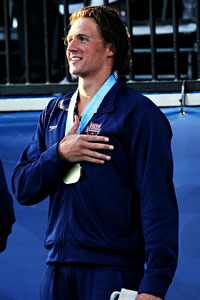 Stephen Dunn/Getty ImagesRyan Lochte says he plans on swimming in six events at next year's world championships in July.
A: Yeah. If I just swam all day, I'd lose it. That's why I do so many other activities. It keeps me sane.
Q: So what's your compromise then, if you want to stay safe?
A: I don't know; I've got to find another kind of hobby. ... I had my [knee] surgery last October, was out of the water for seven months, got back in the water around April, trained until July, went to Pan Pacs in August and now I'm back.
Q: So when you say being injured helped you ...
A: It helped me because I was getting really frustrated with myself because I couldn't work out, I couldn't do any kind of exercise. Once I got back in the pool, I was a more motivated swimmer. I was more dedicated to the sport, changing old habits, getting into things that were a lot better for me. It definitely made me a better swimmer all around.
Q: You must have lost a lot of muscle mass.
A: I lost all my muscle, and one of the things I did change was my diet. I couldn't eat the same stuff or else I'd just get fat and it would be that much harder to work off. I started eating healthy, so that was a plus.
Q: You ate a lot of McDonald's in Beijing.
A: Breakfast, lunch and dinner. I was comfortable with that. I knew what I was getting.
Q: But you're avoiding it now.
A: I'll go maybe like once every two weeks.
Q: You're slated to go to Dubai next month for the Short Course World Championships. Do you have any qualms about going there so soon after Fran Crippen's death? [Editor's note: Crippen died in an open-water race last month in another part of the United Arab Emirates.] I know there's a lot of anger among his friends.
A: It's a tragedy. He was a good friend, and I know their whole family pretty well. What happened to Fran is going to be in all of our hearts. But as far as I'm concerned, it's just another swim meet in a different place.
Q: You've said your intention is to race as many events as possible in London [at the 2012 Olympics]. Are you going to use worlds [in China in July] as a sort of test run for that?
A: In Shanghai, I'm going to swim six events -- two relays and four individual events. The 200 and 400 IM, 200 backstroke, 200 freestyle, the 4x200 freestyle relay, the 4x100 freestyle relay. I feel like I can swim more, but since I did those events at Pan Pacs, I already have a feel for it, for how hard it's going to be. I'm ready for it. I love challenges.
Q: You obviously had experience swimming two medal events very close together in Beijing. I know it's hard physically because you have no time to recover, but is there any advantage to not having any time to think, or get anxious or stressed?
A: For me, no, because I don't get nervous before a race. But I have to train for it in practice. It'll be hard.