Meryl Davis, Charlie White adjust to change
January, 18, 2011
01/18/11
5:13
PM ET
If the season after the Winter Olympics is supposed to be low-key for figure skaters, someone forgot to send the memo to Meryl Davis and Charlie White.
The Canton, Mich.-based ice dancers have had a tumultuous stretch since winning the Olympic silver medal in Vancouver, British Columbia, as just about everything about their routine in recent years shifted in some way. But despite many adjustments -- and the heady notion that they're in an ideal position to become the first American ice dance world champions in March -- Davis and White sound notably composed and ready for the U.S. national championships at the end of January.
[+] Enlarge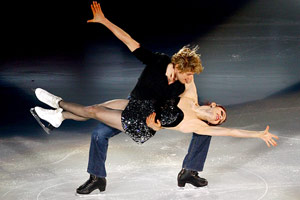 Feng Li/Getty ImagesMeryl Davis and Charlie White tinkered with their program all the way through the Grand Prix season and won at Skate America and the NHK Trophy before taking gold at the Grand Prix final.
Their usually methodical preparation was delayed about six weeks by a stint in the Stars on Ice tour, followed by a much-needed physical and mental break. In the meantime, the International Skating Union made a long-awaited format change in the discipline, eliminating the oft-maligned compulsory dance event and making ice dance a two-part competition. The new "short dance" gives skaters some freedom but also incorporates a required sequence (this year, it's the Golden Waltz), while the free dance remains a creative showcase.
Neither skaters nor spectators will mourn the change, but it left even top teams like Davis and White a little at sea about what judges would expect of the short dance. They initially developed a program set to music from the movie "Amelie'' that was "very intricate and out of the box,'' according to Davis. After conferring with U.S. officials, they decided they needed something more classic and had choreography structured to selections from "La Boheme" and "La Traviata.'' They continued to tinker with the program all the way through the Grand Prix season and, despite some speed bumps, won at Skate America and the NHK Trophy before taking gold at the Grand Prix final.
The big-number, athletic "Phantom of the Opera" free dance that was such an important part of their success last season was a hard act to follow, so Davis and White decided to go an entirely different direction. Their new free dance theme, an Argentine tango, forces them to create their own story rather than elaborating on the familiar plot of a Broadway show.
"Charlie and I had gotten used to programs that were more character-driven and dramatic and theatrical,'' Davis said. "We wanted to expand our horizons. This program focuses on the connection between us -- it's a more sensual feeling, something we really hadn't experimented with before.''
In another departure from recent years, Davis and White trained this fall without their friends and familiar rink-mates Tessa Virtue and Scott Moir of Canada, who also happen to be the reigning Olympic and world champions.
Virtue underwent leg surgery this past fall for compartment syndrome, a muscular condition that causes chronic pain. The Canadians, who are coached by the same tandem -- Igor Shpilband and Marina Zoueva -- that guides Davis and White, recently began training in earnest. They withdrew from their country's national championships this week but expect to return for next month's Four Continents event and plan to defend their title at worlds.
White said he and Davis are proceeding under the assumption that Virtue and Moir will be in top form. "They're such spectacular competitors,'' White said. "It doesn't take much training time for them to be on top of their game. … In the judges' eyes, they're still the team to be beaten, and that's the approach we're going to take.''
One of the few things that has remained the same for Davis, 24, and White, 23, is their dogged part-time pursuit of undergraduate degrees at the University of Michigan. They take a course or two each term year-round and have amassed enough credits to be considered juniors.