Watch out, Phelps! Here comes Thorpedo!
February, 3, 2011
02/03/11
5:19
PM ET
Ian Thorpe's return to the pool is potentially the best news for swimming since my health club banned Speedos for men over the age of 40.
[+] Enlarge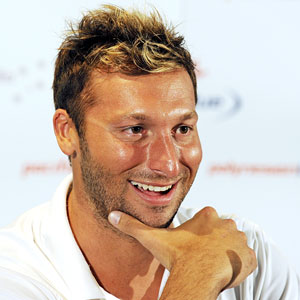 Greg Wood/AFP/Getty ImagesIan Thorpe said he will concentrate on the 100- and 200-meter freestyles and keep an eye on the relay events for the 2012 London Olympics.
Granted, Michael Phelps' eight gold medals in the 2008 Olympics was perhaps the most astounding, thrilling and inspiring athletic feat that did not include your fantasy team. But what is the man going to do for an encore? Win another eight? Even if he does, so what? Been there, done that. No matter what Phelps does, it won't compare to his performance in Beijing.
But Thorpe could stir things up. The only thing America loves more than a champion breaking a cherished record is a past champion on a comeback quest. It's the guiding principle for Rocky III, IV, V and VI.
As jazzed as America was about Phelps in 2008, Thorpe was bigger in Australia in the 2000 Sydney Games. As captivating as Phelps' performance was for Americans, it was still only swimming, a sport we follow for a week during Olympic summers before returning our attention to baseball's pennant races and our fantasy football drafts. Swimming, however, is a national pastime in Australia.
I was at the pool in Sydney and had the pleasure of listening to the SRO crowd sing along to Australia's unofficial national anthem, "Man Down Under." It sounds nuts, but the moment raised goose bumps on my arms so large, I was pulled aside for random drug testing.
Thorpe won three gold medals at those Olympics to become as big an Australian idol as Russell Crowe and Mel Gibson combined. He won two more gold medals in Athens. And now, he's back -- or at least he hopes to be back in 2012. He'll be 30 years old by then -- that's almost old enough to be Jamie Moyer's brother or Dara Torres' son -- and may concentrate his efforts on the relay events.
I hope he makes it. Nothing against Phelps, but the more drama we can cram in the pool the better.