Soccer lovers desperate to experience the atmosphere of Borussia Dortmund's iconic "Yellow Wall" can now do so, if they are willing to put the work in...
The Toe Poke Daily is here every day to bring you all the weirdest stories, quirkiest viral content and top trolling that the internet has to offer, all in one place.
Jump to: New Bayern signing Odriozola injures teammate Perisic before making his debut | Wedding party observes Liga MX prematch protocol
Borussia Dortmund's Sudtribune, the famous Yellow Wall, is one of the biggest attractions in world football. Every matchday, some 25,000 make the pilgrimage to Europe's biggest single-tier standing terrace at the Westfalenstadion.
Tickets for the Yellow Wall are sought-after worldwide, but are mostly in the hands of Borussia Dortmund supporters who have been there all their lives. The fans on the Yellow Wall are the club's lifeblood, yet they are only human. They just want to have a good time, all of the time.
Bratwurst, Beer and Borussia have become synonymous for all that's good in German football. Dortmund, once the beer-brewing capital of Europe, is known for its drinking culture, and it's no different on the terraces.
But those in the Yellow Wall are not immune to the problems faced by sports fans at any big stadium. Once you leave your place to head to the beer stall, you might miss the action on the pitch, and you might be delayed getting that round for you and your friends because the lines are so long. Plus, the steps of the iconic Sudtribune are very steep, and just climbing them can be exhausting.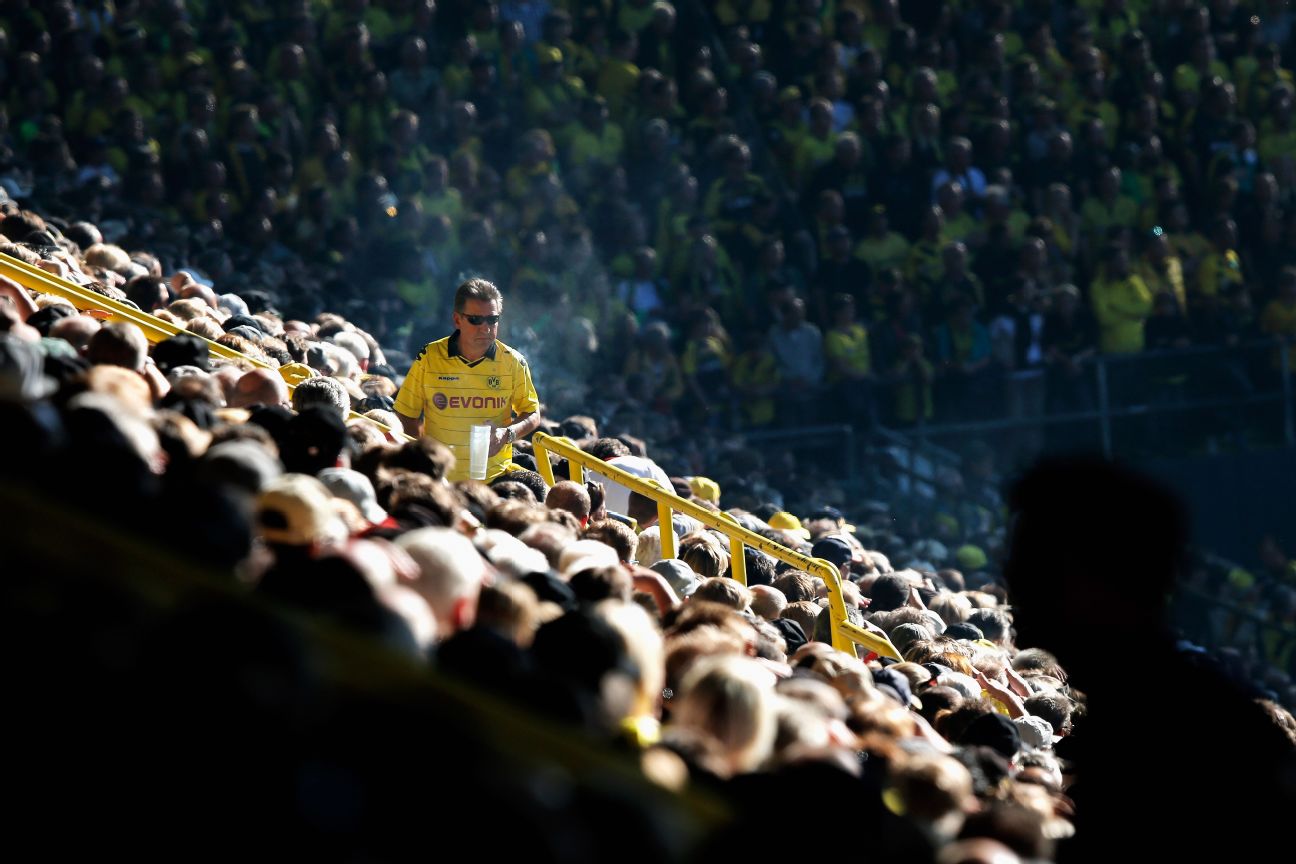 A group of Dortmund supporters have come up with an unusual solution: they have posted a vacancy on eBay for a person willing to buy "four, five rounds" of beer during the match. It's an all-inclusive package: the beers are on the group, who will also provide a ticket for the Yellow Wall for the successful applicant. They have already received over 50 applications for the gig.
Likening the Yellow Wall to the Himalayan mountains, the group told ESPN FC: "To be on the Yellow Wall is certainly a sublime feeling and beer is as rare as oxygen on the Mount Everest. Every ambitious mountaineer wants to climb an 8,000-metre mountain one day and many BVB fans would love to be on the Yellow Wall."
The group, who call themselves "0201Suff" after the city of Essen's dialling code and a German slang word for booze, insist that no season ticket will be wasted and added: "The feedback was quite overwhelming, and we must now think about how we tackle this. We'd love to enable as many fans as possible to visit the Yellow Wall."
Sounds like a pretty sweet deal for all parties.
- ESPN+ to stream Bundesliga from 2020-21 season (U.S.)
New Bayern signing Odriozola injures teammate Perisic before making his debut
Our boys are making the best of some miserable weather in Munich 😅 How fun does this look?! #FCBayern #MiaSanMia pic.twitter.com/NXfOSA9eD2

— FC Bayern English (@FCBayernEN) February 3, 2020
Alvaro Odriozola introduced himself to his new Bayern Munich teammates in a fairly inauspicious manner after his recent arrival on loan from Real Madrid.
Taking part in one of his first Bayern training sessions, the 24-year-old Spanish full-back announced himself by accidentally breaking the ankle of winger Ivan Perisic on Tuesday.
Perisic is likely to be out for the best part of a month after having screws inserted in his ankle to fix and realign the damaged joint, so the footage of him larking about on the rain-sodden training pitch that was tweeted out on Bayern's account a couple of days ago now looks sadly prophetic in hindsight.
"We thought it wasn't that bad, but he [Perisic] has a fracture in his outer ankle," Bayern's interim head coach Hansi Flick told reporters ahead of Wednesday's cup clash against Hoffenheim.
"It needs to be screwed back on, which means he is out for four weeks and only then can he start building up training again.
"These things happen in football, but we'd have liked it to have been different."
Odriozola and Perisic will surely share that sentiment. (Chris Wright)
Wedding party observes Liga MX prematch protocol
¡SE BUSCAN NOVIOS 🤵👰⚽!

Nos encontramos con un video que circula en redes sociales 📹, en el que esta pareja demuestra su pasión por el futbol y por la #LigaBBVAMX... ¡📢 Queremos encontrarlos 📢! #JuegaLimpio ⚽ #SienteTuBoda pic.twitter.com/EciyZ1eSdP

— LIGA BBVA MX (@LigaBBVAMX) February 2, 2020
Few couples would agree to a soccer-themed wedding, but for one Mexican couple, the global game just had to be part of their big day.
For Fernanda Zavala and Jose Garcia, entering their wedding reception in Mexico City was set up to be just like a team coming out of the tunnel and onto the field. The Liga MX hymn played as the teams (bridesmaids and groomsmen) came out on to the pitch (the dance floor) for the big game (the reception). As they trotted out, they waved to the crowd and stretched off in preparation for kickoff (first dance).
Garcia did Cristiano Ronaldo's "¡Siiiii!" celebration as he took his place in the middle of the line, and bride Zavala then took her position, before the wedding party moved down the line shaking hands to formally kick off the party. In Liga MX, a youngster usually shouts the league motto: "Juega limpio, siente tu liga" ("Play fair, feel your league") into a microphone ahead of each game, but on this occasion, it was turned into: "Play fair, feel your wedding!"
The couple met at a Pumas-Chivas game in 2011, went on their first date shortly after the match and wanted football to play a role in their wedding.
"It was my now-husband's idea; we were looking for something original, and it was symbolic for our relationship because we are both football fans and thanks to football our relationship began," Zavala told ESPN's Omar Flores Aldana.
With Zavala supporting Pumas and Garcia Chivas, the Liga MX theme struck a neutral tone, although a Chivas-branded football, which was one of the first presents Garcia bought Zavala when they started dating, was used as part of the pre-wedding protocol.
"We chose the hymn because it's from Mexican soccer and it is well known," Zavala said. "We didn't choose a different one because we support different teams and we didn't want it to be only for one team, either his Chivas or my Pumas." (Tom Marshall)