Ever wondered what Juventus star Cristiano Ronaldo would look like as a giant, robotic titan? Well, thanks to Italian carnival organisers, wonder no more...
The Toe Poke Daily is here every day to bring you all the weirdest stories, quirkiest viral content and top trolling that the internet has to offer, all in one place.
Jump to: Neymar's fluorescent outfit doesn't impress Herrera | Comedy own goal helps PSG to victory | Malaga fans stage 'funeral' for beleaguered club
Ronaldo made yet more history at the weekend when he scored in a 10th consecutive match for Juventus in Saturday's 2-1 loss at Hellas Verona, surpassing David Trezeguet's club record in the process.
The Portugal captain's super-human status in Italy was confirmed the following day when he had a stunning tribute paid to him at one of the country's grandest street festivals.
A float bearing Ronaldo's likeness was paraded at the Carnevale di Viareggio on Sunday with the gigantic metallic automaton of the Portugal captain one of the star attractions.
The carnival takes place in Tuscany every year and is widely considered to be one of the most prominent in the country, with enormous papier-mache floats of famous characters and politicians winding through the town.
A giant Cristiano Ronaldo as part of the Carnival in Viareggio.pic.twitter.com/BXX8RR0jCo

— The CR7 Timeline. (@TimelineCR7) February 9, 2020
Ronaldo's float has a steampunk aesthetic, with the Juve "IDOL" towering over just about everything as it proceeded ominously along the street.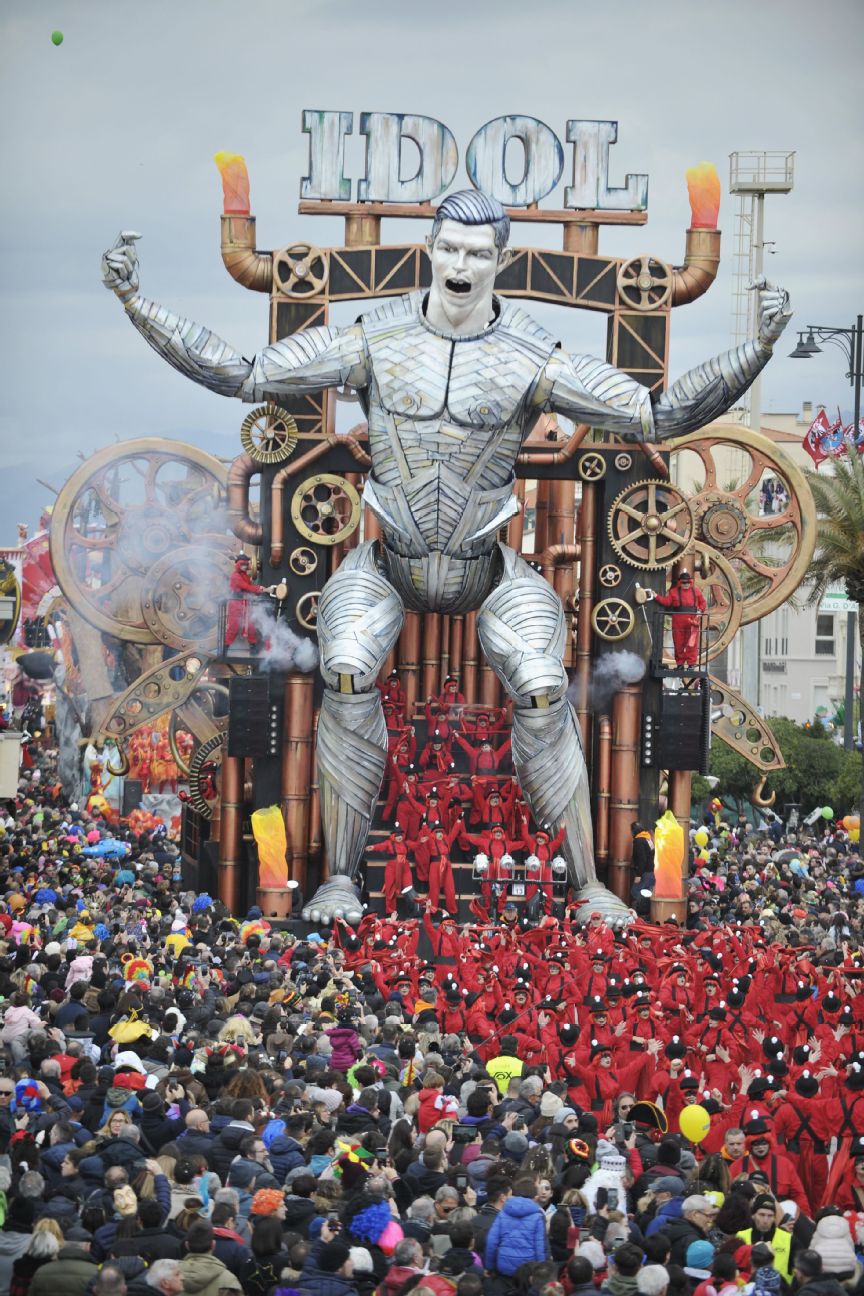 Onlookers were left to marvel as their new leader came marching into town.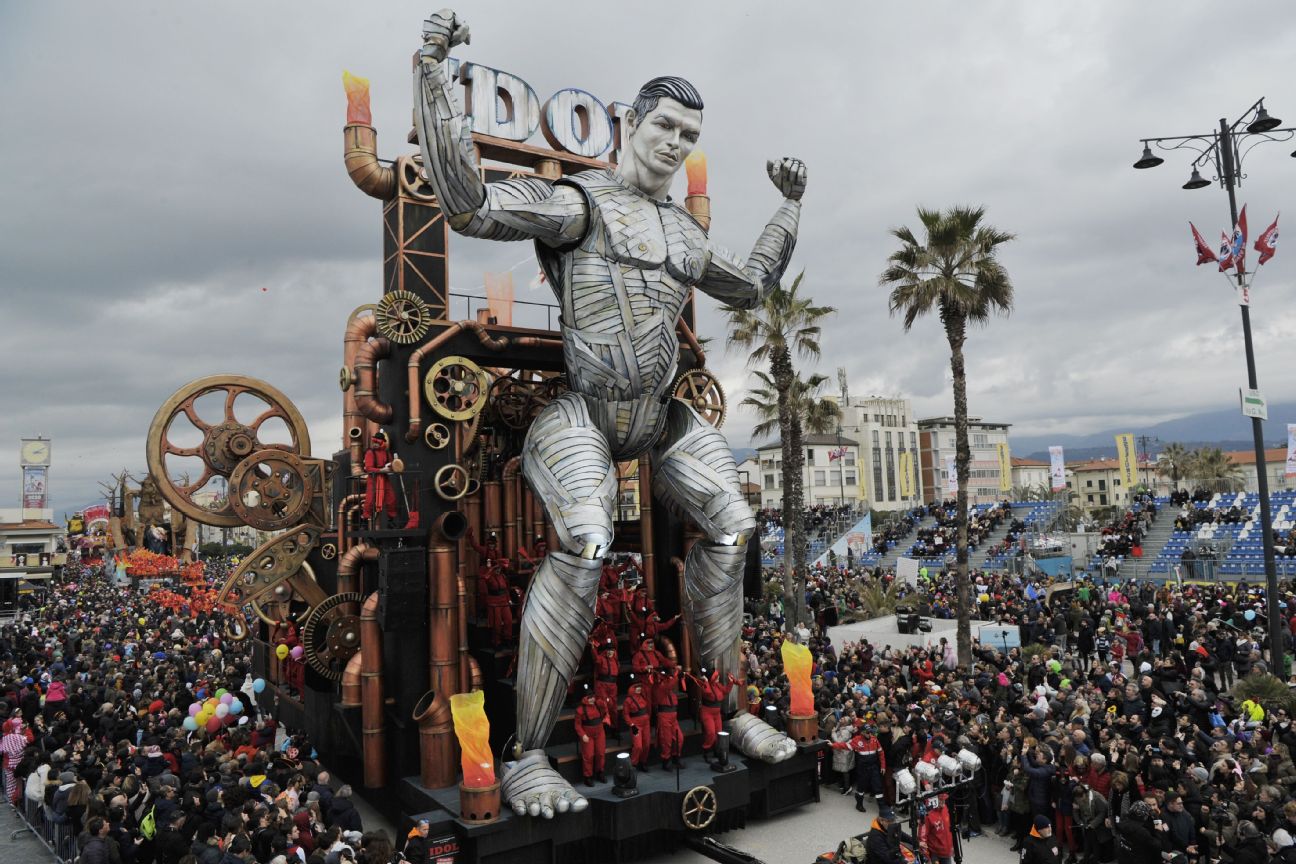 The silver figure was also partially animated, which only made it even more awe-inspiring as it stood tall with foreboding grey clouds as its backdrop.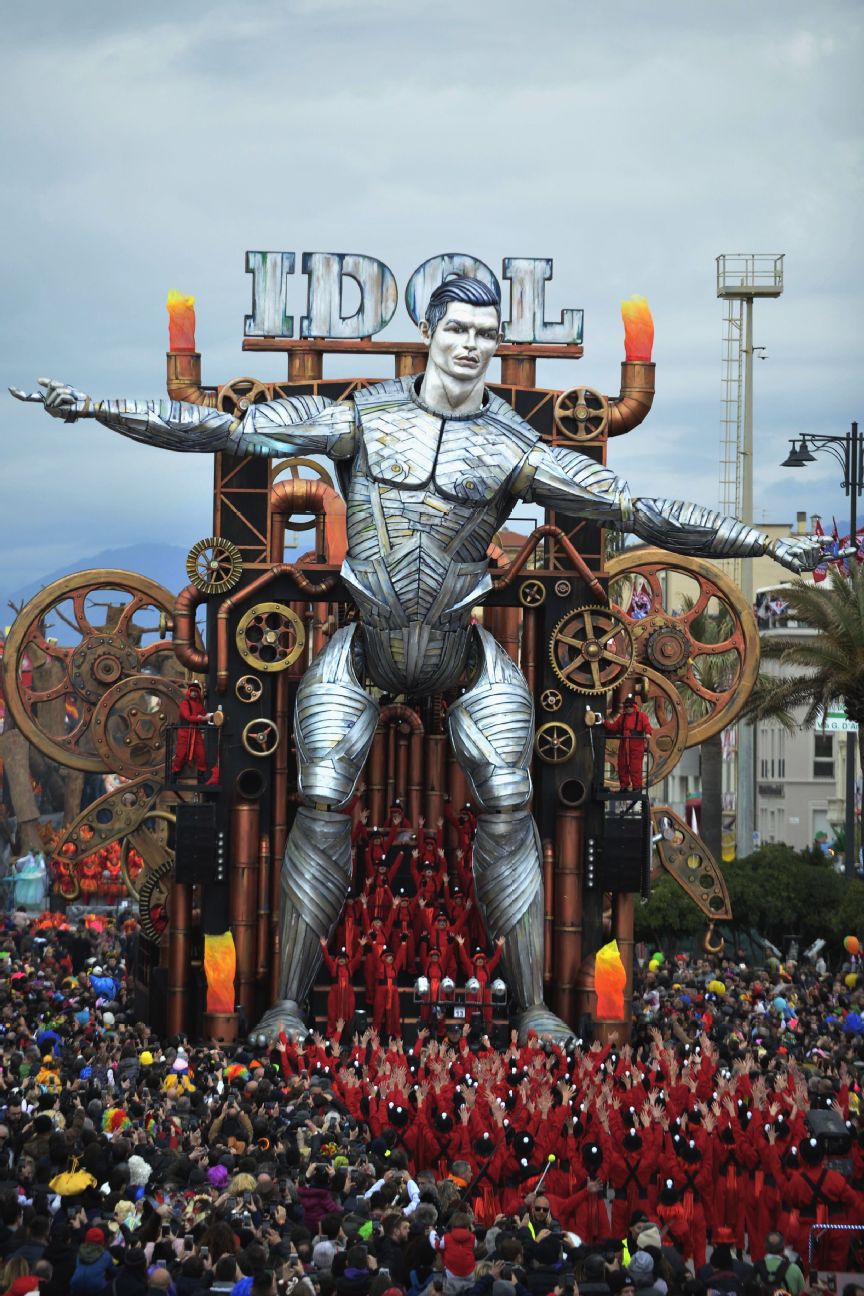 "¡Siiiuuu! Bow down before me. I am Ronaldo, eater of worlds/scenic Tuscan towns!"
Next up for the real Ronaldo is Thursday's Coppa Italia semifinal first leg at AC Milan (stream live at 2:45 p.m. ET on ESPN+ in the U.S.) when he takes on that other colossus of Serie A -- Zlatan Ibrahimovic.
Neymar's fluorescent outfit doesn't impress PSG teammate Herrera
Good victory and it's great to have the visit of a plane director signals ✈️ 🦺 👍🏼 pic.twitter.com/rxgGEOPnbH

— Ander Herrera (@AnderHerrera) February 9, 2020
Ruled out by injury once again, Neymar watched his Paris Saint-Germain teammates beat Lyon 4-2 from the stands at the Parc des Princes on Sunday night.
With a distinct winter chill in the air, the Brazilian forward chose to keep the cold at bay by donning a fairly conspicuous hi-vis bodywarmer. As is usually the case with neon yellow vests, Neymar's questionable outfit didn't go unnoticed.
Indeed, Ander Herrera caught up with his Brazilian colleague after the match and couldn't resist having a cheeky dig at his attire.
"Good victory and it's great to have the visit of a plane director signals," Herrera quipped on Twitter.
All Neymar needs is two illuminated paddles to help guide planes into land and he could get a job at Paris-Charles de Gaulle tomorrow!
Comedy own goal helps PSG to victory
🤣🤣🤣🤣🤣 pic.twitter.com/aC59kqaGaU

— Dale Johnson (@DaleJohnsonESPN) February 9, 2020
If you could draw your eyes away from Neymar's outfit and watch PSG's game against Lyon at pitch level, you would have seen a truly comedic own goal.
The home side raced to a three-goal lead, the third of which was hammered into his own net in truly slapstick fashion by Lyon defender Fernando Marcal -- but only after a truly mind-boggling passage of play.
The move began with Kylian Mbappe out on the wing only for Julian Draxler to then exchange a series of confusingly slick passes with Marcal before the hapless Lyon defender finished things off with a thunderous finish into the wrong goal.
The whole of the Parc des Princes was stunned -- even poor Neymar was seen recoiled in horror.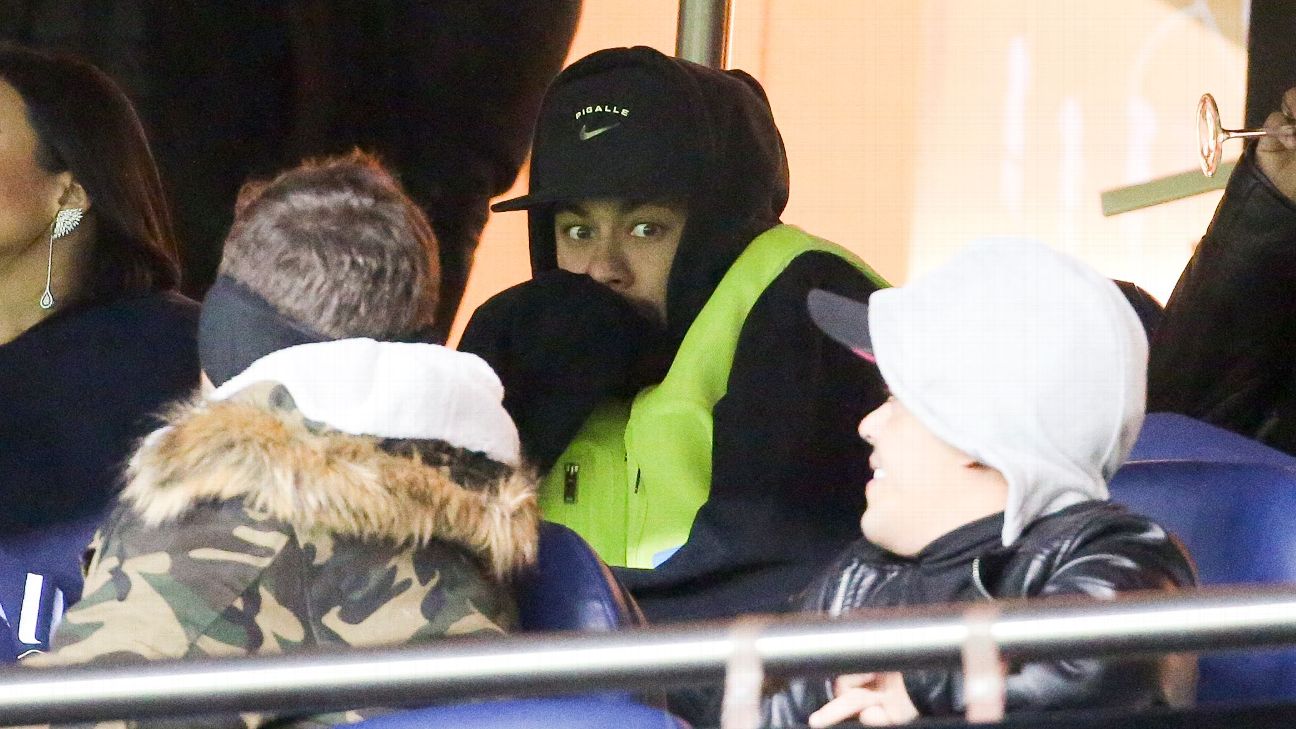 Still, nice to see two opposing teams combining so well to achieve the same objective.
Malaga fans stage 'funeral' for beleaguered club
Fans of crisis-hit Malaga staged a mock funeral procession on Sunday in protest at the running of the club. Supporters marched through the streets dressed in black, carrying candles and a full-size coffin ahead of a game with Numancia at their La Rosaleda stadium.
Some photos from Málaga's 'funeral'. pic.twitter.com/eWzLQviJvn

— Christian Machowski (@Christian_ESEM) February 9, 2020
It has been a turbulent season at the club, not for the first time under the ownership of Sheikh Abdullah bin Nasser Al-Thani. Last summer, Malaga were forced to sell a number of newly purchased players, including Shinji Okazaki, to avoid breaching their La Liga-imposed salary cap, while they fired coach Victor Sanchez del Amo in January over a leaked, sexually explicit video.
La Liga president Javier Tebas said Malaga needed to bring in €2m in sales during the January transfer window to avoid going out of business -- which they then failed to do.
Sunday's "funeral" was followed by a resurrection on the pitch as Malaga came back from a goal down to beat Numancia 2-1 with a 90th-minute winner to leave them two points above the relegation zone in Spain's Segunda Division.