Manchester United's big January signing, Bruno Fernandes, scored his first victory since joining the club, forming a fearsome partnership with Anthony Martial on the Teqball table ...
The Toe Poke Daily is here every day to bring you all the weirdest stories, quirkiest viral content and top trolling that the internet has to offer, all in one place.
Jump to: Everton duo use New York City streets as backdrop for fashion shoot | Man City fan travels 3,000 miles from U.S. for postponed match
👾 Iiiiiiit's Teqball time! 👾

🇫🇷 A. Martial
🇵🇹 B. Fernandes

🆚

🇧🇷 Fred
🇧🇷 A. Pereira pic.twitter.com/CvYGaHuIKK

— Manchester United (@ManUtd) February 12, 2020
Out in the sunny Spanish city of Marbella on a warm-weather training camp, several Manchester United stars decided to while away the afternoon with a lively game of Teqball.
Fernandes teamed up with Martial to take on Fred and Andreas Pereira, with the new Portuguese signing showing some impressive technique at the table.
With five lives apiece to begin, the teams took turns heading and volleying the ball back and forth, with the game ebbing and flowing from the off. However, it wasn't long before Fernandes and Martial began to assert their dominance and power to victory, with the former racking up the points despite Fred's unorthodox methods.
Fernandes may still be awaiting his first Premier League victory as a United player -- after impressing on his debut in the 0-0 draw with Wolves on Feb. 1 -- but he's already winner among his fellow squad members.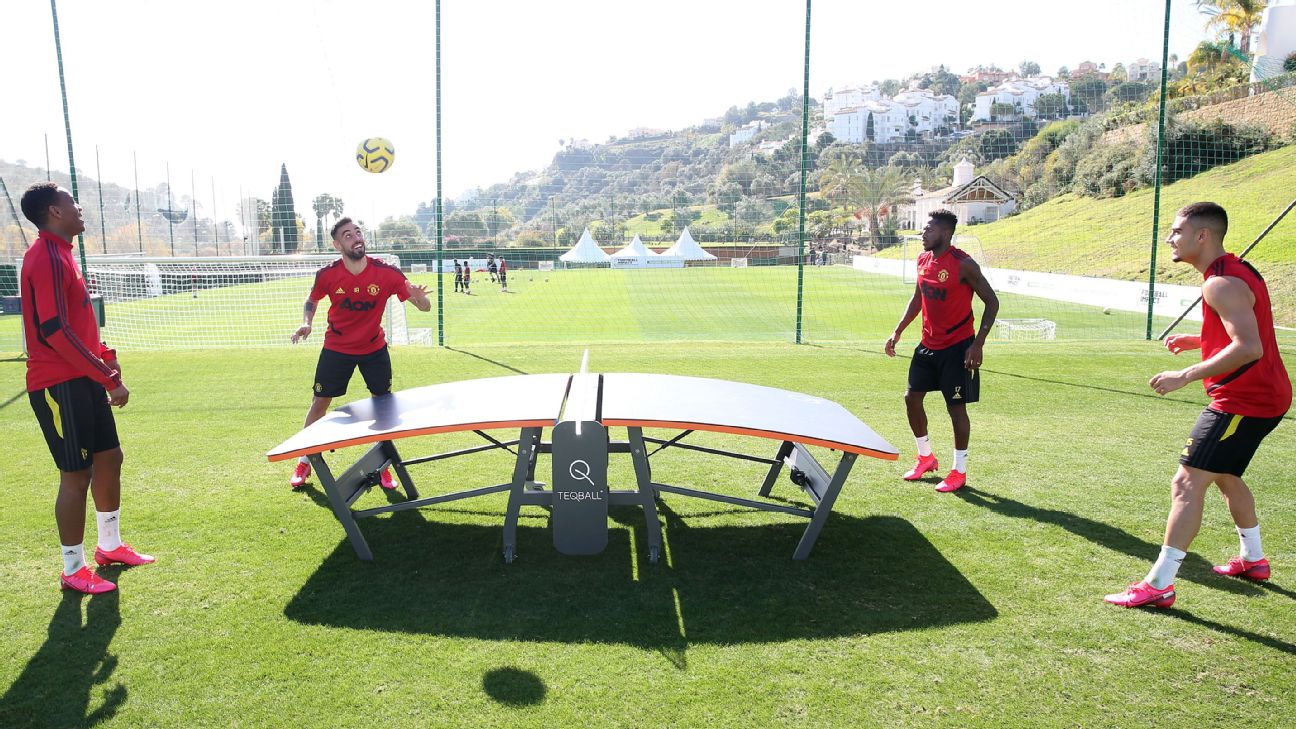 Teqball is becoming an increasingly popular fixture on the football scene, with the likes of Neymar, Philippe Coutinho and Dani Alves all enjoying regular games.
🇧🇷 Neymar, Dani Alves and co se mettent au #Teqball ⚽ Braziiiiiil
@teqball_france @Teqball pic.twitter.com/SAygyuVSaa

— T.V. (@ThibaudVezirian) October 7, 2017
There's even an annual Teqball World Cup, which has boasted Ronaldinho among the guests of honour in the past.
If it's good enough for those four bona fide Brazilian virtuosos, then it's most definitely good enough for us.
#TBT to shooting with @TheF2 (featuring @10Ronaldinho @Carles5puyol)💥💪
•
More of the same coming in 2020, stay tuned!😉
•#Teqball #JoinTheTeqers #WorldIsCurved #HappyHolidays #Ronaldinho #Puyol #F2 pic.twitter.com/kDI1jzUL4j

— TEQBALL (@Teqball) January 2, 2020
Everton duo use New York City streets as backdrop for fashion shoot
Resisting the temptation to fly out to Dubai like every single other Premier League footballer (at least that's how it feels), Everton duo Dominic Calvert-Lewin and Tom Davies instead decided to spend their midseason winter break in New York.
The pair posted photos from their excursion to the Big Apple, which featured a bewildering array of fashion choices.
As well as haute-couture dressing gowns and bright purple winklepickers, Davies took the streets of the Big Apple in an outfit that appeared to be made from his grandma's old tablecloths.
🤙 | Just loving life...

Viva Tom Davies. 🔵 pic.twitter.com/U12CYm32V9

— Everton (@Everton) February 12, 2020
Calvert-Lewin has scored six goals in eight Premier League games since Carlo Ancelotti took over at Everton, and he looks just as clinical in a rollneck and Converse as he does in front of goal.
Davies' achingly cool outfits even earned a nod of appreciation from Hector Bellerin, football's most fashionable man, on Instagram -- quite the seal of approval. Davies is no stranger to bold outfits, having proven his mettle several times over since breaking onto the Premier League scene.
The 21-year-old Toffees midfielder strode through Paris wearing a lumpy brown overcoat and a tiny satchel made of waffles.
The incredibly Scouse mint-green tracksuit with matching baseball cap.
And who could possibly forget the stunning "blue velvet suit x small leather rhino" flex of Christmas 2019?
When it comes to fitting himself out, the man can do no wrong.
Man City fan travels 3,000 miles from U.S. for postponed match
A Manchester City fan who travelled more than 3,000 miles to watch his side play was "crushed" when the match was called off as Storm Ciara hit the UK https://t.co/9FKdF55bt2

— BBC North West (@BBCNWT) February 12, 2020
Spare a thought for Manchester City fan Matt Renninger, who travelled over 3,000 miles with his wife to watch his team in action, only to see the match cancelled mere hours before kickoff.
Renninger made his way to the UK from his home in Rhode Island, USA, just as Storm Ciara was putting paid to several football fixtures across the land -- City's league game against West Ham being one of them.
Renninger had spent around $3,000 on flights for him and his wife, who joined him on what was supposed to be a "bucket list" trip of a lifetime. Thankfully, they were able to take in a game, instead opting to watch non-league Altrincham FC take on Kettering Stadium at Moss Lane, roughly 20 miles down the road from the Etihad.
"We had a great time -- my wife loved the fans' chants," Renninger told the BBC after taking in the 1-1 draw.
The couple, who are expecting their first child later this year, were also able to take a tour of City's stadium, snapping souvenir photos in the dressing rooms and at the entrance to the tunnel. Renninger also says he's "definitely" planning to reschedule a trip to watch his beloved City play, though it might be worth waiting until the worst of the winter weather is over.