With almost all football postponed indefinitely because of the coronavirus pandemic, star players have found themselves at a loose end.
With many training grounds off limits, clubs have sent footballers home, where they're adhering to an isolation period for the next few weeks. How are they passing the time?
ESPN will be keeping a daily eye on what the world's best are up to, as well as how clubs are keeping busy by battling in online competitions against each other.
Sergio Ramos vs. Ajax
🙋‍♂️#RetroMatchday #reaaja pic.twitter.com/IM2tXJIRbN

— AFC Ajax (@AFCAjax) April 1, 2020
Trust Real Madrid captain Sergio Ramos to get into a row with an entire football club despite not even being able to leave his house, let alone being able to upset anyone on the pitch.
Ramos found himself in a light-hearted social media feud with Ajax after the Amsterdam giants decided to have a dig at him this week.
It all began when Ajax posted a tweet reminiscing about their win over Real Madrid in last season's Champions League round of 16.
- Stream ESPN FC, 30 for 30 Soccer Stories and much more on ESPN+
- FIFA's bold plan to handle a looming transfer crisis
Real won the first leg 2-1 in Amsterdam, with Ramos picking up a controversial yellow card late that saw him banned for the return leg. (UEFA subsequently hit him with a further two-match suspension for deliberately picking up the booking.)
Things then went haywire as Ramos was forced to watch from the executive box as Ajax romped to a 4-1 win at the Bernabeu to send Los Blancos packing.
Still, the Real skipper was able to have the last laugh, sharing a photo of the four Champions Leagues he has won thus far, the same number as Ajax have won in their history.
👋 @AFCAjax#RetroChampionsDay https://t.co/vpleWr0Kpn pic.twitter.com/gQ0mAmd1aS

— Sergio Ramos (@SergioRamos) April 1, 2020
When it comes to playing Top Trumps with silverware hauls, there aren't many who can mix it with Ramos. Then again, the same can be said when it comes to red cards.
- Ramos' 26 career red cards not even close to record held by 'The Beast'
Robin van Persie joined forces with son Shaqueel to help keep the boredom at bay and their footwork finely honed during isolation.
Stationed side by side, the pair cranked up the samba soundtrack and performed a fine piece of footballing choreography, utilising their synchronised skills.
"Having some fun in the garden," Van Persie wrote on Instagram. "We're not the best dancers but put a ball at our feet and..."
Shaqueel is a budding player himself, having previously been on the books at Manchester City's academy.
A tricky left winger, the 13-year-old is now playing for his father's boyhood club, Feyenoord, working hard in their youth ranks.
Lionel Messi is doing his best to keep fit during confinement, and it's nice to see that his kids are helping the cause.
The Barcelona superstar's youngest son, 2-year-old Ciro, demonstrated a set of 10 hip raises for his dad in order to keep him honest during lockdown.
Messi did his best to keep the pace with his little fitness guru with a set of situps, but was forced to stop after just five.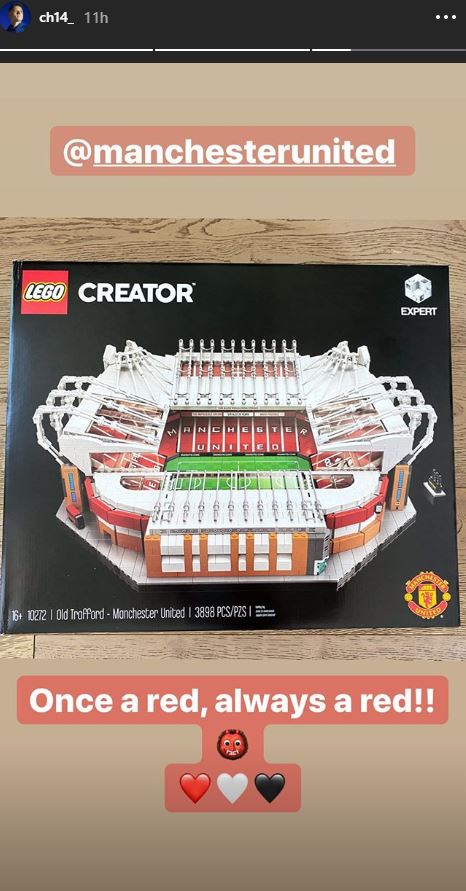 With plenty of time on his hands, "Chicharito" has splashed out on a Lego kit to keep him occupied.
Manchester United fans might be interested to know that the LA Galaxy striker plumped for the new, limited edition Old Trafford "Creator" set.
"Once a red, always a red," he wrote on Twitter and his Instagram story.
With almost 4,000 pieces to assemble, it's certain to eat up at least a few hours.
It has been revealed that Depay's adorable, cuddly new house pet isn't a lion cub after all.
In fact, the Lyon winger's new best friend is a "liger" -- a mix between a lion and a tiger (and bred for its skills in magic, apparently).