Saul Niguez caused a stir on social media earlier this week when he stoked rumours about his future at Atletico Madrid with a teaser about a "new club."
The 25-year-old midfielder posted an update out of the blue on Sunday, claiming that a big announcement would be made in three days' time.
As you might expect, Saul set tongues wagging and found himself linked with big moves to a host of major clubs around Europe.
THERE IS A NEW TEAM IN THE CITY @clubcostacity

🔗 https://t.co/5DnWj0KRYQ pic.twitter.com/qk980lCi0R

— Saúl Ñiguez (@saulniguez) June 3, 2020
However, it soon emerged that the Spain international isn't planning to end his 12-year association with Atletico any time soon. Instead, he announced that he has founded a team in his hometown of Elche.
Co-founded with Saul's brother, Aaron, Club Costa City and will start operating next season. They hope to have 30 different teams and around 500 players, with a focus on young players from 4 to 18 years old.
Saul said he was "surprised by the expectation created" by his announcement and stressed he was only focused on playing for Atletico Madrid -- although many of the comments from viewers were focused on Manchester United.
Quite the PR stunt from Saul, though he certainly isn't the first star to indulge in some transfer trolling for the sake of publicity.
- Stream ESPN FC Daily on ESPN+ (U.S. only)
- When PR stunts fall flat: Pie-eating goalie, Bendtner's boxers
"Estaréis hartitos por los comentarios que dicen si me voy, si me quedo, cuánto me dan... Pero la verdad es la que voy a decir ahora". #LaDecisión de @antogriezmann, hoy a las 21.15h SÓLO en @cero. pic.twitter.com/lZOb47itC6

— Movistar+ (@MovistarPlus) June 14, 2018
With the 2018 World Cup underway and rumours of a huge move from Atletico to Barcelona circulating daily, Griezmann decided to fuel the speculation with a teasing video message.
The France forward was reportedly so torn over his future that he recorded two separate videos: one confirming he was sticking with Atletico Madrid and one confirming he was joining Barca, with the relevant video to be broadcast once he'd made his mind up.
After dragging it out for weeks, Griezmann eventually announced "La Decision" at the end of a LeBron James-style TV special aired in Spain: He was staying put.
Mi afición, mi equipo, MI CASA! @atleti 🔴⚪🔴

Mes supporters, mon équipe, MA MAISON ! @AtletiFR 🔴⚪🔴

My fans, my team, MY HOME!!! @atletienglish 🔴⚪🔴 pic.twitter.com/ByD8Cju5Yb

— Antoine Griezmann (@AntoGriezmann) June 14, 2018
"My fans, my team, MY HOME!!!" he gushed to the Atletico supporters after deciding his heart lay at the Metropolitano.
He then left to join Barcelona the following year.
Zlatan to La Liga confirmed?! 👀🇪🇸 pic.twitter.com/SBsKm6JMLA

— ESPN FC (@ESPNFC) October 29, 2019
In October of last year, Ibrahimovic dropped a major hint that he would be returning for a second spell in La Liga once his contract with MLS side LA Galaxy expired.
A short message was posted on Instagram in which the Swedish legend said "Hola Espana, guess what? I'm coming back!"
It was strongly rumoured that Ibrahimovic might be planning to add Real or Atletico Madrid to his stellar CV, or perhaps even stage an outlandish return to Barcelona after nine years away from the Camp Nou.
You're welcome Spain! Zlatan is now welcoming Spanish players to https://t.co/yqSM4ycmkc. Don't forget to play responsibly, https://t.co/rmCILlWQvv pic.twitter.com/eK9k4IvW9Z

— Zlatan Ibrahimović (@Ibra_official) October 31, 2019
What actually came to pass was a rather underwhelming promotional launch for a new Spanish gambling company.
I've signed for a football team! Find out which one this Tuesday at 8am GMT 👀 pic.twitter.com/iFTlWxfy7x

— Usain St. Leo Bolt (@usainbolt) February 25, 2018
There was a time, not so very long ago, that Usain Bolt made a concerted effort to transition from Olympic sprinting directly into the world of professional football.
In 2018, the Jamaican athlete had trained with a number of clubs around the world but failed to make it past the trial stage, despite rumours persisting that he might just be able to make it as a pro.
"I've signed for a football team," Bolt then suddenly announced on Twitter. "Find out which one this Tuesday at 8am GMT."
Excited to announce that I will be playing in @socceraid for @UNICEF_uk 2018 at Old Trafford on Sunday 10th June. Make sure you're ready @robbiewilliams! ⚽️🌍 pic.twitter.com/t2sDB1iLP8

— Usain St. Leo Bolt (@usainbolt) February 27, 2018
Intrigued as to which club had taken the plunge, fans waited until Tuesday morning only to be greeted by a second message announcing that the aforementioned team was in fact the World XI at Soccer Aid, the charity match staged annually to raise money for UNICEF.
Bolt never did get to play for his beloved Manchester United, but he did get to spend an evening chasing after wayward through-balls from the likes of chef Gordon Ramsey and Hayden Christensen.
Later that year, Bolt scored two goals for Australian club Central Coast Mariners in a trial appearance, but was unable to agree a full-time playing contract.
The Blues riled their supporters in January when they teased exciting news of a treble signing on their Instagram account.
"You wait 24 days for a signing, then Three come along at once..." the club wrote.
However, it soon became clear that the capital "T" was no grammatical error and indeed indicative of a cruel hoax.
An accompanying picture showed Chelsea managers Frank Lampard and Emma Hayes, along with club captains Cesar Azpilicueta and Magdalena Eriksson, posing with a shirt bearing the number "3."
Yes, Chelsea were referring to a new shirt sponsorship deal with mobile phone network Three, and not a trio of new playing talents.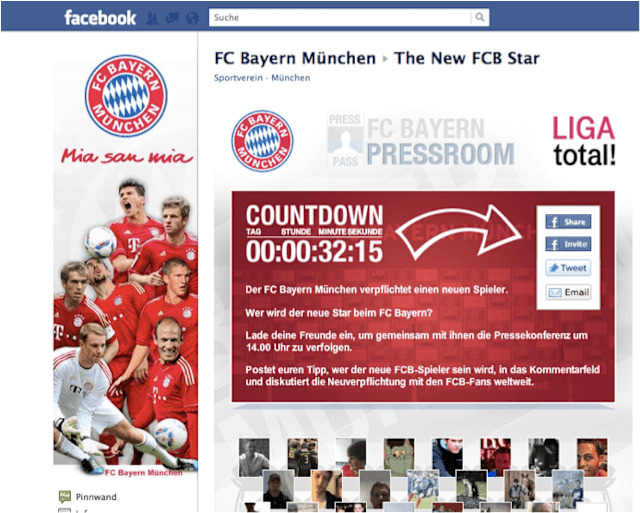 Bayern Munich worked their fans up into an expectant frenzy in 2012 when they baited the waters with news of a "big new signing" being imminent.
The Bavarian club then succeeded in infuriating their entire supporter base when it eventually came to light that the new signing in question was actually a new Facebook app.
"Dear fans, you probably already noticed, that we did not sign a new player," read a message on Bayern's official Facebook page.
"This app is for our fans to show the importance of you for our club."
Having had their fans on tenterhooks for a whole day, the ensuing fallout was so furious that Bayern were forced to issue an apology for wasting everybody's time.