The 2018 World Cup is just over a month away and all 32 teams are preparing in earnest for their shot at the trophy in Russia. ESPN FC is previewing every team ahead of the opening game on June 14. Find all 32 teams here.
Who they are
Captain: Radamel Falcao
Manager: Jose Pekerman
Nickname: Los Cafeteros
FIFA Rank (as of April 12, 2018):16
How they qualified
Colombia's qualifying campaign wasn't long-suffering but it wasn't a walk in the park either. They lost points against the stronger teams, but they always capitalized on the weaker ones. They lost both of their games against Argentina and couldn't manage any wins against Brazil, Uruguay or Chile. Their best moments were a clear win over then unbeaten Ecuador and a tie in Lima on the final matchday against Peru, which earned them automatic qualification.
Biggest strength
It's clear that Colombia has the players to compete against the very best. They have players used to playing in the top European leagues at every position, led by James Rodriguez and Radamel Falcao. The Bayern Munich No.10 finished top scorer at the 2014 World Cup and arrives in Russia in top shape; he's already one of the tournament's favorites to score the most goals. Falcao also has high personal expectations for this tournament after missing the last World Cup through injury.
Colombia's 2014 World Cup squad adds two new center-backs who will mark an era: Davinson Sanchez and Yerry Mina. They make up a solid backline with Santiago Arias and Frank Fabra while other quality players like Juan Cuadrado and Luis Muriel boost the team.
Biggest weakness
Even though the Colombia national team has participated in the bigger international tournaments over the past few cycles, they have come up short against the best teams in the top competitions. They need to believe they have the individual and collective assets required to defeat anyone. Another issue that's come up after Brazil 2014 is the lack of strength in the midfield. They are too often overplayed in that area, which negates their quality at both ends. Jose Pekerman should go for a dynamic and creative midfield in order to boost his forwards.
Star player
James Rodriguez was already Colombia's best player before the 2014 World Cup but nobody expected he would become one of the best in the world. At 22, he ended up being the tournament's top scorer and the leader of the best team Colombia has ever deployed at a World Cup. He added personality and attitude to lead his team in each and every game he played. Nowadays, as a more mature player with experience at two of the top clubs in Europe and coming off a good season at Bayern Munich, Colombian fans will be expecting a lot of him.
Projected XI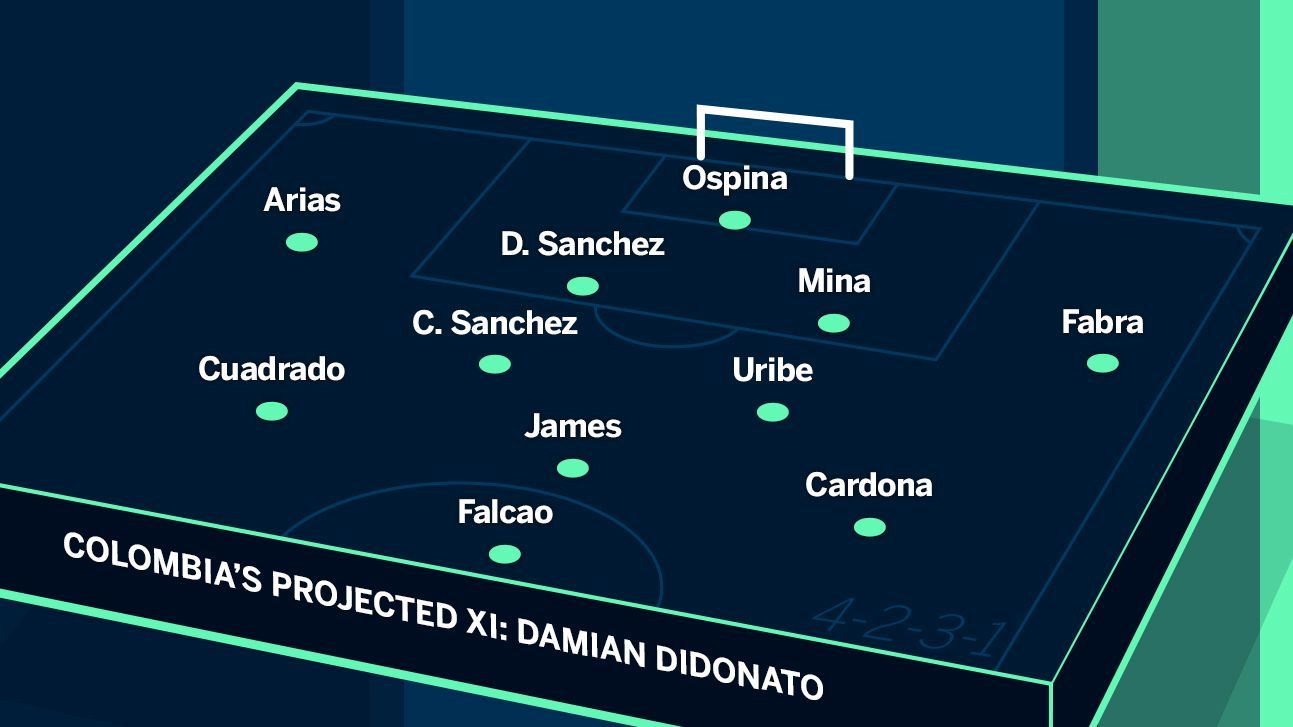 What the local media says
"Because of the level of play shown by their footballers in Europe, Colombia should have as an objective to play five games in Russia 2018 just as they did in Brazil 2014. James Rodriguez, Radamel Falcao, Juan Guillermo Cuadrado and Davinson Sánchez are at their best and allow all Colombians to dream of another historical performance." -- Tito Puccetti, ESPN
What the stats say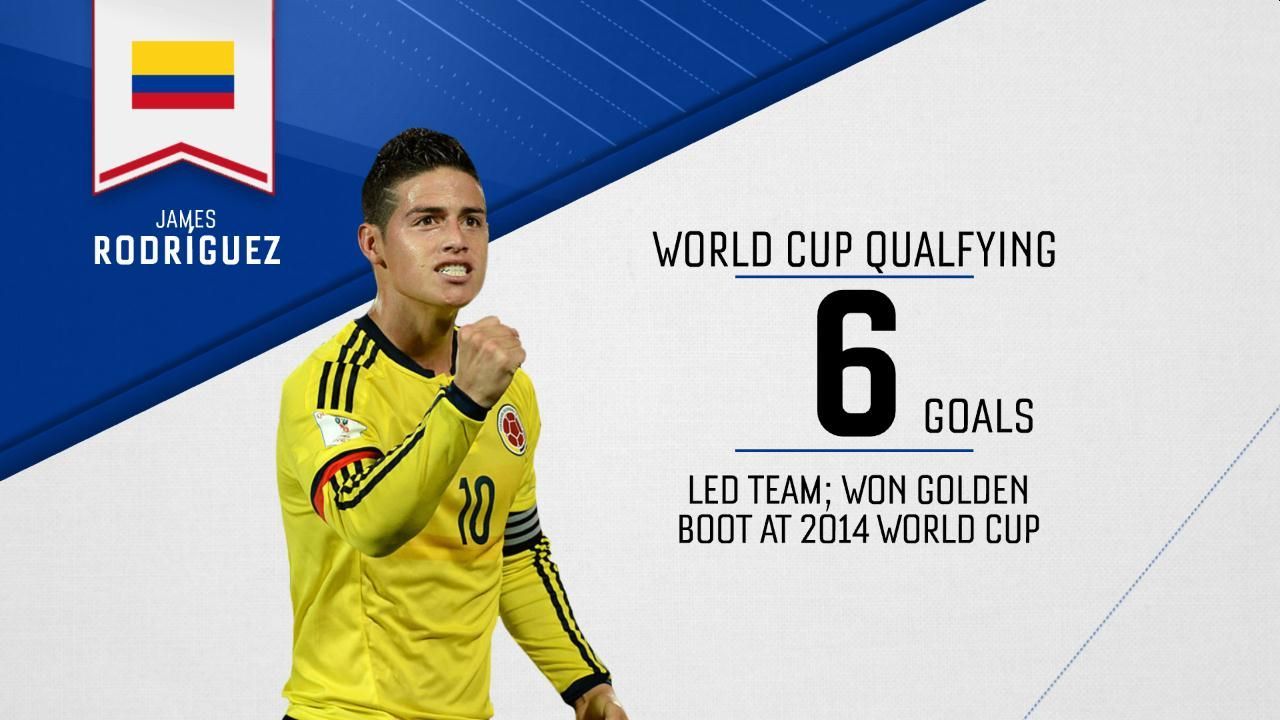 Prediction
It's difficult to predict the fortune of a team in a competition such as a World Cup, since there are factors at stake that surpass football itself. However, one can try to outline a possible path and determine which result would be considered a success. If they aim to match their performance in Brazil, they will have to defeat England or Belgium in the round of 16, either of which would be a spectacular challenge for a group of players eager to show their worth. To reach the quarterfinals would be a resounding success while the least expected accomplishment for an acceptable performance would be a victory in the Round of 16.