ST. PETERSBURG, Russia -- The whistle had barely left referee Bjorn Kuipers' lips when Neymar sank to his knees on the lush pitch of the Death Star stand-in known as the Krestovsky Stadium. He sobbed and cried, the way a guy can when he feels alone with 22 brothers in close proximity and 68,000 cheering fans a stone's throw away.
He looked a shell, emotionally empty, the last fumes spent scoring Brazil's second in the 2-0 victory over Costa Rica. Because he's Neymar da Silva Santos Junior, which means few on the planet are as scrutinized and psychoanalyzed from a distance, we can only guess at what went on.
Philippe Coutinho suggested after the match that joy was the reason for his teammate's emotion, while Neymar himself suggested later that "overcoming," "willpower" and "desire" were contributing factors. Beyond that, though, the tears could easily be interpreted as being prompted by relief.
Relief for the win, sure. Relief for his goal, too, because -- not that anyone is counting -- it was his first in a competitive match for the Selecao since he became the most expensive player in the world. And relief, maybe, that the most glaring and impactful VAR decision thus far in the World Cup will get less attention as a result of the result.
That's right. We'll get fewer "NeyVAR" headlines as a result of Coutinho's ice-breaking goal a few minutes after Kuipers' fateful decision to overrule himself. But what happened cannot be ignored, and it cast Neymar as the clear villain of the piece; a role which, you presume, he doesn't enjoy.
His cutback in the 78th minute was as sharp as Satan's razor; a classic ankle-breaker that left Giancarlo Gonzalez off-balance and falling. Instinctively, the Costa Rican defender raised his arm across Neymar's chest, maybe in a futile effort to regain his balance, maybe to slow his opponent down. The Brazil star's back arched to the rear, for a split second he was splayed in midair and then he collapsed to the ground.
Anyone who has watched football knows the reaction. It's what happens when you are on the receiving end of a classic veteran defender tug. You get pulled forward, so your instinct is to throw yourself backward to counter and, as a result, as soon as the grip is released, you fall on your rear end.
That's what Kuipers saw and that's why he pointed to the spot. Costa Ricans remonstrated, Brazilians fist-pumped. The prophecy was fulfilled: Neymar had "won" a penalty with a combination of ingenuity and chutzpah.
But then replays rolled around hundreds of millions of screens worldwide. And, most importantly, in the VAR booth. Gonzalez's hand no more than brushed the front of the blue jersey. Kuipers received the message in his ear and trotted over to review. Seconds later, the decision was overturned.
It looked clear-cut, though some will differ. Like "Adenor," Tite's alter ego.
"I would have given [the penalty], if I was the referee, I would not go back on my decision, though I respect that he did it ... but I'm not speaking as Tite the coach of Brazil, I'm speaking as Adenor, who is just a fan," said Tite, referring to his given name.
"To me, the touch stopped him from shooting on goal and so it was a penalty, but Brazil doesn't want any help and doesn't need any help from referees; we don't need them to win games," he added, though by then it was unclear whether it was Tite or Adenor speaking.
To those of us not named Tite or Adenor, it felt like the classic case of a big nation getting a big call to break its way at the expense of a smaller opponent. Until VAR intervened, and that is the value of the system.
Had it not been for Brazil's two late goals, the impact would have been massive. Costa Rica would still be in control of their destiny, while Brazil would go into the final game knowing that only a win against Serbia would guarantee a spot in the knockout rounds.
As for Neymar, it was the third time he had failed to get a call after going down, and this time he chased after Kuipers, to the point that Marcelo had to hold him back. Two minutes later, he was booked for dissent.
Though his frustration threatened to boil over late in the game, overall Neymar was more tactically disciplined than vs. Switzerland. Running at opponents only in the final third and holding his position, there was no showboating until the final seconds, and that may explain why he suffered just four fouls (compared to 10 against the Swiss).
He struggled, like the rest of Brazil, during a first half that saw his team lack a cutting edge, but business picked up tremendously after the break, when Willian was replaced by Douglas Costa. His raw pace and sudden accelerations stretched Los Ticos, creating pockets of space centrally for Neymar and a resurgent Coutinho to exploit.
"During the first half, we were nervous, we were tentative, we were misplacing passes," said Tite. "I turned to my assistant and joked 'Who are these 50-year-old guys?' Then in the second half it was all different after Douglas Costa came on and it became even better with Roberto Firmino ... of course, that's the advantage of having replacements like these."
---
World Cup 2018 must-reads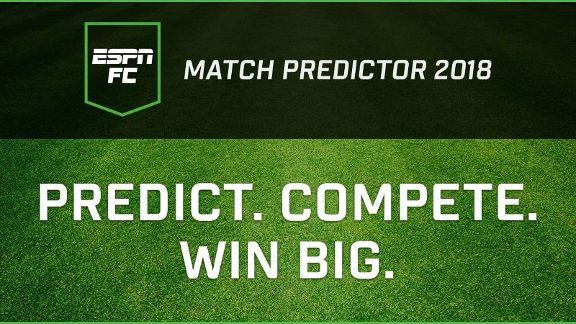 - Make your daily picks with ESPN FC Match Predictor 2018!
- World Cup fixtures, results and coverage
- Messi helpless as Argentina's World Cup dream fade
- Mbappe announces himself on the World Cup stage
- VAR at the World Cup: A timeline of the tournament
---
Tite spoke at length of his team, of his substitutes, of the importance of the collective. Little things, like rotating his captaincy or having his assistant Sylvinho next to him to take questions during news conferences, suggest he buys into the idea 100 percent. But, ultimately, there's no escaping Neymar.
"He can make a difference as an individual when the whole group is playing well," Tite said. "You can't put all the responsibility on one guy. Right now, he is still in the midst of a process, to get back to his level. He was out for three-and-a-half months and I think this is only the second match where he has played 90 minutes. He's a human being; he needs time to get back to his standard. Our job is to help him and not be dependent on him.
"Will he get there?" he added. "Of course, he will."
No doubt, Tite is correct. But after one game in which he tried to conquer the Swiss Alps single-handedly only to emerge bruised and battered and another, in which he was a bundle of nerves and crossed to the dark side more than once -- it almost worked too, but for VAR -- you wonder how long the journey back is going to take.
The good news is that there's enough around Neymar that Brazil can wait for him to reach his best. At least as far as the patient, articulate Tite, whom media and players call "professor," is concerned. Adenor may feel differently, but, thankfully, he is not coaching Brazil.