Miami Marlins closer Steve Cishek is on quite the roll, having saved three games at Coors Field already this week and 15 consecutive overall since the first week of June. Cishek boasts a strong ERA and WHIP and is on pace for the rare 30-plus save season despite the mostly miserable team around him seemingly being well on its way to 100-plus losses.
Still, by this time next week, there's a decent possibility Cishek is no longer a closer and the Marlins turn to intriguing right-hander A.J. Ramos to close.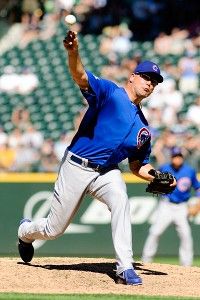 Steven Bisig/USA TODAY Sports
Kevin Gregg has been a major surprise this season, but his value could take a dive if he gets traded out of a closer role at the deadline.
It's called the nonwaiver trade deadline, and by dinner time Wednesday, we should know if the likes of Cishek, Kevin Gregg, Jose Veras, Greg Holland, Glen Perkins, Jim Henderson, Bobby Parnell, Huston Street and perhaps even Jonathan Papelbon are leaving their losing teams for new, winning teams. It's also possible trades can be made in August, but it's a bit rarer for reasons we don't need to discuss here.
Here are a few bullpen guys who could be graduating to expanded, and valuable, closer roles soon if the right moves give them the opportunity:
A.J. Ramos, Miami Marlins: Cishek is relatively cost controlled, so the Marlins don't need to move him, but he's pitched so effectively of late that perhaps the return will be worth it. Let's face it, 100-loss teams don't really need a good closer, especially a 27-year-old submariner. Ramos can get his fastball into the mid-90s, and while he's still a bit too prone to the free pass, his strikeout rate is solid. Ramos isn't that much younger than Cishek, but teams generally want to trade for the closer -- which is ridiculous and an argument for another day -- not the unproven setup man, regardless of who is better. In this case, Cishek is better, and better bait.
Jose Cisnero, Houston Astros: It's rather tough to tell who would be next in line should right-hander Veras get moved, because the last time he saved a game and a reliever got a hold in that game was way back on July 3! Cisnero, who has not had a great July, pitched the eighth inning that day for his fifth hold. He has none since. But nobody else in the Houston bullpen is an obvious choice. I touted Rule 5 pick Josh Fields before the season, but he doesn't seem to be under late-inning consideration. Lefty Travis Blackley doesn't fit the closer mold. Cisnero's July has featured many runs, walks and strikeouts, but the converted starter is 24 and at least he throws hard.
Dale Thayer, San Diego Padres: Street has to be one of the most overrated closers out there, but his 219 career saves are probably all that most gullible general managers notice. Street has permitted 10 home runs already for the second time in three seasons. His ERA is closer to 4 than 3 for the third time in the past four seasons. Thanks to being brittle, he's saved more than 30 games only twice in eight full seasons and isn't on pace to do it in 2013. Trade the guy and give Thayer, the team's actual top right-handed reliever this season, a chance. Most people would exalt Luke Gregerson to the role, but he's trade bait as well. And Thayer performed well in the closer role last season.
Brandon Kintzler, Milwaukee Brewers: As with the Padres, this isn't a name most people are familiar with, but the last-place Brewers really should be shopping 30-something right-handers Henderson and John Axford while their value is relatively high. Neither is part of the team's future, and the Brewers capitalized on Francisco Rodriguez doing well to steal a decent prospect from the Baltimore Orioles last week. Kintzler isn't special and isn't particularly young, but he's less likely to be moved. He's having a fine campaign, getting enough strikeouts and allowing only two home runs.
Luke Hochevar, Kansas City Royals: I don't think the Royals will trade Holland, even though they should. This is not a playoff team and Holland has had such a terrific season that his value will never be better. But if they do, I have doubts Aaron Crow would do a great job. He has allowed more hits than innings pitched, and his strikeout rate isn't special. Kelvin Herrera, recently in the minors and far too homer prone, seems far away from any ninth-inning role. Hochevar is having a strong season, and one way to make your fans feel better about a busted No. 1 pick is to place him in a higher leverage role and trick everyone into thinking he's more valuable this way. Hey, Hochevar is throwing really hard -- harder than ever -- and piling on the strikeouts. He's probably just as prepared to close as Crow is.
Others to watch: Papelbon isn't going anywhere, in part because the delusional Phillies think he's really great (he's not) and because of his bloated contract. But if he did move, Antonio Bastardo is clearly next in line, with no right-handed setup men even deserving of a big league role yet alone a closing opportunity. … Ask Chicago Cubs manager Dale Sveum who would save games should Gregg get moved and his answer changes daily, but it certainly appears that Pedro Strop is closer to the highest leverage relief role than Blake Parker. Watch, we've discussed Gregg for so long and expected such a disastrous fall that he probably won't get moved or lit up. That's baseball. … As for the other last-place teams in the American League, they aren't likely to be moving their closers. Addison Reed is young and was groomed for the role all along by the Chicago White Sox, and Casey Janssen has battled shoulder issues and has pitched on consecutive days only one time the entire season. A healthy Jesse Crain and fellow All-Star Steve Delabar would be nice replacements, though. … If the Minnesota Twins get a good offer for Perkins, they should act. As for the setup men, Casey Fien has been considerably better than Jared Burton this season, though that's likely irrelevant. … Then there are the New York Mets. They really should see what Parnell is worth, as his value might never be better. I'd like to see a trade just to see who is chosen as a replacement. LaTroy Hawkins? Scott Atchison? John Franco? Believe it or not, David Aardsma, he of the 69 career saves for the Seattle Mariners, has pitched well enough for another chance here or somewhere. Maybe the Mets can move him too!
Have a great weekend!