It has been easy to scoff at Jon Garland's early season performance and wait for the inevitable regression, but there are reasons to believe that at least some of his performance will be maintained throughout the year. The San Diego Padres right-hander won't continue to post an ERA that will put him into Cy Young contention, but that doesn't mean he won't have value.
No, we can't expect him to maintain a 2.38 ERA all year, but there are things to keep in mind when talking about regression. For one, Garland is pitching his home games at Petco Park, which is the equivalent of stepping into a time machine that drops you into the Dead Ball era. He allowed one homer per nine last season (his career rate is 1.1) but is at 0.5 per nine this season, and he is in the midst of a 45 inning stretch without allowing a homer, partially thanks to Petco. And his increased ground ball rate (50 percent this year, 44.7 percent for his career) is a big part of of that.
Secondly, the Padres' defense has been responsible for a significant part of Garland's success. They rank second in Defensive Efficiency (and third in park-adjusted Defensive Efficiency), which means they are converting a very high percentage of batted balls into out. That has helped push Garland's batting average on balls in play well below the league average. It should come up (it's at .262) but BABIP at Petco -- like other pitchers' parks -- is naturally lower than the regular league average to begin with, so his inching back towards the mean (around .300) won't be as severe. Combine the grounders with that defense, and you understand why he's been successful. One look at where he's putting the ball explains why his grounders are back near the highest rates of his career. The graphs below are from the pitcher's point of view, and you can see that he is pounding the outside of the strike zone, and keeping it low. Therefore, hitters don't have anything to drive.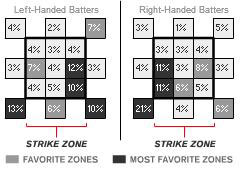 Garland didn't have great defensive play behind him last night, with Matt Stairs missing a fly ball in left field and Yorvit Torrealba failing to trap an errant curve with a runner on third. So it's no wonder he allowed nine hits over five innings during an bad defensive night for the Pads. But when the defense is on, which it usually is, Garland will succeed in San Diego.
SIERA has Garland at 5.08, but between Petco and the defense, that's high. Run estimators like FIP and SIERA base their results off of what the pitcher does on their own, without factoring in certain context. For instance, Garland's opponents rank 12th in OPS (minimum. 40 IP), so he's faced some tough lineups thus far and succeeded despite it. Additionally, Garland may improve his SIERA even as his ERA climbs, considering his walk rate is 1.6 per nine above his career rate.
Garland's no ace, but with the exception of 2008, he's been worth between 2.2 to 4.2 wins above replacement. He's well on his way to another of those seasons in 2010 thanks to his park, his defense, and an increase in ground balls. While he will regress from his sub-3.00 ERA, he's capable of an above-average campaign with 200 innings in his current surroundings, and there's plenty of value in that.
Marc Normandin is an author of Baseball Prospectus.