Phil Steele Week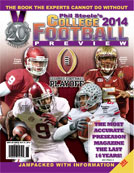 Get access to Phil Steele's football analysis and find his 2014 preview magazine at PhilSteele.com.
• Projecting Top 25 teams
• Preseason Top 5: FSU No. 1
• Top QBs | RBs
• Top 10 Heisman candidates
• Top 10 surprise teams for 2014
• Most improved teams for 2014
• Ranking every conference in CFB
Editor's note: This article was adapted from Phil Steele's college football preview magazine, which is available here.
When ranking the top individual position units for my 2014 preview magazine, I took into consideration the talent level and production of the starters and the overall depth of the unit. As at quarterback, the starting running back is weighted heavily into my overall position rankings, but what separates the 15 team RB units below from the rest of the country is that they have a great starter and strong backups -- in most cases, the top teams in these rankings possess at least two good backs. With that in mind, here is how I rank the top 15 RB depth charts in the country for the 2014 season.
(Author's note: In case you are unfamiliar with some of my abbreviations used below, the "PS" number assigned for each player stands for where I ranked that particular player at his position coming out of high school.)
---

T.J. Yeldon (PS No. 5) has a pair of 1,000-yard seasons on his resume and has averaged more than 6 yards per carry in both of his seasons running the ball for Alabama. Derrick Henry (PS No. 1) had 161 yards of total offense in the bowl and some feel he is more talented than Yeldon. Kenyan Drake (PS No. 31) added 694 yards last year and had a great spring, while Altee Tenpenny (PS No. 8), redshirt freshman Tyren Jones (PS No. 10) and true frosh Bo Scarbrough (PS No. 6) make for a pretty good bullpen.
---

In 2012, two true freshman RBs -- Todd Gurley (PS No. 19) and Keith Marshall (PS No. 2) -- combined for 2,144 yards and 25 touchdowns and were given the nickname "Gurshall." Last year, both were injured and missed a combined 11 games, and their collective output dropped to 1,235 combined yards. There are some questions about whether Marshall could end up having to take a medical redshirt this fall after tearing his ACL last season. Still, Gurley is clearly one of the top RBs in college football. The Bulldogs also add in another dynamic true freshman combo in Nick Chubb (PS No. 9) and Sony Michel (PS No. 4).
---