Phil Steele Week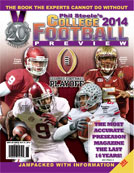 Get access to Phil Steele's football analysis and find his 2014 preview magazine at PhilSteele.com.
• Projecting Top 25 teams
• Preseason Top 5: FSU No. 1
• Top QBs | RBs
• Top 10 Heisman candidates
• Top 10 surprise teams for 2014
• Most improved teams for 2014
• Ranking every conference in CFB
Editor's note: This article was adapted from Phil Steele's college football preview magazine, which is available here.
There are many ways to rank college football teams in the preseason. While some analysts focus on where teams should start the season in the polls, my rankings are based on where teams will finish when the season concludes. These rankings are not completely reflective of my power ratings, which are based purely on talent.
One great example from this year of this discrepancy would be Marshall, which I have ranked No. 19 in my preseason top 40 -- ahead of some quality BCS contenders like Stanford, Clemson and Florida -- but in my power ratings they are only No. 36. They rank higher in my preseason poll is because they face my No. 125-ranked schedule (out of 128 teams), and will be favored to win all 12 of their games.
Keeping that in mind, here are my preseason top five teams for 2014:
---

Many years I go outside the box when picking a national champion instead of picking the preseason favorite; that won't be the case this year. Last year Florida State was my No. 1 surprise team and just like the article states, they became yet another non-preseason AP top 10 team that went on to win the national title.
This year the Seminoles have the most talented team in the country, with seven of their eight positional units ranking in my top 10 and the other position (running back) ranking No. 12 in the country. The star, of course, is QB Jameis Winston, who will attempt to become just the second repeat Heisman winner. Running back Karlos Williams will now be the featured back after averaging 8.0 yards per carry last year and returning wide receiver Rashad Greene has led the Seminoles in receiving in each of the last three years. The offensive line returns 114 career starts and is one of the best in the country.