Phil Steele Week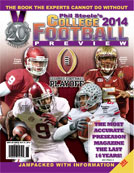 Get access to Phil Steele's football analysis and find his 2014 preview magazine at PhilSteele.com.
• Projecting Top 25 teams
• Preseason Top 5: FSU No. 1
• Top QBs | RBs
• Top 10 Heisman candidates
• Top 10 surprise teams for 2014
• Most improved teams for 2014
• Ranking every conference in CFB
Predicting who will win the Heisman Trophy is a tough task; even when there's only a couple of weeks left in the regular season, there is always plenty of debate.
Naturally, it is even tougher predicting the winner three months prior to the season. From 1998-2000, I correctly predicted the Heisman winner three straight years, but since that time it has become nearly unpredictable. In the past two seasons alone, redshirt freshmen Johnny Manziel and Jameis Winston won the award, respectively, but were in heated battles to win the starting job on their own teams in the summer ahead of their standout seasons.
Naturally when making my Heisman predictions, there are plenty of factors to consider. First, it will most likely be a quarterback -- in the past 14 years, 12 quarterbacks have won the award with the other two winners coming at the running back position. Second, the winner will most likely come from a team in contention for a title. Since 2000, the average number of victories for a team with the Heisman winner is 12, and only twice did a player win it who played on a team that lost more than two games (Tim Tebow with Florida in 2007; Robert Griffin III with Baylor in 2011).
Finally, it is pretty safe to assume a player will not repeat as a Heisman winner as it has happened only once in history (Ohio State's Archie Griffin, 1974-75). The reason it is so difficult to repeat is that the returning Heisman winner not only has to compete with the rest of the elite players in the country, but also has to compete with his previous year's stats all while doing so with a large bull's-eye on his back.
Taking in mind those factors, here are my top 10 Heisman candidates for 2014:
---

Last year, Mariota became the first Oregon quarterback to top 4,000 yards of total offense (4,380) while accounting for 40 total touchdowns and just four interceptions. He accomplished this despite wearing a knee brace for much of the second half of the season, which limited his mobility. With added rest for the bowl game against Texas, he ran for a season-high 133 yards. Now 100 percent healthy, he has a solid shot to top last year's remarkable statistical totals while leading a Ducks team that figures to play a huge role in the first College Football Playoff.