Editor's note: This article was adapted from Phil Steele's college football preview magazine, which is available here.
One of the more exciting things about ranking college football conferences is that the order tends to change on an almost a yearly basis. However, there is no doubt that the SEC has dominated recently, winning seven of the past eight national titles. It has held the top spot in my season-ending conference ratings for the past eight years.
Phil Steele Week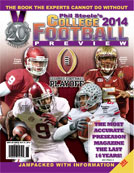 Get access to Phil Steele's football analysis and find his 2014 preview magazine at PhilSteele.com.
• Projecting Top 25 teams
• Preseason Top 5: FSU No. 1
• Top QBs | RBs
• Top 10 Heisman candidates
• Top 10 surprise teams for 2014
• Most improved teams for 2014
• Ranking every conference in CFB
There have been a lot of conference changes in the past several seasons, this year included. A total of 12 teams will be either jumping up to the Football Bowl Subdivision level or playing in a new conference in 2014. These realignments have created some major shifts in power.
There isn't an exact science for picking the toughest conference. You can't rely strictly upon how many bowl wins a conference racks up during the postseason or its overall record in nonconference play because some leagues' nonconference slates are much tougher than others.
Some of the components that go into my formula of ranking the toughest conferences are overall nonconference record, record against BCS conferences, bowl record, how many teams finished in The Associated Press Top 10 and 25 and the total number of draft picks in the NFL draft.
Most important, I use my nine sets of power ratings to evaluate the teams in the conference for the upcoming season. They break down the strength of the top three teams in each conference, the top five teams, the top eight teams and the overall strength of the entire conference.
With that in mind, here is my ranking of how every FBS conference will stack up this season.
---
1. SEC
Was there any doubt as to which league would rank No. 1? The SEC had four teams in last year's final AP top 10, had the best nonconference record in the regular season (47-9) and also the best bowl record at 7-3 despite two BCS bowl losses. This year, the SEC has six teams that rank in my preseason top 20, led by Alabama, my No. 2 team. The SEC also has four teams in the top 11 of my plus/minus power ratings and nine teams in the top 22 of my Power Poll, which is a combination of all nine sets of my power ratings. For the ninth consecutive season, the SEC reigns supreme.