November, 19, 2010
11/19/10
3:03
PM ET

The game between Notre Dame and Army at Yankee Stadium on Saturday night might be like watching something you would see in Lexington, Mass., on Patriots' Day, or at Little Round Top early in July. Re-enactments of great battles are not the real thing. They are meant to commemorate the real thing, to honor it, to bring it to life for a new generation.
[+] Enlarge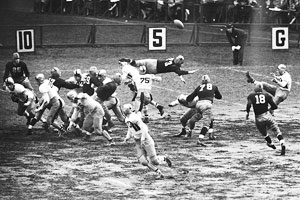 AP PhotoThousands of fans clamored to see Army and Notre Dame play in Yankee Stadium in the 1930s and 1940s.
It is not the same Notre Dame (5-5). It is not the same Army (6-4). It is not even the same Yankee Stadium. Yet the game and the venue connect college football to an era when Notre Dame or Army -- and sometimes, deliciously, both Notre Dame and Army -- dominated not only the sport but all of American sport. From the Roaring '20s to the postwar boom, the annual Notre Dame-Army game captivated the nation.
By 1946, The New York Times called it "a rivalry that has come to transcend almost everything else in the game." That is, in part, why Army called it off. But more about that in a minute.
The game Saturday night, the 50th meeting between the two schools, is not your typical regular-season game. The Irish will have an alumni luncheon in Manhattan on Friday, hosted by Regis Philbin and featuring not only current coach Brian Kelly but 1947 Heisman winner Johnny Lujack. There will be a pep rally at Lincoln Center. And, on Saturday night, the Irish are scheduled to take the field in green jerseys, a gambit reserved for the biggest games.
It is a rivalry born in myth, the one that, in 1913, a little-known Catholic school created the forward pass, got off the train at West Point, shook the hay out of its hair and routed Army, 35-13. The score and the year are true. The part about Notre Dame creating the forward pass, or even being little-known, lived for years before being debunked.
Notre Dame and Army provided the tableau for the most celebrated -- and most parodied -- lead in sportswriting history. After Notre Dame defeated Army, 13-7, at the Polo Grounds in New York in 1924, Grantland Rice wrote, "Outlined against a blue, gray October sky, the Four Horsemen rode again. In dramatic lore they are known as Famine, Pestilence, Destruction and Death. These are only aliases. Their real names are Stuhldreher, Miller, Crowley and Layden."