Blazers don't deserve Bowie 2.0
Sep. 13, 2007 | feedback
Warning: Do not read this if you're a Portland Trail Blazers fan.
The three-word e-mail came this morning from someone who knows things: "Oden -- microfracture surgery."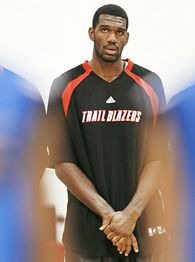 Jeffrey Bottari/Getty Images
It looks like Blazers fans will have to wait until 2009 to see Greg Oden in a Portland uniform.
My three-word response: "Oh. My. God."
It's one of the saddest stories in recent NBA history, regardless of how it turns out down the road: Not just that Portland took the wrong guy last June, but that the same city may have been screwed over twice. There was Bowie-over-MJ, and now, there might be Oden-over-Durant.
The Blazers' fans don't deserve this. They don't deserve the "Bowie 2.0" jokes, and they don't deserve to endure a season of Kevin Durant knife-in-the-stomach highlights when he's averaging 25 points a game on a bad Seattle team. On a larger scale, the double whammy of Bowie/Oden brings back memories of the day Reggie Lewis dropped dead seven summers after Lenny Bias' coke overdose. Obviously it's not as tragic because nobody died, but there was that same "Oh God, not again ..." feeling upon hearing the news. I know that feeling all too well. As a sports fan, there's nothing worse.
It's not like this story came out of the blue. Heading into the draft, there were concerns about Oden's long-term physical health and the fact his legs were different sizes. After his predraft physical with Portland, rumors spread that the Blazers were concerned about his knees, followed by a round of stories that they weren't concerned at all. I believed at the time the Oden-Durant thing was so close, ANY potential physical concerns should have swung the choice to Durant; that's one of the reasons I kept writing last June that Durant should be Portland's pick. Everyone kept writing Oden was a sure thing; if anything, Durant was the sure thing. He has a chance to become one of the greatest offensive players ever. That's his ceiling. We've never seen anyone remotely like him. Throw in his competitiveness and flair for the dramatic and I probably wrote more words arguing Durant's case than anything I've ever written for ESPN.com. Even for the team Portland had, Durant was the logical pick -- the Blazers could have kept Zach Randolph and played Durant at small forward instead of stupidly giving Randolph away.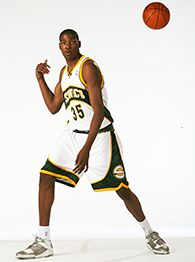 Garrett W. Ellwood/NBAE via Getty Images
There should've been no debate in June: Kevin Durant was the sure thing in the 2007 draft.
From Portland's viewpoint, what worried me was Oden wasn't entirely a basketball decision. Clearly, his gregarious personality played a huge role -- the Blazers even said so -- and when he hammed it up at a local parade after the draft, you could see why they picked him. After the whole Jail Blazers debacle, they spent the next few years trying to upgrade the character of their team. Hence, the curious Martell Webster pick (sixth in the '05 draft???), the Brandon Roy/LaMarcus Aldridge picks (and the team shying away from Ty Thomas); the Randolph trade; Steve Francis' buyout and everything else. It's not like Durant is a bad guy -- he's actually a good guy, just shy and uncomfortable with the press -- but Oden's deadpan wit and constant smile off the court made him a more seductive pick for a franchise that was desperately trying to win back the citizens of Portland. Supposedly, they were also attracted to Oden because he's a loyal person who didn't care where he played, whereas Durant's motives were tougher to peg. In four years, if Durant evolved into a superstar and had the words of the wrong agent in his ear, would he bail on Portland to play for a big market? Could they take that chance?
So, Greg Oden was the "safe" pick.
Here's the irony of the whole thing: You know who would have won the good people of Portland back and gotten them excited about basketball again? A kick-ass superstar like Kevin Durant. That's why the Blazers should have taken the most talented player. And everything that happened after the draft helped Durant's case: Oden looked terrible in the summer league and dropped out of the Olympic tryouts because of exhaustion (a dubious reason for someone who's 19; we should have known right there). Meanwhile, Durant got better and better in summer league and knocked everyone's socks off during the Olympic tryouts, including a jaw-dropping performance in the Blue-White scrimmage on TV. Even before the story broke about Oden's surgery, I was 100 percent convinced Portland would regret passing on Durant. We'll see 20 more Odens before we see another Durant.
SILVER LINING?
Three things that might cheer up Blazers fan:

1. From what we know about microfracture surgery, it seems younger players can come back at 100 percent (such as Amare Stoudemire).

2. The Oden-less Blazers are headed for another top-five pick because they play in a tough conference; if Oden comes back healthy in 2009, they're going to be stacked.

3. Video Game Greg is still healthy on Portland's "NBA Live 2008" roster.
You could say "Those who ignore the mistakes of history are doomed to repeat them," and you might be right. But throwing aside all the videotapes, predraft interviews and workouts and everything else, there's this: At the ESPYS two months ago, I helped write jokes for Jimmy Kimmel, whose dressing room was backstage at the Kodak Theater and right off a hallway where celebrities were ushered in and out before and after the show. So, I watched every single athlete walk by at some point, and I swear, if I hadn't taken this summer off to write a book, I would have written about this story in a blog or something.
Anyway, when you see basketball players dressed in normal clothes, it's mesmerizing to watch them walk for two reasons: They're always much bigger in person, but they move so effortlessly that it's always strangely discombobulating to watch them walk, like they belong to another species or something. For instance, we all know one or two exceptionally tall people who don't play sports -- they always move gingerly, and their posture usually isn't that good, and everything about them says, "I wish I wasn't this tall." The best athletes in the NBA don't carry themselves like this. They glide. Everything moves effortlessly as they walk, and it's impossible to fully explain unless you've seen it. Even someone like Shaq glides across the room like he's the size of Steve Nash. They don't move like normal tall people.
So, before and after the show, I was vigilantly watching everyone stroll by for one reason: I wanted to see Oden and Durant walking in normal clothes. It was like the final piece of the "Durant vs. Oden" puzzle for me. As it turned out, I got to see Durant first -- he shuffled down the hallway, all 81 inches of him, looking like he was put on Earth to play sports for a living. No big surprise there. Even the biggest nonsports fan on the planet could watch Durant walk for 35 feet and think, "That guy was born to play basketball." Now, I needed Oden. We didn't see him before the show, and I didn't see him right afterward. Just when I was about to give up, a friend of mine said, "Yo, Oden just walked by."
I scurried down the hallway to see him. Lo and behold, Oden was walking by himself down the last stretch of the hallway, about 50 feet in all, right before the exit to head outside.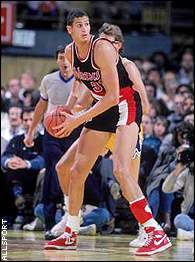 Blazers fans don't need any more reminders of the 1984 draft.
And you know what? He walked like a 50-year-old man. His posture was screwed up. He had the Fred Sanford walk going. If you saw him from behind and just studied his walk, you would have thought it was a retired player, someone like Patrick Ewing or Robert Parish. I couldn't believe it. I didn't stop talking about it the rest of the night. Greg Oden walked like a guy who had bad knees. If I were Portland's GM and watched Oden walk across the room, that would have been it for me. The next day, I even called my buddy Sully (who works for the Celtics) just to have the obligatory, "Yo, we might have dodged a bullet May 22; Greg Oden walks like a 50-year-old man" conversation.
Now, you could argue this is the single dumbest thing I've ever written, and you might even be right. Just know I have spent the past two months telling that Oden/ESPYS story to everyone who brought up the Oden-Durant thing to me. Sometimes in life, you just know with these things. And yeah, there's a chance he was already favoring his knee at the ESPYS, or he hurt his knee during summer league. There's also a chance his body doesn't carry its weight correctly and puts unnecessary stress on his legs and joints. ... You know, the exact same problem Sam Bowie had.
I hope I'm wrong. Portland needs Greg Oden to be good. The NBA needs Greg Oden to be good. On a personal note, I was legitimately excited to watch him play. Now he's gone for the season, and any NBA fan who doesn't cringe at the phrase "microfracture surgery" is lying their ass off. Amare Stoudemire came back, so there's hope for Blazers fans. Just don't tell me Greg Oden was the safe pick of the 2007 NBA draft. Two months ago, I wrote Durant was "the surest thing to come into the league since Jordan. Barring injury, he's going to be the league's next dominant forward."
That's what the Portland Trail Blazers passed up June 28, 2007. I thought it would haunt them some day. ... I just didn't know it would haunt them so soon.