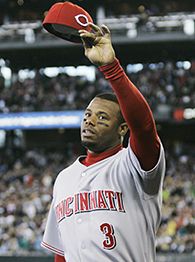 AP Photo/Ted S. Warren
Junior didn't quite break down in tears, but his reception clearly meant a lot to him.
SEATTLE -- The best sign at Ken Griffey Jr.'s Seattle homecoming this weekend was held up by a fan in the center-field bleachers Friday night:
"I Wish I Knew How To Quit You, Griffey"
That sign summed up the emotions of these three days -- a weekend that displayed all the conflicting loyalties and frustrations of modern sports. We may be used to players' switching teams these days, but how are fans supposed to react when a beloved player returns for the first time as a member of the opposition? Do you welcome him home by showering him with love for all the good times you had together when you were dating? Or do you let him have it for coldly abandoning you in the rain despite years of unconditional love?
The answer, I suppose, depends on whether you have him on your fantasy team.
Caple Chat
Jim Caple will be chatting on ESPN.com at 3 p.m. Eastern. You can send in questions now!
Usually, though, the choice is to boo the player mercilessly and slash his tires. My ears are still ringing from the abuse Seattle fans heaped on Alex Rodriguez when he returned in 2001 after signing with the Rangers. And Boston fans soundly booed Johnny Damon when he returned to Fenway Park as a Yankee, even though he was instrumental in the Red Sox's winning their first World Series in 86 years.
Griffey, however, provided Seattle with something more important than a World Series. Had it not been for Griffey, there's a decent chance Seattle would no longer have a major league baseball team.
So what, then, if Junior was moody, jealous of A-Rod and quick to complain in his final years with the Mariners? So what if his requested trade to Cincinnati was the coldest breakup in Seattle since Ione Skye gave John Cusack a pen in "Say Anything" ("She's gone … I gave her my heart and she gave me a pen")? So what if the Mariners pushed the envelope of baseball etiquette by holding a pregame ceremony Friday night for an opposing player who had demanded a trade out of town? It was clear from the loud, loving ovations and the chants of "Griffey, Griffey!" that the ceremony was exactly what the fans wanted, perhaps even needed.
Griffey frets over every perceived sleight. He once complained to me that Seattle fans held up more signs for A-Rod than they did for him. When I told him that just the other day I saw a fan with a sign that read, "In God We Trust, On Junior We Depend," he complained, "See? That's an unfair expectation." So as he took in the lovefest, I suspect he was a little like Sally Field when she accepted her Oscar for "Places in the Heart" and exclaimed, "You like me … you like me!" Junior was overwhelmed, but he somehow managed not to cry by taking in several deep breaths and remembering what his wife, Melissa, told him before taking the field: "If you cry, we're having another baby."
"It was more than I expected," he said of the ovations. "A lot more."
Griffey also returned the love. Reds manager Jerry Narron -- who should have played Junior in center field all weekend -- intended to have him DH on Sunday. But Griffey talked his way into playing right field, saying, "It wouldn't be fair to Seattle fans to just DH." Then he homered twice to pass Mark McGwire on the all-time list, made a tumbling catch, and waved to the fans when he left the field for the last time.
More importantly, he also told a TV reporter, "I think I owe it to myself and the people of Seattle to retire as a Mariner."
Cincinnati fans -- and the front office paying him $16.5 million -- must have loved hearing that.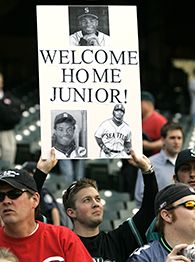 AP Photo/Ted S. Warren
Signs like this one were all over Safeco Field this weekend.
Griffey attempted to qualify his remark by saying he was several years from retiring, and he didn't make it clear whether he wanted to play for Seattle again or just pull an Emmitt Smith and sign a one-day contract at the end of his career. (And by the way, can we have a moratorium on this practice, please? If you didn't actually play on the field for a team, you didn't retire with that team. Pulling a jersey on over your suit doesn't count.)
If all this mutual love wasn't unprecedented, it certainly was rare. You have to go back a long way to find an opposing player receiving this sort of affection: Willie Mays, perhaps, when he returned to San Francisco as a Met in 1972, or when he returned to New York for the first time in an exhibition game against the Yankees in 1961. Hell, fans not only enthusiastically cheered Griffey when he homered, they booed Seattle pitcher Ryan Feierabend for throwing to first base to keep the runner close when Junior was at bat.
Odd? Definitely. Disrespectful to Seattle's current players? Perhaps. But frankly, with the exception of Ichiro, this current group hasn't done enough to earn any fan loyalty, apart from putting on a uniform that most of them won't be wearing in a couple of years.
There's a wonderful "Seinfeld" bit in which Jerry says that because players change teams so often, fans find themselves rooting for the uniform and not the athlete. "When you root for a team these days," he says, "you're mostly rooting for laundry." This is almost always the case. But Seattle fans were most definitely not rooting for laundry over the weekend. They were rooting for the player.
Call them soft and overly nostalgic for that, if you want. Say they're still the dumb, hopeless fans who bought more tickets for Funny Nose and Glasses Night than Gaylord Perry's 300th win. Rip them for not showing how tough and cynical they are by booing Griffey like those great Boston and New York fans would have. Me? I find it refreshing that for three days, thousands upon thousands of fans said, "Thank you for what you did all those years ago" instead of, "What have you done for us lately?"
In the end, then, perhaps the better movie reference for a sign would have been this:
"Welcome back Junior -- you had us at hello."
Jim Caple is a senior writer for ESPN.com. He can be reached here. His Web site is at jimcaple.net, with more installments of "24 College Avenue." His new book with Steve Buckley, "The Best Boston Sports Arguments: The 100 Most Controversial, Debatable Questions for Die-Hard Boston Fans" is on sale now.