Right after Junior Seau's interception clinched the Patriots' 48-27 victory in Dallas on Sunday, my BlackBerry vibrated with a six-word text from my friend Willy: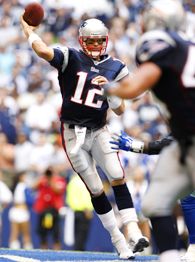 Matthew Emmons-US PRESSWIRE
Don't expect to see Tom Brady "take a knee" anytime soon.
"Here comes the Eff You TD."
Three minutes later, it happened: Fourth-string running back Kyle Eckel rammed home a fourth-and-1 carry with 19 seconds remaining in a 14-point game. Normally, you take a knee there ... but not this year. Back in the mid-'80s, every time the Celtics walked off an opposing floor after a hard-fought road victory, a giddy Kevin McHale clenched his fists, raised his Frankenstein arms above his head and showed off his victorious armpits. This was the hairy victory cigar of the Bird era. Maybe the 2007 Patriots don't have anything as magical as McHale's pits, but they do have the "Eff You TD." It's their little way of telling the other 31 teams, "You took shots at us after the Jets game, you discredited our three Super Bowls, you pretended we were the only team stealing opposing signals when everyone does it, so you know what? Eff you."
You might remember me bringing this up in my Week 4 picks column: "Yeah, it's wrong to run up the score. I'd be the first one to admit it. But it's a natural reaction to the way they were vilified for two straight weeks. The rest of the nation turned them into a mutant cross between Cobra Kai and the Yankees, so screw it, they're acting like the Cobra Kai Yankees. Can you blame them? I can't answer that one objectively, so I won't try. But if you don't think they'll be running up the score in Cincinnati on Monday night, you're crazy."
What happened in that Bengals game? Leading by 14 points with nine minutes left, the Pats commenced a climactic 85-yard drive by putting Brady in the shotgun, then throwing five straight times before following it up with three Sammy Morris handoffs that brought them to Cincy's 14-yard line with 3:24 remaining. Teams always run out the clock, make the opposing team burn the rest of its timeouts and kick the game-clinching field goal here, right? Not the 2007 Cobra Kai Yankees. Coming off a Cincy timeout, Brady nailed Moss for a 14-yard touchdown. In other words, eff you.
As you might have heard by now, the Patriots are 6-0, they've outscored opponents by a 230-92 margin, and Tom Brady might quintuple Gus Frerotte's QB rating before everything's said and done. In each of those six wins, they specifically went for a meaningless touchdown just to stick it to their opponents. Here's the complete list:
Week 1 at New York Jets (38-14): 1-yard TD by Heath Evans, 1:58 left.

Week 2 vs. San Diego (38-14): 3-yard TD by Sammy Morris, 3:18 left.

Week 3 vs. Buffalo (38-7): 45-yard TD catch by Randy Moss, 10:22 left.

Week 4 at Cincy (34-17): 14-yard TD catch by Randy Moss, 3:18 left.

Week 5 vs. Cleveland (34-17): 15-yard fumble return TD by Randall Gay, 0:42 left.

(Important note: This came one play after the Pats failed to convert the "Eff You TD" on fourth-and-goal from Cleveland's 4 when Brady just missed Kyle Brady in the end zone.)

Week 6 vs. Dallas (48-27): 1-yard TD run by Kyle Eckel, 0:19 left.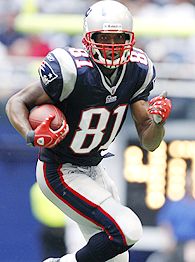 Matthew Emmons/US Presswire
Randy Moss and the Pats have outscored their opponents 230-92 in their 6-0 start.
What does this all mean, other than we should start preparing ourselves for the first 100-point game in NFL history against the Jets in Week 15? We have our first potentially dominant team of the hard-cap era, but more importantly, we have our first true NFL villain since the Raiders in the late-'70s. People
hate
this team. They
want
them to lose. It's like having the '96 Bulls back, only if everyone despised them and MJ played garbage-time minutes just to make sure every opponent lost by 20-plus points.
Regardless of how you feel about the 2007 Patriots, at the very least, you have to admit the following three things:
1. You haven't seen football played this well in a long time. Three weeks ago, Malcolm Gladwell e-mailed me to say he was heading to Europe and wanted to know if there was a Web site that allowed him to buy a game tape of the Pats-Bengals game and have it Fed Ex'ed to him. When I asked why he didn't TiVo the game and just watch it when he came back, Gladwell explained he didn't want to wait that long -- the Pats were playing at such a high level, he was fascinated with them in a way that went beyond football. And it's true. We haven't seen anything like this with professional sports in a while. When Dallas took the lead in the third quarter Sunday, the thing that amazed me wasn't that it happened, but how assured I was the Patriots would immediately answer with a score. There was no doubt in my mind. Honestly, I haven't felt this way about a Boston team since the '86 Celtics.
2. Barring injuries, it's going to be an enormous, enormous deal if somebody beats New England this season. That's the sign of a truly great team, regardless of the sport. During my sophomore year in college, I remember watching the '89 Niners and thinking, "There's no way in hell they can be beaten. You'd need about 35 things to happen." As it turned out, they outscored their opponents by a 442-253 margin in the regular season, lost two games by a total of five points and rolled through their three playoff opponents by the unfathomable score of 126-26. Yeah, the '92 Cowboys were great; so were the '94 Niners and the '98 Broncos. But the '89 Niners were on a different level, and we haven't seen anything like it since. Now we're seeing it again.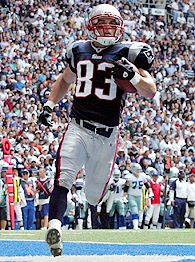 Tim Heitman/US Presswire
Wes Welker has 11 catches in the destruction of Dallas.
3.
It's fun to have a old-school villain in sports again, right? There's a reason every sports movie has a bad guy in it. There's a reason "USA 4, USSR 3" was the single greatest moment in American sports history. There's a reason people enjoy hating the Yankees and Duke as much as they do.
Over the past 25 years, we've found more and more ways to become attached to sporting events -- there are fantasy teams, office pools, gambling and everything else. On Sundays during the NFL season, I'm rooting for so many different things that I can't even keep track of everything. But here's a case in which sports has been reduced to the purest form: A great football team broke the rules and paid the price; media members and NFL folks had a field day excoriating the team for what happened; somewhere along the line, people decided the team's Super Bowls were tainted even though the NFL didn't send out its much-discussed memo about videotaping opposing signals until September 2006; and that's when the team made the collective decision, "You know what? Eff you!"
It's a two-word phrase that can't be printed on ESPN.com, but it's become the mantra of the 2007 Patriots season. Eff you. You can see it with every rubbing-it-in touchdown in the fourth quarter, as well as every "Get 'em a body bag ... YEAHHHHHHHHH!" reaction on the sidelines after it happens. You can see it with Brady's ticked-off game face that hasn't changed for five straight weeks. You can see it with Belichick's super-satisfied grin during the postgame handshake with the opposing coach -- especially with Wade Phillips, who made the fatal mistake of taking a shot at the Pats this week, when Belichick looked liked he was dying to tell him, "Man, imagine what the score could have been had if we were allowed to videotape your terrible coaching signals!"
It's a great football team with an even greater edge. If you're rooting against them, you hate them for it. If you're rooting for them, you love it and feel the same way. Best of all, there's no middle ground. Maybe the 2007 Pats were caught stealing signals, but only one signal matters anymore: two middle fingers turned toward the sky.
LCS Thoughts
While we're here, I had to mention a few thoughts from the baseball playoffs:
1. I underestimated how much I'd enjoy watching the NLCS -- specifically, Colorado's 20-for-21 run while being firmly entrenched in must-win mode, which has to rank among the most remarkable feats in recent baseball history. Normally, I root against newer teams -- you know, just out of principle -- but after sifting through some heartfelt e-mails from Rockies fans over the weekend and seeing the way they were supported last night, it's hard not to feel good about what's happening for them. They're like a sports movie sprung to life. They're in the zone. You can see it. One thing shocked me though: On "SportsCenter" on Sunday night, former Bronco Mark Schelereth mentioned the Rockies had taken Denver by storm and the locals didn't even care that the Broncos were stinking up the joint. I thought that was startling. Did you ever think a crummy Broncos team would get swept under the rug by the Rockies?
2. Six notes from the Red Sox's crushing Game 2 loss:
A. It would have been between 10 and 100 times more crushing if 2004 had never happened. Pre-2004, the 11th inning would have left me catatonic. There's no question. Instead, I was just angry and bitter. Much better.
B. Eric Wedge put on a clinic in that game -- specifically, bringing back Rafael Betancourt for the ninth inning and pitching Tom Mastny over Joe Borowski in the 10th (which was bizarre when it happened since he was basically announcing, "I don't trust my closer in a tie game"). Every move worked.
C. You can't really judge a playoff team until you're going against them in the postseason. Heading into this series, I was frightened of Victor Martinez and that's it. After watching two games, I'm frightened of Martinez (who's just deadly), Grady Sizemore (definitely making The Leap) and Jhonny Peralta (just because he takes those giant cuts). I'm also mildly scared of Asdrubal Cabrera, one of those classic playoff infielders with a knack for getting dink singles at the worst possible times. It's a really good Indians team. There's no question. With that said, we haven't seen their Achilles' heel (Borowski) in a big moment yet.
D. Fox named Trot Nixon as the "player of the game," which made for a fun story and all, but who was more valuable in that game than Betancourt and Mastny (who retired Boston's 3-4-5 in the 10th)? Really? A dink hit with no outs and two runners on outweighs Betancourt keeping them alive and Mastny retiring Manny, Ortiz and Lowell in order?
E. The No. 1 thing that killed the Red Sox in Game 2: Because of the ridiculously late start (8:21 at night), the weather (dipped into the mid-40s as the game went on) and the length of the game (at 11 p.m., we were still in the fifth inning), Fenway's homefield advantage was removed by midnight. Anyone who has ever watched a late-night playoff game at Fenway can tell you that it's one of the secretly coldest places on the earth. By the late innings, the crowd was dead -- and on top of that, half of them were probably figuring out how the hell they were getting home if they had taken the T (Boston's subway). I knew we were in trouble in the 10th when the crowd couldn't even get a "Man-ny! Man-ny!" chant going. It was a best-case scenario for the visiting Indians -- for the last few innings, they were practically playing at a neutral site. We won't see that happen in Cleveland on Monday with the 7 p.m. start time, but watch what happens in Games 4 and 5 with those 8 p.m. start times. The bottom line is the phrase "homefield advantage" doesn't matter nearly as much as it should when it's midnight, it's 40 degrees outside and you have a stadium filled with frozen fans.
F. The No. 2 thing that killed the Red Sox in Game 2: Having to shut down prized rookie Clay Buchholz for the season because of a tired arm. He could have pitched either the fifth inning (in relief of Schilling) or the 11th inning and would have been good for 40-50 pitches. Instead, Francona had to choose between Javier Lopez, Jon Lester and ...
(Wait, this deserves its own paragraph.)
F. Sometimes in sports, you just know. When Eric Gagne emerged from the bullpen before the 11th, he should have just been dressed like one of the killers in "Scream." You know somebody stinks when I'm getting e-mails before he has even thrown a single pitch with subject headings like "WHY?????????" and "KILL ME!!!!!!" These post-collapse e-mails summed it up:
Van A. in Massachusetts: I realize that, given the pitchers who'd already been used, that Gagne was technically our best reliever yet. But the guy had two months to prove himself to be reliable in any fashion and failed miserably in every test. Would I have been enthused if Javier Lopez had started off the inning for us? Of course not. But I wouldn't have been conceding defeat like everyone else who has even remotely followed this team since the trading deadline.

Bob in Boston: Is Eric Gag-me becoming Terry Francona's Rex Grossman? This guy has been terrible, but yet he keeps throwing him out there. "Eric is a valuable guy in our bullpen, and I will continue to throw him out there." Sounds A LOT like "Rex is our quarterback."

Melanie in Boston: My plan for the Red Sox to win the ALCS involves drugging Eric Gagne and putting him on a plane to some remote African jungle and stealing his passport so he can never come back.

Alex in West Virginia: Why is Eric Gagne even on the postseason roster? He's got the word GAG right in his FREAKING name!!!

Gene in Oregon: What was your level of concern when you saw Gagne coming in from the bullpen in the 11th? Would you relate it to getting pulled over by the cops with a bag of weed in the car or accidently killing a hooker?

Gene in Yakima, Wash.: When I heard Gagne was warming up in the bullpen in the bottom of the 10th, I figured it could only be a ploy for Francona to motivate Mike Lowell to get a hit. Lowell had to realize that if Gagne was up, it was now or never at the plate. When Gagne made his entrance, I knew my best option at that time was to just turn it off and go to bed. I'm not sure why but I forced myself to watch yelling the whole time, "I knew it, I knew it."

Will N. in Brooklyn, N.Y.: I understand why Gagne chose No. 83, but haven't we seen enough to realize there's some seriously bad karma going on with that non-baseball, spring training number? Can't they switch him to double zero? Can't you envision him being more menacing and effective spotting 00 on his back? Yes, I realize Gagne has officially made me lose my mind. (This is where you say "Ladies and gentlemen, the Eric Gagne era!").
Ladies and gentleman, the Eric Gagne era!
The bottom line: I feel bad for Gagne. He has stunk since the end of July and continues to stink, only nobody knows it better than him. You can see it on his face, the way he carries himself, even with the Seth Rogan beard he just grew. Unfortunately, this particular Red Sox team was built so that it's impossible for them to win a playoff game when the starter can't get past the fifth inning in a game that goes more than 10 innings. That's their Achilles' heel. It killed them in Game 2, just like Borowski is going to kill the Indians in one of the next five games. That's the thing about Achilles' heels -- in the playoffs, they always end up popping up. Well, unless you're the 2007 Colorado Rockies.
P.S.: More Sox-Indians thoughts coming Tuesday after Game 3.
Bill Simmons is a columnist for Page 2 and ESPN The Magazine. His book "Now I Can Die In Peace" is available in paperback.