This particular fantasy team needs help, and you know it. You've known it for months. You had a pretty good idea what was available in free agency to address your offensive woes, and it didn't much excite you. But you checked out the free-agent hitters page yet again, expecting little, and hey ... there's this new link to the right of the stats for Insiders!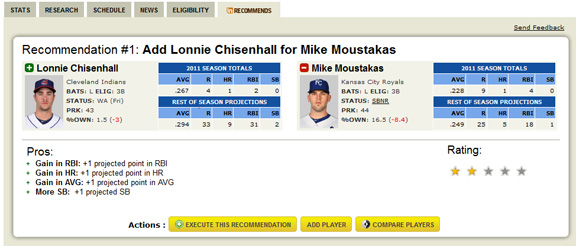 When comparing two rookie third basemen with no real track records, there's not a lot on which to base an authoritative decision. But that's part of the reason you should like the new Insider Recommends tool. It's more advice, occasionally different advice, and we can always choose what advice we want to follow, right? It's a reality check for opinions we might not have considered. Since so many of the opinions you read on the ESPN Fantasy pages are different, you should be used to it. These are your teams and your decisions to make, but a little help never hurt, and this is exactly that: a little help.
The ESPN fantasy games engineers have added this tool to make the Insider's fantasy baseball experience that much better and perhaps to act as a differentiator from your league mates. The recommendations in the tool are based mainly on AccuScore projections -- generated based on thousands of simulations -- for the remainder of the season. Is Lonnie Chisenhall your best bet at third base? Maybe, maybe not, but Mike Moustakas sure hasn't been fun to own. That's what this tool is for -- aiding your team but also enhancing your experience and your enjoyment by giving you new options to consider. And you do enjoy making decisions that will help you win, don't you? Here's another example:

The Insider Recommends tool clearly isn't a fan of Mitch Moreland, mainly because AccuScore has him hitting .253 the rest of the way. You can agree or disagree with that premise. That's OK. It's just another data point. You've been enjoying Moreland's 1B/OF eligibility, but maybe Matt Joyce really is the better option right now. The Insider Recommends tool takes into account your league standings and where gains can be most easily acquired -- and considers loss of points -- listing the actual statistical pros and cons.
Anyone can look at the standings of any league and give advice, but here we have a computer-based algorithm doing it without emotion or prejudice, and it can handle any scoring format, any number of teams in the league. It's like the Ty Wigginton of Insider versatility. Also, it can differentiate between standard roto leagues and the head-to-head versions. In ESPN head-to-head leagues, you get a toggle for matchup-based recommendations and season-based ones, which are helpful because occasionally the goals are different. On a Thursday, for example, your head-to-head needs are far different than on a Sunday, the final day of a matchup period. The different algorithms weighted for short- and long-term gain will help you make the best choice for your team.
Let's face it, when we make moves, emotion plays a role. Here we get the bottom line, and if Matt Joyce can help your team more than Mitch Moreland the rest of the way, you should consider the move and its ramifications.
The Insider Recommends tool does not take into account keeper leagues or how someone such as Jesus Montero might -- or might not -- become a star in 2013. So you need to take that into account when you see a recommendation to add Russell Martin and drop Montero. But if you need help now to make September matter, the Insider Recommends tool can be a valuable addition to your decision-making process. It's helpful advice Insiders can get with just a few clicks, in the same place you can find free agents. Check it out and see whether it changes your mind as well. Select any of your teams and click on the "Players" tab and chose the

RECOMMENDS tab.