October, 3, 2012
10/03/12
11:17
AM ET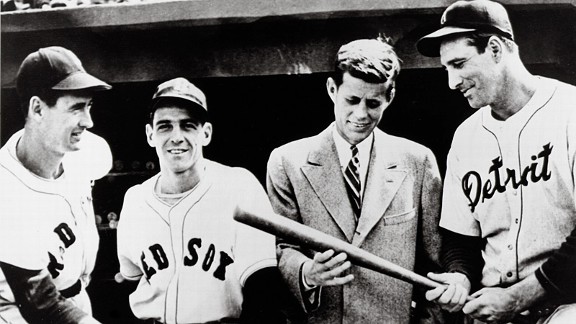 AP Photo/Courtesy of John F. Kennedy Presidential Library)John F. Kennedy looks at a bat with baseball greats, from left, Ted Williams, Eddie Pellagrini and Hank Greenberg in this photo dated April 1946.
At the first of the three presidential debates, Barack Obama and his Republican challenger, Mitt Romney, on Wednesday will be proving something that John F. Kennedy learned more than a half century ago: Presidential politics is a contact sport.
Last month, Kennedy's presidential library released a trove of his tapes to commemorate the release of a two-CD book called "Listening In: The Secret White House Recordings of John F. Kennedy." And one of them, recorded on Jan. 5, 1960, showed Kennedy recognizing how equally brutal sports and politics can be.
The tape was made at a dinner party Kennedy hosted with his wife, Jackie, at their Georgetown mansion three days after the U.S. senator from Massachusetts announced his run for the Democratic Party nomination.

Among the guests was legendary newspaper editor Ben Bradlee. When Bradlee mentioned that running for president was as high-octane as politics got, Kennedy, a Harvard graduate, strained for a comparison until he hit on the Harvard-Yale rivalry. "It's stimulating because & life is a struggle and you're struggling in a tremendous sort of arena," he said. "It's like playing Yale every Saturday, in a sense."
"The president was competitive by nature," says Thomas Putnam, the library's director. "These tapes show that."
The 30-minute tape, which can be heard here, was made on a reel-to-reel recorder by the late Newsweek correspondent James Cannon and discovered in 2008 in the library of Brown University, to which Cannon's family had bequeathed it. Besides showing Kennedy's respect for Yale football, it shows how much of an uphill climb he still thought he had to reach the White House.
Asked by Cannon why he seemed to have so much drive, Kennedy confided that "I'm having the same struggle" as other ambitious Americans, just "in a different sphere." Then he compared himself to the quarterback for the Baltimore Colts.
"Johnny Unitas, he might find it interesting to play in a sandlot team, in front of four people, but he's playing for the world championship," Kennedy said. "I mean, I must say, he must find that very absorbing. I'm not comparing the presidency with that, but I'm just saying that, how could it be more fascinating than to run for president under the obstacles and the hurdles that are before me."
Putnam says the passage shows Kennedy's impatience with the slow pace of politics. "People have observed that he didn't like waiting for his turn," he says. "At that point, he'd already been the youngest person elected to Congress and in the Senate for seven years. Another Senate debate for him would have been a yawn. He wanted to debate for the top job."
Indeed, after his history-making debates with Richard Nixon that fall, the 43-year-old became the youngest man ever elected president.
"

Christ, who are we sending over there? Girls?

"

-- President John F. Kennedy on the U.S. hockey team
There are a few instances of Kennedy following football as president, although not with nearly the famous passion Nixon had for the game. In 1961, Kennedy took a call on his private line from Vince Lombardi wanting to know whether he could grant Paul Hornung a leave from the Army so the Packer could play in the NFL championship game. Kennedy agreed, and Green Bay beat the Giants 37-0. Then the president called Lombardi to congratulate him on the Packers' 1962 title and begged him to coach Army.
Three years later, however, the tapes show a change in Kennedy's view of sports. According to Putnam, he began to view it through the prism of the Cold War as he was straining to beat the Soviet Union in the space race, fighting a proxy war in Vietnam and guarding against Fidel Castro in Cuba. In that environment, something as minor as a loss by the U.S men's hockey team to Sweden was an intolerable embarrassment.
In this March 1963 conversation, he called a close friend who'd been selected to the 1952 Olympic squad, David L. Hackett, to see what could be done.
"Dave, I noticed in the paper this morning where the Swedish team beat the American hockey team, 17 to 2," he said.
The rest of the conversation went like this:
Hackett: Yeah, I saw that.
JFK: Christ, who are we sending over there? Girls?
Hackett: They haven't won a game.
JFK: I know it. I mean, who got them up?
Hackett: I don't know. I can check into it.
JFK: God, we've got some pretty good hockey players, haven't we?
Hackett: Yeah. Well, I think. Yeah.
JFK: I suppose they are all playing on their college teams, are they, or something? I'd like to find out whether it was done ... under what ... who sort of sponsors it and what kind of players they've got, and I think it's a disgrace to have a team that's 17 to 2. That's about as bad as I've ever heard, isn't it?
Hackett: And they have been beaten by everybody by a score almost equal to that.
JFK: So obviously, we shouldn't send a team unless we send a good one. Will you find out about it and let me know?
Hackett: I'll find out about it and let you know.
To see more from the John F. Kennedy Presidential Library's online archives, click here