Editor's note: Insider presents MMA10, a weekly top-10 poll of MMA fighters, trainers and coaches on a variety of topics. This week: all-time top 10 heavyweights.
The greatest professional football or basketball teams are one- or two-year entities, a grouping of players who create something magical across the course of several games. When you compare teams from different seasons or generations, there is no easy marker, no shared opponents and no score that can objectively sustain an argument. But in mixed martial arts, there are plenty of shared opponents -- almost too many. Rankings are never as simple as who beat whom (several fighters on the list split their matchups), as they also have to factor in when and how fights were won.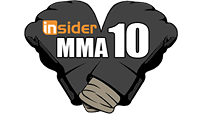 By design, no list is without faults largely because it's impossible to balance every fighter's wins and losses alongside controversies, missed opportunities and public perception. Polls eliminate some of the human error and individual preference; however, poll answers tend to lean toward popular fighters with marquee wins, not those with the best overall records. For many sources that we interviewed regarding MMA's top heavyweights, it was those impressions and overall impact that mattered as much as submissions and head kicks.
In the end, these 10 names stood out from the rest in our ranking of the top 10 mixed martial arts heavyweights of all time.
The fighter who helped changed the face of professional MMA has been as criticized for a dearth of qualified opponents as he's been praised for his nine-year winning streak. Heavy-handed, limber and tough in a uniquely Russian sense, Fedor was the most feared heavyweight for a decade, due to his ability to utilize heavy strikes on his feet and Sambo-learned submissions on the ground.