ESPN.com's Trade Machine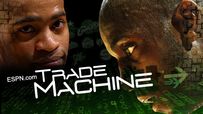 Wanna make a deal? Put on your GM hat and try our Trade Machine.
The 15 most traded players in the last 36 hours:
1. Jason Kidd -- 68,650
2. Kwame Brown -- 38,514
3. Kevin Garnett -- 38,376
4. Chris Mihm -- 31,546
5. Vince Carter -- 22,663
6. Aaron McKie -- 20,819
7. Vladimir Radmanovic -- 19,089
8. Pau Gasol -- 19,050
9. Shammond Williams -- 17,328
10. Jordan Farmar -- 15,534
11. Smush Parker -- 14,976
12. P.J. Brown -- 14,115
13. Lamar Odom -- 11,843
14. Mike Bibby -- 11,059
15. Jamaal Magloire -- 10,108
Editor's Note: Chad Ford's take on what trades should have happened was written in advance of Thursday's 3 p.m. ET trade deadline, which saw no major deals made.
The trade winds are surprisingly still after the All-Star Game in Las Vegas. And I'm not sure why.
Yes, we've already had our requisite blockbuster trade of the season with Allen Iverson. But there are a handful of teams that should be working the phones harder to make a trade happen before the deadline.
Some are second-tier contenders that need to shore up their rosters to make a title push. Others are cellar dwellers that need to begin the rebuilding process while they still can get value in return for their players.
You'll be reading a lot over the next three days about what might happen. But here are five trades that should happen.
Of course, most of the teams listed here won't pull the trigger -- but they'll regret that decision down the road.