So, Tuesday's Melvin Ely-Eric Williams trade didn't really get your blood boiling, eh?
ESPN.com's Trade Machine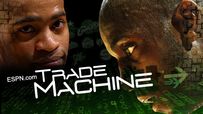 Wanna make a deal? Put on your GM hat and try our Trade Machine.
You expect a little more action, a few bigger names to be changing addresses as we count down the days until the Feb. 22 NBA trade deadline, the day general managers finally get to set down their cell phones and take stock of the elbow tendinitis that comes from holding a receiver to one's ear for 12 hours a day.
Well, take heart, folks. Bigger and better deals are on the way, and Insider has been working the phones and aggravating the elbows, too, to get a handle on who's on the block, who isn't, and what might be in store for the week ahead.
We expect at least 10 players to be relocating by the time next weekend rolls around, but you can never really be sure whether it's going to be a busier-than-usual trade deadline day or a dud along the lines of the deadline day seven years ago when only one trade -- Anthony Johnson going from Orlando to Atlanta for a second-round pick -- was consummated.
With that warning safely dispensed, we present our Week Before The Deadline List of the 10 Players Most Likely to Be Traded.