All season, Pistons rookie Andre Drummond has been a nice little story. He has put up amazing numbers on a per-minute and per-possession basis, but he has done so coming off the bench in a role that has kept him under 20 minutes per night on the season. After Detroit drafted the UConn big man in June, Drummond was thought to be very raw and it was suggested that he might be one of the few lottery picks that could use some D-League time to ripen. Never mind that -- he's developing just fine at the NBA level.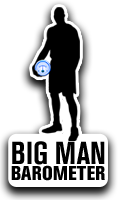 Last week, Drummond's surprising debut reached a peak. He averaged 22 minutes per night in three games, two of them Detroit wins as the Pistons continue to mount a midseason playoff push. Drummond averaged 22.7 points, 16.7 rebounds, 3 blocks and 3 steals per 40 minutes in those games, and shot 75 percent from the field. He committed one turnover in 67 minutes. Yes, the kid is limited on what he can do right at this point in his fledging career, but he's already at a point where he does almost nothing wrong.
Over his last 10 games, Drummond has compiled 1.75 WARP, ranking eighth in the league despite just 21.6 minutes per night. Every other player in the top 10 averaged at least 33 minutes. Drummond has been so good in his limited opportunities that he has now moved into the top 10 in our big man rankings for the season. All that really means at this point is that he has filled his role in Detroit's rotation about as well as it can be filled. We have no real idea what his numbers would look like if he were going against other teams' starters on a full-time basis. At this point, however, Pistons fans have to be awfully excited to find out.
Details on how the Big Man Barometer is compiled and the true position system can be found here.
Top 10 Big Man Performances
Week of Jan. 16-22; players listed by winning percentage. Any player who played at least 30 minutes total at center or power forward last week is eligible for the rankings. Also included at the bottom are big man projections for next week.
James
James had a particularly fabulous week, even for him, sneaking just over the 30-minute minimum at power forward to return to the top of the big man charts. Over his last three games through Tuesday, James averaged 32 points and shot 64 percent from the floor, going 41-for-64. Wow.