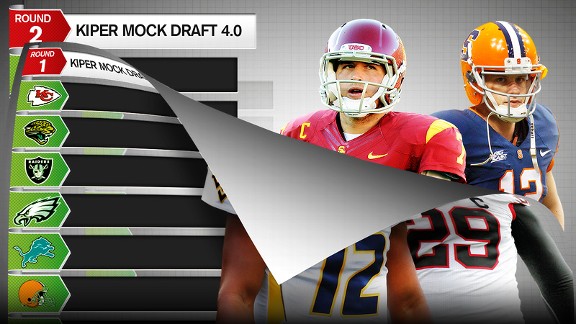 As of today, the 2013 NFL draft is exactly three weeks away. So let's double down. Below you'll see my projections not just for Round 1, but for Round 2 as well.
The draft is never just about adding the maximum value or filling the most significant need with every pick. It's also about setting up your draft board so you can knock out multiple needs depending on where you see the most positional depth. So with that in mind, let's go two rounds, which this year is particularly fun, because the quarterback class lacks elite value early, but could certainly be the story of Day 2.
As always, make sure you also check the Big Board and positional rankings to get a better idea of the overall grades and depth at each position.
MORE KIPER CONTENT:
---

1

Luke JoeckelKansas City Chiefs (2-14)
COLLEGE: Texas A&M
AGE: 21
HT: 6-6
WT: 306
POS: OT

Analysis: Placing the franchise tag on Branden Albert left the Chiefs with three options that factor into this pick. They could play Joeckel at right tackle in 2013 with the goal of moving him to the left side next year; they could start Joeckel on the left side immediately to reduce the adjustment pains he could experience in shifting next year and have Albert hold down right tackle; or they could continue to entertain trade offers for Albert and try to recoup some value they traded away in the deal for Alex Smith. In any event, given the way the board sets up, my belief is they'll take the top tackle in the draft because it fills a current hole for 2013, and could fill a significant roster void in 2014. Given that their second-biggest need is an interior linebacker, they'll go with a tackle here and deal with that later.

2

Ezekiel AnsahJacksonville Jaguars (2-14)
COLLEGE: BYU
AGE: 23
HT: 6-5
WT: 271
POS: DE
Analysis: The Jaguars have been saddled with a deficient pass rush for years now, and I think they will take advantage of the opportunity to take a high-ceiling 4-3 defensive end who, yes, needs some development, but should still give them impact in 2013. Cornerback is another need, and the question at quarterback persists, but the Jags can't afford to draft a quarterback at this draft slot who might be behind Blaine Gabbert on the developmental curve. They need a player that can fill an immediate void.

3

Sharrif Floyd *Oakland Raiders (4-12)
COLLEGE: Florida
AGE: 20
HT: 6-3
WT: 297
POS: DT
Pick analysis: The Raiders are in desperate need of young talent on the defensive line after a season in which they were far too often gashed by the run. Floyd is a dynamic young player, has played inside and on the edge and uses great leverage and power to drive blockers back and blow up plays. Given that it's not set exactly which base defense the Raiders will operate out of primarily in 2013, adding versatile defensive line talent also adds scheme flexibility. Floyd is young, and while very good already, provides a high-ceiling building block for a team in need of those types of players.