Every NFL offense has a play, or a specific scheme, that gives opposing defenses trouble when it comes to matchups and limiting production. Some of these offensive concepts can be as simple as a three-step route combination or an off-tackle power play, while others -- such as RPOs, pick plays and max-protection deep shots -- can put enormous stress on the defensive reads and coverages. Today, let's run through all 32 offensive playbooks in the league and break down each team's most unstoppable play.
You can read the whole file or go directly to your team by clicking on one of the links below.
ARI | ATL | BAL | BUF | CAR | CHI | CIN | CLE | DAL | DEN | DET | GB | HOU | IND | JAC | KC | LA | MIA | MIN | NE | NO | NYG | NYJ | OAK | PHI | PIT | SD | SF | SEA | TB | TEN | WAS
---

Play: Three-Level Flood | Personnel: 10 (4WR-1RB)

How it works: The flood route is a pretty standard concept in the NFL run from multiple formations and alignments. It's a Cover-3 beater that removes the cornerback with the deep clear out from Z receiver. That creates space in the outside one-third of the zone for the quarterback to go to work on the strong safety (curl-flat defender). If the safety sinks, throw the flat (H). If the safety settles, then target the deep out (W). However, given the personnel in Arizona, quarterback Carson Palmer will target the clear-out (Michael Floyd, J.J. Nelson), throw the deep out (John Brown), hit the flat (Larry Fitzgerald) and even come back to the weak side dig route (X). Arizona loves to throw deep inside cuts in Bruce Arians' offense. Yes, the route is designed to beat Cover 3, but in Arizona, there's no such thing as a clear-out route. Everyone is a target. And that puts enormous pressure on opposing secondaries.
---

Play: Yankee Route | Personnel: 21 (2WR-1TE-2RB)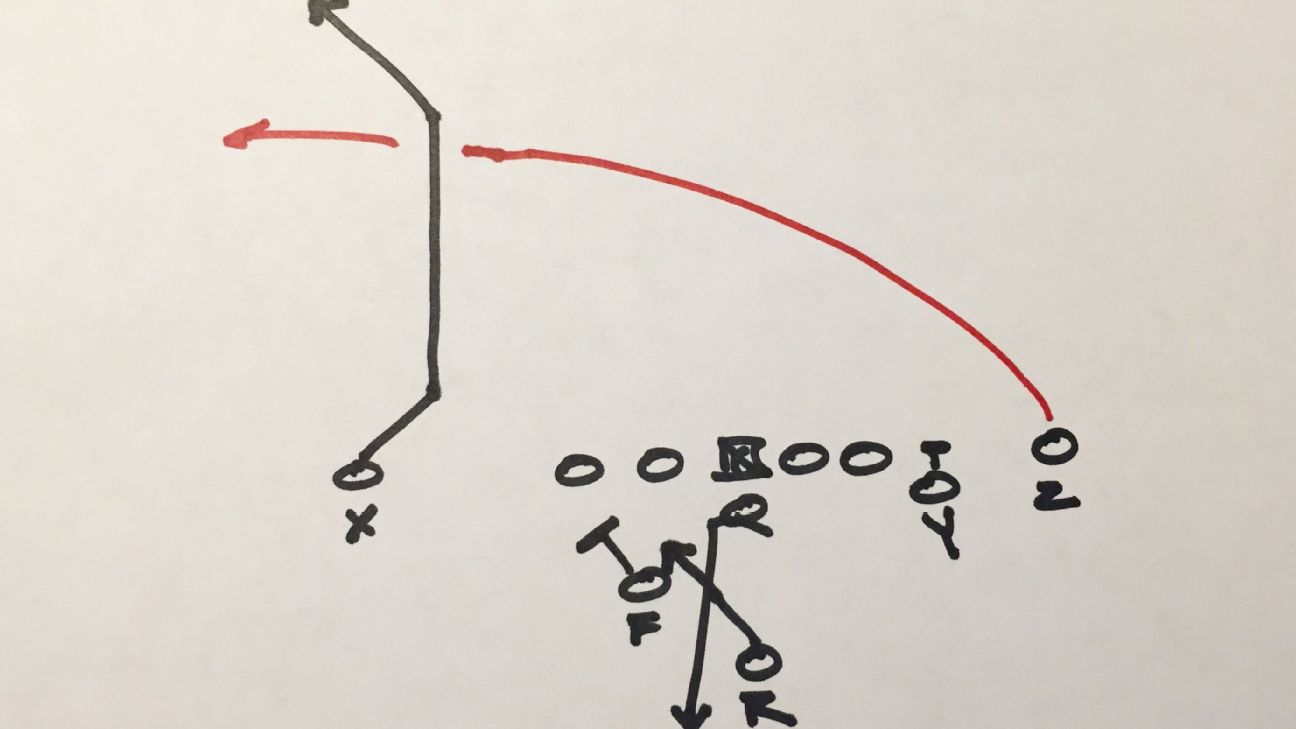 How it works: The Yankee route is a deep play-action concept in Kyle Shanahan's offense that opens up the deep half (or outside one-third) of the field to target wide receiver Julio Jones for an explosive gain. In this scheme, the Falcons will reduce the split of Jones (Z) to get a free release while showing play-action in the backfield. To the open (or weak) side of the formation, the X receiver runs a deep 7 (or corner) route to push the cornerback/free safety down the field in single high looks or to remove the deep half safety in Cover 2. It's basically a decoy route, a clear-out to occupy the top of the defense while Jones works back across the field on the deep crosser. Now, with max-protection up front, quarterback Matt Ryan has time to set his feet and target Jones with tons of space to work with. That's easy money.