During his first season in the NFL, Chargers tight end Hunter Henry caught 36 passes for 478 yards (13.3 yards per catch) and eight touchdowns while splitting time with veteran Antonio Gates. Those are solid numbers for a rookie, and Henry's expected development and second-year jump could lead to a serious boost in production next season, with the tight end taking on a larger role in the Chargers' offense.
Here are 10 rookies -- Henry included -- I see climbing the developmental ladder in 2017.
Important note: This is about rookies who could make the leap to stardom, not those who already got there. So Dak Prescott, Ezekiel Elliott, Tyreek Hill, etc., were not included.
---
Hunter Henry, TE, Los Angeles Chargers
Henry has the measurables of a matchup issue at tight end. With a 6-foot-5, 252-pound frame and speed in the mid-4.6 range, Henry was a weapon for Chargers quarterback Philip Rivers in the red zone. Of Henry's eight touchdown grabs in 2016, seven of them came inside the 20-yard line where he caught 10 of 15 targets from Rivers.
This is also where we see Henry's advanced route running on tape. He understands how to create separation within the route stem, and his footwork pops on the screen. That allows him to gain leverage on the throw. And with his size, Henry can shield defenders from the ball at the point of attack, box out and finish.
Here's an example of how the Chargers targeted Henry inside the deep red zone (plus 10-yard line). This is a smart game plan from the Chargers to create a favorable matchup for Henry versus Denver's heavy man-coverage scheme: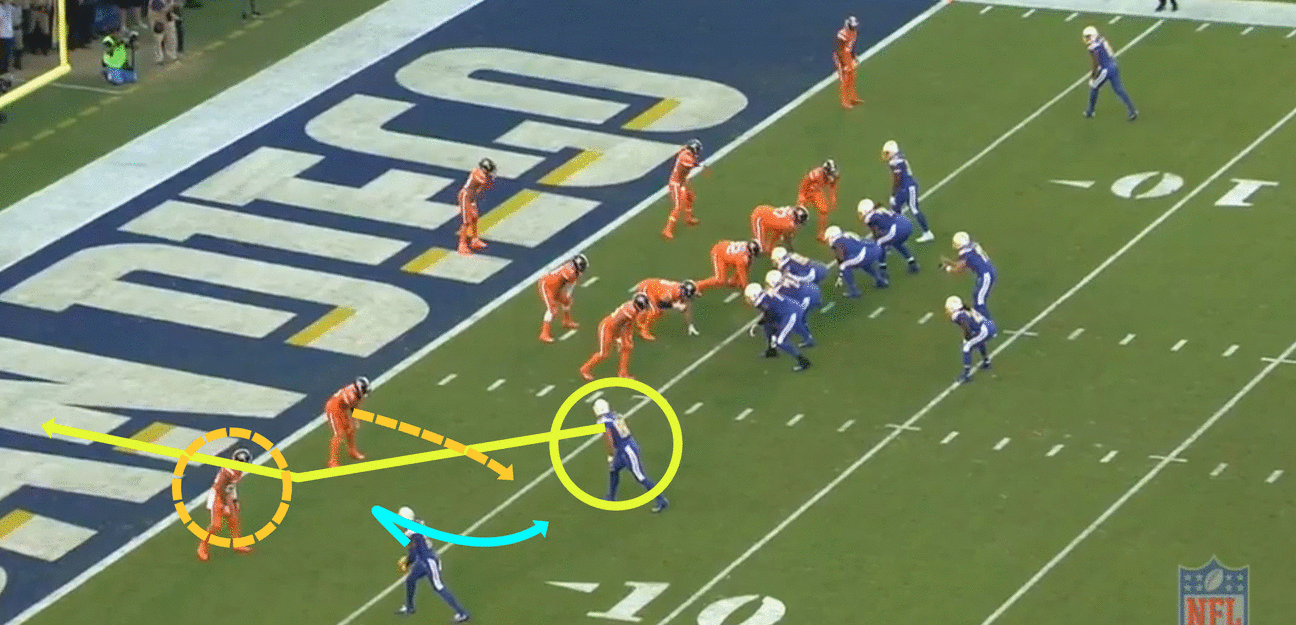 With Henry (yellow circle) aligned in the slot, the Chargers show the wide receiver screen as Henry stems outside before working back up the field (quick seam route). This forces the Broncos to pass off the routes (called a "banjo" technique). However, with cornerback Chris Harris Jr. now playing from an outside leverage position, Rivers can now throw this ball to the upfield shoulder of the tight end. That allows Henry to pin Harris to the outside and secure the catch for six points.