The NFL is a quarterback's league, but a set of weapons can be the difference between a quarterback taking a leap forward or looking ordinary. Think about Tom Brady breaking out between 2006 and 2007 once the Patriots added Randy Moss and Wes Welker. Remember what Andy Dalton looked like in 2015 with A.J. Green, Tyler Eifert, Marvin Jones and Mohamed Sanu in the lineup, and what happened with all of those guys missing at times last season.
It's difficult in cases to separate the weapons from the play of a quarterback, but let's try that here in ranking each team's weapons from 32 to 1. I'm more confident about the tiers than ranking the teams within each tier; you could really make a case for any of the top three teams in the final tier being No. 1 and I'd agree.
This considers running backs, wide receivers and tight ends without the influence of quarterbacks, offensive linemen or offensive coordinators. It considers only how they'll perform in 2017 without worrying about future seasons, and it's not concerned with the cost of those players or what it took to acquire them. This is strictly an on-field analysis. It factors in players who are already injured or suspended. Healthy players were treated according to their typical injury history, so a player like Keenan Allen is more of a concern than someone like Larry Fitzgerald.
Let's start with the bottom of the league:
---
Click on the links below to go directly to your team.
ARI | ATL | BAL | BUF | CAR | CHI | CIN | CLE | DAL | DEN | DET | GB | HOU | IND | JAC | KC | LAC | LAR | MIA | MIN | NE | NO | NYG | NYJ | OAK | PHI | PIT | SF | SEA | TB | TEN | WAS

Tier I: The serious problems

If you want a sign of how thoroughly the Jets are rebuilding at receiver, consider that the only pass-catchers they have on the roster who caught an NFL pass before 2016 are Quincy Enunwa and Austin Seferian-Jenkins. Relatively, the duo of Matt Forte and Bilal Powell are professional royalty, but Forte posted his worst yards per carry mark since 2009 in his debut season with the Jets (3.9). The longtime Bears starter might only still be on the roster by virtue of the Jets guaranteeing his $4 million base salary last year.

The two building block weapons in San Francisco appeared to be Carlos Hyde and Vance McDonald, but neither player may survive training camp under the new regime of Kyle Shanahan and John Lynch. Import Pierre Garcon provides familiarity with Shanahan's scheme, but the big question mark is wildly expensive Kyle Juszczyk, whom the Niners apparently intend to employ as if he were some combination of Darren Sproles and a tank.

The Browns weren't exactly stacked at the skill-position spots last season, and they subsequently moved on from their top two receivers (Terrelle Pryor and Gary Barnidge) this offseason. Kenny Britt and first-round pick David Njoku will take their places, respectively, but the key player is 2016 first-rounder Corey Coleman, who should take a step forward after breaking his hand three weeks into his rookie season. Coleman caught just 46.4 percent of his targets after the hand injury, the worst rate in the league for players with 50 second-half targets.

The Rams are a weird stack of skill-position talent. Todd Gurley should be better, but they have a block-first wide receiver (Robert Woods), a hands-first tight end (second-round pick Gerald Everett, a former basketball player) and a weapon who isn't actually a weapon in Tavon Austin. The former eighth overall pick finished dead last in receiving DVOA and averaged just 4.85 yards per target, last among wideouts by a comfortable margin. The depth chart behind Gurley is also perilously thin.
---
Tier II: The injury factories
No team has been harder hit by injuries this offseason than Baltimore, with the Ravens already losing Dennis Pitta (hip) and Kenneth Dixon (knee) for the season. Marty Mornhinweg's offense will rely heavily upon players with recent injury histories, including Danny Woodhead, Benjamin Watson, Maxx Williams, Breshad Perriman and Jeremy Maclin.
The Chiefs released both Jamaal Charles and Jeremy Maclin this offseason, and while they used third- and fourth-round picks on Kareem Hunt and Jehu Chesson, respectively, their wide receiver depth chart is as thin as any team in football. Their lead wideout will be Tyreek Hill, who is one of the fastest players in the league but was basically a screen receiver as a rookie in 2016. Travis Kelce is supremely talented, but can he carry the entire passing game and stay healthy?
---
Tier III: The rebuilds

General manager Ryan Pace moved on from Alshon Jeffery by attempting to turn a dollar into four quarters; Jeffery's $14.6 million cap hit was instead reassigned to the combination of Markus Wheaton, Kendall Wright, Victor Cruz and Dion Sims, who will eat up a combined $14.9 million of cap room. Perhaps more important is the development of 2015 first-rounder Kevin White, who has been limited to 19 catches in two seasons by injury. That's the fewest for a top-10 pick in 35 years. But hey, Jordan Howard and Cameron Meredith!

One of the few places the Colts aren't currently in transition is wide receiver, where Kamar Aiken could push disappointing 2015 first-rounder Phillip Dorsett for playing time. Donte Moncrief played through injuries in a lost campaign, but T.Y. Hilton led the league in receiving yardage, while Jack Doyle emerged as a reliable safety valve and replacement for Coby Fleener. Frank Gore continues to chug away, but he could give way to fourth-round pick Marlon Mack by the end of the season.

Shady McCoy continues to impress as he enters his age-29 season, but he has missed time in each of his first two seasons with the Bills, and that's without considering the high ankle sprain he suffered in Week 17. Charles Clay has failed to deliver in Buffalo while struggling with a persistent knee injury, and the team played Sammy Watkins through a clearly debilitating foot injury before Watkins hit the shelf in 2016. If Watkins isn't 100 percent, the depth chart behind him is scary, led by players such as Walter Powell, Andre Holmes and second-rounder Zay Jones.

Nobody doubts that the Broncos have a pair of great wideouts in Demaryius Thomas and Emmanuel Sanders, but the depth chart behind them at wide receiver is thin, and they're a mess at running back and tight end. C.J. Anderson fell off dramatically before suffering a season-ending meniscus injury, and Devontae Booker mustered little in his stead. Starter Virgil Green is a block-first tight end, while Denver will hope to get something out of backups Jeff Heuerman, A.J. Derby and Jake Butt.
---
Tier IV: The missing stars

The Lions have plenty of weapons who have flashed usefulness, but their only reliable threat seems to be Golden Tate. Marvin Jones averaged just 40.1 yards per game after a blazing hot three-game start last season, while Eric Ebron has the league's highest drop rate (7.9 percent) among receivers with 200 targets or more since he entered the league in 2014. Ameer Abdullah missed 14 games last season and wasn't effective as a rookie, while Theo Riddick has been an excellent receiver without offering much more than replacement-level running.

Adrian Peterson is gone, and while the Vikings signed the underwhelming Latavius Murray in his place, everyone in Minnesota seems to be hoping Dalvin Cook takes over the job sooner rather than later. The Vikes are deep with useful contributors at running back and wide receiver, with players such as Jerick McKinnon and Jarius Wright buried on the depth chart, but there's precious little star power until Stefon Diggs breaks out beyond a hot week or two. Adam Thielen was a nice surprise last season, but the offense would take a leap forward if Laquon Treadwell realized his potential.
---
Tier V: More rebuilds!

If everything works out alongside Odell Beckham Jr., the Giants could be great; Sterling Shepard should be better in his second season, tight end Evan Engram should be an upgrade over the likes of Will Tye and Larry Donnell from years past, and Brandon Marshall should have more left in the tank than Victor Cruz. It's also possible that Engram struggles as a rookie (as most tight ends do), Shepard is limited in targets, and the 33-year-old Marshall looks more like the guy who caught 46 percent of his passes a year ago than the one who excelled in 2015. Under almost any scenario, running back will be a mess.
Washington has almost entirely shifted its offense over the past two seasons, going from a team built around departed wide receivers Pierre Garcon and DeSean Jackson to a team targeting slot receiver Jamison Crowder and tight end Jordan Reed. If Jay Gruden can get new addition Terrelle Pryor and 2016 first-rounder Josh Doctson going, this could be an effective unit. It's hard to trust Reed and Doctson to stay on the field for long stretches of time, though, with Reed already hitting the PUP list because of a foot injury. Kirk Cousins has thrown 42 touchdown passes against 10 interceptions and has posted a 106.4 passer rating with Reed on the field over the past two seasons; those numbers decline to 10 touchdowns, 13 interceptions and a 86.1 passer rating with Reed sidelined. Running back also remains a major work in progress.

Nothing went right for Houston's offense last season outside of tight end C.J. Fiedorowicz, who was the one receiver who seemed to develop any level of affinity with departed quarterback Brock Osweiler. DeAndre Hopkins went missing for games at a time, although it's hard to blame him for the woes. First-round pick Will Fuller started the season with consecutive 100-yard games and then never came close the rest of the way. Most disappointingly, Lamar Miller looked like his legs were stuck in mud for most of the season after coming over in free agency from the Dolphins. There's still plenty of talent here, but everyone needs to look more like their 2015 selves.

Carson Wentz needed wide receivers, so the Eagles went shopping and came away with an interesting buy-low tandem in Alshon Jeffery and Torrey Smith, each of whom should have plenty left in the tank. Suddenly, Wentz is spoiled for options given that he can turn to Jordan Matthews, Zach Ertz or Darren Sproles when Jeffery and Smith are covered. LeGarrette Blount is coming off a career year (18 TDs) with the Patriots and should still be a useful back between the tackles, although Sproles will end up being the savior of the team for a stretch in September, as seems to be the case every season.
---
Tier VI: The haltingly optimistic

You might not have noticed, but Doug Baldwin is a real No. 1 wideout, given that he ranks 12th in receiving yards (tied with Larry Fitzgerald) and seventh in touchdowns (just ahead of Demaryius Thomas) over the past three years. He might also be the only sure thing. The rest of the receiving corps is in recovery, with Jermaine Kearse struggling and Tyler Lockett returning from a broken leg. Jimmy Graham was surprisingly reliable in returning from his torn patella, playing all 16 games while posting his highest yardage total since 2013. The arriving Eddie Lacy should split time with Thomas Rawls, but the best-case scenario for Seattle might involve 2016 third-round pick C.J. Prosise becoming the featured back.

The Titans made Mike Mularkey's run-first scheme work, with DeMarco Murray having a resurgent season and the likes of Harry Douglas contributing as useful blockers. Much-needed weapons were added at wide receiver with Eric Decker and first-round pick Corey Davis coming to town, while 2016 second-round pick Derrick Henry should grab a larger share of the carries if Murray can't stay healthy. Tennessee is still dependent upon Delanie Walker staying ageless at tight end, but this is a deep group with plenty of upside.

The Saints traded away Brandin Cooks but still have plenty at wide receiver, with Michael Thomas looking like a superstar and Ted Ginn arriving to serve as a deep threat alongside Willie Snead. They also added to their running back rotation by taking a pleasantly low-cost shot on Adrian Peterson and a more typical trade up in the draft for Alvin Kamara. It's also hard to believe Coby Fleener won't be better in his second season in New Orleans, especially given how effective Drew Brees has been at targeting tight ends in years past.

The Jags have their fourth new starting running back in as many years, but fourth overall pick Leonard Fournette should stick. He could close out games for a Jaguars team that has blown seven games in which they led entering the fourth quarter over the past three seasons, a figure topped only by the Chargers (10). While both Allen Robinson and Allen Hurns had disappointing 2016 seasons, the Jags got a surprisingly effective campaign from Marqise Lee, giving them a trio of young wideouts for other teams to worry about. So much still depends on Blake Bortles, but the weapons aren't the problem in Jacksonville.

The Panthers focused on taking pressure off Cam Newton this offseason, and while I'm skeptical of new left tackle Matt Kalil, I'm more hopeful that top two picks Christian McCaffrey and Curtis Samuel will provide Newton with some badly-needed intermediate targets. Those will come in handy in 2017 and the years to come as Greg Olsen ages. Wide receiver still seems like a problem, as Kelvin Benjamin slipped badly in his first year back from a torn ACL, while Devin Funchess posted the league's lowest catch rate (41.1 percent).

I'm not sure any of us expected to see the Packers looking quite like this 12 months ago. Davante Adams -- the biggest fantasy football disappointment of 2015 -- as a touchdown machine? Randall Cobb lost in the shuffle? Ty Montgomery as a featured running back? Martellus Bennett somehow ending up in an even better situation than New England? Aaron Rodgers is the straw that stirs the drink here, of course, but with Jordy Nelson hardly missing a beat in his return last year, there's plenty of talent along the skill positions, too.
---
Tier VII: The top 10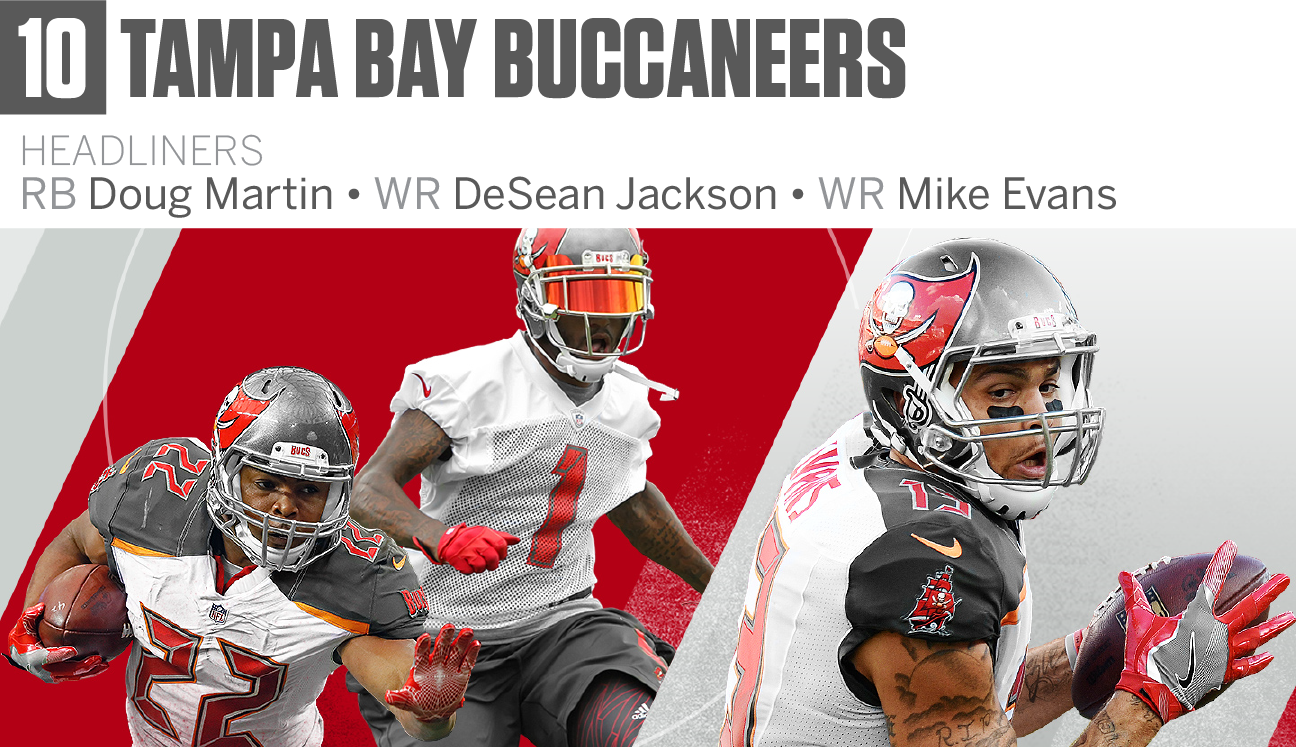 The Bucs were an effective offense in 2016, and outside of Mike Evans getting injured, it's hard to see them being worse in terms of weaponry. Adam Humphries and Cameron Brate were pleasant surprises last season, and now they've been supplemented with DeSean Jackson and first-round pick O.J. Howard. Doug Martin was wildly disappointing and will be suspended for the first three games of 2017, but he should be better after averaging 2.9 yards per carry a season ago. Evans, by the way, doesn't turn 24 until August. What if he gets better?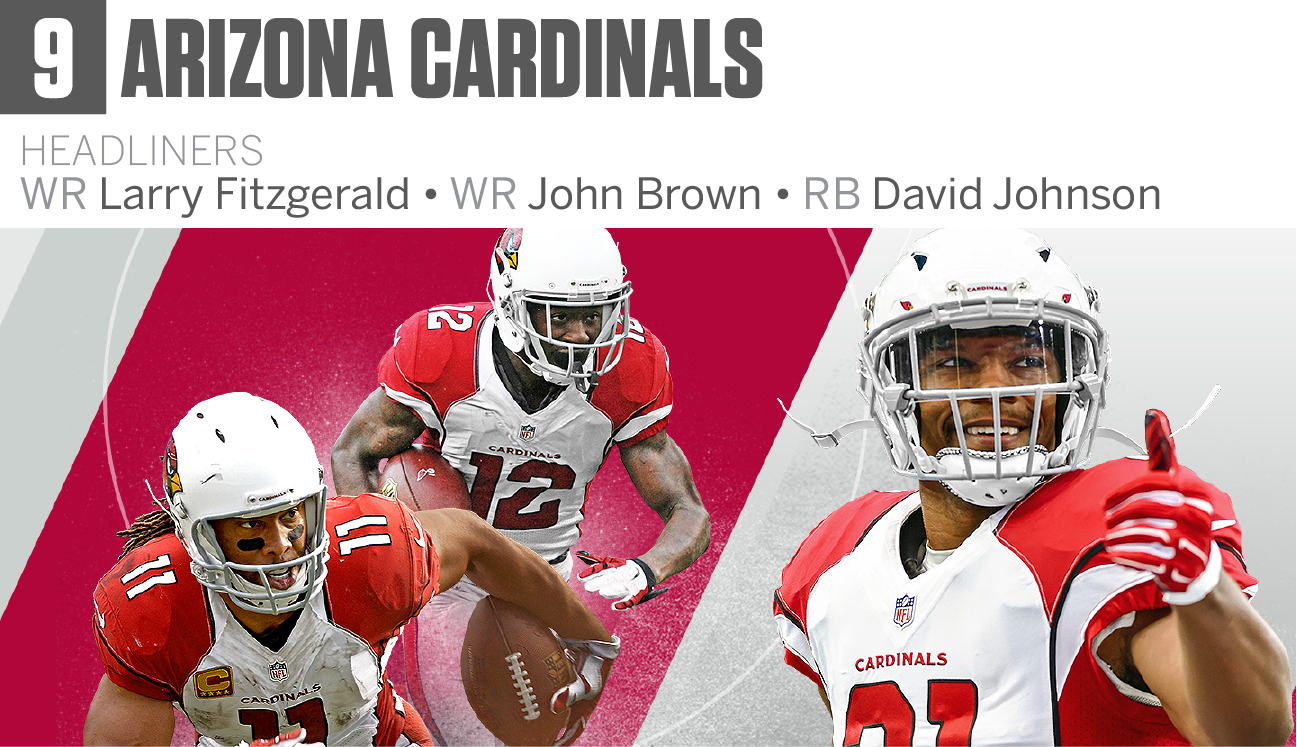 You can make cases for Ezekiel Elliott and Le'Veon Bell, but I'm of the volition that David Johnson was the best running back in football last season. There's useful depth behind DJ after Arizona re-signed Chris Johnson. Bruce Arians has revitalized 33-year-old Larry Fitzgerald's career by moving the future Hall of Famer into the slot, where he has racked up back-to-back 1,000-yard seasons. John Brown should be back in form after struggling with sickle cell and a cyst on his spine last season, and while Michael Floyd has left town, the Cards should be able to piece together a third receiver rotation with J.J. Nelson and third-round pick Chad Williams. Tight end is a relative weakness, but this is still a talented bunch.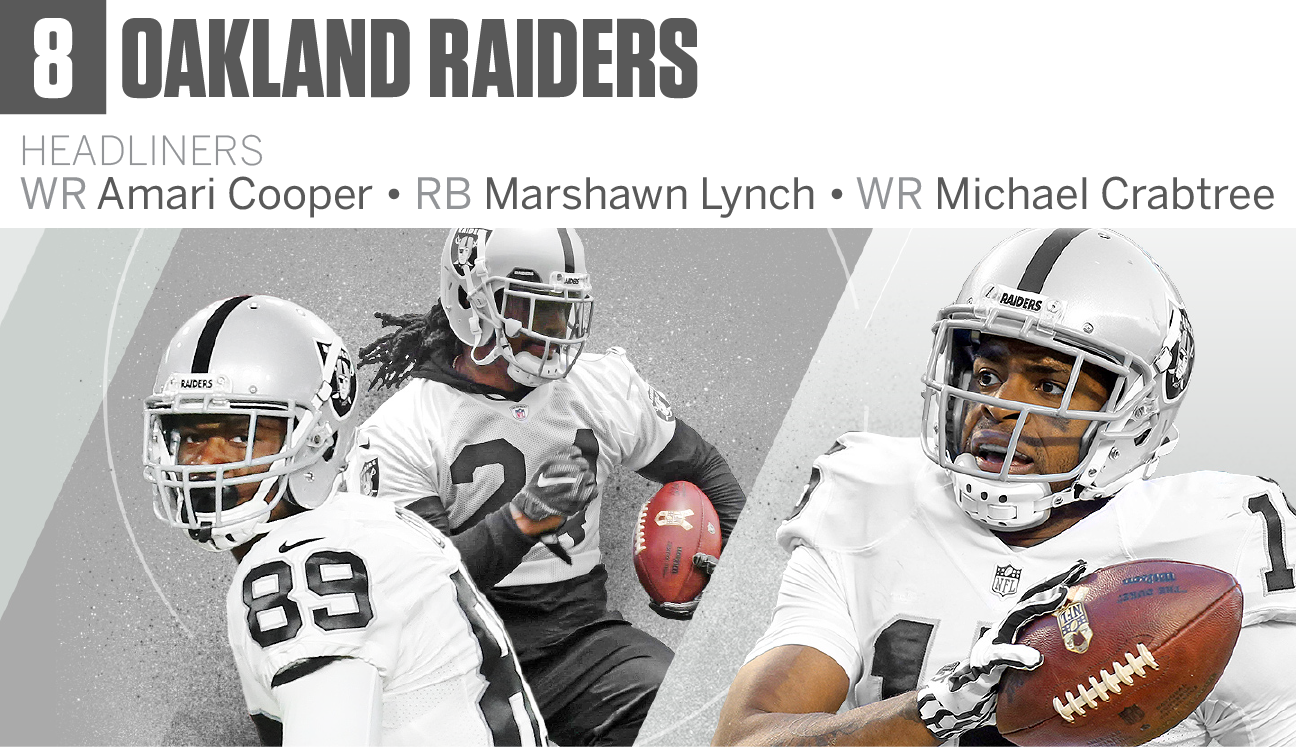 Things have come together swimmingly for the Raiders: They built their offensive line, drafted a quarterback, drafted him a No. 1 receiver, and found a No. 2 receiver for free. Just like you draw it up.
Now, they're adding a local icon at running back. It's unclear whether there's anything left in Marshawn Lynch's tank after a dismal 2015 season, but that was behind a brutal offensive line after four years of heavy work. Lynch is playing behind the best offensive line in the league and took a year off from football; he'll probably be good, and he might be great. Lynch won't be needed for 300 carries, but the Raiders can spot the useful DeAndre Washington and Jalen Richard to keep Lynch around 225 rushing attempts in the hopes of having a fresh Beast Mode in January.
Amari Cooper and Michael Crabtree are among the best one-two punches in the league, although I'd be a little concerned about Oakland's other receivers. Seth Roberts was exceedingly inefficient last season, dropping 9.1 percent of his targets, which tied him for the league lead among wideouts with Nelson Agholor. Jared Cook has a well-earned reputation for ill-timed drops, while Lee Smith is a block-first tight end. Given that Cooper and Crabtree have absorbed 276 and 277 targets over their two seasons together, though, those secondary receivers aren't extremely important unless somebody gets hurt.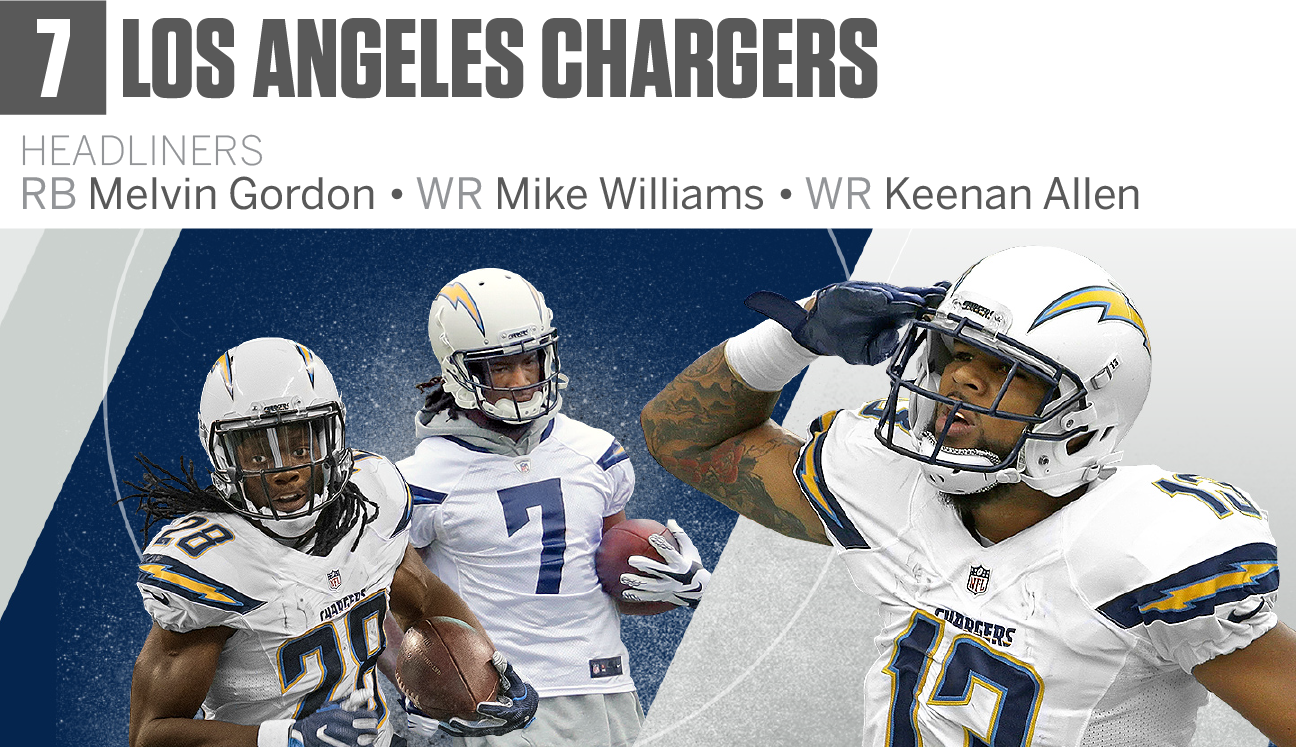 One of the few advantages of struggling through a season of injuries is that you get to see what's lurking at the bottom of your roster. The Chargers lost Danny Woodhead, Keenan Allen and Stevie Johnson before the end of September last season, and while that might have sank some teams, Philip Rivers kept on making plays. Melvin Gordon, so disappointing as a rookie, broke out as a workhorse and averaged 24.3 touches per game before getting hurt in December. Tyrell Williams came out of nowhere to post a 1,000-yard season. Dontrelle Inman outperformed free-agent addition Travis Benjamin. Hunter Henry began to take over for Antonio Gates. There was a lot to like.
The concern in 2017, of course, is more injuries. The Chargers are already worried about first-round pick Mike Williams, who has been sidelined since the first practice of minicamp with a back injury. Allen has missed 23 of the past 24 games and hasn't played a single 16-game season as a pro. Gordon has dealt with knee injuries in each of his first two years, and there's little depth at running back. Gates is 37 years old. The Chargers could be a top-three unit if everyone stays healthy, but it's foolish to count on that happening.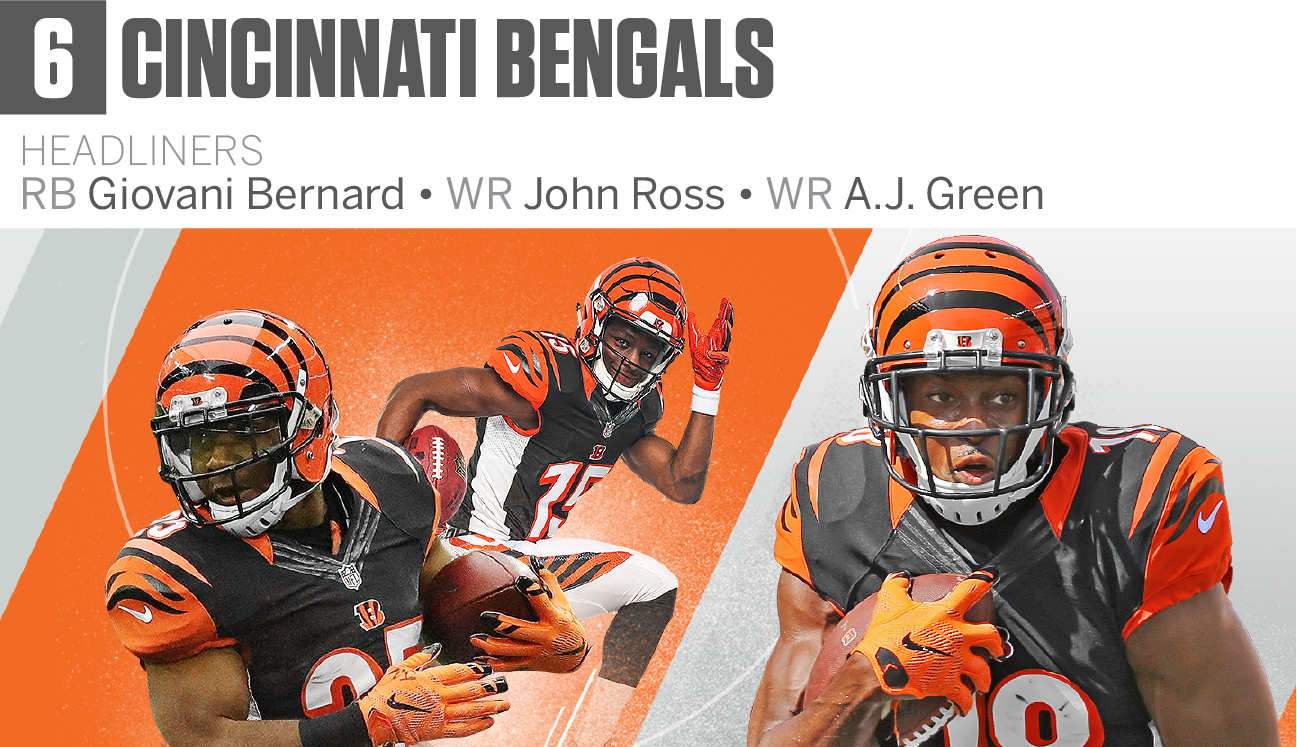 Another set of talents sapped by injury a year ago, the Bengals got to see Tyler Eifert and A.J. Green line up together for only three full games in 2016. They averaged 26 points in those three games and 19 points per contest during the other 13. Giovani Bernard also tore his ACL, and Jeremy Hill suffered a late-season knee injury. By the end of the season, Andy Dalton was throwing the ball to Brandon LaFell and Cody Core.
The Bengals never spend money in free agency, but they've drafted reinforcements. After re-signing LaFell, Cincy used its first-round pick on Washington speedster John Ross before taking disgraced Oklahoma back Joe Mixon in the second round. Last year's second-round pick Tyler Boyd should also be better, leaving the Bengals with four viable starting wideouts, three useful running backs and a star tight end in a contract year. If Ross (who has missed the entire offseason after undergoing shoulder surgery) and Mixon make an immediate impact, the Bengals could be close to unstoppable on offense.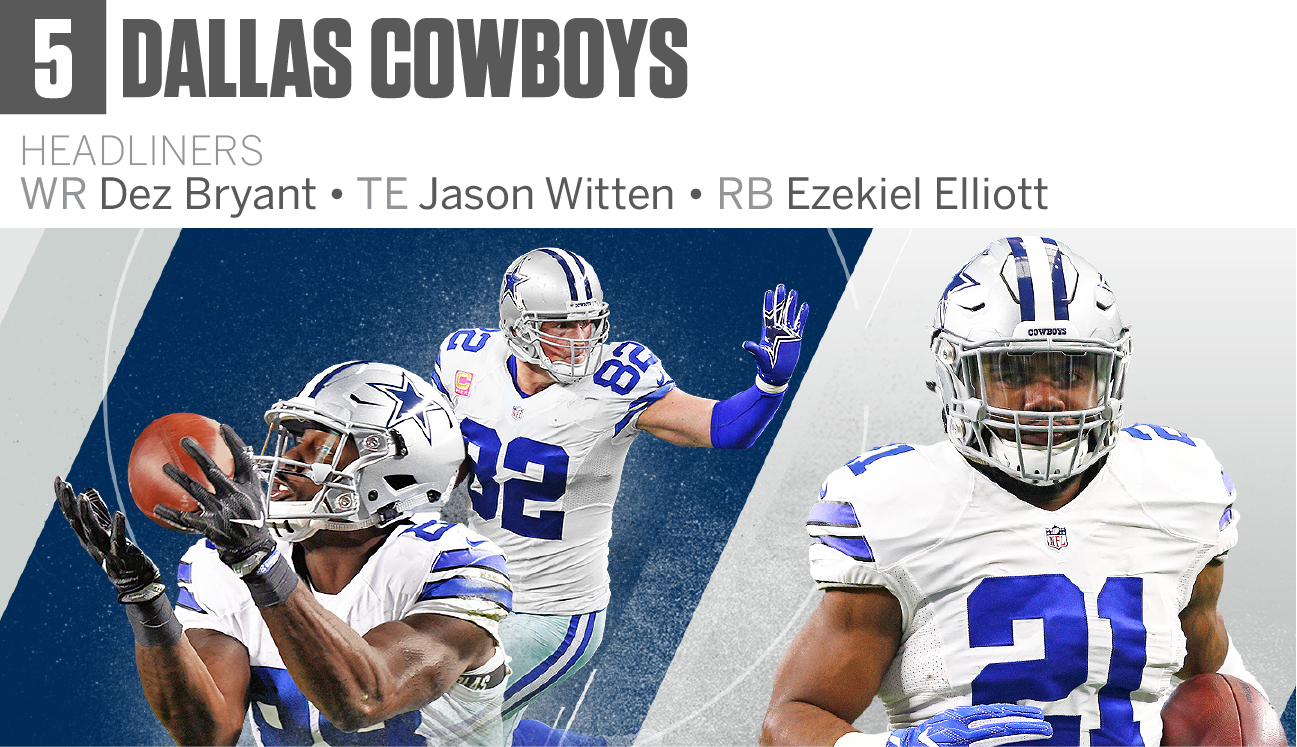 You don't need to be reminded about Ezekiel Elliott, who was the most productive running back in the league as a rookie. Dez Bryant hasn't been his usual self over the past two season, with injuries limiting him to 54.4 receiving yards per contest after he averaged 77.2 yards per game over his first four seasons as a starter. He should be healthy after undergoing surgery last year, with the 137-yard, two-touchdown game Dez put up on the Packers in the playoffs a reminder of what the former first-round pick can do.
Things aren't quite as impressive after Dallas' big two. Jason Witten is a Hall of Famer, but his receiving totals have dropped in three of the past four seasons, and that trend is unlikely to reverse itself as Witten turns 35. Cole Beasley is a useful slot receiver, but his 76.5 percent catch rate in 2016 was a career high. Terrance Williams remains anonymous; he was thrown the ball on just 13.8 percent of his routes last season, the sixth-lowest rate among wide receivers. There's a huge drop-off between Zeke and Dez and the rest of the team.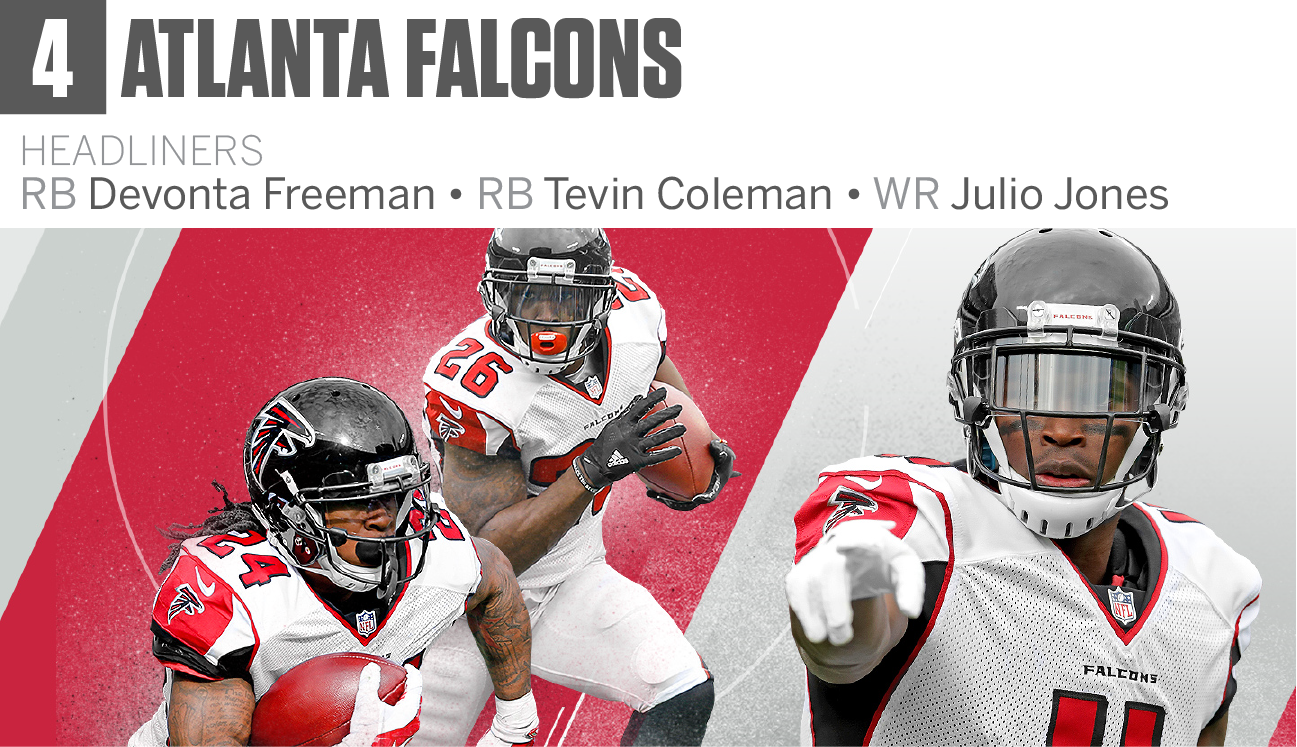 You saw them torching the league last season, right? They didn't throw quite as many passes to Julio Jones -- Matt Ryan threw him 74 fewer passes in 2016 than he did in 2015 -- and while part of that was due to injury, the change also came thanks to a more balanced and successful offense. The Falcons ran the ball more because they were winning, but the one-two punch of Devonta Freeman and Tevin Coleman was also more efficient, as Atlanta's rushing DVOA jumped from 25th to seventh. Both backs return, and it might be easier to keep Freeman for the long term thanks to Le'Veon Bell, who turned down a long-term offer that would have reset the running back market and given Freeman a lofty target.
Atlanta scored 83 points during Jones' two-game respite from the lineup, although it came against the Rams and 49ers and included a pair of defensive touchdowns. The Falcons would still be in trouble if Jones went down with a serious injury, but they have a useful set of secondary wideouts in Mohamed Sanu, big-play sensation Taylor Gabriel and Justin Hardy. Gabriel won't be quite as explosive as he was a year ago, but there's enough of a support staff to pick up the slack if Jones isn't 100 percent. Austin Hooper looms as a promising tight end, but that's the weak spot in this otherwise dominant unit.
---
Tier VIII: The final frontier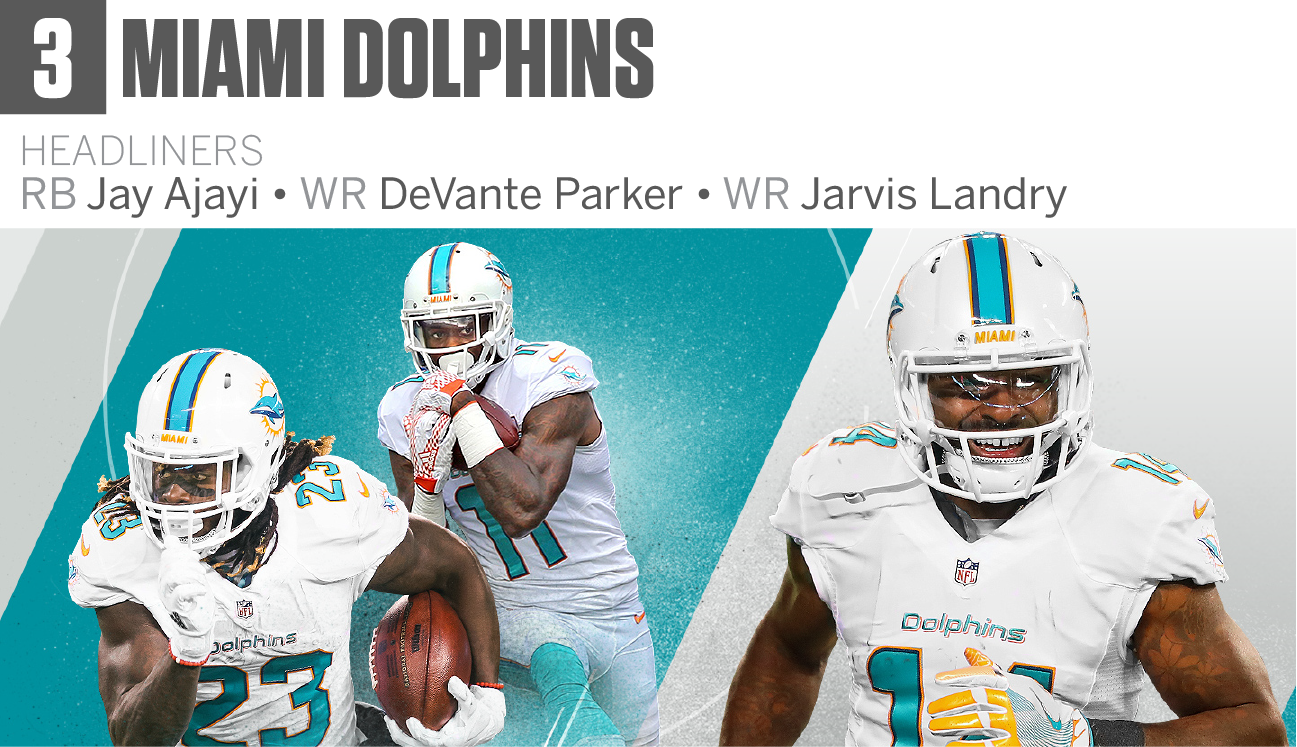 It has almost become parody, but there's a staggering amount of potential among the Dolphins' collection of skill-position talent. There's not a more exciting trio of young receivers in the game than Jarvis Landry, DeVante Parker and Kenny Stills, each of whom are 25 or younger. Parker might loom as the most devastating of the three, and if he takes a leap forward in his third season, it's hard to figure out how anyone is going to cover these guys.
Miami got lucky at running back, where it sensed some weakness and tried to sign C.J. Anderson to a hefty offer sheet in March 2016 before bringing Arian Foster in over the summer. The Broncos matched Anderson's offer and Foster retired, turning the job over to Jay Ajayi, who announced his arrival with back-to-back 200-yard games against the Steelers and Bills before putting up a third 200-yard game against Buffalo in December. Ajayi was a little more dependent upon big plays than you might like, but there's still a starting back here with plenty of upside.
If coach Adam Gase can get something out of Julius Thomas, who scored 24 touchdowns in two years for him in Denver, this offense could be unstoppable. They're not all going to break out unless the Dolphins get to play with two footballs, but there's so much talent to go around that Miami won't have to depend on any one player to have a big season.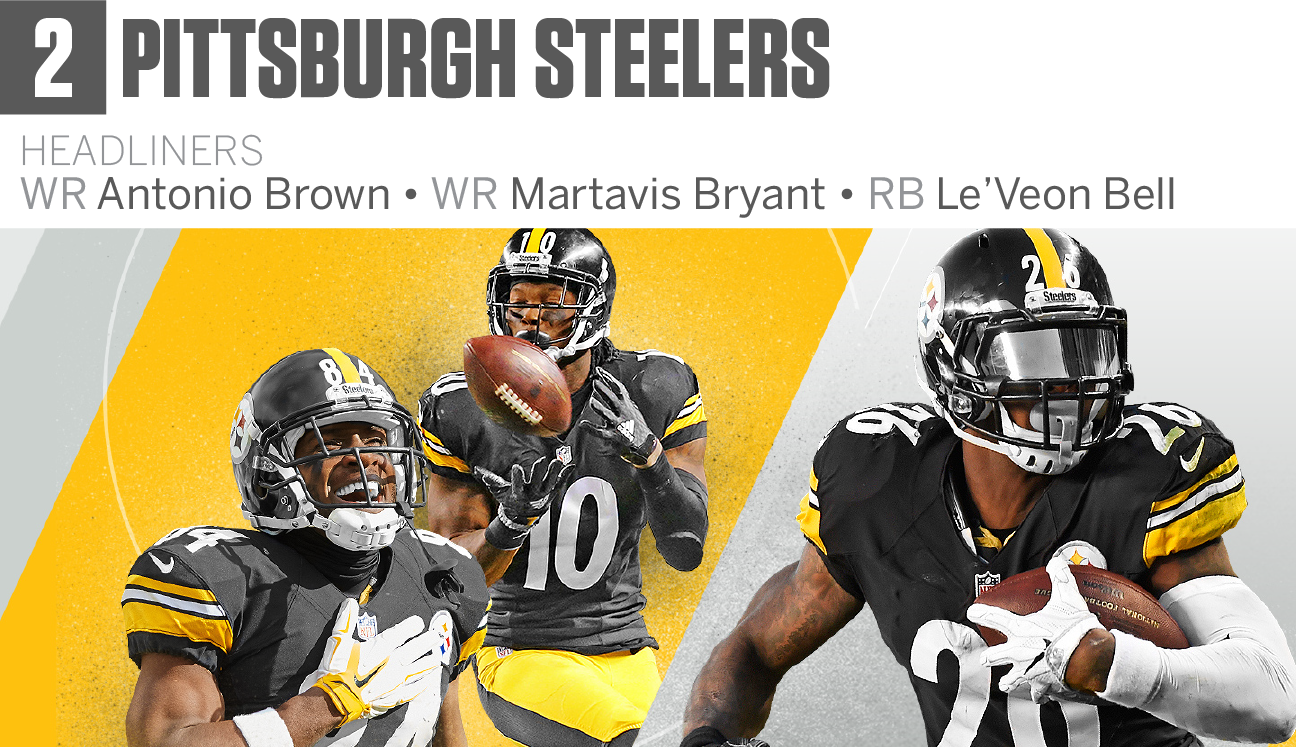 The Steelers can make a case that they have the best running back and the best wide receiver in the league. It's tough to count on Le'Veon Bell to play 16 games, but Bell stayed healthy through his 12-game season in 2016 and averaged 157 yards from scrimmage per game. The only players in league history to top that (minimum 10 games) are Priest Holmes in 2002 and O.J. Simpson in 1975, and neither of those guys had a receiver as target-intensive as Antonio Brown with whom to split touches.
Brown also sat out Week 17 and had his worst season since his breakout 2013 campaign, but does anybody really think the five-time Pro Bowler is significantly worse than he was over the previous three seasons? The only thing that might keep his numbers down is the return of Martavis Bryant, whose prorated 2015 performance (playoffs included) translates to 79 catches for 1,166 yards and nine touchdowns.
One concern with the Steelers is injury, a real concern for Bell specifically. DeAngelo Williams is gone, and he wasn't very effective last season; after a 143-yard game against Washington in the opener, Williams subsequently ran the ball 72 times and gained just 200 yards, averaging 3.5 yards per rush. Rookie third-rounder James Conner has an inspiring story and should be a good contrast back next to Bell, but he's not the receiver Bell is. I suspect Bell is about to have a monster contract season, but his history raises an alarm. That, and the absence of a useful tight end opens up the door for the ...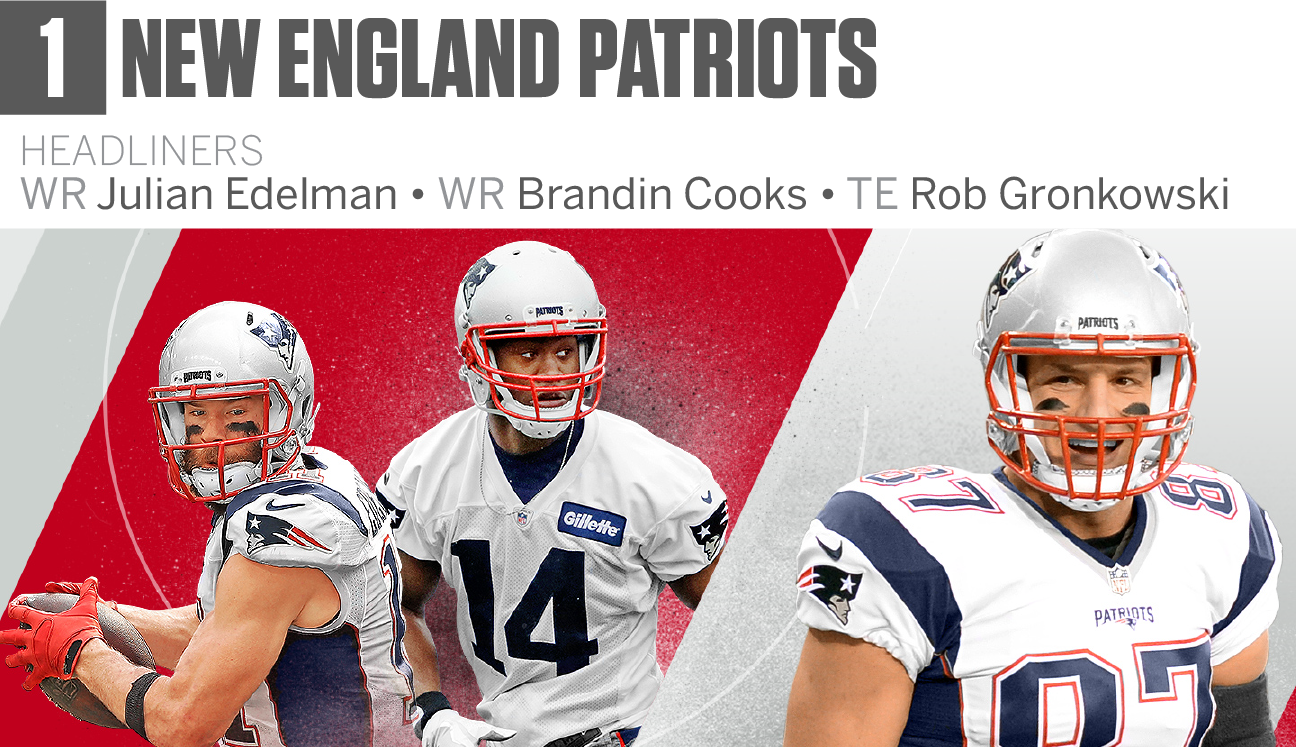 Brandin Cooks is a painfully perfect addition for the Patriots because of his agility and ability to get in and out of breaks. Offensive coordinator Josh McDaniels is going to have a field day isolating Cooks, Julian Edelman and Rob Gronkowski (remember him?) for easy completions and yards after their receptions. New England will be a little worse at tight end as it replaces Martellus Bennett with Dwayne Allen, but the Patriots still have the best No. 1 tight end and the best No. 2 tight end in the league. About the only thing they lack at receiver is a second deep threat to stretch teams behind Chris Hogan, but Malcolm Mitchell could fill that role in a pinch.
The Pats are also better at running back and deeper than they've ever been, with a pair of options for both their power back (hyper-efficient newcomers Mike Gillislee and Rex Burkhead) and receiving back (holdovers James White and Dion Lewis) spots. It's remarkable that the Pats are 17-0 with Lewis in the lineup and he still might not make the roster anyway. This isn't going to be an offense that terrifies teams with brute downfield force like Randy Moss and the 2007 New England team, but it's going to convert second-and-short and third-and-short over and over again until opposing defenses collapse.