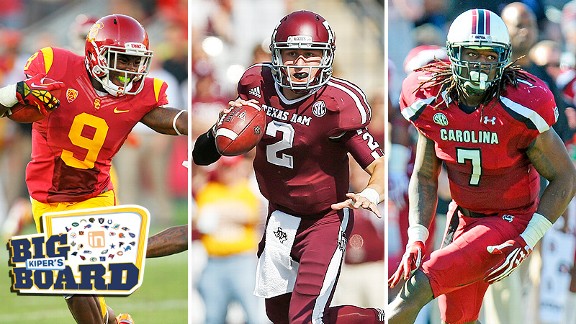 Not quite two weeks removed from the 2013 NFL draft, it's time to take a peek at the prospects who could be the stars of the 2014 class. Without question, there are a number of players from the 2014 draft class that would have totally shifted the top of the 2013 draft if they'd been eligible to enter or, in some cases, chosen to enter.
As I say every year, this first look is both preliminary, but also well-supported by plenty of production and game film. It's a mix of projection based on ceiling and a pretty good knowledge of what these guys can do. Since I always get a lot of questions about other players I considered, this year I've also tacked on another 25 players who were under consideration, so go there if you see a player you feel should have been on the first Big Board. Just remember, there are many shifts to come.
Like always, juniors or draft-eligible redshirt sophomores are noted with an asterisk.
More Kiper NFL draft content:
First 2014 Big Board | The next 25 | Remixing the 2013 draft


1

Jadeveon Clowney *
AGE: 20
DOB: 2/14/93
HT: 6-6
WT: 265
POS: DE

Tkl 54
Sack 13.0
Int 0
He's been destined to lead off a Big Board since he was a senior in high school. Clowney marries extraordinary physical talent with an effective and still-growing arsenal of pass-rushing skills. Sure, he can occasionally play a little high, which allows to teams to run at him, but he's going to continue to get stronger and improve technique. Let's not call him a prospect -- he's a highly productive player.
LAST WEEK: NR | PLAYER CARD


2

Teddy Bridgewater *
AGE: 20
DOB: 11/10/92
HT: 6-3
WT: 218
POS: QB

Comp 287
Att 419
Pct 68.5
Yds 3,718
TD 27
Int 8
He's not a finished product, but that's what should excite evaluators about Bridgewater. Bridgewater never looks overwhelmed, and comfortably works his eyes across the field. When he sees a target -- or more likely, a receiver who will come open -- he has a quick release, plenty of arm strength and good ball placement. He has a chance to have a huge year.
LAST WEEK: NR | PLAYER CARD


3

Marqise Lee *
AGE: 21
DOB: 11/25/91
HT: 6-1
WT: 195
POS: WR

Rec 118
Yds 1,721
Avg 14.6
TD 14
That USC had several good weapons in the passing game last season didn't stop defenses from paying extra attention to Lee, but it didn't matter. He has the ability to separate with speed and as an effective route-runner. He's dropped a few easy ones, but makes most routine catches and can play bigger than his size. Dangerous after the catch. He's also physical and could've been a top safety if he'd chosen that direction.
LAST WEEK: NR | PLAYER CARD