March, 17, 2011
03/17/11
6:52
PM ET

Mike Morris knows the routine.
He calls a recruit and identifies himself as the head coach at Samford, and occasionally there's a pause.
"They get all excited when they think it's Stanford," Morris said, laughing. "I kid around and I've said I always wanted to ask [Stanford coach] Tara VanDerveer, 'Do y'all get that, are you Stanford or Samford?' just to see if I get a grin out of that."
Morris has been the coach at Stamford, in Birmingham, Ala., for the last nine years, and, like his counterpart at Stanford, his team has made the NCAA women's basketball tournament.
But this is the first NCAA berth for the Bulldogs (25-7), who earned an automatic bid by winning the Southern Conference championship, beating top-seeded Appalachian State 57-54.
Samford, a No. 14 seed, will face No. 3 Florida State (23-7) in Auburn, Ala., in a first-round game Sunday (ESPN2, 4 p.m. ET). A year ago, the Bulldogs made the WNIT and won their first-round game.
For a Division I program that has been in existence 14 years and has moved around three conferences -- the Atlantic Sun to the Ohio Valley to the Southern -- during that time, finally making the tournament has given Samford, a private school of nearly 3,000 undergraduates, an enormous boost.
"The committee did a great job keeping us and Connecticut in opposite sides of the bracket, so we won't have to meet until the championship game," Morris said, tongue firmly in cheek. "This definitely puts our program on the national stage, at least for a couple of weeks."
Emily London, the team's leading scorer averaging 16.3 points and also the country's leader in free throw percentage (.934), said the excitement of making the tournament passed quickly.
The Bulldogs, who led the Southern Conference in most defensive categories, make their offensive noise with 3-point shooting and rank among the nation's top five in 3-point field goal percentage (.400) and in 3-pointers per game (8.3 average), are very much tuned into the task at hand.
"Definitely, we're excited to be put in this position to play in the NCAA tournament, but at the same time, there's work to be done," London said. "We're trying not to think about it as a job; we're trying to look at it as a fun opportunity. Nobody at Samford has been in this situation.
"We've been the underdogs for so long we're kind of used to it. We're not taking this lightly. We've heard ESPN, we've heard the news and all the hype about the higher seed, but we can give them a run for their money. We're going to play hard."
Students haven't been on Samford's campus this week because of spring break, but the community and the Bulldogs' baseball and softball teams came out to support the team during the selection show on Monday. London concedes that the team's recent notoriety has made her a bit of a local celebrity, with people she's never met coming up and introducing themselves.
The Bulldogs feel they've been dealt a bit of a break playing the opening rounds in Auburn, about a two-hour drive, and a school official indicated ticket sales have been brisk.
With Samford drawing its first NCAA tournament bid and having appeared on regional television during the Southern Conference tournament and now on ESPN2 this weekend, clearly the moment is about now, but it's also about the future.
What can this tournament appearance mean for Samford down the road?
"It's always great for your program to get that berth in the NCAA tournament," said ESPN women's basketball analyst Carolyn Peck. "For Samford to win the Southern Conference and get that opportunity, it's a great experience for your players and the coach, and it also helps your program in recruiting, as well, and brings attention to other places in your conference."
Morris said appearing on television during last season's conference tournament helped, and he imagines this season's success will enhance Samford's recruiting.
"I hope so, just being more visible," he said. "It will help. Samford is a private school, and from a national perspective this adds credibility, like, 'Well, they've got good basketball, too.' We haven't had to convince them as much that we have a good program, because they've seen us."
But the Bulldogs know it's not just about being seen.
It's cliche but true -- they enter the NCAA tournament saying they're not just happy to be there.
"That's the message I told our team Monday," Morris said. "I told them, 'You guys wanted to win our championship and hang a banner and go to the NCAA tournament -- well, we've done it. Well-deserved. Now, what impression do you want to leave? You're in and just happy to be here, or do you want to compete?'
"Florida State is good. They're big and they're long, which we're not, so we have to play very well. And we have to hope they're off their game a little bit."
November, 9, 2008
11/09/08
8:34
PM ET

[+] Enlarge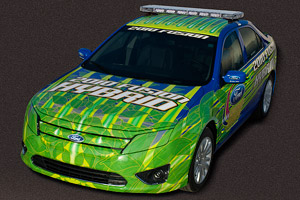 Courtesy of FordCheck out the first hybrid pace car in Cup history.
Just how big of a marketing platform is NASCAR for Ford?The manufacturer will be debuting the 2010 Ford Fusion Hybrid as the pace car for next Sunday's Ford 400 season finale at Homestead-Miami Speedway. Otherwise, the car will not be seen publicly until the Los Angeles Auto Show a week later on Nov. 19.It will mark the first time a hybrid electric car will pace a Sprint Cup event, which is both pretty neat and, I have to say, pretty strange.The car will be available to the public in the spring of 2009. It can operate in electric mode at speeds up to 47 mph with a range of more than 700 miles of city driving on a single tank of gas.
September, 27, 2008
09/27/08
3:32
PM ET

It was one of those snapshot moments that I will never forget -- my mother meeting Paul Newman. Many years ago during the Detroit Grand Prix weekend, I decided to take my mother to a party hosted by Ford. This was a risky move, of course. After all, who mixes moms with work?Not long after our arrival, she decided she HAD to meet Paul Newman.No, no, no, I told her. Paul Newman was off-limits. I had always been told he wasn't keen on fans coming up to him, and there was absolutely no way I was going to allow my mother, charming though she may be, to disturb Paul Newman's social outing.But when do mothers actually listen to their daughters?A Ford official who had been chatting with my mom and knew that I was not going to participate in the mom-Paul Newman meeting volunteered to take her over to visit with Newman. I was mortified! Would she embarrass me? What would she say? Bad-idea alarm was going off in a major way.I snuck off to the side to watch. It was a fabulous moment.My mother, beaming, was introduced to Mr. Newman, and he graciously smiled. He actually looked pleased to meet her -- he took her right hand in his and then covered the handshake with his left hand. A happier woman I have not seen. Those blue eyes, that smooth demeanor. I would have called it an Oscar-worthy moment, but … he truly looked like he wasn't acting and was enjoying her conversation. Sigh.
PAUL NEWMAN WAS SHAKING MY MOTHER'S HAND AND TALKING TO HER!
Of course she sold me out, telling him that her daughter was absolutely horrified by this whole encounter. He laughed and reassured her that meeting her was HIS delight. Oh, so smooth. And those blue eyes. (Have those been mentioned?)My mother was bubbling with excitement when she rejoined me, and later she told all of her girlfriends about the encounter. It is a story we still enjoy sharing.The moment thrilled her. Maybe it thrilled me more. For that I will forever be a Paul Newman fan.
September, 13, 2008
09/13/08
4:32
PM ET

Max Papis is a bubbly, exuberant personality, an Italian race car driver who made his name in open-wheel racing but wants to make a bigger splash in NASCAR.Papis played a large role in testing the COT for Hendrick Motorsports, and now he's in the hunt for a Sprint Cup ride next season."My goal is to be the first Italian to run full-time in the NASCAR Sprint Cup series," Papis said by phone on Friday. "Now we're in the hunt for a ride. It's huge!"Papis said that Geico "definitely" wants to go Cup racing next season and there are three candidates for the seat -- Papis, of course, being one of them."It's something I really want," Papis said. "I know my personality. … Put it this way: I still have a lot to give as a driver. I'm so excited about this -- you don't know!"Papis has seen the struggles of his former open-wheel colleagues trying to make it in the Sprint Cup series. He doesn't care. Like he said, he still has a lot to give as a driver, and that also means he still has a willingness to learn.There's no doubt -- having dealt with Papis in open-wheel racing -- he would add a spice of life to the Sprint Cup garage. Count on that.
July, 29, 2008
07/29/08
5:02
PM ET

ROCHESTER HILLS, Mich. -- Simply put, Brad Keselowski feels violated."That's about right," the 24-year-old Nationwide Series driver said Tuesday while trying to find a few moments to spend with his family.Keselowski's extra firesuits, driving shoes and backpack were stolen Saturday night from the team hauler parked outside the track at O'Reilly Raceway Park in Indianapolis. But that was the least of it. Also stolen were Keselowski's NASCAR hardcard, his new iPhone and his passport.The passport might seem insignifcant except that the Nationwide Series heads to Canada this weekend for the road-course race at Montreal."That's the scariest part, that they took my passport," he said.Keselowski waited in line five hours on Monday to apply for a replacement passport, which he needs to fly to Canada. If he doesn't get the passport in time, he likely will fly to Buffalo and then drive across the border."It's going to show up," Keselowski said confidently. "This is probably the epitome of a distraction. It's 48 hours of work going backwards, not forward. That's a problem."He had stopped in Michigan for a two-day break from the grueling 21-day stretch of constant work. He had the lengthy wait at the passport office and another three hours to get a new iPhone.Has he had time to enjoy his family?"No," he said flatly. "It's been a nightmare. I was really upset on Sunday, but this puts everything into perspective."The thieves stole his personal items, but they didn't snatch Keselowski's racing soul.
June, 14, 2008
06/14/08
12:09
PM ET

Why is it that some of the most memorable moments of my professional life involve
almost
throwing up on famous race car drivers?Last year, IndyCar driver Helio Castroneves, who was driving team owner Roger Penske's half-million-dollar Porsche around the Belle Isle course in Detroit, was not aware of my motion-sickness issue when he decided to show me the course at a speed that when you're taking tight turns is not even close to being a good thing for my stomach.Yes, I nearly threw up on Castroneves (to my credit, I did not, but later …)So on Friday at Michigan International Speedway, I arrived very early and whined a bit about a tummy ache. At 1, while with the gathered media in front of Dale Earnhardt Jr.'s hauler, I was front and center for ESPN's NASCAR Now. I asked him a question or two, then asked a third one. For the life of me, I have no idea what he said. I tried to focus, but that's kind of hard when everything goes to black. He was still talking when I handed the microphone to our cameraman, broke through the crowd and sprinted for the restrooms across the garage.It was embarrassing, yes, to ask a question and then bolt. I could hear Earnhardt saying something amusing. I found out later it was something along the lines of, "I guess she didn't like my answer."You have to admit, that's pretty funny.No, Junior, there's no way I could judge because I was too busy trying to spare you of what would have been total unpleasantness for all involved. Thankfully, I did, but later we were all in agreement it might have supplanted my colleage Marty Smith's hilarious "Blackhawk" video from Lowe's Motor Speedway last month.(P.S. Thanks to the MIS infield care center. Four bags if IV fluid later, I am eternally grateful for the tremendous amount of kindess and care from a fabulous doctor and staff.)
June, 8, 2008
06/08/08
9:35
PM ET

I have interviewed football players after the heat of battle on a hot field, I have interviewed tennis players who had to perform in 105-degree heat, but I have seen nothing like I have the last two Sprint Cup races. Dover was bad enough. Drivers, with their faces red and sweaty and their bodies looking gaunt and drained, carried themselves limply away from their cars. But Pocono was a bit scary. It wasn't just one driver or two, it was a number of drivers, all as we know, fit and in shape, seemingly crippled by the extreme heat and the conditions of the car after a grueling 500 miles on a brutally hot, humid day.Dale Earnhardt Jr. climbed from his car, then asked for a few moments before doing postrace interviews, so he could catch his breath while sitting on the pit-road wall. His face was fire-engine red, and while he stared downward at apparently nothing, he stuffed a bag of ice under his driver's uniform against the skin of his chest. Earnhardt barely made it through two responses before excusing himself.Then there was Denny Hamlin. He complained of shortness of breath and also need to sit down as he attempted to regain his composure. His face was ashen, and he struggled to cool his body with cold towels and ice. After doing a requisite network interview, he asked to be taken to the infield care center for treatment.Afterwards, the color having returned to his face, Hamlin, along with second-place finisher Brian Vickers, complained that NASCAR's new car is too hot. "They are hotter than the old car, by far," Hamlin said. He said the old car was 50 degrees hotter than the track and this car is at least 20 degrees hotter than that. Yes, racing is about testing your skills against the track, other drivers, the elements, but at some point, isn't it ridiculous not to alleviate some of the wear and tear on the driver?"Double and away, they are too hot," Vickers said. "We want to keep the cars light and go fast, but we're killing ourselves. We're going to the infield care center off the races, and that's ridiculous. NASCAR needs to step in and say we have to do something to cool these cars down and help us."If you could have seen Hamlin -- who also struggled with dehydration after the Texas race earlier this season -- after the race, his eyes looking blank and lifeless, you just might agree that something needs to change."We're trying to do everything we can to stay hydrated, but these cars are way too hot," Hamlin said.
April, 24, 2008
04/24/08
6:29
PM ET

Tony Stewart was in a good mood just more than two weeks ago when he visited Detroit to promote the Sprint Cup race at Michigan International Speedway in June.He sat down with the gathered media, and I had a chance to ask him a few questions. His answers now seem more interesting in light of recent reports that Stewart may leave Joe Gibbs Racing.I asked him whether he had started negotiating with JGR even though he's under contract through 2009, and I also asked him if he's still thinking about that idle retirement threat he threw out last year."In all honesty, I've had more fun this year," Stewart said. "We haven't got a win yet, [but] I've had more fun with my team this year than we've ever had. Zippy and I are communicating better than we ever had. I'll be honest, even without a win this year, I feel like I've driven some of the best races of my career this year that nobody would notice just watching the races. ... So, real happy with everything going on at JGR. Happy with Zippy, happy with the guys."Then there was a lengthy pause. Stewart played it perfectly. I admit, I was sucked in and thought he was about to make a HUGE hint at a HUGE upcoming announcement. "At the end of next year I'm thinking seriously of a career change," Stewart said.Gasp."I think I might go monster truck racing," he said. "I'm just not sure yet."Funny guy. But back to the questions. I asked him if he saw himself finishing his career with JGR?"I always have from Day 1," Stewart said. "There's nothing broke there right now, so there's nothing that needs to be fixed. Joe [Gibbs] is a great great friend. He's the guy I go to when I need advice for my race teams. He's my team coach, I guess, so when I have a problem at my race shops, he's the guy I go to when I need to ask, 'Hey, how do I need to handle this problem?'"I wonder what Gibbs' advice might be now.
April, 11, 2008
04/11/08
3:32
PM ET

So a bunch of us reporters were sitting in the Motor City Hotel and Casino waiting for Tony Stewart to arrive for a Michigan International Speedway promotion when all of a sudden, in walked bad-boy rocker Kid Rock.Rock, who was at the hotel for a meeting, saw signs directing the media to the Tony Stewart news conference, and he followed them so he could see his good buddy, bad-boy racer Tony Stewart. The two have been friends for about seven years.Stewart, upon seeing Rock, jokingly called out: "Don't you have a job?"Rock, leaning in, then said: "He's the greatest guy I ever met ... Didn't he say the same about me?"Actually, he sort of did. Stewart went on and on about Rock's talent as a musician, calling him, "one of the most talented artists I've ever met. If he were as talented a race car driver as he is a musician, he would have no problem making the Chase."High praise, indeed. Among some of the other highlights of the day, Stewart, when asked if he thinks he'll ever marry, said: "You know, that's the one part of my life I haven't figured out yet. I'm 36 now and I think I might actually like to see the same person at the end of the day."He also mentioned his idea of getting one tattoo. Stewart said he isn't certain what it might look like, but he would like for it to encompass three things: his love for racing, his old-school way and his sense of humor.Huh? His sense of humor?"Well, I think I'm funny," Stewart said.
• Andy Roddick, on the defensive this week when asked about the popularity of the Davis Cup, reacted when one reporter pointed out tennis often is buried in sports sections and during sportscasts behind NASCAR and other sports.
"It's a little disappointing we're behind a sport that you turn left for four hours," Roddick said. "I mean, around the world [tennis] is probably just behind soccer as far as the biggest sport in the world." Sprint Cup series driver Michael Waltrip said he doesn't care what Roddick thinks about racing."I played tennis in high school, and that wasn't that hard, either," Waltrip said. "I wanted something more challenging, so I became a race car driver."
February, 7, 2007
02/07/07
12:45
AM ET