These daily files will give you the latest reporting from around the World Cup as well as betting lines, what to watch for information and best reads. Check in with ESPN throughout the tournament as we bring you the latest from France.
- RUGBY WORLD CUP 2023: Squads | Schedule | Standings | Podcast | Injuries
---
THE LEAD: Wallabies young gun 'won't ever move on' from Cup debacle
The Wallabies have done their best to get back to work this week, focusing on their preparations for Portugal with the belief that while their World Cup "campaign" had a pulse, they would do everything they could to keep it pumping.
You can't knock their commitment, but perhaps they have are working in a warped sense of reality, with Fiji having to fall in a massive hole in their final two games for Australia to be any chance of keeping their perfect World Cup quarterfinal streak alive.
However, you get the feeling rising back-rower Tom Hooper knows deep down that his team are done and dusted, the down-to-earth, raw country boy laying it all on the line when speaking to the media on Thursday.
"I don't think I'll ever move on from it, but I think that's a good thing," Hooper told reporters. "You know, the night that we've just had, it pulled on the heartstrings a bit. It hurt a lot, but I think that's a good thing. You know, that's something that'll fuel me for the rest of my career.
"And I'm sure I'm speaking on behalf of a lot of the young blokes. It's a night that we have to remember because we don't want to feel that again. We're going to do a lot of hard yakka in the coming week.
"We've had two really good training days and [we need to] make sure we put in a good performance and then there's going to be massive hard yakka in the offseason as well to make sure we never feel that again. And as a country, as a Wallabies team we're moving forward."
Hooper is fast earning a reputation as the Wallabies new "Honey Badger", the Brumbies youngster armed with a few one-liners to rival former Australia winger Nick Cummins.
Asked whether he might call past the Louvre and check out the Mona Lisa once the Wallabies were officially out of the tournament, Hooper quipped he "wasn't that impressed to be honest" and instead preferred some of the museum's other works.
And what he thought was the hardest part of the 40-6 defeat by Wales to digest, Hooper pointed to their ability to build scoreboard pressure as a key learning before describing Australia's attitude to return to training this week as being a bit like the penguins in the movie Madagascar.
"Just how it got away from us, I think. When you're [facing] a class team, the northern hemisphere teams, when they've got such good goalkickers, it's notching over on the scoreboard," Hooper said. "Obviously discipline let us down in a couple of areas there. It's just hard to digest how quickly the game got away from us I guess and then obviously just the reality hitting that we could be headed home.
"Obviously we still got one game and we're really positive about that and moving forward. Took a couple of days to sort of grieve on that and now you know we're like the penguins from Madagascar, we're just coming out and smile and wave boys and get on with the job and then make sure that we're putting a good two training days in and looking forward to Sunday but we definitely had two days to digest that and grieve about it."
It seems Hooper is doing his best to keep spirits high across the Wallabies squad.
---
AROUND THE CUP
Sanchez to join elite Pumas company
It will be an all-South American battle on Saturday when Argentina battler Chile for the first time at a Rugby World Cup, a match the Pumas will be seeking a bonus-point win in to solidify their hopes of a quarterfinal berth.
Coach Michael Cheika on Thursday named a team with a raft of changes to the side that ground its way over Samoa last Friday, with the Australian no doubt having one eye on the key clash with Japan next week.
But Saturday's clash with Chile will be a big one for veteran fly-half Nicolas Sanchez regardless, with the playmaker to become just the second Pumas player to bring up 100 Tests.
Sanchez is best remembered for his virtuoso performance in the Pumas' first ever win over the All Blacks, in Sydney in 2020, and while he has slipped down the pecking order at No. 10 behind Santiago Carreras since then, the little fly-half will go down as one of Argentina's all-time greats regardless.
And, along with former skipper Agustin Creevy who also starts this weekend, Sanchez will now have the milestone to prove it.
Nienaber defends Libbok, Willemse as Pollard gets opportunity
Much of the focus in the wake of South Africa's tense 13-8 World Cup loss to Ireland was centred around the Springboks' kicking woes, but coach Jacques Nienaber is more concerned with his side's botched opportunities in the opposition 22.
South Africa wasted 11 points from missed kicks and have drafted experienced flyhalf Handre Pollard into their side for Sunday's must-win Pool B clash with Tonga in Marseille, with one eye on the knockout rounds should they get there.
"We had four opportunities within one metre of their goal-line, which we butchered," Nienaber told reporters. "That, for me, is a much bigger issue (than kicking) that we have to sort out."
Pollard returns to the team for the first time since August 2022, but Nienaber insists they have performed well without him and criticism of the flyhalf options in his absence, Manie Libbok and Damian Willemse, is unfair.
"In those 13 months that Handre wasn't available, there were 16 test matches and we won 75 percent of those. Only three of those matches were played at home.
"Of the four losses, two were against Ireland, who are the number one team in the world, one to New Zealand in Auckland and then France in Marseille, where we got a red card.
"Yes, we are not consistent off the tee, but the guys that stepped in, I don't think they did a bad job."
- Reuters
---
MATCH PREVIEWS
New Zealand vs. Italy
TAB (tab.com.au): New Zealand $1.01, -26.5 $1.85, Italy $17, +26.5 $1.95
Lyon continues its big week of World Cup action with a third game in five days set down for Groupama Stadium. This time it is the All Blacks, fresh off a week's rest, who face Italy, who are riding a wave of momentum both leading up to and during the first two weeks of the tournament. However, New Zealand represent a whopping step up from Namibia and Uruguay, and the Azzurri are yet to taste victory over the All Blacks. It's hard to see how they get a maiden win here, too, with New Zealand all but back to full strength, the inclusion of Shannon Frizell, in particular, set to give them a greater physical edge through the middle of the field, where they were found out against both South Africa and then France. The All Blacks are still without the suspended Ethan de Groot, but have more than enough power up front to still dominate the Italians at scrum time. There is no doubting that Italy's attack has come on in leaps and bounds in recent times, but it will be their ability to keep the free-running All Blacks from scoring tries both from structured attack and on the counter in defence that will again be an issue. Expect Italy to make a nuisance of themselves to halftime, before the All Blacks' class sees them pull away.
---
NEWS OF THE DAY
Japan down Samoa to keep quarterfinal dream alive, England go through
Japan took a big step towards reaching the quarterfinals for the second successive World Cup with a 28-22 win over Samoa on Thursday, sending England through to the knockout stage as Pool D winners in the process.
Pieter Labuschagne, Michael Leitch and Kazuki Himeno scored tries and 13 points from the boot of flyhalf Rikiya Matsuda gave the Brave Blossoms enough breathing space to hold off a late fightback from 14-man Samoa.
The Samoans had a try on the board from Seilala Lam before winger Ben Lam sent from the field in the 47th minute and two more from Duncan Paia'aua and Christian Leali'ifano in the final quarter were not quite enough to overhaul Japan.
"It's a big win, that was a really tough game," said Japan coach Jamie Joseph. "We had to work bloody hard to get the win, I take my hat off to the Samoan boys, they really took it to us."
Japan moved out of a tie with Samoa into second place in the pool on nine points with a winner-takes-all showdown against Argentina looming next week if the Pumas, as expected, beat Chile on Saturday.
Samoa coach Seilala Mapusua said the red card had proved decisive as his team's hopes of progressing were reduced to the mathematical.
"Really proud of the guys with the effort they put into the game, I couldn't have asked for more," he said. "But it's tough playing a game against 15 men and to be down a man down."
- Reuters
---
TOP FEATURES OF THE DAY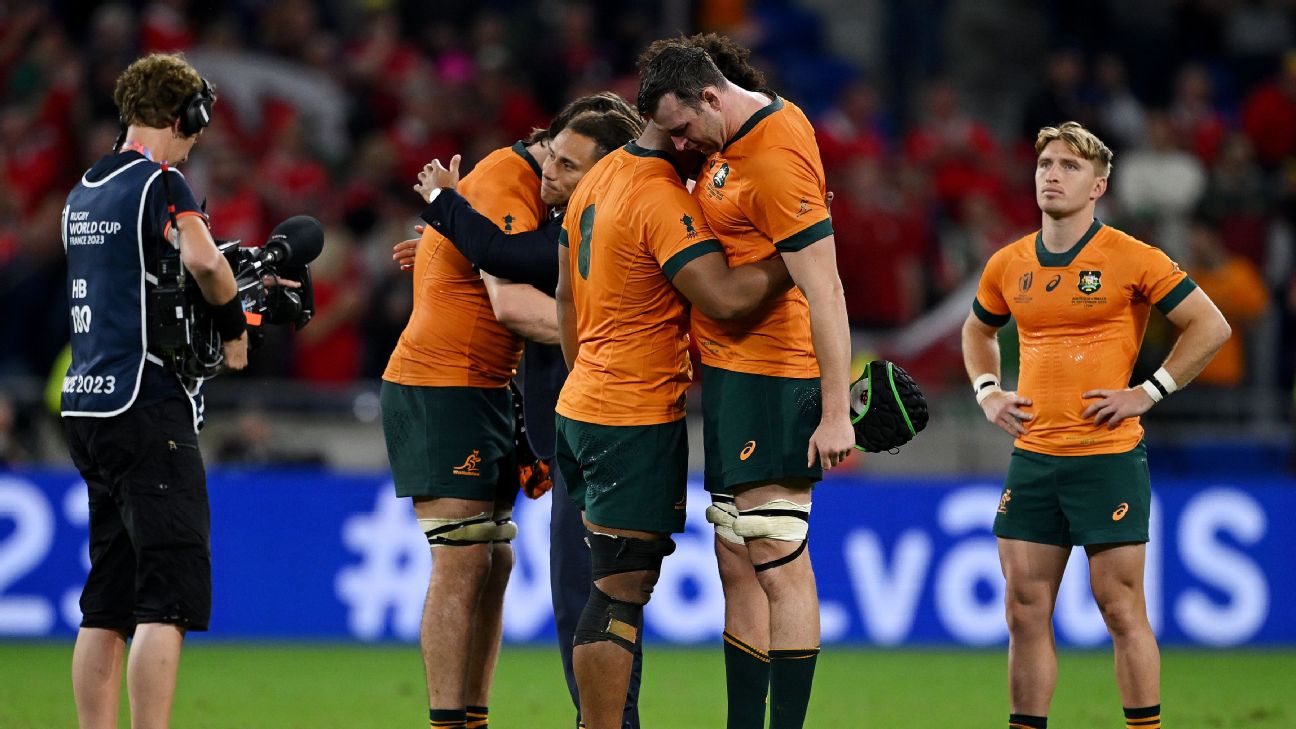 'Shifting narrative': Wallabies great Moore demands Rugby Australia accountability
Wallabies great Stephen Moore has hit out at the continually changing "narrative" emanating out of Rugby Australia's head office, while also declaring Eddie Jones' position as "untenable" if it is proven correct he interviewed for the Japan job.