We're keeping track of all VAR decisions in the Premier League throughout the 2022-23 season. Who will get the best of the decisions, and the worst of them?
- What's new in the Prem for 2022-23
- VAR in the Premier League: Ultimate guide
Total overturns: 48
Rejected overturns: 2
Leading to goals: 16
Leading to disallowed goals: 15
Penalties awarded: 16 (7 missed)
Pens for handball: 8
Penalties overturned: 5 (1 for offside)
Penalties retakes (GK/DEF encroach): 1
Penalties retakes (ATT encroach): 0
Goals ruled out for offside: 9
Goals awarded after incorrect offside: 6
Goals ruled out for handball: 1
Goals allowed after wrong handball: 0
Goals ruled out for a foul: 6
Red cards: 3
Overturned red cards: 2
What will the VAR review?
- Goal/no goal
- Penalty/no penalty
- Direct red card (not second yellow card/caution)
- Mistaken identity (when the referee cautions or sends off the wrong player)
What will it not review?
- Any yellow card (including second yellow card leading to red)
- Any free kick offence outside the box (other than red card offence)
This relates purely to overturned decisions, so penalty appeals that stay with the on-field referee are not included.
Newcastle +5
Overturns: 7
Leading to goals for: 2
Disallowed goals for: 1
Leading to goals against: 1
Disallowed goals against: 1
Net goal score: +3
Subjective decisions for: 5
Subjective decisions against: 1
Net subjective score: +4
Penalties for / against: 1 / 0
Red cards for / against: 0 / 1
Game: Manchester City (H; Aug. 21)
Incident: Miguel Almiron goal allowed after being originally ruled out for offside, 28th minute - FOR
Incident: Kieran Trippier red card for challenge on Kevin De Bruyne downgraded to yellow, 73rd minute - FOR
Game: Wolves (A; Aug. 28)
Incident: Raul Jimenez goal ruled out for a foul in the build-up by Pedro Neto on Ryan Fraser, 81st minute - FOR
Game: Crystal Palace (H; Sept. 3)
Incident: Tyrick Mitchell own goal ruled out for a foul in the build-up by Joe Willock on Vicente Guaita, 51st minute - AGAINST
Game: Bournemouth (H; Sept. 17)
Incident: Penalty awarded (scored by Alexander Isak) for handball by Jefferson Lerma, 64th minute - FOR
Game: Fulham (A; Oct. 1)
Incident: Nathaniel Chalobah yellow card upgraded to red after challenge on Sean Longstaff, 5th minute - FOR
Game: Brentford (H; Oct. 8)
Incident: Bryan Mbeumo goal ruled out for offside in the buildup against Ivan Toney, 10th minute - FOR
Brentford +3
Overturns: 6
Rejected overturns: 1
Leading to goals for: 3
Disallowed goals for: 2
Leading to goals against: 0
Disallowed goals against: 0
Net goal score: +1
Subjective decisions for: 4
Subjective decisions against: 1
Net subjective score: +3
Penalties for / against: 2 / 0
Red cards for / against: 0 / 1
Game: Fulham (A; Aug. 20)
Incident: Ivan Toney goal ruled out for offside, 49th minute - AGAINST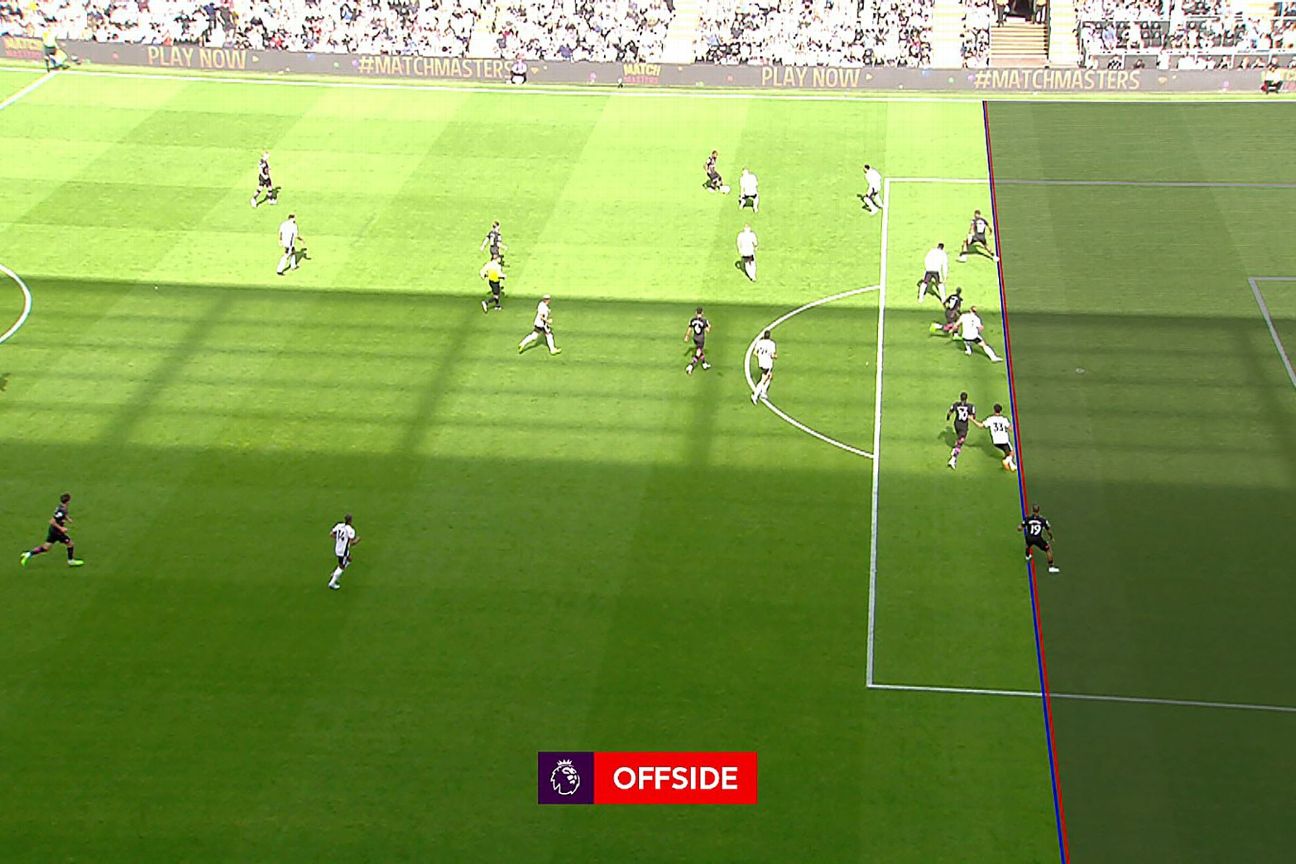 Game: Leeds (H; Sept. 3)
Incident: Penalty awarded (scored by Ivan Toney) for a foul by Luis Sinisterra on Ivan Toney, 25th minute - FOR
Incident: Bryan Mbeumo goal awarded after incorrect offside, 80th minute - FOR
Game: Bournemouth (A; Oct. 1)
Incident: Overturn rejected, possible penalty for challenge by Kristoffer Ajer on Jordan Zemura, 22nd minute - FOR
Game: Newcastle (A; Oct. 8)
Incident: Bryan Mbeumo goal ruled out for offside in the buildup against Ivan Toney, 10th minute - AGAINST
Game: Wolves (H; Oct. 30)
Incident: Diego Costa sent off for violent conduct against Ben Mee, 90th minute - FOR
Game: Nottingham Forest (A; Oct. 5)
Incident: Penalty awarded (scored by Bryan Mbeumo) for a foul by Dean Henderson on Yoane Wissa, 44th minute - FOR
Fulham +2
Overturns: 6
Leading to goals for: 0
Disallowed goals for: 0
Leading to goals against: 1
Disallowed goals against: 3
Net goal score: +2
Subjective decisions for: 1
Subjective decisions against: 2
Net subjective score: -1
Penalties for / against: 0 / 1
Red cards for / against: 1 / 1
Game: Brentford (H; Aug. 20)
Incident: Ivan Toney goal ruled out for offside, 49th minute - FOR
Game: Brighton (H; Aug. 30)
Incident: Penalty awarded (scored by Alex Mac Allister) for a foul by Bobby De Cordova-Reid on Pervis Estupinan, 57th minute - AGAINST
Game: Tottenham (A; Sept. 3)
Incident: Richarlison goal ruled out for offside, 90th minute - FOR
Game: Newcastle (H; Oct. 1)
Incident: Nathaniel Chalobah yellow card upgraded to red after challenge on Sean Longstaff, 5th minute - AGAINST
Game: Aston Villa (H; Oct. 20)
Incident: Douglas Luiz sent off for violent conduct against Aleksandar Mitrovic, 61st minute - FOR
Game: Man City (A; Nov. 5)
Incident: Erling Haaland goal ruled out for offside, 74th minute - FOR
Leicester +2
Overturns: 6
Leading to goals for: 1
Disallowed goals for: 0
Leading to goals against: 1
Disallowed goals against: 1
Net goal score: +1
Subjective decisions for: 2
Subjective decisions against: 1
Net subjective score: +1
Penalties for / against: 1 / 0
Red cards for / against: 0 / 0
Game: Arsenal (A; Aug. 13)
Incident: Penalty cancelled after Aaron Ramsdale judged not to have fouled Jamie Vardy, 43rd minute - AGAINST
Game: Chelsea (A; Aug. 27)
Incident: Penalty cancelled for offside in the build-up against Kai Havertz, 12th minute - FOR
Game: Brighton (A; Sept. 4)
Incident: Alexis Mac Allister goal disallowed for offside in the buildup against Enock Mwepu, 47th minute - FOR
Game: Tottenham (A; Sept. 17)
Incident: Penalty retaken (scored by Youri Tielemans) for encroachment by goalkeeper Hugo Lloris, 6th minute - FOR
Incident: Son Heung-Min goal allowed after incorrect offside, 86th minute - AGAINST
Game: West Ham (A; Nov. 12)
Incident: Penalty awarded (missed by Youri Tielemans) for a foul by Craig Dawson on Patson Daka, 38th minute - FOR
Liverpool +2
Overturns: 4
Leading to goals for: 1
Disallowed goals for: 0
Leading to goals against: 0
Disallowed goals against: 2
Net goal score: +3
Subjective decisions for: 1
Subjective decisions against: 1
Net subjective score: 0
Penalties for / against: 0 / 1
Red cards for / against: 0 / 0
Game: Everton (A; Sept. 3)
Incident: Conor Coady goal ruled out for offside, 69th minute - FOR
Game: Brighton (H; Oct. 1)
Incident: Roberto Firmino goal allowed after incorrect offside against Mohamed Salah, 33rd minute - FOR
Game: Man City (H; Oct. 16)
Incident: Phil Foden goal ruled out for a foul by Erling Haaland on Fabinho, 53rd minute - FOR
Game: West Ham (H; Oct. 19)
Incident: Penalty awarded (missed by Jarrod Bowen) for a foul by Joe Gomez on Bowen, 42nd minute - AGAINST
Everton +1
Overturns: 3
Leading to goals for: 1
Disallowed goals for: 1
Leading to goals against: 0
Disallowed goals against: 1
Net goal score: +1
Subjective decisions for: 0
Subjective decisions against: 0
Net subjective score: 0
Penalties for / against: 0 / 0
Red cards for / against: 0 / 0
Game: Liverpool (H; Sept. 3)
Incident: Conor Coady goal ruled out for offside, 69th minute - AGAINST
Game: Man United (H; Oct. 9)
Incident: Marcus Rashford goal disallowed for handball, 80th minute - FOR
Game: Crystal Palace (H; Oct. 22)
Incident: Anthony Gordon goal awarded after incorrect offside, 63rd minute - FOR
West Ham +1
Overturns: 9
Leading to goals for: 1
Disallowed goals for: 2
Leading to goals against: 0
Disallowed goals against: 1
Net goal score: 0
Subjective decisions for: 4
Subjective decisions against: 4
Net subjective score: 0
Penalties for / against: 3 / 1
Red cards for / against: 0 / 0
Game: Nottingham Forest (A; Aug. 14)
Incident: Said Benrahma goal disallowed for a foul in the build-up by Michail Antonio on Orel Mangala, 42nd minute - AGAINST
Incident: Brennan Johnson goal ruled out for offside, 53rd minute - FOR
Incident: Penalty awarded (missed by Declan Rice) for handball by Scott McKenna, 61st minute - FOR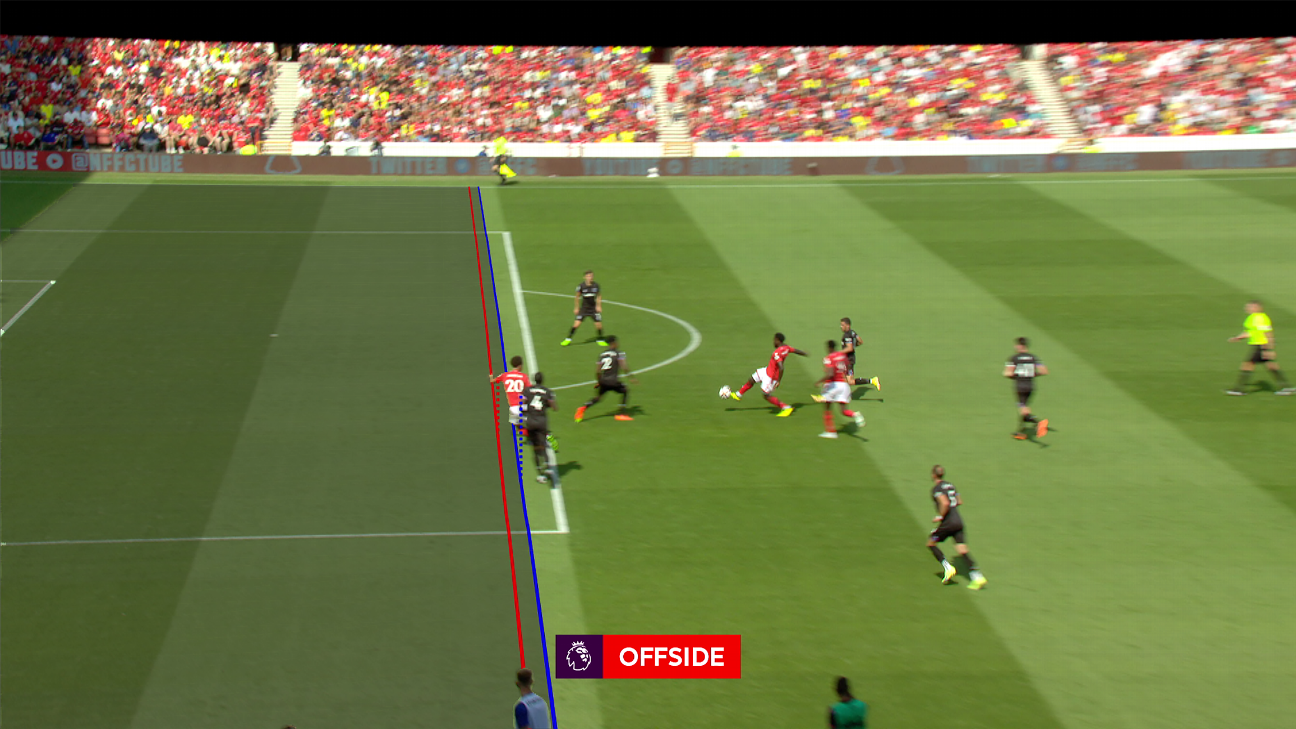 Game: Tottenham (H; Aug. 31)
Incident: Penalty for handball against Aaron Cresswell cancelled, 16th minute - FOR
Game: Chelsea (A; Sept. 3)
Incident: Maxwel Cornet goal disallowed for a foul in the build-up by Jarrod Bowen on Edouard Mendy, 90th minute - AGAINST
Game: Liverpool (A; Oct. 19)
Incident: Penalty awarded (missed by Jarrod Bowen) for a foul by Joe Gomez on Bowen, 42nd minute - FOR
Game: Bournemouth (H; Oct. 24)
Incident: Penalty awarded (scored by Said Benrahma) for handball by Jordan Zemura, 89th minute - FOR
Game: Crystal Palace (H; Nov. 6)
Incident: Penalty for a foul by Marc Guehi on Michail Antonio cancelled, 81st minute - AGAINST
Game: Leicester City (H; Nov. 12)
Incident: Penalty awarded (missed by Youri Tielemans) for a foul by Craig Dawson on Patson Daka, 38th minute - AGAINST
Chelsea 0
Overturns: 2
Leading to goals for: 0
Disallowed goals for: 0
Leading to goals against: 0
Disallowed goals against: 1
Net goal score: +1
Subjective decisions for: 1
Subjective decisions against: 0
Net subjective score: +1
Penalties for / against: 0 / 0
Red cards for / against: 0 / 0
Game: Leicester (H; Aug. 27)
Incident: Penalty cancelled for offside in the build-up against Kai Havertz, 12th minute - AGAINST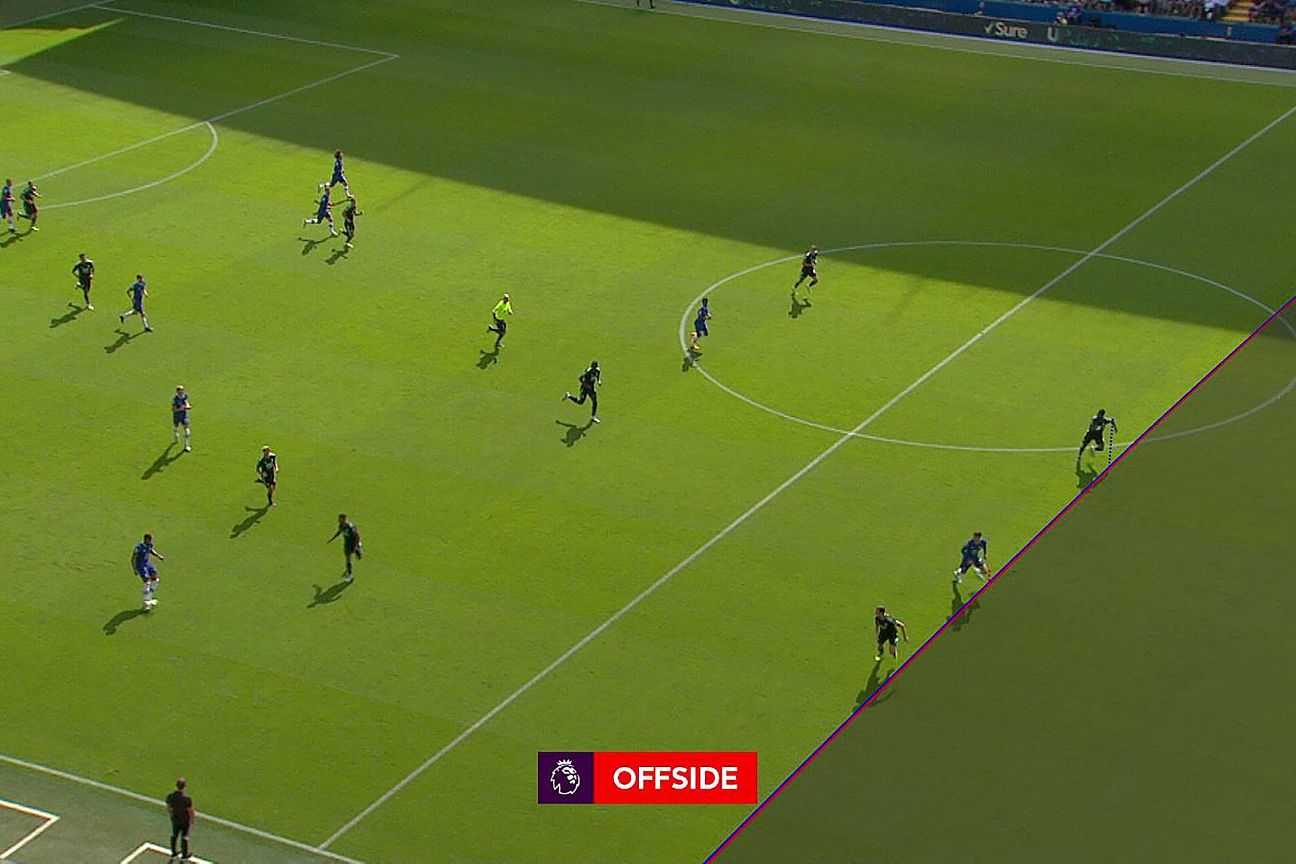 Game: West Ham (H; Sept. 3)
Incident: Maxwel Cornet goal disallowed for a foul in the build-up by Jarrod Bowen on Edouard Mendy, 90th minute - FOR
Crystal Palace 0
Overturns: 6
Leading to goals for: 1
Disallowed goals for: 0
Leading to goals against: 2
Disallowed goals against: 1
Net goal score: -2
Subjective decisions for: 3
Subjective decisions against: 0
Net subjective score: +3
Penalties for / against: 1 / 0
Red cards for / against: 0 / 0
Game: Aston Villa (H; Aug. 20)
Incident: Jeffrey Schlupp goal ruled out for offside in the build-up against Odsonne Edouard, 25th minute - AGAINST
Incident: Penalty conceded (scored on the rebound by Wilfried Zaha) for handball by Lucas Digne, 55th minute - FOR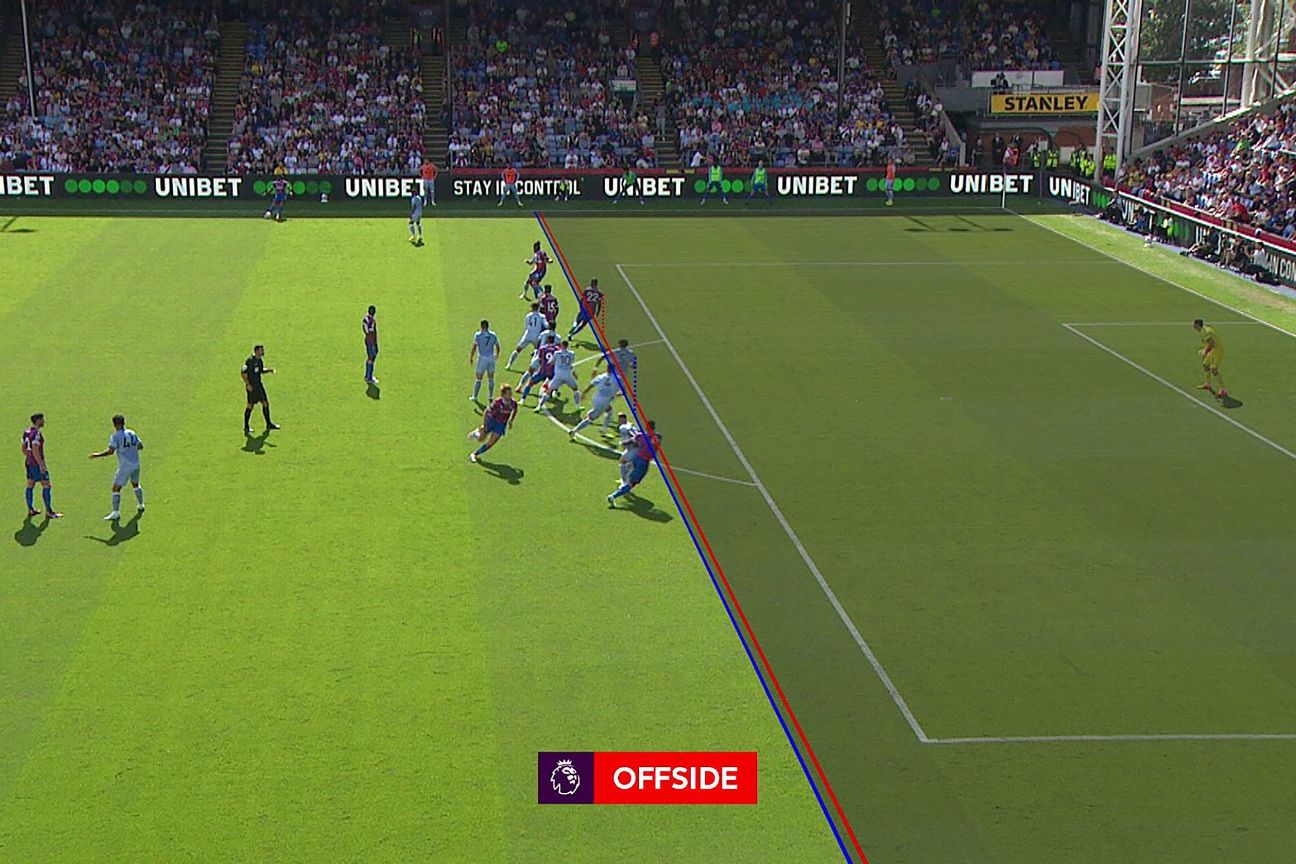 Game: Newcastle (A; Sept. 3)
Incident: Tyrick Mitchell own goal ruled out for a foul in the build-up by Joe Willock on Vicente Guaita, 51st minute - FOR
Game: Everton (A; Oct. 22)
Incident: Anthony Gordon goal awarded after incorrect offside, 63rd minute - AGAINST
Game: West Ham (A; Nov. 6)
Incident: Penalty for a foul by Marc Guehi on Michail Antonio cancelled, 81st minute - FOR
Game: Nottingham Forest (A; Nov. 12)
Incident: Morgan Gibbs-White goal awarded after incorrect offside, 54th minute - AGAINST
Manchester United 0
Overturns: 2
Leading to goals for: 0
Disallowed goals for: 1
Leading to goals against: 0
Disallowed goals against: 1
Net goal score: 0
Subjective decisions for: 1
Subjective decisions against: 0
Net subjective score: +1
Penalties for / against: 0 / 0
Red cards for / against: 0 / 0
Game: Arsenal (H; Sept. 4)
Incident: Gabriel Martinelli goal disallowed for a foul in the buildup by Martin Odegaard on Christian Eriksen, 12th minute - FOR
Game: Everton (A; Oct. 9)
Incident: Marcus Rashford goal disallowed for handball, 80th minute - AGAINST
Nottingham Forest 0
Overturns: 7
Rejected overturns: 1
Leading to goals for: 1
Disallowed goals for: 1
Leading to goals against: 2
Disallowed goals against: 1
Net goal score: -1
Subjective decisions for: 3
Subjective decisions against: 3
Net subjective score: 0
Penalties for / against: 1 / 3
Red cards for / against: 0 / 0
Game: West Ham (H; Aug. 14)
Incident: Said Benrahma goal disallowed for a foul in the build-up by Michail Antonio on Orel Mangala, 42nd minute - FOR
Incident: Brennan Johnson goal ruled out for offside, 53rd minute - AGAINST
Incident: Penalty awarded (missed by Declan Rice) for handball by Scott McKenna, 61st minute - AGAINST
Game: Bournemouth (H; Sept. 3)
Incident: Overturn rejected, penalty (scored by Brennan Johnson) for handball against Lloyd Kelly, 42nd minute - FOR
Game: Wolves (A; Oct. 15)
Incident: Penalty awarded (scored by Ruben Neves) for handball against Harry Toffolo, 52nd minute - AGAINST
Incident: Penalty awarded (missed by Brennan Johnson) for a foul by Matheus Nunes on Ryan Yates, 75th minute - FOR
Game: Brentford (H; Oct. 5)
Incident: Penalty awarded (scored by Bryan Mbeumo) for a foul by Dean Henderson on Yoane Wissa, 44th minute - AGAINST
Game: Crystal Palace (H; Nov. 12)
Incident: Morgan Gibbs-White goal awarded after incorrect offside, 54th minute - FOR
Arsenal -1
Overturns: 5
Leading to goals for: 0
Disallowed goals for: 2
Leading to goals against: 0
Disallowed goals against: 0
Net goal score: -2
Subjective decisions for: 2
Subjective decisions against: 2
Net subjective score: 0
Penalties for / against: 0 / 1
Red cards for / against: 0 / 0
Game: Leicester (H; Aug. 13)
Incident: Penalty cancelled after Aaron Ramsdale judged not to have fouled Jamie Vardy, 43rd minute - FOR
Game: AFC Bournemouth (A; Aug. 20)
Incident: Gabriel Jesus goal ruled out for offside, 72nd minute - AGAINST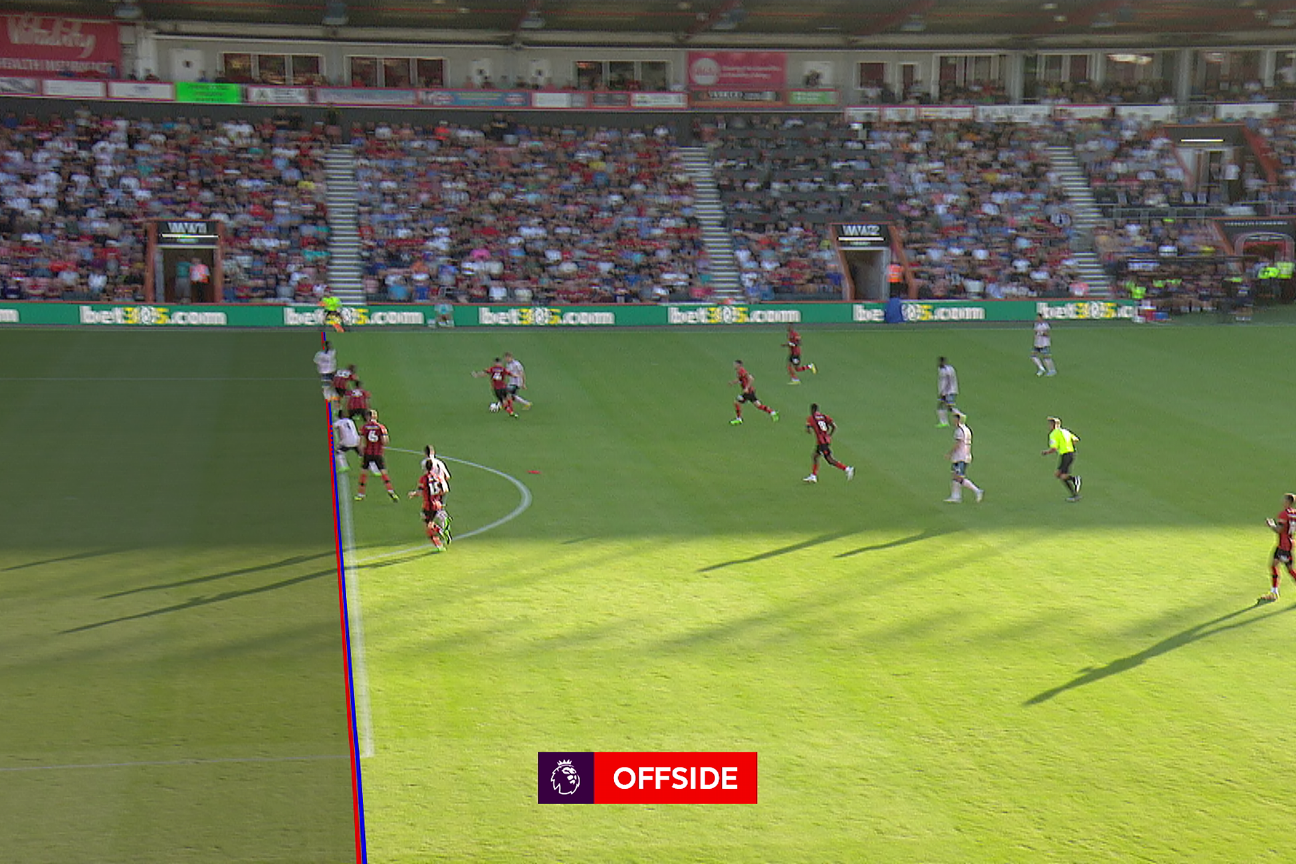 Game: Man United (A; Sept. 4)
Incident: Gabriel Martinelli goal disallowed for a foul in the buildup by Martin Odegaard on Christian Eriksen, 12th minute - AGAINST
Game: Leeds (A; Oct. 16)
Incident: Penalty awarded (missed by Patrick Bamford) for handball against William Saliba, 60th minute - AGAINST
Incident: Penalty cancelled and red card against Gabriel downgraded to yellow; no foul on Bamford, 90th minute - FOR
Aston Villa -1
Overturns: 3
Leading to goals for: 0
Disallowed goals for: 0
Leading to goals against: 1
Disallowed goals against: 0
Net goal score: +1
Subjective decisions for: 0
Subjective decisions against: 2
Net subjective score: -2
Penalties for / against: 0 / 1
Red cards for / against: 1 / 0
Game: Crystal Palace (A; Aug. 20)
Incident: Jeffrey Schlupp goal ruled out for offside in the build-up against Odsonne Edouard, 25th minute - FOR
Incident: Penalty conceded (scored on the rebound by Wilfried Zaha) for handball by Lucas Digne, 55th minute - AGAINST
Game: Fulham (A; Oct. 20)
Incident: Douglas Luiz sent off for violent conduct against Aleksandar Mitrovic, 61st minute - AGAINST
Wolves -1
Overturns: 5
Leading to goals for: 2
Disallowed goals for: 1
Leading to goals against: 0
Disallowed goals against: 0
Net goal score: +1
Subjective decisions for: 2
Subjective decisions against: 3
Net subjective score: -1
Penalties for / against: 2 / 1
Red cards for / against: 1 / 0
Game: Newcastle (H; Aug. 28)
Incident: Raul Jimenez goal ruled out for a foul in the build-up by Pedro Neto on Ryan Fraser, 81st minute - AGAINST
Game: Nottm Forest (H; Oct. 15)
Incident: Penalty awarded (scored by Ruben Neves) for handball against Harry Toffolo, 52nd minute - FOR
Incident: Penalty awarded (missed by Brennan Johnson) for a foul by Matheus Nunes on Ryan Yates, 75th minute - AGAINST
Game: Brentford (A; Oct. 30)
Incident: Diego Costa sent off for violent conduct against Ben Mee, 90th minute - AGAINST
Game: Brighton (H; Nov. 5)
Incident: Penalty awarded (scored by Ruben Neves) for handball by Lewis Dunk, 30th minute - FOR
Leeds United -2
Overturns: 4
Leading to goals for: 0
Disallowed goals for: 0
Leading to goals against: 2
Disallowed goals against: 0
Net goal score: -2
Subjective decisions for: 1
Subjective decisions against: 2
Net subjective score: -1
Penalties for / against: 1 / 1
Red cards for / against: 0 / 0
Game: Brentford (A; Sept. 3)
Incident: Penalty awarded (scored by Ivan Toney) for a foul by Luis Sinisterra on Ivan Toney, 25th minute - AGAINST
Incident: Bryan Mbeumo goal awarded after incorrect offside, 80th minute - AGAINST
Game: Arsenal (H; Oct. 16)
Incident: Penalty awarded (missed by Patrick Bamford) for handball against William Saliba, 60th minute - FOR
Incident: Penalty cancelled and red card against Gabriel downgraded to yellow; no foul on Bamford, 90th minute - AGAINST
Tottenham -2
Overturns: 4
Leading to goals for: 1
Disallowed goals for: 1
Leading to goals against: 1
Disallowed goals against: 0
Net goal score: -1
Subjective decisions for: 0
Subjective decisions against: 1
Net subjective score: -1
Penalties for / against: 0 / 0
Red cards for / against: 0 / 0
Game: West Ham (A; Aug. 31)
Incident: Penalty for handball against Aaron Cresswell cancelled, 16th minute - AGAINST
Game: Fulham (H; Sept. 3)
Incident: Richarlison goal ruled out for offside, 90th minute - AGAINST
Game: Leicester (H; Sept. 17)
Incident: Penalty retaken (scored by Youri Tielemans) for encroachment by goalkeeper Hugo Lloris, 6th minute - AGAINST
Incident: Son Heung-Min goal allowed after incorrect offside, 86th minute - FOR
Brighton -3
Overturns: 5
Leading to goals for: 1
Disallowed goals for: 1
Leading to goals against: 2
Disallowed goals against: 1
Net goal score: -1
Subjective decisions for: 1
Subjective decisions against: 3
Net subjective score: -2
Penalties for / against: 1 / 2
Red cards for / against: 0 / 0
Game: Fulham (A; Aug. 30)
Incident: Penalty awarded (scored by Alexis Mac Allister) for a foul by Bobby De Cordova-Reid on Pervis Estupinan, 57th minute - FOR
Game: Leicester (H; Sept. 4)
Incident: Alexis Mac Allister goal disallowed for offside in the buildup against Enock Mwepu, 47th minute - AGAINST
Game: Liverpool (A; Oct. 1)
Incident: Roberto Firmino goal allowed after incorrect offside against Mohamed Salah, 33rd minute - AGAINST
Game: Man City (A; Oct. 22)
Incident: Penalty awarded (scored by Erling Haaland) for a foul by Lewis Dunk on Bernardo Silva, 39th minute - AGAINST
Game: Wolves (A; Nov. 5)
Incident: Penalty awarded (scored by Ruben Neves) for handball by Lewis Dunk, 30th minute - AGAINST
AFC Bournemouth -3
Overturns: 3
Rejected overturns: 2
Leading to goals for: 0
Disallowed goals for: 0
Leading to goals against: 2
Disallowed goals against: 1
Net goal score: -1
Subjective decisions for: 1
Subjective decisions against: 4
Net subjective score: -3
Penalties for / against: 0 / 2
Red cards for / against: 0 / 0
Game: Arsenal (H; Aug. 20)
Incident: Gabriel Jesus goal ruled out for offside, 72nd minute - FOR
Game: Nottm Forest (A; Sept. 3)
Incident: Overturn rejected, penalty (scored by Brennan Johnson) for handball against Lloyd Kelly, 42nd minute - AGAINST
Game: Newcastle (A; Sept. 17)
Incident: Penalty awarded (scored by Alexander Isak) for handball by Jefferson Lerma, 64th minute - AGAINST
Game: Brentford (H; Oct. 1)
Incident: Overturn rejected, possible penalty for challenge by Kristoffer Ajer on Jordan Zemura, 22nd minute - AGAINST
Game: West Ham (A; Oct. 24)
Incident: Penalty awarded (scored by Said Benrahma) for handball by Jordan Zemura, 89th minute - AGAINST
Manchester City -3
Overturns: 5
Leading to goals for: 1
Disallowed goals for: 2
Leading to goals against: 1
Disallowed goals against: 0
Net goal score: -2
Subjective decisions for: 1
Subjective decisions against: 2
Net subjective score: -1
Penalties for / against: 1 / 0
Red cards for / against: 0 / 0
Game: Newcastle (A; Aug. 21)
Incident: Miguel Almiron goal allowed after being originally ruled out for offside, 28th minute - AGAINST
Incident: Kieran Trippier red card for challenge on Kevin De Bruyne downgraded to yellow, 73rd minute - AGAINST
Game: Liverpool (A; Oct. 16)
Incident: Phil Foden goal ruled out for a foul by Erling Haaland on Fabinho, 53rd minute - AGAINST
Game: Brighton (H; Oct. 22)
Incident: Penalty awarded (scored by Erling Haaland) for a foul by Lewis Dunk on Bernardo Silva, 39th minute - FOR
Game: Fulham (H; Nov. 5)
Incident: Erling Haaland goal ruled out for offside, 74th minute - AGAINST