Video Assistant Referee causes controversy every week in the Premier League, but how are decisions made, and are they correct?
After each weekend we take a look at the major incidents, to examine and explain the process both in terms of VAR protocol and the Laws of the Game.
- How VAR decisions affected every Prem club in 2022-23
- VAR in the Premier League: Ultimate guide
In this week's VAR Review: Just what happened when Chelsea's Hakim Ziyech got sent off, then not sent off, against Tottenham Hotspur; more frustration for Arsenal; why the VAR got the decisions correct in Everton vs. Aston Villa, and the Carabao Cup final.
---
Red card overturned: No violent conduct by Ziyech on Royal
What happened: Just before half-time, players from both sides squared up to each other. After a long period of deliberation, referee Stuart Attwell sent off Hakim Ziyech on the advice of his assistant, Darren Cann, alongside input from the VAR, Paul Tierney. However, after the red card was shown the VAR immediately instigated a review for a clear and obvious error (watch here.)
VAR decision: Red card cancelled.
VAR review: How could anyone be blamed for being confused? With the way VAR operates, everyone is left guessing -- and indeed assuming this was an error in process by the officials.
Yet despite all this, VAR protocol was followed to the letter. This wasn't a situation wrong on the pitch or in the VAR room.
In short, even though the VAR doesn't think Ziyech's actions are a red-card offence, he cannot tell Attwell they aren't a red-card offence before Attwell has decided whether or not they are a red-card offence. Clear?
Fans, pundits and indeed the match commentators (who can hear the VAR but, crucially, not the referee) were left to fill in the blanks. Until FIFA and the IFAB finally embrace the need to share the conversations between referee and VAR as they happen -- both on TV and inside the stadium -- the gap in understanding and acceptance will only widen.
To explain why the officials got this right, even though it took 4½ minutes, let's run through the timeline.
- Play stopped when Ziyech challenged Richarlison, which led to a melee between several players.
- After the situation had calmed down, referee Attwell discussed possible sanctions with Cann.
- Attwell decided to book Kai Havertz (foul) and Emerson Royal (push) for their roles.
- Cann told Attwell he had seen a hand go directly into a player's face, and this was a red-card offence.
- Attwell and Cann were not sure who had committed the red-card offence.
- Attwell told the VAR he was going to send a player off, and asked him to confirm who the player was.
- The VAR tells Attwell it was Ziyech.
- Attwell shows the red card to Ziyech, at which point the VAR's role in a review of a decision is active.
- The VAR tells the referee this is a clear and obvious error.
- Attwell reverses the decision at the monitor.
Why was Havertz booked?
Attwell books Havertz for an initial challenge on Richarlison before the flare up, when he took a swipe at the Tottenham striker in an attempt to trip him.
Shouldn't Ziyech have been cautioned for the original challenge?
Ziyech then tried to tackle Richarlison and may have won the ball. Despite the ensuing melee, Ziyech isn't considered to have committed any offence at this point. The VAR cannot tell Attwell that Ziyech should have been booked. The only way the VAR could intervene on this aspect is if Attwell had incorrectly cautioned Havertz for the challenge made by Ziyech, then the yellow could have been switched to Ziyech on mistaken identity. This could technically have resulted in Ziyech still being sent off -- the red card being downgraded to yellow for the push, and the yellow shown to Havertz transferred to him.
Why did the VAR help issue a red card, only to then advise it was wrong?
Attwell had turned to his left just as Ziyech raised his hand toward Royal and didn't see it. It's Cann who believed he saw the hand straight into the face from a Chelsea player.
A cornerstone of the VAR process is a referee must always take a decision first. So the VAR cannot make any suggestion about a possible sanction before the referee has made his own decision, but the VAR can help with identification. Ergo, a VAR can tell the referee who the offender was, but he couldn't tell the referee if he should or shouldn't show a red card. Attwell will say to Tierney he's going to show a red card, but ask for confirmation who that player is.
Once Attwell has shown the red card to Ziyech, that then brings the VAR into play for a review of the decision.
Why can't the VAR just tell the referee it's not a red card?
This situation was unlike many others. Though it took 4½ minutes, only the final 1½ minutes actually involved the VAR process -- the other three were used up by the melee, discussions among the match officials and the disciplinary action.
The only difference to a normal situation is that Cann couldn't identify Ziyech; the aid of the VAR was needed for that.
If you shift the process to a VAR giving his opinion on a decision before a referee has made his own mind up, then the VAR becomes the de facto referee. The on-field decision has to remain the most important element.
Was the VAR overturn correct?
As Ziyech clearly didn't push Royal directly in the face, his hand slipping off the Spurs player's shoulder, a red card can be viewed as a clear and obvious error.
Complicated reviews without explanation cause confusion
Imagine if we were allowed to hear Attwell say to the VAR he has a red-card offence and could the VAR please confirm the player's identity? And then we hear the VAR immediately initiate the review for the error? We'd all know exactly what had happened and articles like this might not be so necessary.
There will always be complicated reviews, the kind that aren't going to be explained by a referee reading out their final decision pitchside, which FIFA and the IFAB think will solve the problems over communication.
Take the decision in TSG Hoffenheim vs. Borussia Dortmund on Saturday. Just after half-time, Emre Can was penalised for a push on Kevin Akpoguma; a free kick was awarded just outside the box. The free kick cannot be reviewed, but the position of the foul can. The VAR advised the foul contact is inside the area, so it should be a penalty. As the foul is a now penalty, the VAR can review the nature of the challenge.
The VAR decided the push, as given by the referee, wasn't a foul and advised he should go to the monitor. There was also a second contact on Akpoguma's boot which could have been judged to be a penalty. The referee decides there was no foul, and so play restarted with a dropped ball to Hoffenheim on the edge of the Dortmund area. From an attacking free kick for Hoffenheim, to a penalty, to a dropped ball all in the space of a few moments. Confusing situations, without explanation, are happening in all leagues with VAR.
Possible penalty: Skipp challenge on Sterling
What happened: In the second minute, Raheem Sterling went down in the box when challenged by Oliver Skipp. Referee Attwell waved play on.
VAR decision: No penalty.
VAR review: Skipp attempted to clear the ball, and any touch on Sterling would have been negligible. There's no chance this contact would have made Sterling go to ground in the way he did, and it was absolutely the correct decision not to award a penalty. There's a stronger argument that Sterling could have been booked for simulation.
Possible red card: Silva challenge on Romero
What happened: In the seventh minute, Chelsea defender Thiago Silva was in a tussle with Cristian Romero and he seemed to make contact with his opponent with his elbow. There was a VAR review for a possible red card.
VAR decision: No red card.
VAR review: There was a movement of the right arm by Silva in towards Romero, and if he had caught the Tottenham Hotspur player in the face there would have been a much stronger case for a red card.
The two players are battling for the ball and pushing each other, but Silva doesn't appear to throw his arm into this opponent -- it's more a case of trying to use it as leverage as part of their battle.
---
Trossard goal disallowed: White foul on Ward
What happened: Arsenal thought they had taken the lead in the 26th minute when Leandro Trossard fired home from the edge of the box, but there was a review for a foul in the buildup against Ben White.
VAR decision: Goal disallowed.
VAR review: This might seem a soft call to some, but it's an obvious VAR overturn for Michael Salisbury. White is holding the right hand of goalkeeper Danny Ward, which is prolonged and continues throughout the flight of the ball. This means Ward is unable to get the leverage to cleanly punch the ball, which results in it falling to Granit Xhaka to pass to Trossard to score.
There will always be disagreements about when a situation becomes a clear and obvious error, but if White had released the hand of the goalkeeper there would have been no intervention.
One missed intervention for a foul on a goalkeeper came in November when Leeds United goalkeeper Illan Meslier was bundled into his own goal by Clement Lenglet before Harry Kane scored. But Aston Villa's goal against Arsenal in August, when it was claimed Boubacar Kamara blocked off Aaron Ramsdale when Douglas Luiz scored directly from a corner, wasn't an error.
Possible penalty: Souttar foul on Saka
What happened: In the 32nd minute, Bukayo Saka went to ground under a challenge from Harry Souttar. The England international wanted a penalty, but referee Craig Pawson waved play on.
VAR decision: No penalty.
VAR review: Arsenal fans have asked how the VAR could fail to get involved in this decision if Salisbury is judging White's challenge on Ward as a clear and obvious error.
The VAR decided that in this case there was no prolonged holding, but it appears that Souttar drags Saka to the ground while he is falling. Probably a spot kick Arsenal should have been awarded.
Possible red card: Ndidi foul on Martinelli
What happened: When Martinelli scored just after half-time, he was stood on by Wilfred Ndidi after releasing his shot.
VAR decision: No red card.
VAR review: There was little Ndidi could do to avoid Gabriel Martinelli after the Arsenal forward had slid to release his shot, with the Leicester City player not changing from his natural running action.
Goal disallowed: Martinelli offside on Saka goal
What happened: Arsenal had the ball in the back of the net again in the 62nd minute. Martinelli broke through into the box and set up Saka to score, but the assistant raised his flag for offside (watch here.)
VAR decision: Goal disallowed.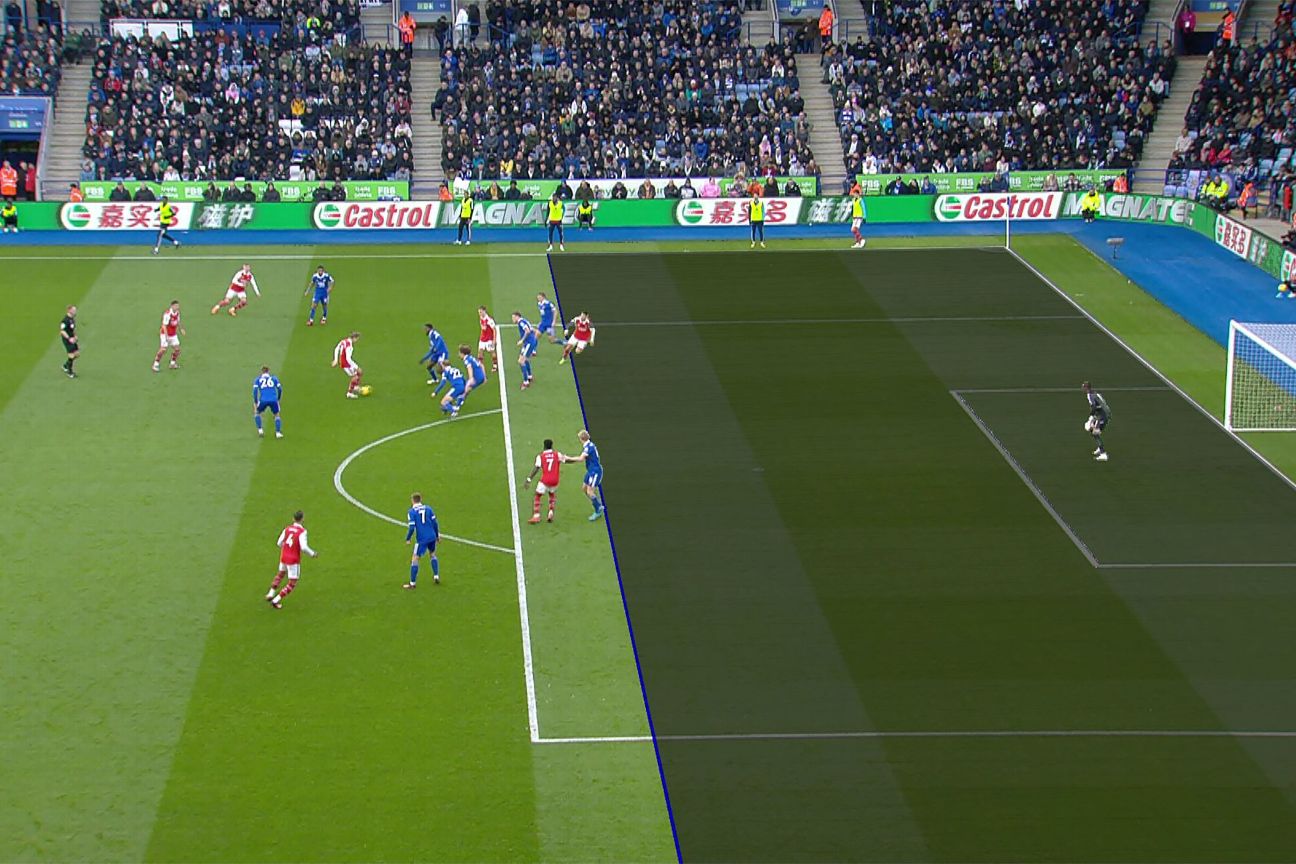 VAR review: Complaints centred upon the offside lines not being shown on the television broadcast, but this doesn't mean they haven't been drawn.
It is the choice of the broadcaster when it switches to the VAR feed, and indeed if it even shows the offside graphic -- but this is always available to it.
That said, Martinelli was offside by such a large margin that it wasn't even necessary to draw the attacking line, as only his right leg could be onside.
---
Possible penalty: Pickford challenge on Watkins
What happened: In the 10th minute, Everton goalkeeper Jordan Pickford came out to close down Ollie Watkins. The Aston Villa striker managed to release a shot, which Pickford was able to block before he collided with his opponent. Was there a valid claim for a penalty?
VAR decision: No penalty.
VAR review: When is a goalkeeper's challenge a penalty, and when is it just part of normal football contact? This is the key question and it's what differentiates this challenge from two penalties: Ederson on Arsenal's Edward Nketiah, and Croatia goalkeeper Dominik Livakovic when he fouled Argentina's Julian Alvarez in the World Cup semifinal.
In the vast majority of cases, contact by a goalkeeper (or indeed a defender) on an attacker after the release of a shot doesn't result in a penalty kick. The goalkeeper is judged to have the right to make an attempted save -- within limits, of course, it's not carte blanche to wipe out an opponent. In almost all such cases, it is left to the on-field decision, rather than there be a VAR intervention.
While Pickford does come out strongly, he clearly makes a save from a Watkins shot. Therefore, his actions in spreading his body and rushing out are considered a valid defensive move.
It's similar logic with Vicente Guaita's challenge on Cody Gakpo. The Crystal Palace goalkeeper might not make a save, but when the Liverpool player raced through on goal, he had released a shot and Guaita was judged to be making a genuine attempt at a save. The collision is then seen as a coming together rather than a foul.
So, how is it different? Guaita and Pickford come out to make saves, diving to stop the ball. Ederson and Livakovic stand up and block the path of the striker.
In the case of Ederson, he didn't win the ball and the way he came out he didn't have a realistic chance of playing it -- therefore, a penalty is a valid outcome.
Similarly with Livakovic vs. Argentina, he again didn't make a challenge for the ball, and came out in a way which blocked Alvarez and caused the collision.
Possible penalty overturn: Gueye foul on McGinn
What happened: Aston Villa were awarded a penalty in the 61st minute when John McGinn was brought down in the area by Idrissa Gueye.
VAR decision: Penalty stands.
VAR review: Gueye may have got a touch on the ball, so why did Anthony Taylor's decision to award a penalty stand?
The Everton defender had to go through McGinn to get to the ball, with clear knee-on-knee contact. So even with a touch on the ball, this would be a spot kick. It was a great call by Taylor, and no chance of an overturn from the VAR, Chris Kavanagh.
---
Possible offside: Casemiro when scoring
What happened: Manchester United took the lead in the 33rd minute when Casemiro headed home a free-kick delivery from Luke Shaw. There was a check for offside against the goal scorer.
VAR decision: Goal stands.
VAR review: This is a classic case of camera angle, and the position of players relative to each other, being misleading.
As Callum Wilson's foot is raised, it gives the impression that it's further back than it is. But when the VAR plots his foot to the pitch, it is shown to play Casemiro onside requiring the tolerance level/margin for error within the system.
When the tolerance level is needed for an offside decision, only the green defensive line is shown as it's clearer to display. With semi-automated VAR offside, which has no tolerance level, this may have been marginally offside.
Information provided by the Premier League and PGMOL was used in this story.