Inside The Orpheum, an Ybor City nightspot just outside Tampa, Florida, LuFisto found herself in the main event of Shine 40, competing for the all-women promotion's title in a triple threat match. It's mid-January, and she's a long way from where she started some 20 years ago in Montreal.
After utilizing some "veteran cunning," she won the Shine championship, a career highlight among the 20-plus titles LuFisto has held in her two decades in the world of wrestling. That an all-women's promotion could exist, let alone several high-level companies in North America, when LuFisto started her career was a pipe dream and yet, at the age of 37, she and many others are enjoying the fruits of all of the efforts that have been sunk into making that a reality.
Long before the "women's revolution" led the WWE to put the spotlight on the in-ring wrestling product in multiple women's divisions, the evolution of women's wrestling was a far longer and slower grind and meticulous effort from several truly determined wrestlers. For LuFisto, her fights ran the gamut from those questioning her abilities, inter-gender matches, hardcore matches that helped make her name and, ultimately, against women to help her forge a path for all who followed.
"I always say to the younger girls, 'You have no idea how easy it is today,'" said LuFisto, during a recent interview with ESPN.com. "But it is such a good thing, because it's been a long road for all the women that were trying to make a name for themselves."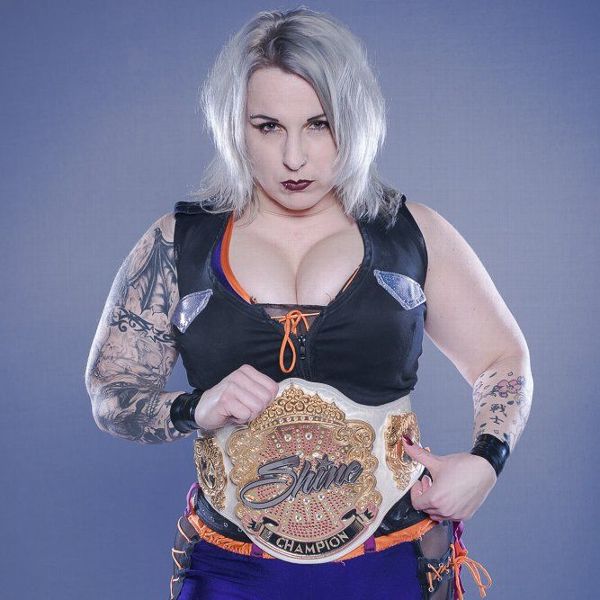 As a child of the late 1980s and early '90s, Gen Goulet came to wrestling the same way a lot of others did in that era -- by the glow of a television.
"My first memories of wrestling are of watching it with my grandma. She liked Hulk Hogan and I liked the Ultimate Warrior," said Goulet. "And then I kinda stopped watching it around probably when I was eight years old."
After leaving wrestling behind for the better part of four years, a childhood bandmate who was really to wrestling at the time managed to convince Goulet to tune in. The major rivalry at that time on WWF TV was between The Undertaker and Yokozuna, and the over-the-top characters pulled her back in. But it was women's wrestling, which was just starting to make a resurgence thanks to a previously unseen physical style, that immediately struck a chord and ultimately changed her life.
"At the same time, Alundra Blayze was there and she was wrestling Bull Nakano," recalled Goulet. "One of my other friends showed me Japanese women's wrestling, back in the days when we had to order tapes. I think that's exactly where my love of wrestling really started being more than just, 'I'm a fan,' to the point where I'd love to do this. The Japanese women wrestlers were so incredible; they were strong and they were intense."
That line of thinking never really left her mind, and three years later, opportunity knocked.
"By 1997, there was a school that opened up in my hometown. So this same friend that introduced me to Japanese wrestling, his name was Luke, he said, 'Well, there's a school. Do you want to try?' And I said sure."
There were doubters from the very beginning. Even people who were close to her who questioned why she wanted to train as a wrestler. Between her passion and a sense of stubbornness, though, she had a single-minded purpose.
"At that point it became more of a challenge than anything else," said Goulet. "I mean, I love wrestling and I wanted to be a wrestler, but it was also to prove that it's not because I'm a girl that I can't do it. So I subscribed for the classes and every time there was a new move to try, I was the first one raising my hand."
Just walking into the training facility was an eye-opening experience. In that era, in most regions in North America, the number of women training to become wrestlers was very small. If Goulet wanted to do this, she had to train and eventually wrestle with the men if she wanted to be anything other than arm candy.
"In Montreal, there were two other girls [when I started] and one of them quit. There were two girls in the whole province for a while. So everybody wanted me be a valet, but I said no. I didn't want to be just a valet, I wanted to wrestle -- and if men were the only opponents available, then I would take on anybody that I could."
Inter-gender matches were largely frowned upon, especially in that era, but even in the mainstream it wasn't entirely unheard of. Still, in Quebec, it wasn't what they were used to by any stretch. Goulet made them take notice, and it was through her in-ring performances and parallels she herself drew that there was a certain comfort level.
"I mean, there was Chyna on TV, as far as a woman stands toe-to-toe with a man and she swings a chair then she takes the shot totally as an equal. And it doesn't matter if I'm a woman or a man, it was literally a fight. I was sure some people were uncomfortable, but then people got used to it and it kind of became, I wouldn't say cool, but with time I would get women to come and see me.
"They were like, 'Oh my God, you are almost like a superhero. When people say, 'Well, women can't fight guys. Well, Catwoman can fight Batman, and the Black Widow can kick ass with the Avengers.' So to me, it's exactly the same and even for young girls in the crowd, they would see me as a superhero."
First billed as Lucifer, and then by several variations of Lucy, a 2003 trip to Japan led Goulet to adopt the name that would ultimately stick -- LuFisto.
Even before that point, however, LuFisto earned the moniker of "First Lady of Hardcore" after wrestling for the Hardcore Wrestling Federation in Ontario in a number of violent matches with men that ranked among the most violent "death matches" of the time. Even as she earned the respect of the fans and many of her fellow competitors, LuFisto ran afoul of a scorned promoter who made life difficult for her and any other woman who wanted to compete against men in Ontario.
"I had been wrestling in Ontario for the Hardcore Wrestling Federation. The Hardcore Wrestling Federation had wrestlers like Tyson Dux, like Eric Young, Pepper Parks, I think ... It was a very good promotion, and they had some of the hardcore matches and I was the girl there that was also wrestling the guys. There was a promoter that didn't like that. Well, long story short, he asked me to go on his shows and do bikini contests and wrestle the women, but I was like, 'No, I'm a wrestler. I don't want to be involved in hair pulling, catfights, or any type of bikini whatever.'
"It was always super important to me to be seen as a wrestler, and HWF had given me such a great opportunity in wrestling all of those guys. So we had a show scheduled in Toronto and that promoter called the athletics commission; there was an old law that said that women and men could not be in the ring at the same time in any fighting combat kind of sport."
As the only regular female competitor for HWF, LuFisto was essentially shut out of wrestling in that region for almost three full years.
"My only way to get through this was to, of course, go with the government. So I called the Ontario Human Rights Commission and explained what had happened and the lady on the phone was like, 'You definitely have a case, because right now you can't do something because you're a woman.' I filed papers, made phone calls, and years later they finally decided that wrestling would not be regulated as a whole, they removed it completely from the sports commissioner's hands."
In addition to reopening the region for women, the deregulation that came about due to that decision helped local Ontario promotions to emerge and establish a strong ecosystem that continues on to this day.
During that hiatus, in 2003, LuFisto got a chance to travel the world, with career-altering trips to Mexico and, ultimately, Japan. She, along with Sara Del Ray, was chosen by AtoZ to live and train in Japan. The experience changed both of their careers for the better.
"I trained every day, wrestled maybe three to five times a week. I unfortunately hurt my knee, so I came home one month early, but they were incredible at teaching me so many things on exactly how to work with injuries, how to be more intense, and I kept that style ever since."
As she traveled the world, a funny thing happened -- women's wrestling started to pick up steam. Shimmer Women Athletes was founded in 2005, and continues to this day, and similar promotions began to pop up in both Canada and the United States.
Even as the level of competition and quality of female wrestling increased, LuFisto took things to another level entirely with hardcore and inter-gender matches, becoming the first woman to win the CZW Iron Man championship, which she defeated Kevin Steen (Kevin Owens) for. LuFisto took on all of the biggest names in death match wrestling -- the Necro Butcher, Zandig, Nick Gage, among many others -- and she and others continued to break down barriers as she won the Queen of the Deathmatches tournament in 2007.
Looking back at LuFisto's path to where she is at this stage in her career is mindboggling -- not only for what she's been able to accomplish, but for how many of the modern stars of women's wrestling have crossed her path. Rebecca Knox (now Becky Lynch), Nattie Neidhart (Natalya), Kana (Asuka), Nikki Storm (Nikki Cross), Awesome Kong, former Lucha Underground world champion Sexy Star and former LU trios champion Ivelisse only begins to scratch the surface of the lengthy list of current stars that LuFisto has mixed it up with in the ring.
As Sara Del Ray (Sara Amato) trains the next generation of WWE women's stars, LuFisto watches on and continues to succeed on the independents as her 20th anniversary in the business continues. Another recent wave of signings brought a handful more of LuFisto's most recent contemporaries -- most notably Kimber Lee and Heidi Lovelace -- and an upcoming women's tournament is seemingly a certainty.
With more and more women being brought in, it's not unreasonable to say that a year or two from now, both the Raw and SmackDown women's ranks will grow, if not to comparable numbers to the men on each show, then at least to significantly higher numbers than the six or seven active competitors currently on each roster. And that's another big step in the evolution.
"Back then, we had to fight to have a spot on the card. Now, women matches... not only do we have our own shows, our own promotions, but a main spot on regular cards [for major companies] as well," said LuFisto. "Women are finally seen as part of the show, not like an addition an addition to the card. The road has been so long, because every single night we had to go out there, try to steal the show, prove that we belong. Now women wrestlers do belong on the show.
"Mostly, to me, it's about women wrestling being taken seriously," she continued. "That's the most beautiful thing for me right now, that when you look on TV and you see Asuka, she is a defending, serious champion. The matches are long. They have two or three matches on pay-per-view nights on TV. Same for the knockouts on TNA. Women in wrestling, right now, matter."
It has been a tall mountain to climb, and there's still a ways to go. Complacency is not an option, and even if there is a certain comfort in reaching this point in the state of women's wrestling, there's still an underlying hunger that drives the women of today to keep reaching for more.
"Right now it is cool to be a woman wrestler. There has never been so many women in wrestling school," said LuFisto. "I think Mercedes Martinez says it best. They talk about, 'Oh the woman wrestling revolution.' No, no. It's not a revolution, it's been an evolution for years with the women on the indie circuit and promotions like Shimmer, Shine, WSU, WWU, Women's Wrestling Revolution with Beyond Wrestling.
"The evolution is at its peak, and hopefully it will go even higher. Women's wrestling right now? It's pretty good."
Photo of LuFisto with the Shine championship courtesy of PamElla Perkins Winslow