It wasn't quite "anything goes" at Extreme Rules, as was the promotional tagline, but this pay-per-view event was certainly as unconventional as it gets.
Tables, cages, kendo sticks and an ironman match were just a portion of what we saw on Sunday night; we also got a pair of title changes.
Matt Wilansky, Matt Willis and Sean Coyle recapped the action throughout the night. This story was updated in real time.
30-minute Iron Man match
Intercontinental championship
Dolph Ziggler (c) def. Seth Rollins 5-4 (in OT)
From an in-ring perspective, there was no match on this card as appetizing as Dolph Ziggler vs. Seth Rollins in a 30-minute Iron Man match -- the sixth Iron Man match in WWE pay-per-view history -- and appropriately enough, it closed out the show. Ziggler and Rollins are two of the premier workhorses in the WWE, and the match had show-stealer written all over it, as Rollins looked to recapture the Intercontinental championship despite Drew McIntyre's looming presence at ringside.
After some mat wrestling and some quick pinfall attempts, Rollins nailed a turnbuckle powerbomb, rolled Ziggler up and snagged the ever-important first fall. Rollins led 1-0
Now playing from behind, Ziggler picked up the pace a bit, but he got caught a second time. Out of nowhere, Rollins connected with the stomp and won his second straight fall. Rollins led 2-0
Drew McIntyre had seen enough. He entered the ring and began to pummel Rollins as a way to jump-start things a bit for Ziggler. As a result, Ziggler was disqualified and Rollins gained another fall -- but it would come with a price. Rollins led 3-0
McIntyre did an immense amount of damage before he was ejected by the referee, nailing Rollins with his Claymore kick. That allowed Ziggler to cover Rollins and get on the scoreboard. Rollins led 3-1
Almost immediately following Ziggler's first successful pinfall, he delivered a super kick and picked up a second fall. Just a minute later, Ziggler hit a Zig Zag and tied the score up. Match tied 3-3
Ziggler's roll continued when he caught Rollins a short time later with a forearm, put his feet on the ropes and pinned Rollins again -- giving Ziggler the lead for the first time in this match. Ziggler led 4-3
The match slowed down a great deal at the halfway point, but Rollins finally gained a bit of momentum back after a series of suicide dives and a picture-perfect frog splash. With about five minutes left in the match, Rollins hit his superplex/Falcon Arrow combo, but Ziggler managed to kick out and hold onto his lead. It took a slingshot/sunset flip combo, but Rollins tied things back up as the match started to wind down. Match tied 4-4
With a minute left, Rollins furiously tried to mount some kind of offense, got caught with Ziggler's Fame-asser but kicked out. Rollins recovered quickly, though, and with 10 seconds left, nailed Ziggler with another stomp. He crawled over as quickly as he could, but Rollins could not make the cover in time, and we were left with a draw.
Enter Kurt Angle and, à la WrestleMania 12, we headed into sudden-death overtime. Overtime didn't last long, though, as McIntyre reappeared and distracted Rollins enough for Ziggler to hit a Zig Zag for the win. Ziggler won 5-4
10..9..8..7..6..5..4..3..2..1..

- Seth Rollins (@WWERollins) July 16, 2018
Despite the Pittsburgh fans doing their best to put themselves over and take away from the match by counting down from 10 to zero after each minute went by on the clock, we were treated to a wonderful display of pro wrestling here.
The biggest question coming out of this match is Rollins' direction. Will he continue to pursue the Intercontinental championship and the Ziggler/McIntyre combo? Or will he begin to climb the ladder toward the Universal Championship, with that situation set to get clearer on Monday night? Whichever direction he takes, few are as locked into their in-ring game the way Rollins -- or Ziggler, for that matter -- are at this moment in the WWE.
WWE championship
AJ Styles (c) def. Rusev
There are few better examples in WWE history of somebody taking control over their own fledgling career and reinventing themselves like Rusev has.
His fall from being the undefeated, much-hyped monster he was at the start of his career began when Rusev began after he took his first loss to John Cena at WrestleMania 31. Over the next few years, he hung around the mid-card and slowly fell further, taking loss after loss as it seemed like his story would be one of a flame that burned brightly, but quickly.
But Rusev found his opportunities to let his character to slip out, and in those moments, he connected with the audience in what can only be described as unpredictable and unexpected.
AJ Styles, his opponent at Extreme Rules and the reigning WWE champion, also had an unlikely route to WWE stardom. Already a star in other organizations around the world, Styles wasn't cut from the pre-established WWE main eventer mold, but his in-ring skills and the crowd's appreciation for what he can do led him to be a premier performer in WWE.
The crowd's love for both showed early in this WWE title match, as there were dueling chants for "Rusev Day" and "AJ Styles" as things got underway. Rusev controlled the early going and, for as beloved as he has become by the audience, he has mostly retained a heelish edge to his work in the ring and on the microphone.
The match told a straightforward but effective story. Styles focused on Rusev's hamstring with kicks, keeping him from effectively locking in the Accolade, while Rusev went after Styles' lower back to make the Styles Clash and a number of other offensive tactics harder to hit.
Aiden English got involved several times over, from pushing the bottom rope toward Rusev to help a rope break to removing a turnbuckle cover. Though Rusev was able to lock in a modified Accolade at one point, as well as some tremendous kicks, Styles was the one to hit more key offense when it counted.
Ultimately, it would be Rusev who ate the unprotected buckle, which Styles followed by hitting a prone Rusev with a springboard 450 splash. Styles cleared English out with a dropkick, lined things up and hit the Phenomenal Forearm to retain his WWE championship.
The timing wasn't right for Rusev, who still impressed in what could've been the biggest match of his WWE career. There's hope that this could be another step forward for Rusev, although the outcome of this match may point to a breakup with English being in the cards, which could bring about some dramatic change.
Meanwhile, Styles looks like he'll carry the title into SummerSlam. His championship reign will hit 250 days on Monday, making it the second-longest WWE Title reign of the past 10 years, behind only CM Punk's 434-day reign.
---
.@RondaRousey can't take it anymore!!! The #BaddestWomanOnThePlanet and has JUMPED the barricade during the #Raw #WomensTitle Match at #ExtremeRules! pic.twitter.com/4zlJz6tKQa

- WWE (@WWE) July 16, 2018
Extreme Rules Match
Raw women's championship
Alexa Bliss (c) def. Nia Jax
With all due respect to both Alexa Bliss and Nia Jax, this Extreme Rules championship match wasn't about them. It was about Ronda Rousey, who had been "suspended" for 30 days for attacking both Bliss and Raw general manager Kurt Angle last month.
At that moment, Rousey was fuming over Bliss's decision to cash in her Money in the Bank briefcase when Rousey appeared just seconds away from locking Jax, then the champion, in an arm bar last month. After her recent UFC Hall of Fame induction, Rousey returned to WWE screens on Sunday night and sat in the front row for this Raw women's championship match.
Both Jax and Bliss had backup tonight; Natalya accompanied Jax, while Mickie James was by the side of the champion. James factored in early by handing Bliss a kendo stick to use on Jax, which opened up the weaponry flood gates as chairs, sticks and garbage cans were introduced into the match.
The first big spot came when Jax muscled Bliss up above her shoulders and dropped her stomach-first onto a garbage can. Bliss fought back by wildly swinging garbage cans and lids.
Outside of the ring, as Natalya and James went at it, Rousey leapt over the barricade and went after James to stop a one-sided attack. Rousey decimated the six-time women's champion as Bliss looked on in fear. As Rousey chased Bliss, James recovered and nailed her with a kendo stick. James continued to factor into the equation as she caught Jax with a steel chair to the back while Jax appeared ready to execute a Samoan Drop onto Bliss. That was all the help the champ needed. The interference enabled her to deliver a DDT to Jax onto a chair and pick up the win.
Rousey scrambled back into the ring, but Bliss escaped the tumultuous situation relatively unscathed. Monday should give us a clear picture of how the Raw women's division will line up on the way to SummerSlam.
Bobby Lashley def. Roman Reigns
Since he returned to WWE, Bobby Lashley has had problems connecting with the audience. He's a physical freak of nature, to be sure, but Lashley struggled to find a persona to match his look and skill set.
WWE decided to pair him with Roman Reigns, another physical force and another wrestler who repeatedly has been unable to connect with live crowds, in large part because of the superhero persona WWE wishes to project upon him.
Although the feud was thrown together quickly, it makes sense to have them as adversaries, as they fill similar roles on the Raw roster. Early in their match at Extreme Rules, the problems they have with getting crowd reactions became clear as chants for Rusev Day, among other whims of the crowd, quickly showed that this matchup isn't what the crowd wanted.
Reigns and Lashley certainly went for it throughout, going after each other with hard-hitting offense and a slow-moving, physical pace.
At one point, Reigns got Lashley on his shoulders and unceremoniously dropped him directly to the floor, and Lashley hit hard as he didn't grab the ropes or anything else to break his fall.
Lashley got a near fall with a hanging vertical suplex, and Reigns answered with a two-count on his on with a Superman Punch.
They continued trading high spots as the paced quickened. It looked as if Reigns was looking to spear Lashley through the barricade, but Lashley caught him and hit an overhead belly-to-belly suplex onto the commentary table. Lashley then went to the top rope, only for Reigns to connect with another Superman Punch that sent Lashley off the top rope.
The ending was creative and came out of nowhere. As Reigns broke into a run and lined up a spear, Lashley cut him off with a spear of his own -- earning the surprise victory.
Was this match a signal that WWE is thinking of having Lashley pass Reigns on the depth chart, even temporarily? Or is this another obstacle for Reigns to overcome on his path back to Brock Lesnar, perhaps as soon as Monday night? Whether it's those options or a continuing rivalry heading into SummerSlam, this was an intriguing direction to go in, and it opens up a world of possibilities.
---
SmackDown tag team championships
The Bludgeon Brothers (c) def. Kane & Daniel Bryan
The reunion of Team Hell No was a bit of a surprise. While it seemed to put a hault on Bryan's momentum toward the WWE championship picture or another potential main event-level singles rivalry, the fan reception was well-received. From that perspective, perhaps it was a nice twist.
Earlier in the show, there was a physical altercation backstage, during which the Bludgeon Brothers assaulted their challengers as a way to gain an advantage. The effects were clear, as the match began as a handicap match, with Kane unable to make it to the ring.
Bryan showed a ton of fight and was able to put Harper in a Yes Lock early on, but he was overmatched and overpowered. Harper and Rowan teed off on Bryan, but the tide turned when Harper accidentally nailed Rowan with a suicide dive. As all three men were down outside of the ring, Kane's music hit and we had ourselves a tag team match -- albeit one with Kane in a walking boot.
While Kane was able to muster up a couple of chokeslams Bryan, who displayed a rush of adrenaline, began to pelt Harper with a series of kicks.
The comeback was short-lived, however. A blind tag set up the finish, as Rowan lifted Bryan onto his shoulders and Harper clotheslined him to the ground -- and that was all she wrote.
Team Hell No was kept looking as strong as possible in a losing effort, with the Bludgeon Brothers needing a backstage assault to carry out their mission. Is this the end of a brief Team Hell No reunion? Will Bryan continue to pursue a singles career? Or will he and Kane continue to work together, toward getting another shot as a result of the backstage attack? Time will tell.
Steel cage match
Kevin Owens def. Braun Strowman
You have to feel for Kevin Owens. For all his dastardly deeds, no man deserves the treatment that he has received from Braun Strowman over the past few weeks.
Sure, Owens tried to orchestra a plan to make sure Strowman didn't win Money in the Bank, attempting a unified "all-versus-Braun" philosophy by burying him under a pile of ladders. It didn't work, Braun got the briefcase, and Owens has paid the price. First, he got chokeslammed off a ladder through a table. Then Strowman flipped over his rental car; though not painful, imagine the paperwork. Then, in the ultimate insult, Strowman dragged Owens around in a port-a-potty and then pushed it off a stage, covering Owens in disgusting blue gel.
It has been a fitting way to use Strowman to kill time with the Money in the Bank briefcase until the Universal title is back in the picture. And for Owens, he has continued to show his value by being an entertaining, unsympathetic victim. On Sunday night, he was forced to face Strowman in a steel cage.
Strowman dominated early, but his screams at Owens, calling him a coward and demanding he fight him, seemed to motivate Owens as he brought the fight to the Strowman. Owens hit a superkick, cannonball and frog splash, but it was only enough for a one count.
Strowman then began to dominate, with brief bursts of offense and hope from Owens -- but then Owens broke out his secret weapon by handcuffing Strowman to the top rope right in front of the cage door. Owens gave Strowman a D-X chop and blew him a kiss, which inspired Strowman to build up the rage necessary for his latest show of strength -- snapping the handcuffs and chasing down Owens.
Owens was frozen atop the cage, and after a moment of hesitation, we got a moment that will likely be replayed on WWE television for years. Strowman chokeslammed Owens off the top of the cage and through a commentary table, giving Owens an extremely unlikely -- and extremely painful -- victory. A fitting result for Extreme Rules.
Just after losing The #USTitle to @ShinsukeN, @JEFFHARDYBRAND was ATTACKED by @RandyOrton at #ExtremeRules! pic.twitter.com/lRkQWLqof6

- WWE (@WWE) July 16, 2018
United States Championship
Shinsuke Nakamura def. Jeff Hardy (c)
Shinsuke Nakamura has had some solid moments as part of the main roster, but it pales in comparison to the run he had in NXT. His three-month-long feud with AJ Styles underwhelmed, for the most part, and despite his well-timed heel turn, his journey was in need of a new direction.
Outside of some limited encounters on SmackDown Live recently, we've only had a taste of the potential within this Nakamura-Jeff Hardy rivalry. Both bring unique personalities and in-ring styles to the table, so the intrigue factor was high heading into tonight. We didn't get much of a match, though.
The battle began with one of Nakamura's patented low blows to Hardy before the opening bell, behind the referee's back. That was enough of an advantage for Nakamura, who delivered a Kinsasha knee strike to Hardy as soon as the bell ring and picked up the win to become the new United States champion.
During Nakamura's celebration, Randy Orton's music hit and he made his way to the ring. But instead of confronting Nakamura, the new champion, the newly clean-shaven Orton attacked a woozy Hardy instead by delivering a low blow of his own as Nakamura looked on with a puzzled expression.
As if the sudden victory wasn't enough of a surprise, a Randy Orton return to the darkside being added to the equation is a welcome change. It's a role Orton has always thrived in.
As for Nakamura, he becomes the fourth superstar to become United States champion at the Extreme Rules pay-per-view and the first Japanese-born superstar to win the title since Tajiri did so back in 2001.
---
SmackDown women's championship
(James Ellsworth suspended in a shark cage)
The Asuka-Carmella rivalry has done what would've seemed impossible just a few months ago: It has made Carmella seem like a legitimate competitor to put across the ring from Asuka. Of course, it took the return of Carmella's trusty sidekick, James Ellsworth, but his distractions have allowed Carmella to pin Asuka and leave her laying on several occasions.
Extreme Rules seemed to represent something new, with the return of an old wrestling staple -- a shark cage suspended above the ring, with the interfering manager inside. It's the first time WWE used that stipulation for a championship match since Chris Jericho was locked in one for a Kevin Owens-Roman Reigns match at the 2017 Royal Rumble pay-per-view.
It didn't take long for Ellsworth to still make an impact, who quickly tried to pass a chain off to Carmella within the opening moments of the match. Not long after, Ellsworth tried to drop pepper spray to Carmella, also an unsuccessful attempt. Those oversized pants had a lot of room for foreign objects.
Asuka took control of Carmella on the outside, but Ellsworth successfully picked the lock to the cage -- only to end up hanging upside down from the cage, in prime position to eat some kicks from Asuka.
The ring crew attempted to get Ellsworth back in the cage and again hoisted it over the ring, but Asuka assaulted the ring crew to prevent that.
The distraction allowed Carmella to sneak up behind Asuka, ram her head-first off the lowered shark cage and steal the three count to retain her title.
Asuka did get some retribution, getting licks in on the ring crew and a barrage of attacks on Ellsworth, ending with the Asuka lock. But Carmella emerged unscathed, possibly a fitting end to this feud while hopefully not damaging Asuka too much.
---
ATTENTION: @HeymanHustle#RAW GM @RealKurtAngle has just given YOUR CLIENT #UniversalChampion @BrockLesnar an ultimatum regarding the #UniversalTitle!!! #ExtremeRules pic.twitter.com/g4K2QEMiSk

- WWE (@WWE) July 15, 2018
A focus on backstage action has brought about two major moments already at Extreme Rules. Kurt Angle laid out an ultimatum, telling Brock Lesnar that he had one of three options -- showing up on Raw this coming Monday night, coming to terms on a Universal championship match or getting stripped of the title.
Then, ahead of their scheduled SmackDown tag team title match at Extreme Rules, The Bludgeon Brothers attacked and laid out Kane and Daniel Bryan.
Finn Balor def. Baron Corbin
While it's good to see both Balor and Corbin on the Extreme Rules card, the build to this bout left a lot to be desired. Outside of some comedic banter between the two, both in the ring and on Twitter, there hasn't been much substance here.
Having said that, Balor is a fantastic performer and Corbin continues to improve week after week, so regardless of the buildup, there's no reason they couldn't put forth a solid match, right?
Corbin was overpowering early on, using his size to his advantage as the pace progressed slowly; and when the initial Balor comeback began, Corbin put an end to it by way of his patented chokeslam backbreaker. Balor attempted a slingblade, but Corbin immediately responded with his Deep Six slam.
The story in this match though was Balor's continued comeback efforts, and despite not being able to nail many of his big time moves, Balor snuck in a small package to pick up a sudden pinfall victory.
Based on Corbin's dominance throughout much of this match and the suddenness of it's conclusion, it would seem this rivalry has more legs to it. We'll likely find out more on RAW.
Raw tag team championships
Bo Dallas & Curtis Axel def. Bray Wyatt & Matt Hardy (c)
It came as little surprise that Hardy and Wyatt, the collective calling themselves the "Deleters of Worlds," kicked off the Extreme Rules pay-per-view. They're one of the most popular acts on Raw, and with a grudge to settle, it was a good way to get fans engaged right off the bat.
It seemed as though it would be time for Hardy and Wyatt to get revenge for weeks upon weeks of shock wins by Axel and Dallas, but therein lies the shock of what was to come. The B-Team, who has caught on in recent weeks as the lovable losers, were making a major step up just by vying for the Raw tag team titles on a pay-per-view.
Needless to say, the Pittsburgh crowd was ready to roll, including Ronda Rousey, who was shown in the front row acknowledging the crowd. Though the "Ronda Rousey" chants were a bit distracting to start, the crowd quickly settled into the match. The pace and the tone were familiar, and the match seemed to be going according to plan.
But then, just as it seemed the distractions that have become common and familiar in recent weeks in this series of matches were going to be thwarted for the first time, Dallas caught Hardy in a top rope suspended swinging DDT, and got the three count.
Wait, what?
Yes, you read that right. The B-Team, where the "B" stands for best, are your new Raw tag team titles. How's that for a strong way to kick off the pay-per-view.
---
Kickoff Show
Tables match
SAnitY def. The New Day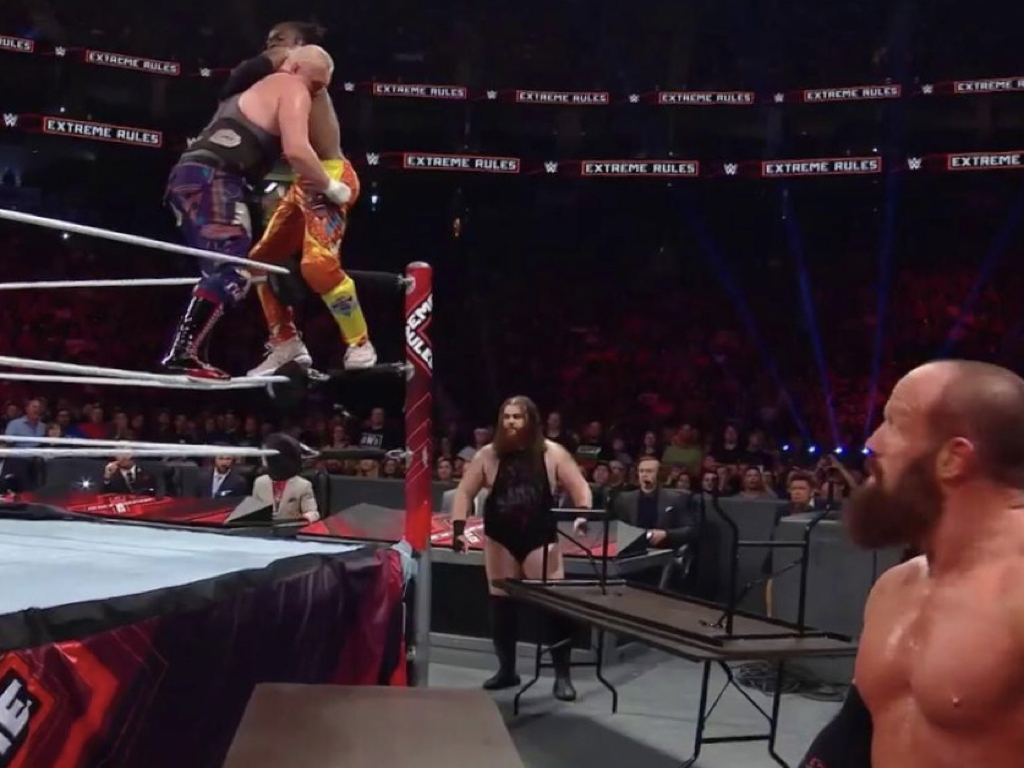 SAnitY and The New Day closed out the Extreme Rules kickoff show with a fun, spot-heavy match. A double powerbomb/double stomp from New Day was the highlight of the match, with SAnitY pulling off a few big spots of their own - including the combo suspension elbow that Eric Young and Alexander Wolfe used to put Kofi Kingston through a table to win the match.
Andrade 'Cien' Almas def. Sin Cara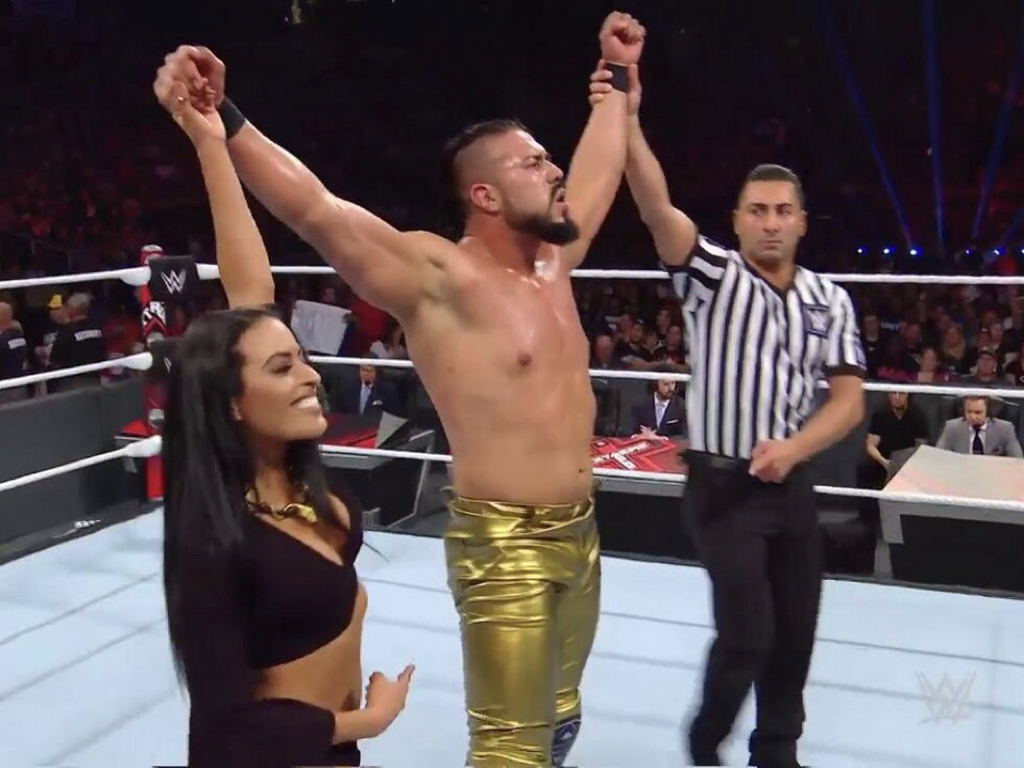 In the opening match of the WWE Extreme Rules Kickoff show, Sin Cara and Andrade 'Cien' Almas went full bore in a short match that saw a number of crazy spots including a hurricanrana on the ring apron. A Zelina Vega distraction, double knees and a hammerlock DDT earned Almas the victory.