WWE takes over Brooklyn's Barclays Center for SummerSlam for the fourth straight year Sunday night, with Roman Reigns and Brock Lesnar set to finally settle things for good ... or so it seems.
Ronda Rousey also appears poised to secure her first championship in the WWE, provided she defeats Alexa Bliss, and from AJ Styles-Samoa Joe for the WWE championship, to Daniel Bryan-Miz and everything in between, Sunday's show appears to have a wide enough variety to provide something for every kind of wrestling fan.
Tim Fiorvanti, Matt Wilansky and Sean Coyle were live in Brooklyn to offer recaps, instant reaction and analysis for the entirety of the 2018 SummerSlam card.
Reigns beats Lesnar to become WWE Universal Champion
Roman Reigns finally defeats Brock Lesnar at SummerSlam and becomes the WWE Universal Champion.
The Roman Reigns coronation couldn't unfold without some sort of blight ruining his moment.
We've seen it before at WrestleMania 31, when Seth Rollins stole the moment from Reigns and Brock Lesnar. And on Sunday at Barclays Center in Brooklyn, Braun Strowman, who made his way to the ring and grabbed the mic, promised that no matter who won the main event of SummerSlam, Roman or "Beasty Boy" would face him.
The anticipation for the changing of the guard on Monday Night Raw and a possible seminal moment in Reigns's or Strowman's career had the entire audience on its feet.
"Let's go Roman!" a handful yelled.
"Roman sucks!" even more bellowed.
"Get these hands!" followed.
Something big was in the air, and only some of it had to do with the sheer size of the three men standing in the ring before the bell.
The match began as a one-on-one between Lesnar and Reigns, with Strowman standing ringside licking his chops for his opportunity. Reigns was on fire from the outset, superman-punching and spearing Lesnar repeatedly.
While it seemed as if the squash match similar to Goldberg-Lesnar at the 2016 Survivor Series was on, Lesnar fought back and caught Reigns with a guillotine choke and then a series of German suplexes.
Reigns fought back and went for a spear on Lesnar who was on the ropes. Lesnar moved and Reigns struck Strowman, sending the giant to the floor. Lesnar would pile on, hitting Strowman with an F-5, then grabbing a chair and smacking Strowman over and over, ultimately rendering Strowman immobile. Lesnar took the Money in the Bank briefcase and threw it all the way back up the entrance ramp as Strowman barely moved in front of him.
With his focus on his success in taking out Strowman, Reigns caught Lesnar with another spear, this one devastating enough for the three-count.
Reigns became the new champ and now, as he often states, owns the yard once again. He has showed up every week, ready to fight and face whoever stood in his way. He has earned this moment, one that would not be spoiled by anyone, not even Strowman, who was still lying on the ground as Reigns celebrated post-to-post.
A new chapter in his career has arrived and Sunday night's result offered a validation of someone who has proved he is among the best in the business week-in and week-out.
Rousey dominates Bliss to win WWE Raw Women's Championship
Ronda Rousey is the new WWE Raw Women's champion as she beats Alexa Bliss at SummerSlam and celebrates with her husband.
Ronda Rousey is the new WWE Raw women's champion, after scoring a submission win over Alexa Bliss on Sunday night during SummerSlam at Barclays Center in Brooklyn..
Though the victory came via armbar, which is the same way Rousey became Strikeforce bantamweight champion, UFC women's champion and one of the most prolific athletes in the world, winning a title in the WWE carries a different kind of significance.
Though the outcome of the match is scripted in the world of WWE, Rousey's rapidly improving acumen as an in-ring performer and adaption to the choreographed style have made her an instant hit with WWE fans.
The match was designed like a game of cat and mouse, but when the cat (Rousey) caught the mouse (Bliss), there was little doubt that we'd have a new champion. This was more of a showcase of Rousey's dominance than an actual match.
Rousey's foray into the WWE has been a whirlwind over the past eight months. She walked out in front of a capacity crowd at January's Royal Rumble pay-per-view and announced she was signing with the company. In April, Rousey teamed with Kurt Angle in a tag team match at WrestleMania 34 in New Orleans against Paul "Triple H" Levesque and Stephanie McMahon -- and shocked the world with an impressive performance in her first match.
As Jeff Hardy and Shinsuke Nakamura made their way to the ring for the United States championship battle, the one thing on our collective mind was Randy Orton.
For whatever reason, he has taken his frustrations with himself, his lack of respect, whatever his issue is, out on Hardy in a series of disgusting, depraved attacks.
As the match began, though, Orton was nowhere to be seen as the crowd sang along to Nakamura's very singable music. However, there was no question that the crowd was rooting for Hardy to "delete" the champ.
The two competitors mocked each other, drawing laughs from the crowd. The action was slow-going for a good part of the match, with Hardy stifling Nakamura with a drop kick to the midsection.
Hardy pulled off the first big move of the match with a Swanton Bomb but was only able to muster a two-count. A few minutes later, Hardy nearly lost the match without Nakamura doing anything, as the babyface went for another Swanton Bomb but missed Nakamura and landed on the apron.
Moments later, Nakamura hit his Kinshasa to win it, but his celebration was cut off almost immediately as Orton's music hit. But this time, instead of another attack, he merely walked away and into the locker room.
Who knows where this storyline is headed as the three-dimensional storytelling is as confusing as it was before the match began. Hopefully, we'll get some clarity soon.
Finn Balor vs. Baron Corbin is the rivalry that just keeps on plugging away without an engaging storyline. The build centered on the size mismatch between the two, which is hardly original, but here we are with another chapter.
However, there was a twist.
For the first time since October, Balor emerged as the Demon to the roar of the Barclays Center crowd. Immediately, Balor unleashed a flurry of offense on Corbin and did not let up. Sling blades, somersault planchas and finally, the Coup de Grace and that was all she wrote.
This was the best possible outcome. A rivalry running on fumes, put to rest on an exiting but quick note. Perhaps this is a sign of an upward trend as it pertains to Balor's career on RAW. The Demon has returned and the sluggish feud with Corbin has likely ended.
The below-the-belt daggers had been flying around for weeks.
Jealousy, tension and contempt had turned the Daniel Bryan-Miz feud into a something that belonged on either Dr. Phil or Judge Judy -- or both. After what happened at SummerSlam, the cheating police might need to be called as well.
Deep into the match, as both men battled back and forth, The Miz found himself outside the ring next to the barricade and right in front of his wife Maryse who handed The Miz a fist-sized foreign object.
As Bryan dove through the second ropes, Miz took a full swing and knocked out Bryan, who remained on the mat unable to move. The Miz quickly handed said object back to Maryse and jumped on Bryan for the three-count, ending what now looks like is only the start of a lengthy feud.
The soap opera that has ensued for close to a decade has taken its latest turn. The men do not like each other, as they demonstrated in the ring before the crooked ending.The crowd, which was in a frenzy when Bryan came to the ring with one "Yes!" chant after another was waiting for the Bryan to finally connect with some sort of match-altering move, but ultimately one that never came to fruition.
There were solid spots, especially early as The Miz unleashed a series of kicks, then a drop kick. He'd make matter worse for Bryan with a surfboard stretch submission attempt while mocking the crowd with his own "Yes" chant.
Bryan would reciprocate with his own version of the move, but the momentum was short-lived as The Miz continued to stifle Bryan with one southpaw punch after another.
But there was little conclusion or satisfaction given the rogue ending.To be continued, as they say.
WWE championship: Samoa Joe def AJ Styles (c) via disqualification
There were worries going into the WWE championship match between AJ Styles and Samoa Joe that the issues of starting a rivalry at a major show carry could derail things in the same way everything fell apart between Styles and Shinsuke Nakamura earlier this year.
Though the match ultimately ended with Styles snapping and wielding a chair to stop Samoa Joe from talking about his wife and family, the tension and energy present as Styles and Joe exited in opposite directions seems to indicate that the future matches between these two will be anything but second-rate.
Samoa Joe stole the microphone at both the beginning and ending of the match, offering a proper bookend and a consistent theme. "Hey Wendy, how you doing?" Joe asked Styles' wife, who was sitting in the crowd. "And I saw she brought your lovely daughter too. Don't worry -- Daddy's coming home tonight."
Styles' reply was simple. "They came here for one reason only -- to see me kick your ass."
While Styles delivered on that promise, it came with a master asterisk along the way.
There was a crazy energy in the air as the bell rang, but for one of the first times in recent WWE history, it seemed as though the excitement the crowd exerted for the women's match and postmatch moment actually sapped some of the energy from the start of a major men's match.
Joe swung a wild kick that narrowly missed Styles' head, and then Joe settled into trying to bring the pace down. Action was indeed very slow at the start, as the two familiar foes tried to feel each other out. Joe took the lead with sweeping kicks to Styles' left leg that left him flying into the corner and tumbling to the ground. Styles swung back around and hit a series of strikes, but with a pair of slaps Styles stumbled backward.
Styles narrowly swung the action back with a stiff dropkick, but Joe's strikes landed more flush. Styles kept fighting back, though, and he, too, started sweeping out Joe's legs and regained the advantage with a baseball slide to Joe's face.
As the fight spilled to the outside, however, Joe dodged a sweeping penalty kick-esque strike by taking out Styles' legs and sending him face-first into the apron. He kept the pressure on, lifting Styles up for a suplex and dropping Styles face-first into the mat. He then hit an explosive suicide dive that sent Styles flying into the edge of the ringside commentary table.
Styles continued to flail helplessly all over the ring when he ate the full brunt of a clothesline, and then Joe went back to reducing the pace by locking in a side headlock. Samoa Joe unexpectedly lost an exchange of strikes and fell to the outside, which put him in prime position to absorb a flying forearm.
Joe gained a brief advantage and tried to set up a second suicide dive, but Styles stepped up from the outside to the apron and hit a Pele kick to thwart such an effort. There were strikes aplenty, a low running forearm, and then Styles threw in a little bit of nostalgia by hitting his corner moonsault into reverse DDT combination -- shades of Joe and Styles' battles of old.
For whatever reason, even though Joe and Styles threw everything they had at each another, the crowd still didn't commit itself fully for a significant stretch during the middle of this match. Joe hit a middle-rope leg lariat to some "oohs" and "ahs", and then followed with a reverse atomic drop and a high boot to the face.
Styles showed off some impressive strength by getting Joe up and hitting an Ushi-Garoshi neckbreaker, but his left knee paid the price because of Joe's weight.
"AJ Styles" and "Samoa Joe" chants picked up at this moment, and as Styles lined up Joe for a Phenomenal Forearm, it seemed this could be an open-and-shut case. Joe had other ideas, though, as he ducked the effort and turned in a snap scoop powerslam that would make Randy Orton blush.
Styles mustered up most of his remaining strength and got off a Styles clash -- only good for a two-count -- and then Joe peppered Styles with some straight shots to the face, only for Styles to nail a Pele kick to the side of Joe's head.
Styles ran full bore into the corner, and right into an emphatic Uranage that saw Joe plant Styles with Authority. Styles slapped on the calf crusher in the middle of the ring, but Samoa Joe learned a lesson from Brock Lesnar at Survivor Series last year as he slammed Styles' head to the mat over and over again.
Joe immediately locked in the Coquina Clutch, but Styles slowly inched his way to the ropes and got a break. Samoa Joe teased hitting a muscle buster, which he hasn't hit clean in a long time, but as Styles fought him off, Joe showed some mobility of his own with a high kick.
As Styles lay prone, Joe stood atop a table, grabbed the microphone again and pushed Styles over the line.
"Hey Wendy, I made you a promise that Daddy's coming home, but he's not. I'll be your new Daddy."
Styles rose to his feet, ran from one table to another and speared Joe through the side railing. An incensed Styles, with a trail of blood trickling down his forehead, went berserk and battered Joe from pillar to post.
WWE officials snatched the chair away from Styles, but not before the camera went to a shot of Styles' wife -- with daughter in hand -- telling AJ to stop. The trio walked out together, but the animosity between Samoa Joe and AJ Styles has reached a new level.
From the beginning, this triple-threat match was never about a winner as much as it was jealousy and lost opportunity.
Lynch was fed up with Flair in the weeks leading up to SummerSlam. Lynch was the bridesmaid, stuck in the inescapable vortex of playing second fiddle.
It turns out that's who she still is after Flair not only took the SmackDown women's title that Carmella owned, but did so by hitting Lynch with a Natural Selection while Lynch held the dis-arm-her on Carmella. This is Flair's seventh title reign.
Afterward, with Carmella throwing a temper tantrum outside the ring, Lynch and Flair embraced, numerous times ... until they didn't.
With Flair's back turned, Lynch unloaded a beatdown that sent the Barclays' crowd into a frenzy -- as loud as it had been all night.
Flair was hurt and stunned, but Lynch did not stop. She tossed Flair over the announcer's table as the crowd continued to become even more riled.
Lynch then made her way back into the ring and held up the title she doesn't own. She will clearly do anything -- friends be damned -- to get it.
With the camera now focusing on Flair, the crowd in unison let out a wild jeer. Flair is the new champ and she now not only has her rival, but a bitter enemy.
Not since Edge defeated Mr. Kennedy in 2007 has a superstar lost his Money in the Bank briefcase in a match. That's what was at stake tonight as Braun Strowman put his guaranteed title shot up for grabs against the conniving Kevin Owens.
Owens was looking for the ultimate revenge following repeated assaults by Strowman ranging from being thrown off the top of a steel cage through a table to being dumped off the stage while stuck in a portable toilet.
The bout began as you'd expect, with Stowman on the offensive, highlighted by him running through Owens on the outside of the ring multiple times and choke slamming him on the entrance ramp.
When they re-entered the ring, Strowman delivered a running power slam and abruptly brought the short, one-sided affair to an end.
To say this was a let down would be an understatement. Owens deserves more than being a squash match victim on a big stage like SummerSlam, but the goal in portraying Strowman as an unstoppable force was achieved.
SmackDown tag team championships: New Day def. Bludgeon Brothers (c) via disqualification
It was a near-impossible act to follow after Seth Rollins' captivating win over Dolph Ziggler to recapture the Intercontinental title to kick off SummerSlam, but The New Day had the Barclays audience on its feet the moment their music hit and the theatrics began.
That excitement was short-lived though as Luke Harper and Erick Rowan beat down a hapless Xavier Woods. The match moved along at a slow pace, much in the manner the champs like to perform. Nothing explosive; just a methodical beatdown.
The momentum began to shift when Big E was tagged in and suplexed both heels on the outside of the ring before a splash on Harper inside. Woods then dove over the ropes to take out Rowan while Big E splattered Rowan with a suicide dive through the second ropes. A little while later, Big E gave Rowan a Big Ending outside the ring.
The move of the night came when Woods landed a huge elbow from the top rope on Harper. At that point, Rowan had seen enough and took out his sledgehammer, clobbering the New Day and subsequently ending the match with a disqualification.
The Bludgeon Brothers did not win, but they retained their titles. It was a pretty anticlimactic ending to a match that had just begun to pick up the pace. Disappointing for sure, but the result suggests this rivalry has just begun.
With no real idea of what the main event of the evening will bring, in terms of the match, outcome or fan reaction, the WWE certainly kicked off the 2018 SummerSlam card with as positive a note as possible.
After a slow start, and some peaks and valleys, a rush to the finish and one spectacular sequence in particular, Seth Rollins became a two-time Intercontinental champion and vanquished his troubles with Drew McIntyre and Dolph Ziggler with a big assist from Dean Ambrose.
This match, at its start, was just as much about the tension between McIntyre and Ambrose as it was with what was going on inside the ring between Ziggler and Rollins. The first time McIntyre tried to get into Rollins' head, Ambrose was right there to go nose-to-nose with McIntyre and balance the power dynamic.
Ziggler's attack plan of fleeing the ring and keeping distance was thus foiled in the short term as Rollins took it to him in the early going. But old habits die hard. Rollins started jawing with McIntyre, and in that single moment of distraction, the momentum swung entirely. McIntyre tried to take advantage of the referee's back being turned again, and Ambrose even more enthusiastically backed Ziggler's second away from Rollins.
A long, extended headlock took the crowd down to a awkward whisper, though Rollins finally fought up and hit a jawbreaker and immediately brought the noise level back up as he got back into the match. Ziggler took things back down a notch, though, as a running start got Rollins tossed into the air for a hard landing on the ground.
Finally, Rollins rolled through a Ziggler cross-body attempt, caught Ziggler in midair and looked to transition into a suplex -- only for both men to tumble over the top rope together.
Rollins recovered first and rolled into one of his signature sequences with a slingblade and a couple of clotheslines and a blockbuster, but Ziggler was once again there to cut him off. Rollins ultimately turned it around again with a suicide dive and a ripcord knee, but Ziggler figured things out again as the familiar foes had an answer to each action.
Ziggler got his first big pop by catapulting Rollins into the ring post and hitting a DDT onto the ring apron. A Zig Zag attempt missed and Rollins hit a low superkick, but a frog splash brought Rollins chest-first into Ziggler's knees. A tight roll-up from Ziggler earned a two-count, and the crowd finally started to buy in.
"Lets go Rollins" started to ring out, and Ziggler responded by laying a few hits into Rollins' face, then Rollins answered with a few hits of his own. He draped Ziggler over the top turnbuckle, facing the post, and though Ziggler pushed Rollins away, Rollins ultimately nailed a tremendous variation of one of his signature combos.
A reverse suplex brought Ziggler to the mat face-first, which Rollins chained into a reverse, spinning Falcon Arrow that popped the crowd hard with a thunderous round of applause.
"This is awesome" chants followed, proving that it takes only one move or combination to make a huge difference. As Rollins lined up for the stomp, McIntyre had enough and sent Ambrose crashing into the steel steps as a distraction. Rollins missed the stomp and Ziggler nailed the Zig Zag -- but it only got a two-count, which triggered a shocked response.
Ziggler tuned up the band for a superkick, Rollins went for the roll up, Ziggler tried a roll-up and Rollins hit a buckle bomb.
Ambrose stifled one final distraction, as he pulled McIntyre off the apron and hit Dirty Deeds on the outside. Rollins hit a superkick and the stomp, and that was all she wrote.
If there's going to be tension between Rollins and Ambrose, it'll have to wait for another night. What's clear is that any combination of these four guys is a money idea moving forward on Raw.
Raw tag team championships: B-Team (c) def. The Revival
The B-Team completed the trifecta of Kickoff Show matches with an solid effort to beat The Revival and retain the Raw tag-team titles. The challenges took control for most of the match with nifty old-school team work, including a top-rope knee drop from Scott Dawson on Bo Dallas, but in the end it was Curtis Axel who rolled up Dawson for the win. If you're doing the math at home, that's three Kickoff Show matches in the books … and three roll-up wins.
Cruiserweight championship: Cedric Alexander (c) def. Drew Gulak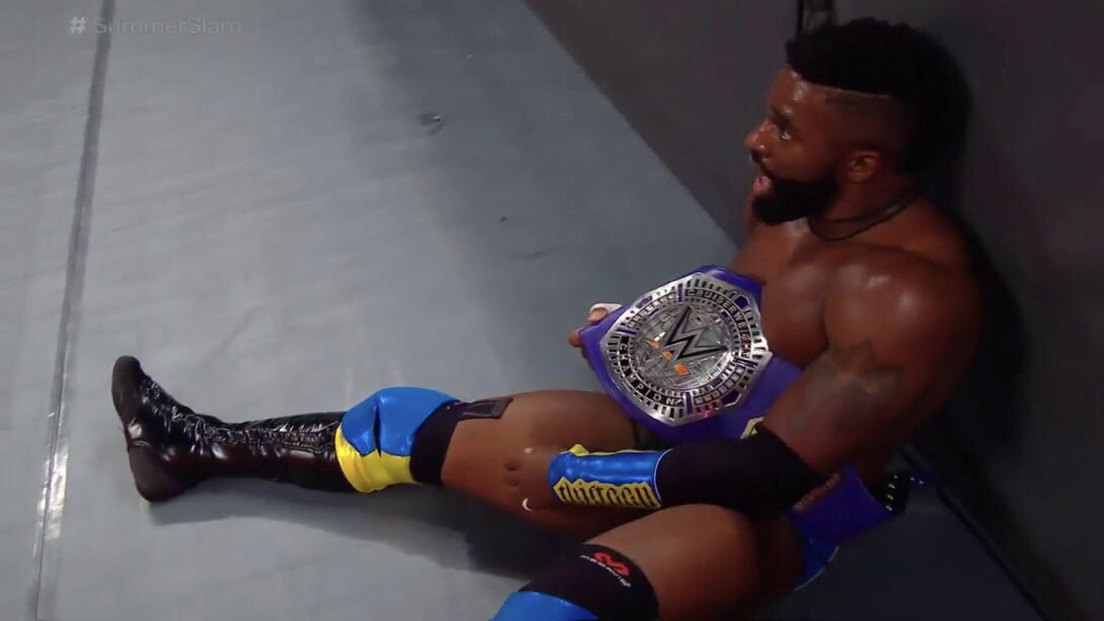 Drew Gulak imposed some serious physicality throughout his cruiserweight championship match, including a hangman's choke with Alexander draped over his back and a Gu-lock with his legs wrapped around Alexander in the ropes. Alexander ultimately hit a leveraged roll-up to squeak out a win despite being dominated for much of the match, leaving the door open to a future rematch.
Andrade 'Cien' Almas & Zelina Vega def. Rusev & Lana
In the first match on the SummerSlam kickoff show, the team of Andrade "Cien" Almas and Zelina Vega defeated Rusev and Lana. The finish saw Vega use the ropes to assist her with a roll-up victory over Lana.This was the first SummerSlam match and victory for Almas and Vega. It was Rusev's second straight SummerSlam loss. He lost to Randy Orton at last year's event.