After weeks of controversy over the event, last-minute card changes and big announcements, Crown Jewel finally took place Friday in Riyadh, Saudi Arabia.
Lost, for some, amid all of the talk about whether the WWE's second major event in Saudi Arabia should be happening or not are moments that would otherwise garner a lot of attention in their own right. Hulk Hogan returned to WWE airwaves for the first time since 2015 (after being reinstated to the WWE Hall of Fame in July), when he was suspended for racially-charged comments. Additionally, after eight years, Shawn Michaels returned to in-ring action.
This file was updated in real time. (c) indicates defending champion.
---
D-Generation X (Triple H and Shawn Michaels) def. Brothers of Destruction (The Undertaker and Kane)
I don't think anyone came into the main event of Crown Jewel expecting four WWE legends with a combined age of 206 to put on a five-star classic, but there were a lot of bumps in the road along the way before DX ultimately emerged victorious over The Undertaker and Kane.
In Shawn Michaels' return to the ring after an eight-year hiatus, we got all of the nostalgic moments you might've expected -- superkicks, a kip-up, a flying elbow, and even a moonsault from the top rope to the outside. But between what seemed like a legitimate injury to Triple H and the slow, plodding pace that followed because of the unexpected uncertainty in the match -- not to mention Kane's mask falling off during a crucial stretch -- it's safe to say that most of this match will hit the cutting room floor when the highlight reel comes together.
All of that said, it's clear these four future WWE Hall of Famers gave it their all despite the difficulties in this match. Michaels' bloodied face at the end, after he and Triple H combined to finally pin Kane and end the match, tells a pretty accurate story about how beat up all four of these guys were. The move toward nostalgia on shows like this is what it is, but when it comes to these four guys, it's probably best that this is the last chapter in their long, storied rivalries.
---
WWE World Cup finals: Shane McMahon def. Dolph Ziggler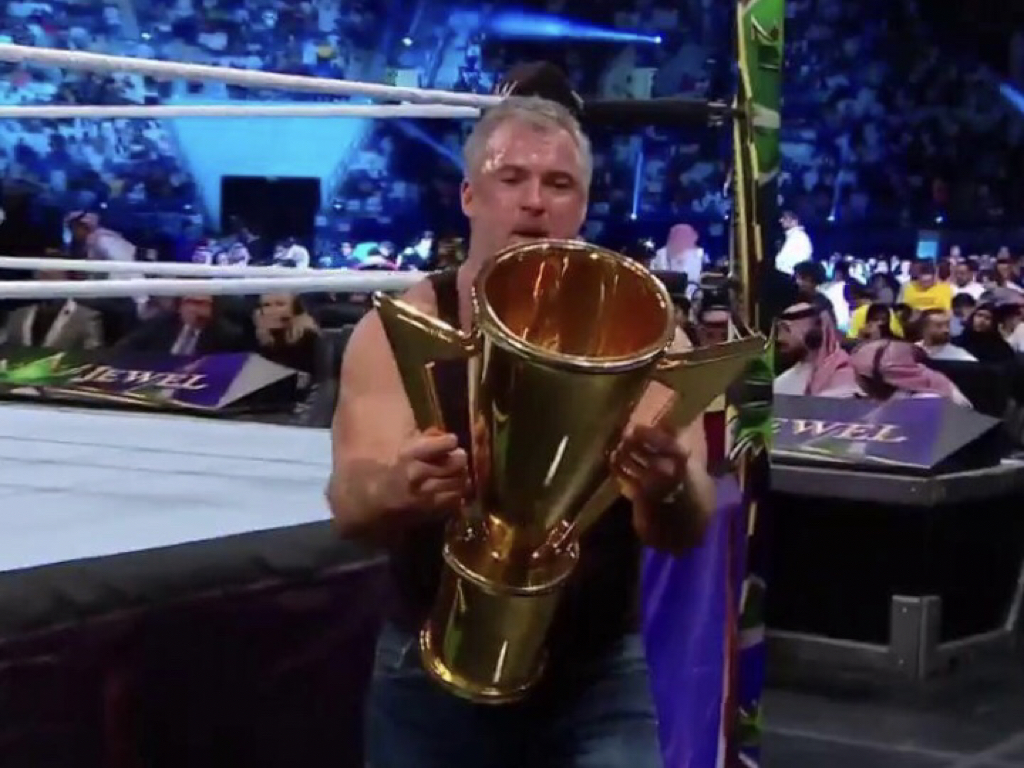 The WWE World Cup ended in staggeringly confusing fashion. With The Miz injured and unable to wrestle Dolph Ziggler, Shane McMahon arbitrarily inserted himself into the finals and ultimately defeated Ziggler to be declared "Best in the World". There's a strong chance this is rolled into what's to come in a couple weeks at Survivor Series, but in the moment, there's little logic for this move to stand on.
---
Universal Championship match: Brock Lesnar def. Braun Strowman
After Roman Reigns forfeited the title due to his real-life battle with leukemia, WWE had to pivot quite suddenly in regard to the Universal Championship match.
With the match turned into a one-on-one between Brock Lesnar and Braun Strowman, it would've made all the sense in the world for Strowman to finally achieve his crowning moment. Instead, Lesnar walked out of Saudi Arabia once again holding the Universal Championship title -- putting Monday Night Raw back into a holding pattern without a top champion who appears on the show on a weekly basis.
After Baron Corbin nailed Strowman from behind with the Universal Championship belt just before the bell rang, Brock Lesnar hit three consecutive F-5s -- and, as only Roman Reigns had done before him, Strowman kicked out each time.
How did Lesnar react? He hit a fourth F-5 that sent Strowman over the top rope and to the floor. Strowman barely answered the 10-count on the outside of the ring, and Lesnar responded by taking off his MMA gloves. As Strowman went up for a fifth F-5, Strowman kicked his way out of it and appeared to find a brief window of relief.
It didn't last, as Lensar eventually hit that fifth F-5 and pinned Strowman to become the first-ever two-time Universal champion.
Before Lesnar's music stopped playing, WWE quickly advertised a champion-against-champion match for Survivor Series -- a rematch of Lesnar's best in-ring showing of his second run with WWE. Beyond that match in a couple of weeks, however, there's no real telling when Lesnar will next appear on WWE TV.
---
WWE Championship match: AJ Styles (c) def. Samoa Joe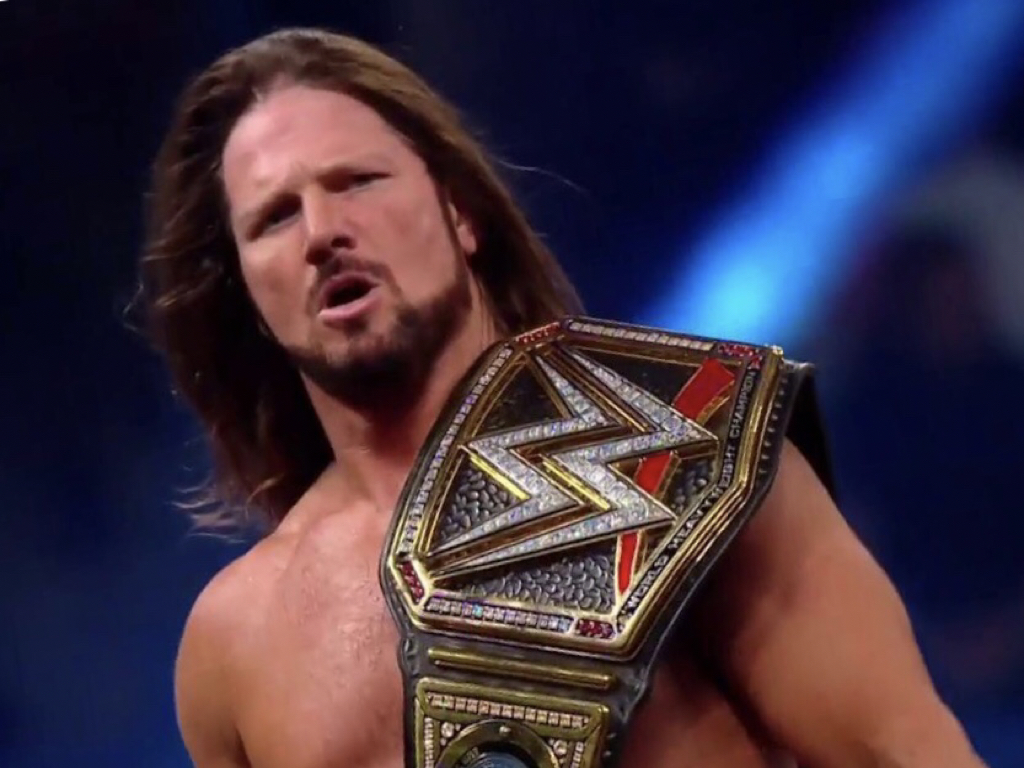 In the first of back-to-back world title matches at Crown Jewel, AJ Styles once again defeated Samoa Joe with the WWE championship on the line. There were plenty of fun and entertaining moments throughout the match, but the ending was anticlimactic as Styles nailed a Phenomenal Forearm and pinned Joe clean in the middle of the ring.
---
WWE World Cup semifinals: Dolph Ziggler def. Seth Rollins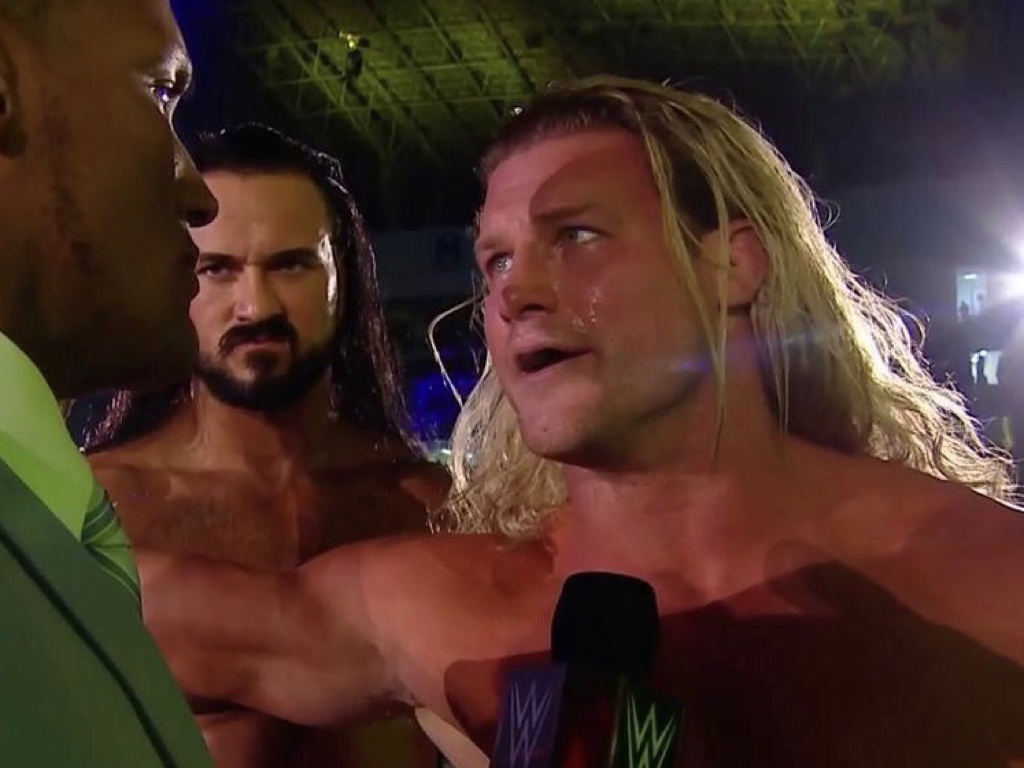 In what has to be considered a surprising result, Dolph Ziggler bested Seth Rollins to advance to the finals of the WWE World Cup at Crown Jewel. Another strong effort in the sixth one-on-one between Rollins and Ziggler this year. Ziggler will face another familiar foe in The Miz in the finals. After squaring off in 10 televised matches between December 2015 and December 2016, this will be their first meeting since the end of that stretch.
---
WWE World Cup semifinals: Miz def. Mysterio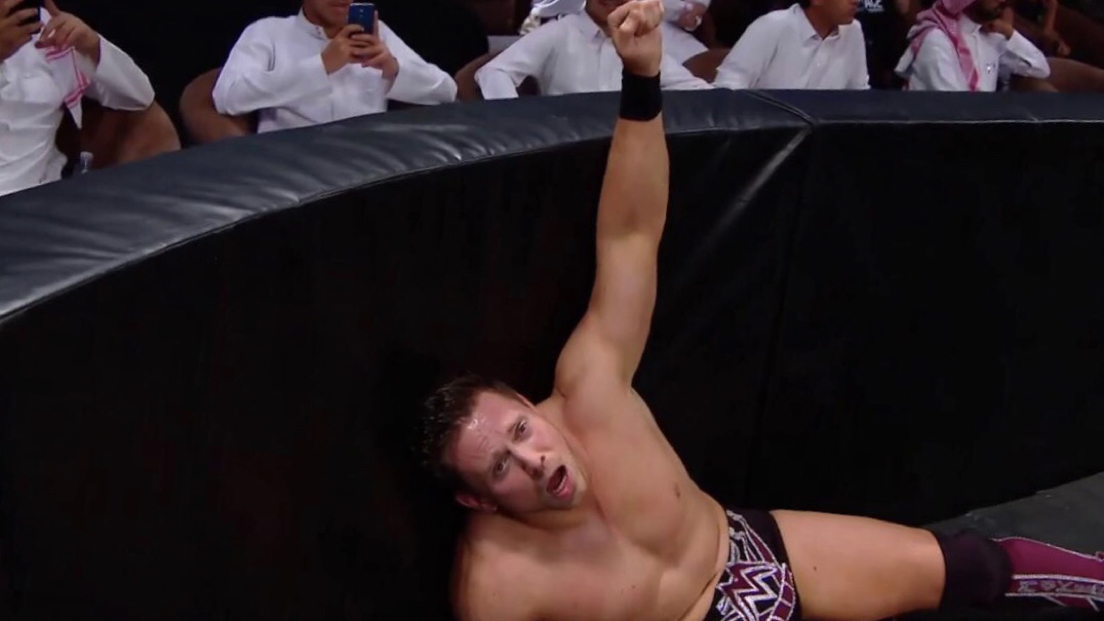 The Miz has advanced to the finals of the WWE World Cup at Crown Jewel. After Rey Mysterio kicked out of a Skull-Crushing Finale, Miz interrupted a post-619 splash and pinned Mysterio. Per Shane McMahon's stipulation, if Miz loses in the finals, he will be fired from SmackDown.
---
SmackDown tag team championship match: The Bar (c) def. The New Day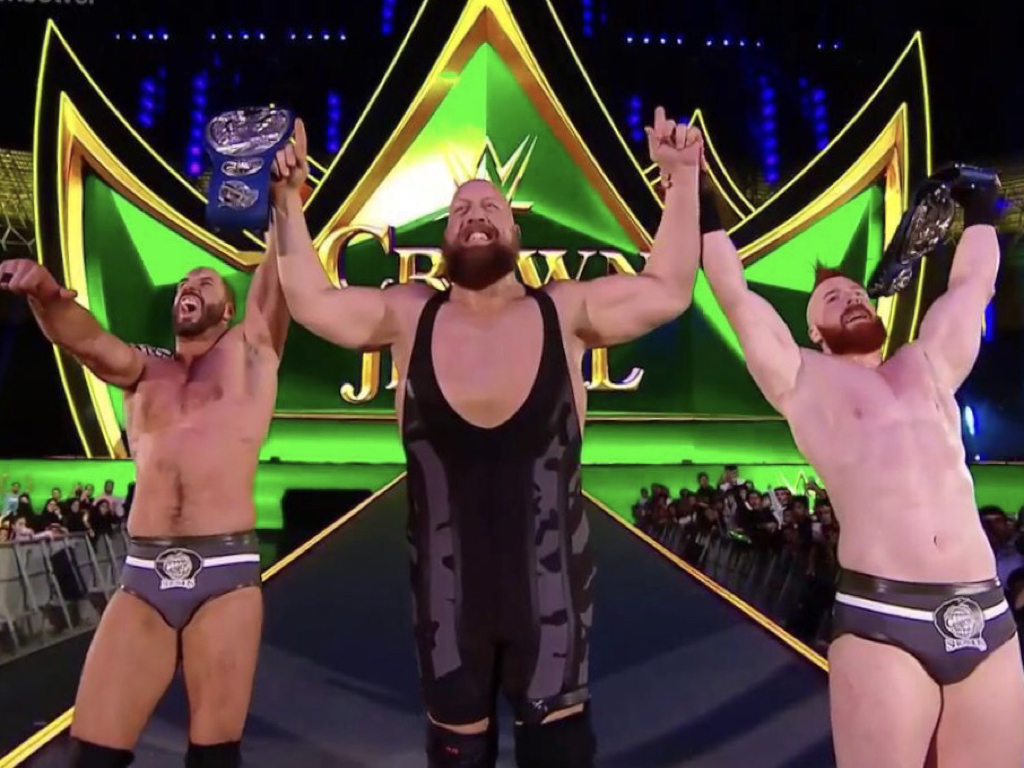 I don't think there's ever been a bad match between The Bar and The New Day, and their SmackDown tag team title match at Crown Jewel was about par for the course and didn't offer anything particularly shocking. Big Show got involved in the closing moments with a KO punch on Big E, and Sheamus followed up with a Brogue Kick for good measure to seal the victory for the defending champions.
---
WWE World Cup first round match
Dolph Ziggler def. Kurt Angle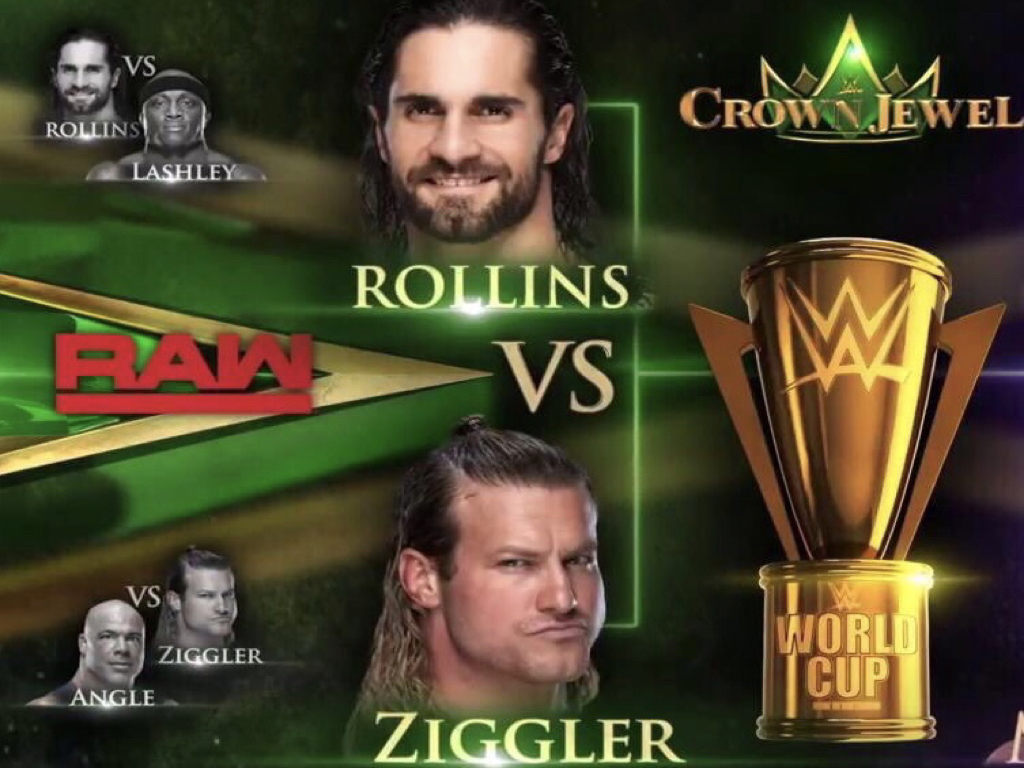 Dolph Ziggler claimed the final semifinal spot in the WWE World Cup, outlasting an Angle slam and an ankle lock from Kurt Angle to pull out the victory.
---
WWE World Cup first round match
Seth Rollins def. Bobby Lashley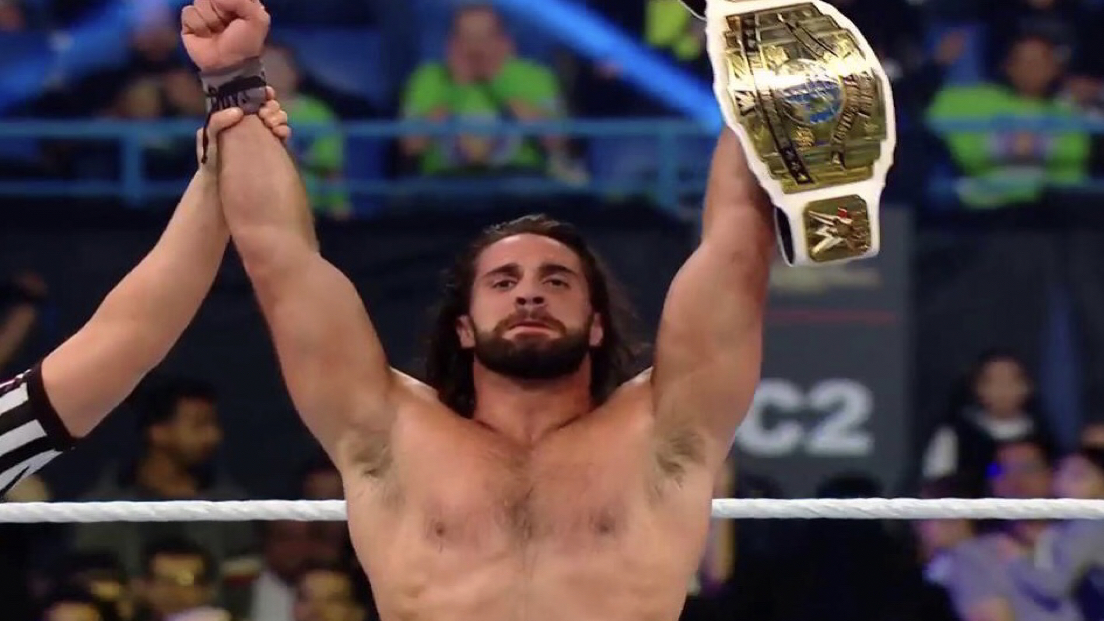 Seth Rollins hit a stomp out of nowhere to defeat Bobby Lashley and advance in the WWE World Cup tournament.
---
WWE World Cup first round match
The Miz def. Jeff Hardy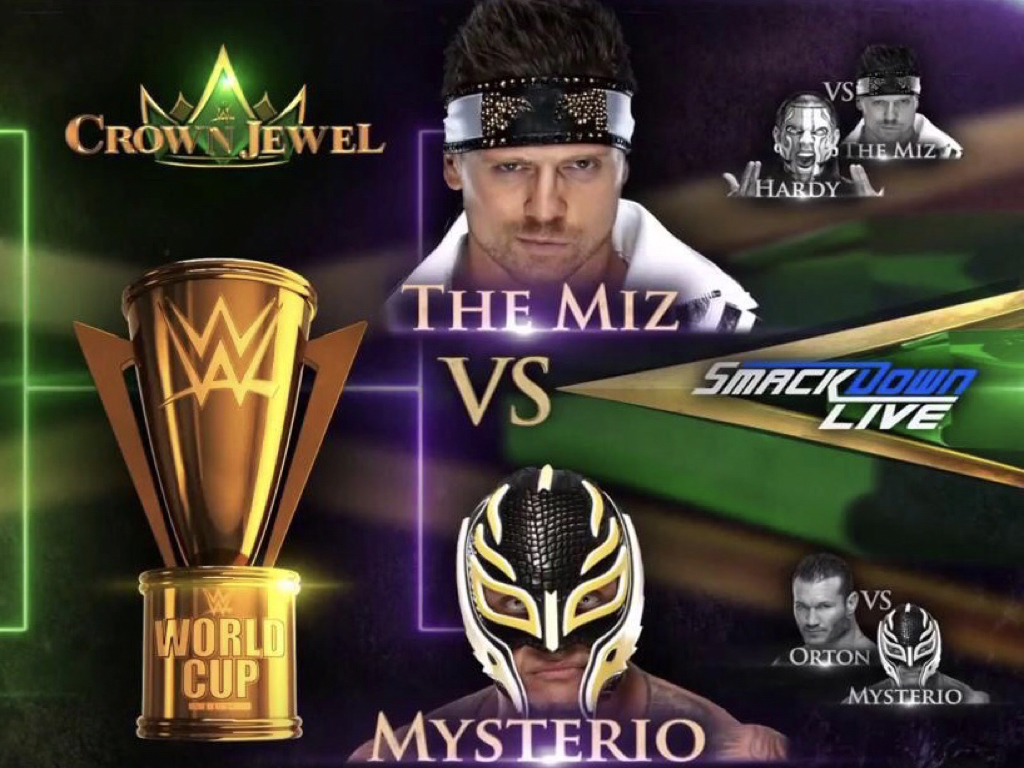 The Miz advanced to the semifinals of the WWE World Cup at Crown Jewel over Jeff Hardy by reversing a Twist of Fate into a Skull-Crushing Finale. He'll next face Rey Mysterio.
---
WWE World Cup first round match
Rey Mysterio def. Randy Orton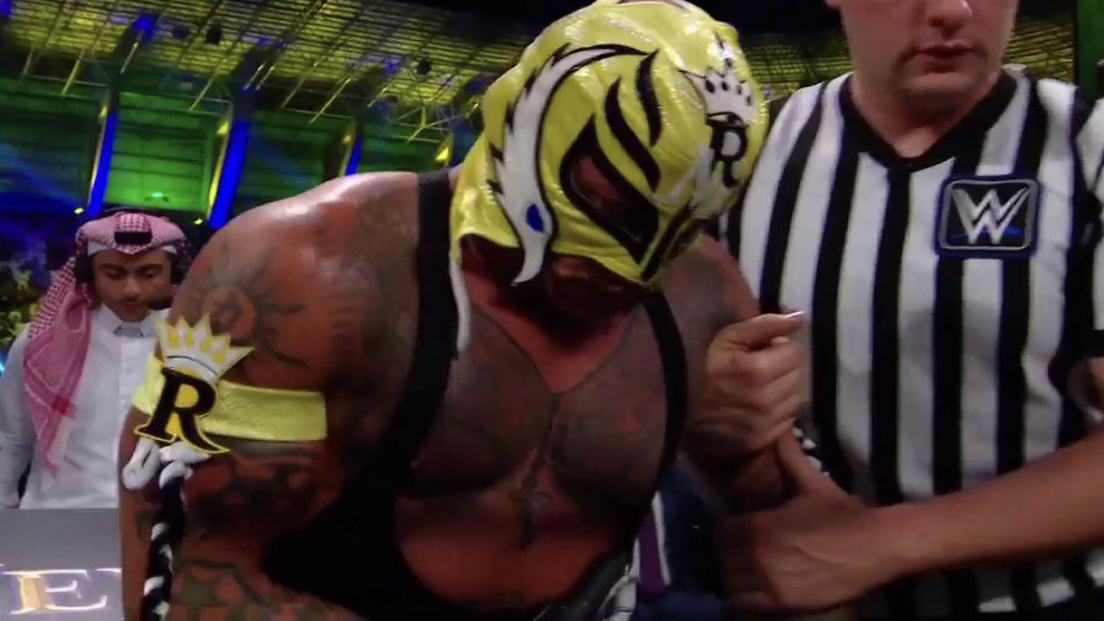 After an introduction from Hulk Hogan and a whole lot of pyro, Rey Mysterio and Randy Orton kicked off the action at Crown Jewel. Mysterio won via roll-up to advance in the WWE World Cup tournament, but Orton hit an RKO and tossed Mysterio all over the ringside area. This was the first one-on-one match between Mysterio and Orton since March 2011.
---
Kickoff show
United States championship: Shinsuke Nakamura (c) def. Rusev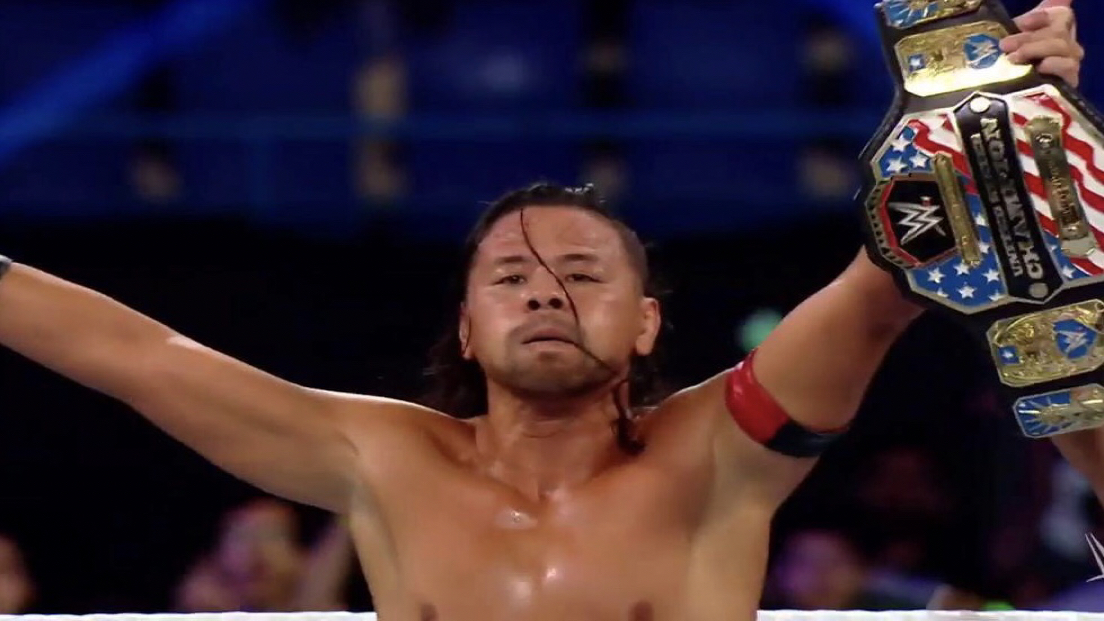 Shinsuke Nakamura successfully defended his United States championship against Rusev on the Crown Jewel kickoff show. Nakamura turned to a familiar tactic - a low blow - as he struck Rusev with the back of his head as Nakamura escaped an attempt at the Accolade. It was a solid opening match, but it's unclear which direction either guy is headed in on SmackDown.